EHR integration service in Canada + What is EHR integration? + Top EHR vendors: How to integrate healthcare app with electronic health records?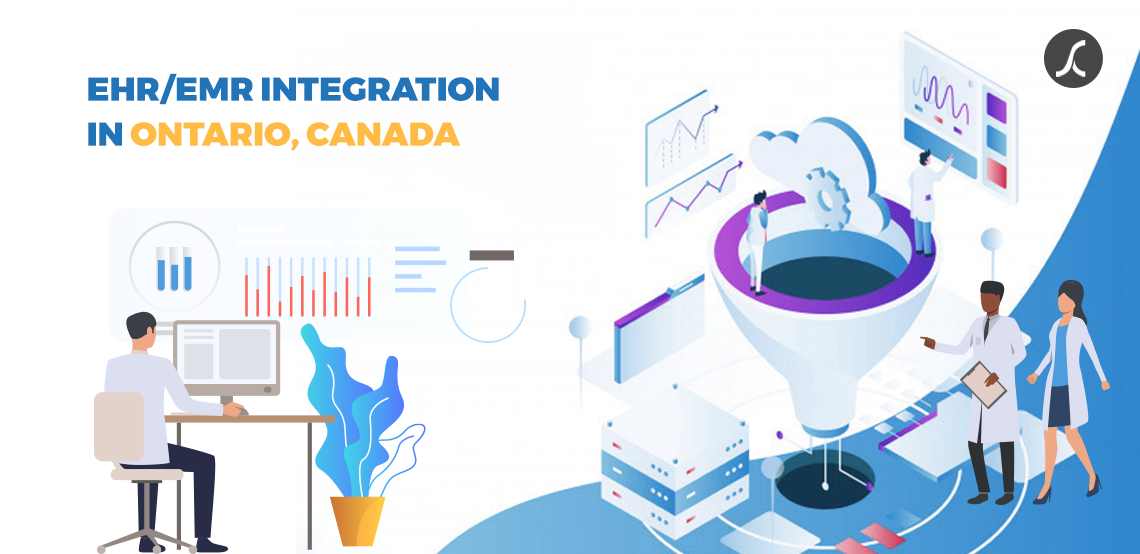 12 months ago
The adoption of digital health technology or tools has been on an upward trajectory.
The following chart clearly depicts that the adoption of digital health tools in all categories has dramatically increased between 2015 and 2019.
However, like other digitalized industries, the digital healthcare industry has also evolved with many challenges.
One such deep-rooted challenge is related to data and security.
A healthcare app or any other digital healthcare tool in almost all categories requires real-time patient or user data.
Without this data, not a single objective of the healthcare app can be satisfied.
To provide quality care and not promote manual workflows, it is vitally important for a healthcare app or software to fetch the patient data from different sources.
Here is where EHR (Electronic Health Records) systems and EHR integration come into the picture.
In this blog, you will get to know,
What is the EHR system?
EHRs are a vital part of the digital healthcare system.
An EHR system is the digital version of patients' paper-chart. It works in real-time and makes patient information available instantly and securely to authorized users. 
An EHR system stores the patient's medical history, diagnosis, medications, treatment plans, allergies, radiology images, and laboratory test results.
One of the major features of the EHR system is that it can be integrated with any other healthcare mobile app or software.
In fact, it is designed and developed in such a way that it can share real-time data with other mobile apps and software.
What is EHR integration?
As we discussed earlier, multiple healthcare entities generate different medical data of the same patient.
This decentralized data should be available on a single platform to actualize easy access to medical data for clinicians.
An EHR system stores patient data generated by different healthcare entities.
If a healthcare app or healthcare software requires patient data, it should be integrated with the EHR system.
Meaning, EHR integration is nothing but the process of integrating digital health products including healthcare mobile apps, software or CRM in terms of data and clinical workflow with an EHR system.
The output of the EHR integration is seamless patient data sharing between EHR and digital health tools. 
What are the benefits of EHR integration?
The following are the top benefits or reasons why EHR or EHR integration is crucial for the success of digital healthcare tools. 
Rapid data accessibility:
Without EMR, clinicians rely on paper-work and relying on paperwork leaves room for errors.
It also makes data accessibility difficult. But with EHR or EHR integration, every single piece of data remains in the same place.
And since it is a digital space, it is effortless to access the patient data.
Every new patient or medical data generated by healthcare entities reflects on EHR instantly.
And most importantly, all authorized users can view this updated data. This is not possible if you are following paper-based processes.
EHR systems also make it easy for clinicians to exchange observations, test results and prescriptions in real-time.
Because of the precisely developed systems and multilayer security mechanisms, data stored on EHR systems are very secure.
The data gets encrypted and only authorized users can get access to patient data.
We can never ever achieve such kind of security in paper-based processes.
If we lose only a single page of the patient data, the results would be devastating.
Increased patient safety:
EHR enhances patient safety and avoids any goof-up by automatically initiating drug-to-drug and drug-to-allergy interaction checks as soon as a physician writes the prescription.
In the absence of EHR, there is the possibility that physicians prescribe patients without knowledge of their allergies.
Cloud-based EHR vs locally-hosted EHR
Before integrating EHR, you should know the difference between cloud-based EHR and locally-hosted EHR as it influences your budget and long-term benefits. 
The cloud-based EHRs:
The cloud-based EHRs provide scalable and on-demand access to EHR features. The cloud can help you rapidly launch the EHR system and it also reduces management efforts and costs. 
Benefits of cloud-based EHRs:
It reduces hardware and software costs.

It reduces ongoing maintenance costs.

It is scalable.

It reduces run-time failure.

It increases system availability.
A common challenge:
You have a lower level of control over cloud-based EHRs compared to locally-hosted EHRs.
The locally-hosted EHRs:
The locally-hosted EHR system and data are housed on server computers at your location. 
Benefits of locally-hosted EHRs:
You have full access and control over locally-hosted EHRs.

It requires less investment in internet connection upgrades.
Common challenges:
Maintenance is your responsibility.

You should take regular data backups and ensure security.
Top EHR systems or vendors in Canada
There is more than one EHR vendor available in Canada and this is what makes it a difficult task to select one.
Sensing the urgency, we assess your requirements and help you select the most suitable EHR system or vendor along with EHR integration. 
The following are the top 3 EHR systems or vendors of Canada 
PointClickCare EHR integration:
PointClickCare is a cloud-based electronic health record (EHR) solution.
It is designed for the long-term industry.
It is equipped with many important modules such as care delivery management, marketing, financial management, business intelligence & analytics, and Quality and compliance.
We've already executed many projects integrating PointClickCare EHR into different healthcare systems.
Allscripts EHR integration:
Allscripts is a publicly-traded information technology company.
It offers practice management and EHR software. The company has been ranked number one Top Ambulatory EHR Vendor by Black Book for several years in a row.
TELUS Health EHR integration:
TELUS Health is evolving in a new era of healthcare. They are aiming at making a positive difference in healthcare with technology.
Their electronic health records software is built out of two main components: the Health Integration Platform and the Drug Information System.
Carry out EHR integration in Canada through our experts
We are one of the top Ontario-based IT management and development firms, serving in the Canadian healthcare industry for more than 7 years.
We do not only develop healthcare apps but also integrate them with top EHR systems and make sure compliance readiness.
We accommodate app developers, business experts, compliance consultants who all work together to satisfy all of your requirements and ease your IT pain. 
We also have proven mastership working with HL7.
After EHR integration and app deployment, our support team provides 24/7 support to solve your queries instantly.
Feel free to contact us to share your requirements and get a personalized quote. Our expert will give you free insightful IT consultation.