Top Profitable Healthcare Startup Ideas for African Market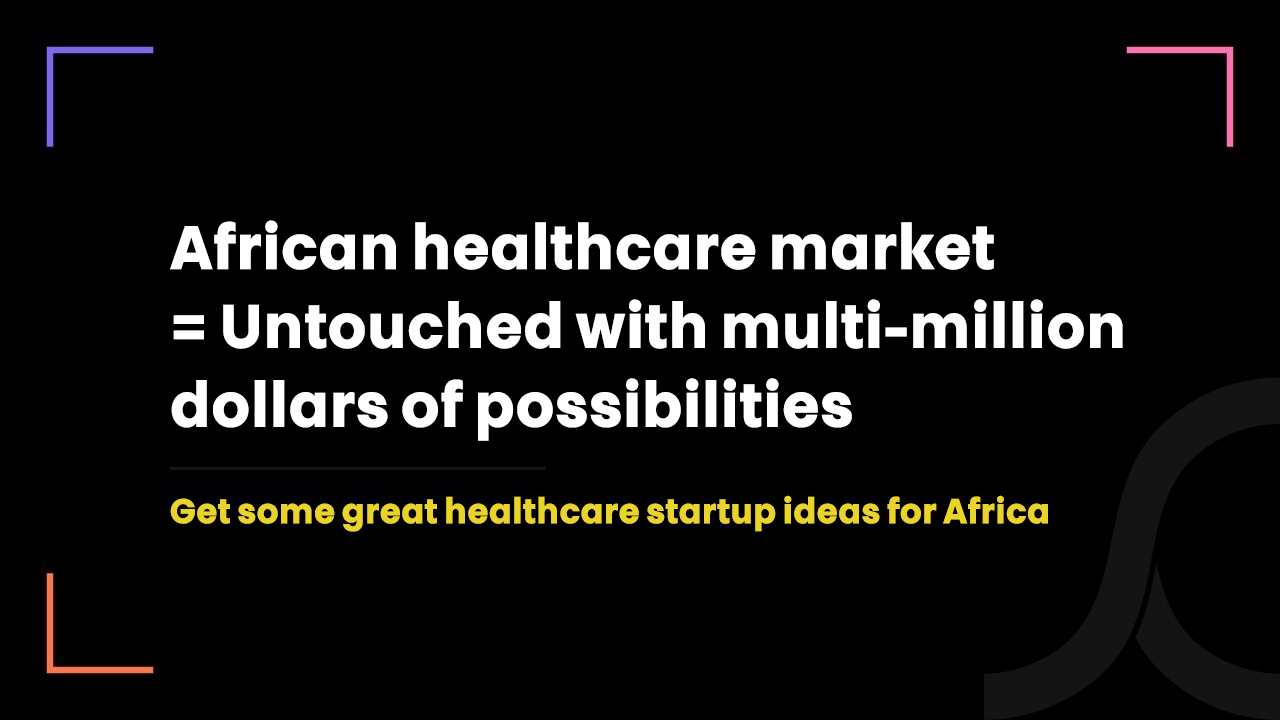 9 months ago
Mark our words. After a decade - or earlier - the African healthcare market will value as much as the current value of the Canadian healthcare market.
How are we so sure? Because that's what the African healthcare market is indicating.
A large percentage of the African population is now using smartphones. Entrepreneurship is getting popular in the African continent. Investors are ready than ever to invest in African startups and most importantly, people of African countries now need a change - in terms of quality, rapid and affordable healthcare!
So, if you are planning to start a healthcare startup in Africa to dominate the African healthcare market in near future, here is the list of most profitable healthcare startup ideas for Africa.
Our other useful resources:
Most profitable app-based healthcare startup ideas for African countries
Our healthcare-focused business analysts have been dealing with healthcare startup markets of Canada and the USA and this list has been prepared with their help.
1. Telemedicine Platform
Telemedicine platform is the easiest, reliable and affordable way to ensure continuity of quality, affordable and rapid care to a large percentage of Africans living in rural areas.
If not direct care to people living in remote areas, telemedicine can at least ensure care through on-ground nurses of remote areas who can collaborate with specialized doctors sitting in urban areas.
What extra telemedicine can provide to people of both urban and rural areas is comfort while seeking medical services. Patients can easily talk to doctors from the comfort of their homes and make payments online using local online payment methods.
Types of telemedicine platforms you can develop for the African market:
Telemedicine for physicians
Telemedicine for dentists
Telemedicine for dietitians
Telemedicine for pediatricians
Telemedicine for dermatologists
Telemedicine for physiotherapists
Telemedicine for ophthalmologists
Telemedicine for psychiatrists
In case you are interested in acquiring a telemedicine platform, explore our white-label telemedicine platform.
2. Marketplace for Doctors
Almost 1 out of 3 Africans face several challenges to find nearby doctors when they are actually in need of medical assistance.
The situation in many countries of Africa is so severe that people don't even find doctors for common illnesses such as malaria, resulting in the highest death rate from malaria in the entire world.
So, to help people of Africa receive timely access to nearby doctors, you can build a marketplace for doctors that enables patients to explore all nearby doctors, compare them based on fees, timing, specialties and book in-person appointments with preferred doctors.
By adding telemedicine features into your doctor marketplace platform, you can even allow patients to virtually connect to a preferred doctor.
Such a healthcare startup idea does not only help patients to get timely access to doctors but also facilitates doctors to acquire more patients using an online medium.
You must read: How to build a clinic marketplace?
3. EHR Platform for Entire Healthcare System
EHR (Electronic Health Record) is a robust system that stores medical data of patients generated by different healthcare providers, pharmacies and labs.
It actualizes seamless data sharing between healthcare providers, pharmacies and labs. For instance, labs can easily share lab results as well as images with physicians.
Doctors can also get easy access to clinical data of patients to know patients' past prescriptions, allergies and medical notes.
Having access to such crucial clinical data enables doctors to provide quality care to each patient without spending huge time in asking and recording the medical history of patients manually.
In majorly all African countries, there are no major EHR providers. Meaning, there is huge scope for you to be an early bird and cover the African EHR market share.
You must read: Why are we the best EHR development company?
4. Women Wellness Startup
Women are highly affected in all African countries when it comes to healthcare. From general healthcare to birth control and maternity care, they face a healthcare crisis like no other woman in the world faces.
They mostly rely on traditional solutions and sometimes on community health workers.
It is also recorded that women from poor and remote areas lack knowledge regarding personal care and hygiene standards during pregnancy, childbirth, and the postpartum period.
In case of any complication during pregnancy, the patient needs to be shifted to a specialized care unit which is only there in urban areas.
But it is not financially feasible for many African families to travel and shift to modern care facilities.
What works best for African women is a mobile app that is the most accessible, affordable and efficient solution to all their health and wellness challenges.
Types of women health apps you can develop for the African market:
Period and Fertility Tracker app for Women
Pregnancy Tracker Apps
Birth Control Apps
Disease-Specific Apps
You must read: A guide to women health app development
5. Online Pharmacy Platform
Several African countries are notorious for medicine shortages and it is claiming several thousand lives every year.
According to the UN, approx 1.6 million Africans have died due to malaria and HIV in 2015 which could have been avoided with timely access to appropriate and affordable medicines.
In many rural areas, there is not a single pharmacy store for many miles. Thus, people have to travel across the cities to buy medicine which increases the medicine cost significantly.
You can solve all such problems with a single online pharmacy platform. Using your online pharmacy platform, patients or their family members can easily upload the prescription, make a medicine order and pay for the order.
Within 1 or 2 days, the medicine sorted as per dosage is delivered to the doorstep of patients. Not only this but patients can manage their entire medication plan from the mobile app and never miss out on taking their medicine on time.
A very useful resource for you: How to start an online pharmacy?
Looking for healthcare technical, compliance and business experts? We can help you build & grow
We have been proactively building only healthcare apps and software for Canadian and US markets.
But to help the African continent experience the healthcare revolution with cutting-edge technologies, we've expanded our team and onboarded Canada's sharpest brains.
Our team accommodates healthcare app developers, UI/UX designers, business analysts and compliance specialists who will build app/software solutions for your healthcare startup with Canadian quality of work and American standards of innovations.
With us, you don't have to hire anyone else as we solve your all technical, compliance and business challenges from start to finish.
We've worked with Canada's and USA's top healthcare providers, startups and enterprises to build telemedicine platforms, patient engagement tools, EMR/EHR, pharmacy apps, remote patient monitoring tech, women health apps and even apps working on AI and machine learning technologies.
Overall, what we deliver you is not the service, but the healthcare-specific experience and expertise we have gained working in the Canadian and USA healthcare markets for the past 7+ years.