How to Build a Healthcare Super App Like the Way Walmart is Creating a Lifestyle Super App?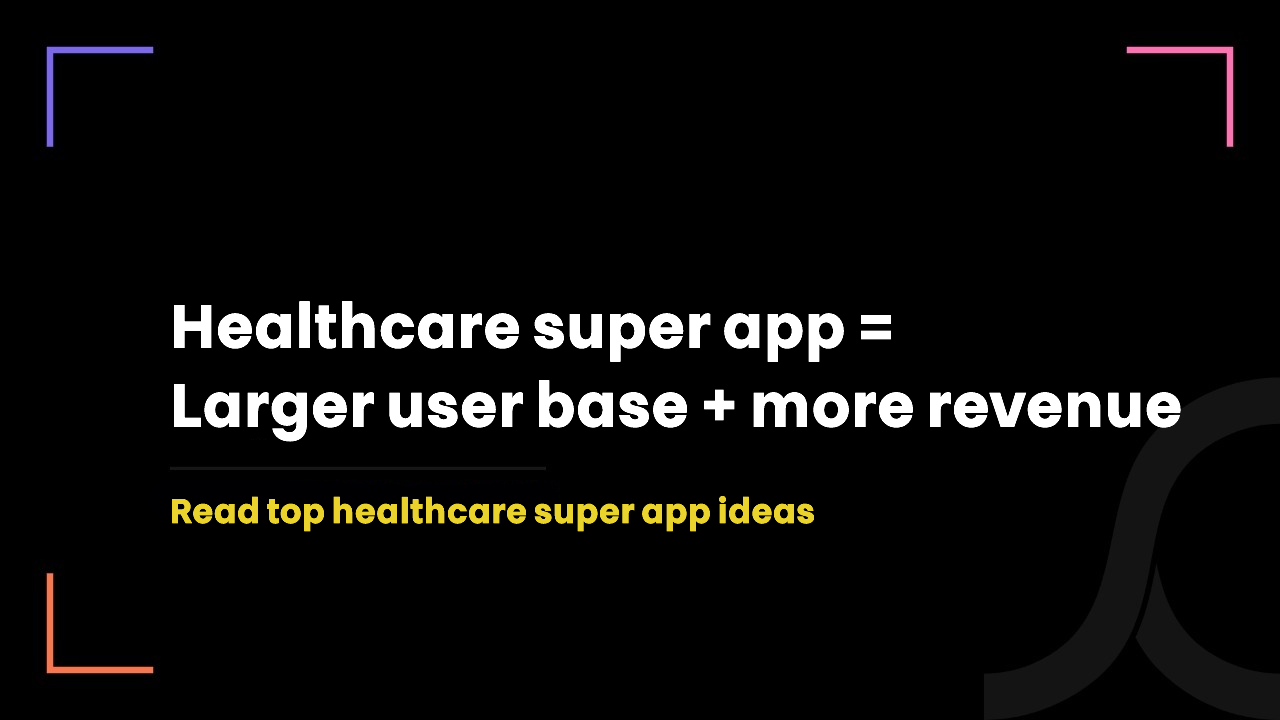 8 months ago
In his recent interview, Walmart's Chief Product Officer, Meng Chee, explained Walmart's ongoing plan to build a lifestyle super app that is more than just a shopping experience.
Walmart is currently putting all efforts to bring business, health, wellness, financial and auto care services under its one super app.
This complete lifestyle package enables users to satisfy their multiple goals through the same app. This is why such super apps are sometimes also called multi-purpose apps.
But the question is, why top brands are putting all their efforts to build super apps and what's its potential in the healthcare industry.
What are the benefits of having super apps? 
Let us clear your doubts with a simple example.
Suppose, you are running a milk shop, only selling milk to people.
You every day attract 100 customers and the average customer spending is $5. Meaning, your everyday revenue is $500. 
You notice that out of 100 customers, almost 80 customers also purchase cookies but from the shop next to yours as you are not selling cookies and they want it with milk.
So, you do some little math.
If I start selling cookies as well, the average customer spending will increase to $7, so does my revenue to $700 per day.
And since I already have the infrastructure and resources (shop, suppliers, staff) ready for expanding my selling items, I won't have to invest more and spend more time.
App owners think the same way.
They already have an app, staff and a user base. So, if they expand their service offerings through their apps, users would spend more and app owners make more money.
The best example of a super app is a GoJek app which offers more than 23 services from the same app and is valued at over $30 billion.
Talking about its brand and commercial benefits,
A very large user base
Increased average user spending
Increased profit per user
More brand value
More brand awareness among people
Will the concept of super apps work in the healthcare industry?
Yes, it will. In fact, it has already been working.
In 2020, during the peak of pandemic time, we have experienced several healthcare startups raising funds and introducing more services or offerings one at a time.
Following are some examples.
An Ontario-based online pharmacy app PocketPills introduced telemedicine services in addition to its existing online prescription service.
Another example is New-York-based digital pharmacy - Capsule. After raising a whopping $300 million, Capsule now eyes on building a healthcare super platform by rolling out telemedicine, mental health and healthcare eCommerce services from its single platform.
You must read: How to start a digital pharmacy like Capsule?
Another Ontario-based mental health-focused startup named Felix Health which has been offering prescription renewal and medicine delivery services related to mental health recently launched virtual mental health services by adding telemedicine features into its platform.
A very impressive resource: How to launch a virtual mental health service like Felix Health?
So, now when you know the market feasibility of a healthcare super app, let's discuss a few healthcare super app ideas you must consider to build a healthcare super app.
Top super app ideas for the healthcare industry to build a healthcare super app
Our business analysts everyday deal and talk with healthcare professionals, healthcare entrepreneurs, and government agencies. And what they have discovered is very interesting.
Telemedicine or Virtual Care Super App
Telemedicine super app facilitates patients to virtually connect with healthcare providers of every medical specialty such as dietitians, pediatricians, oncologists, dermatologists, urologists, etc.
Users can also buy medicine online using the same platform. They can even purchase medical and wellness products without switching to apps.
Thus, the virtual care super app includes telemedicine, online pharmacy and healthcare eCommerce modules.
Using this app, pet owners can book virtual appointments with vets.
They can order medicine and food for pets online using a built-in online pet pharmacy module.
They can even hire on-demand pet sitters and groomers from the same app.
And last but not least, they can connect with other pet owners using the social media feature of the super app.
Seniors are facing several healthcare and wellness challenges. So, what you can do is, address all of their challenges with your app or platform.
Your platform can help seniors to find experienced caregivers either on an on-demand or long-term basis.
It can also help seniors to virtually connect with their care team for medical consultation. Most importantly, it can help seniors to take medicine online with its automatic pill reminder feature.
Moreover, using your platform, seniors can track and manage their diet and mental health.
And lastly, your super app for seniors can help them to find and purchase medical and wellness items they need most to live elderly life without suffering physically and mentally.
Like seniors, women also experience different healthcare and wellness challenges. And thus, it is a great opportunity for you to let them solve all of their challenges with your super app.
Using your app, women can achieve their dietary and weight loss goals.
They can do light home workouts as per their ability and record data every day.
They can purchase wellness products around the skin, oral, hair and personal care categories.
They can virtually connect with doctors to receive a medical consultation for women-specific healthcare challenges.
They can track and monitor their menstrual cycle.
They can even track and record their sleep cycle & mood and explore resources on mental wellness.
With built-in social media features, all women can connect with each other and share their experiences or ask questions.
In short, you are building a totally different world for women where they can enjoy being women and receive whatever they want to celebrate who they are.
How to build a healthcare super app?
We're an Ontario-based healthcare-focused IT company and we want to say you something.
App development is not only about coding. In fact, coding is only 20% of app development.
The rest 80% includes discovery, documentation, workflows, UI/UX, (development/coding), QA, compliance audit, pilot and launch.
That means you don't need only developers. You also need business analysts, compliance specialists and UI/UX designers.
And this is where we play our role.
We accommodate healthcare-specific app developers, designers, business analysts and compliance experts.
By healthcare-specific, we mean that all of our team members have only been working on healthcare projects since the first day of their professional careers.
With our specific knowledge of the healthcare industry, we can help you with all your technical, business and compliance requirements like no one else can do.
Because, they are jack of all trades, but masters of none. And we are masters of healthcare and that's enough for us! (And I think, for you as well!)