A Guide to Healthcare Website Development: Cost, Types, Benefits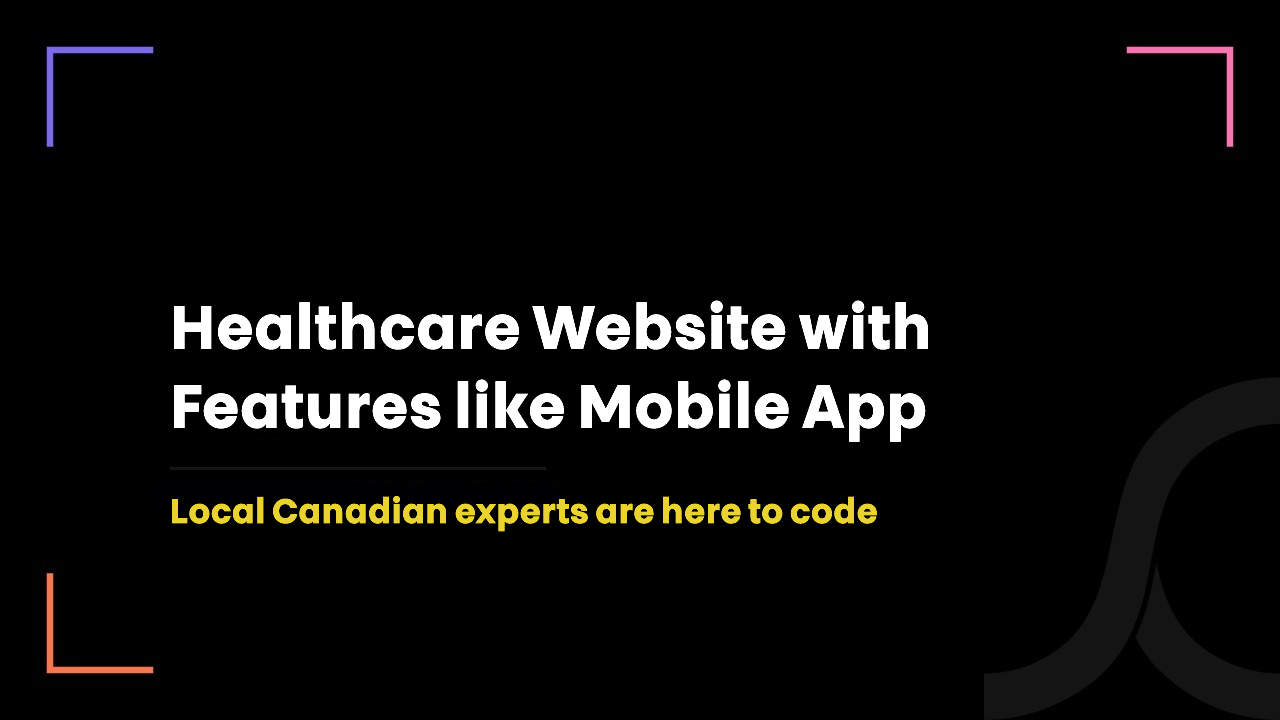 1 year ago
If not a mobile app, a website is the most basic requirement for every healthcare entity in 2021.
It is a revenue magnet. It lets patients easily engage in the revenue lifecycle of a healthcare entity.
And if it is an advanced version of a healthcare website, it is capable of offering virtual care, online appointment booking, patient dashboard and patient engagement solutions.
So, sensing its urgency, let's discuss everything you need to know on healthcare website development to make the best website for your hospital or clinic.
Why should you invest in healthcare website development?
During the last 7 years of serving Canadian and US healthcare industries as healthcare IT experts, we have noticed several healthcare entities doing wonders just with their websites.
They acquire more patients. They accept online appointments. They show real-time wait time. They offer telemedicine services. They store patient data under the profile of each patient.
Overall, they operate in a complete online manner without investing hugely in mobile apps.
You might now have an idea. Still, we are sharing the top reasons behind investing in hospital website development.
You are able to acquire more patients
How? Well, having a website means you have a virtual front door for your patients to enter anytime.
The majority of patients search nearby clinics or hospitals on search engines.
If you have a website, you can come across their search result and they get to know about your healthcare offerings.
And if everything suits them, they can be your new patients!
You are able to take online appointment booking
Thanks to the website, your patients are able to book appointments with doctors online with a few clicks.
They can even modify the appointment by date and time.
You are able to let patients check-in virtually
With a virtual waiting room integrated with your website, your patients can virtually check in to your clinic from their home, from parking on while on their way to your clinic.
And when their time comes to be seen by a doctor, they recieve a message with the exam room number.
Outcome? Well, patients now don't have to wait in the waiting room. And that matters most to them!
You are able to offer virtual care services
Telemedicine or virtual care is what every patient now expects from a healthcare provider.
With your healthcare website, you can enable your patients to connect with healthcare providers virtually and get consultation via video call, chat or voice call.
The best part of providing virtual care with a website is you don't have to pay for a video calling API.
Because all the latest browsers by default support webRTC which is a free video calling framework.
You are able to offer an ultimate patient experience
Imagine patients are able to book appointments online. They can talk to doctors virtually. They can check in virtually. They can access all information online.
How happy they would become?!
What are the major types of healthcare websites? And the development cost of each?
If you are planning to build a website for a clinic or hospital, you must have awareness around three major types of healthcare websites.
1. Static Website
This type of website is the most basic version of a website. It only contains information in the form of images, videos and text.
This type of website also has the most basic UI.
This website is good for you if you only want to share information with your patients.
Such a website costs very little as it does not deliver any value and is very easy to build.
2. Dynamic Website
This is a good choice for you if you want to try something modern and trendy and attract your patients.
However, you cannot utilize dynamic websites for healthcare offerings.
Building a dynamic website for your healthcare entity costs you somewhere between $5K to $20K from a professional team of developers.
3. Progressive Web App (PWA)
This is the most advanced version of the website. Yes, it is a website, but works and looks like a mobile app.
It is fast, secure and supports offline access, notifications, background updates and animation.
The best part of PWA is you can easily add and work with features such as appointment booking, virtual care, virtual waiting room etc.
PWA delivers more value than all other options. Thus, we strongly recommend you to go for PWA. And yes, it costs almost 60 to 70% lower than a mobile app.
To know more: A detailed guide to progressive web app
A major challenge associated with healthcare website development
Building any type of healthcare digital solution is not like developing any other solution. Why? Well, just because of the compliance or privacy laws.
In the healthcare industry, there are several data privacy laws applicable at both the federal and provincial levels.
Each of these laws has multiple technical and administrative requirements.
Meaning, if these laws apply to you, your healthcare website must adhere to healthcare compliance regulations.
But that's the tricky part. Not all website developers can build compliant websites with data privacy laws. In fact, not all developers have knowledge regarding healthcare compliance.
And if they deliver you a non-compliant website, you can be liable for the hefty fine by privacy commissioners.
Thus, we recommend you always hire experts who are equipped with an on-ground understanding of healthcare compliance.
Top technologies used to build a healthcare website for hospitals or clinics
In case you are interested in knowing the technical part of healthcare website development, we are sharing it here as well.
HTML: It provides structure to the website.
CSS: It deals with website UI such as colour, fonts, animation.
JavaScript: A major programming language used by all web browsers.
PHP: Another major programming language, used to achieve complex results.
Node.Js: A server-side scripting language.
WordPress: Content management system useful for sharing content easily.
MongoDB: It is a dynamic database that stores data in a structured way.
WebRTC: Provides free interface for video calling, chat or voice calling in browsers.
Here is how we designed and developed a website for an Ontario-based LTC home recently
An Ontario-based LTC home approached us with a requirement of building a custom website.
The client wanted a website with advanced features like virtual care, resident portal, online payment, task management for staff, medication management for residents and concern management for residents' family members.
After understanding client requirements with a series of virtual calls, we deployed our best local Canadian healthcare designers, developers and compliance experts to get the project done within budget and time.
Our designers designed the website while considering usability and then developers coded the website using clean-code architecture to make code maintenance easy for the client.
Later, the QA team tested the website and the compliance team checked for compliance readiness.
The website was armed with all features an app would have such as telemedicine, ePrescription, access control, custom workflows support, easy medication management of residents, profile for each resident, etc.
The best part of the entire project was, our client enjoyed the peace of mind while we solved all his technical and compliance issues!
You can hire this same team that has developed more than 100 modern healthcare websites for Canadian healthcare providers only!