Hims and Hers Business Strategies Analysis: Lesson For Telemedicine Vendors & Healthcare Startups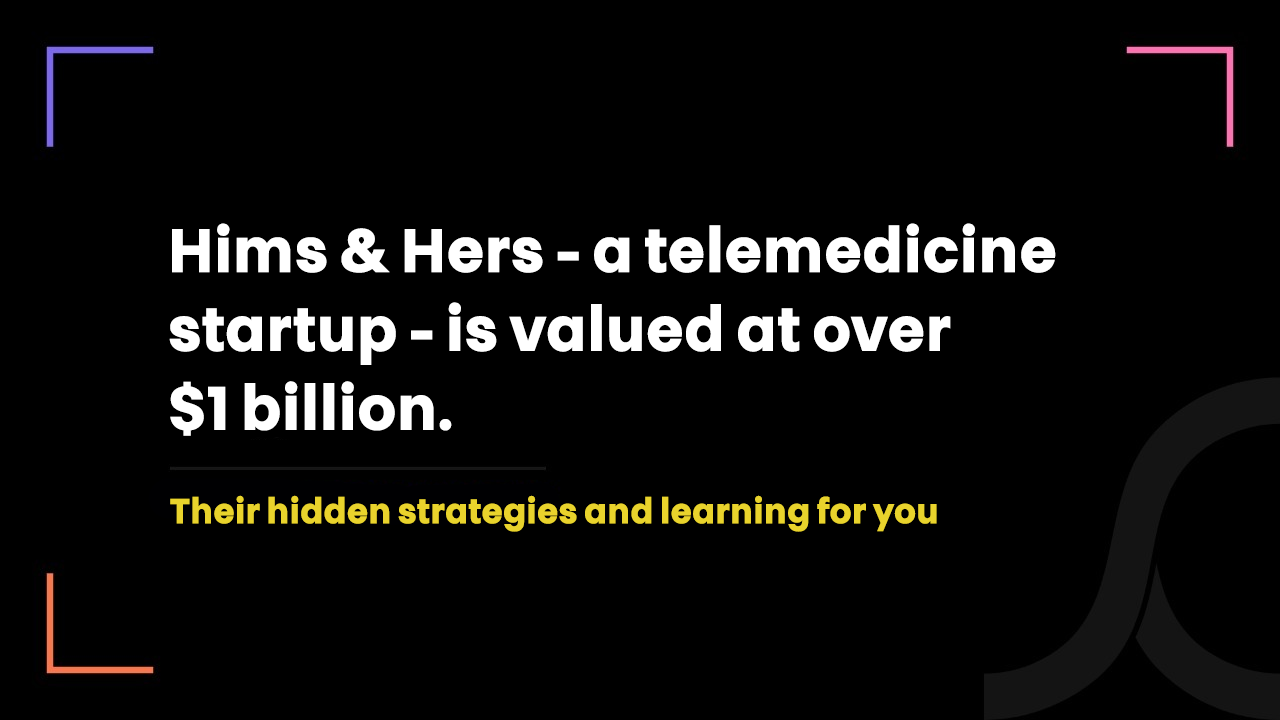 1 year ago
Hims .Inc is a telemedicine company that runs two separate brands - Hims for men and Hers for women - for selling personal care products and providing virtual care.
One of the reasons why this healthcare startup is significant because it is the fastest startup to earn a unicorn status after a mobility startup named Bird.
Recently, the startup went public and started trading publicly on NYSE.
the moment we rang the bell at the @NYSE as $HIMS.

this was a surreal moment for all of us at Hims & Hers, and we look forward to bringing telehealth to more people in 2021! pic.twitter.com/bi294gedlu

— hims (@wearehims) January 21, 2021
On its first trading day, its shares slipped a bit by 5% from where it started the day. But in an interview with Techcrunch, the CEO said he is fine with this drop.
Despite the early bad sign while trading, the 3-year-old company is enjoying a premium customer base of 300,000 paying subscribers for its various services.
There must be something special about this company that makes them hit the valuation of $1 billion in 1.5 years and go public within 3 years of the inception.
Today, in this blog we will analyze the business strategies of the Hims and Hers health.
If you're active in the telemedicine or the healthcare industry, this blog will help you a lot.
Other useful resources on telemedicine:
Just in: Hims & Hers and Uber Eats tie-up to deliver healthcare and wellness products
As per the official report, Hims & Hers has tied up with Uber for providing on-demand delivery of wellness and healthcare products and over-the-counter medicines offered by Hims and Hers.
Starting from the first week of December, users will be able to order skincare, hair care and sexual care products of Hims & Hers using the Uber Eats app.
For now, this on-demand service is available on the app in 12 cities across the U.S., including Los Angeles, Dallas, Miami, Atlanta and Philadelphia.
Hims and Hers Business Strategies Analysis 
2020 was a successful year for the company. It experienced a 91% Y/Y increase in both Q1 and Q3 of 2020.
The average customer order value also increased by 16% to $67.
🚨 SPAC MERGER: $HIMS ➕ $OAC 🚨

Following today's NYSE debut, Hims & Hers CEO @AndrewDudum details the company's growth plan and overall position in the healthcare landscape with @NPetallides on #TheWatchList:

— TD Ameritrade Network (@TDANetwork) January 21, 2021
It is only because of the following business strategies - according to our business experts.
Hims and Hers health addresses the most common challenges of the people.
It writes in its official blog post that seeing a physician in the office that opens on fixed hours is difficult while balancing the demands of daily life.
With Hims telemedicine, it provides the ultimate ability to people to see physicians anytime from anywhere.
It helps people expand their reach to physicians who are not easily accessible from brick-mortar clinics.
Thus, many of its users are only using the Hims telemedicine solution to receive care without taking leave from work and without travelling miles to the clinic.
Healthcare is like a BlackBox where patients never know what they will encounter next and will be charged for.
A typical visit to a primary care provider costs almost $106 in the USA - not including the missed wages due to work leave and travelling charges.
Hims & Hers eliminates this uncertainty and limitation from healthcare.
The televisit with physicians through its platform only costs around $39.
There is also a subscription plan where members pay only $20 a month for unlimited online consultations and a supply of generic medications.
Running an Over-the-Counter Pharmacy
This is their most game-changing business strategy.
In addition to the online clinic, they run an over-the-counter pharmacy that can sell medical supplies and drugs that do not require a prescription.
Such an approach makes them generate more revenue per user or increase the unit economics.
Because many times people having healthcare problems can be solved with over-the-counter drugs and since users receive such drugs from the same platform, they would buy it straight away.
For instance, if a user has a hair fall problem, Hims and Hers provides doctor consultation and also hair care products to control hair fall from one source only.
There is a high probability that people who do not need a consultation, end up buying hair care products.
And people who need a consultation, end up buying hair care products and consultation both!
How clever!
Following are some of their men's hair care products people can buy online.
Personal Care Products Based on Gender
And there is nothing wrong here. After all, both women and men have different healthcare complications.
The company Hims was founded to sell men-centric personal care products and supplements.
But soon, they launched women-centric services under the brand name Hers.
As of now, they are keeping these two brands separate. Even they have separate websites to address gender-specific healthcare challenges more efficiently.
The personal care products they're providing under the Hims brand are almost the same as the Hers brand when it comes to categories such as hair, skin, etc.
But the Hers brand is selling some products that address women-specific healthcare complications such as birth control and eyelash growth.
One surprising thing we noticed is that Hers is selling more women's hair care products in an organized way with more 'kit or combo' options than Hims brand.
The following are just 2 of them.
This clearly depicts how they are leveraging women's more interest to look after their hair against men's less interest.
More Private Care For Personal Healthcare Complications
Hims and Hers offers dedicated services and products for sexual wellness. There is a large population out there who has such healthcare complications.
However, the traditional healthcare approach fails to provide them with more private care while letting them stay in their comfort zone.
People do not feel confident sharing their complications with a physician in an in-person meeting.
Hims and Hers has identified this unanswered challenge of the people and solved it.
The platform allows users to describe their problem by answering a few pre-listed questions.
Based on the answers to these questions, the physician can easily understand the cause of the problem. Here, the smart software also helps physicians to easily figure out the factors causing complications.
If the user wants, he can talk to the physician through a video call. He can also choose the chat option to not reveal his visual identity.
The packaging of the prescription or drugs also ensures privacy.
The Biggest Learning: Telemedicine App/Platform is Not Only About Code!
Hims and Hers could never be able to succeed if they had only focused on the technicality of the telemedicine platform.
They're successful because they carried out the business & market research part brilliantly.
They identified the real challenges people are facing that no one had ever dared to solve or even talk about.
They did not stop here. They planned several strategies on several fronts - we discussed only a few of them.
We believe the same. We're an Ontario-based healthcare-focused IT development company that not just develops apps, but builds healthcare business strategies too.
With our unique mindset and expertise, we deliver you business - not just an app!
Following are some of the screenshots of our ready-to-use white-label telemedicine solution.