HIPAA Compliant Development for Your Website, Software and App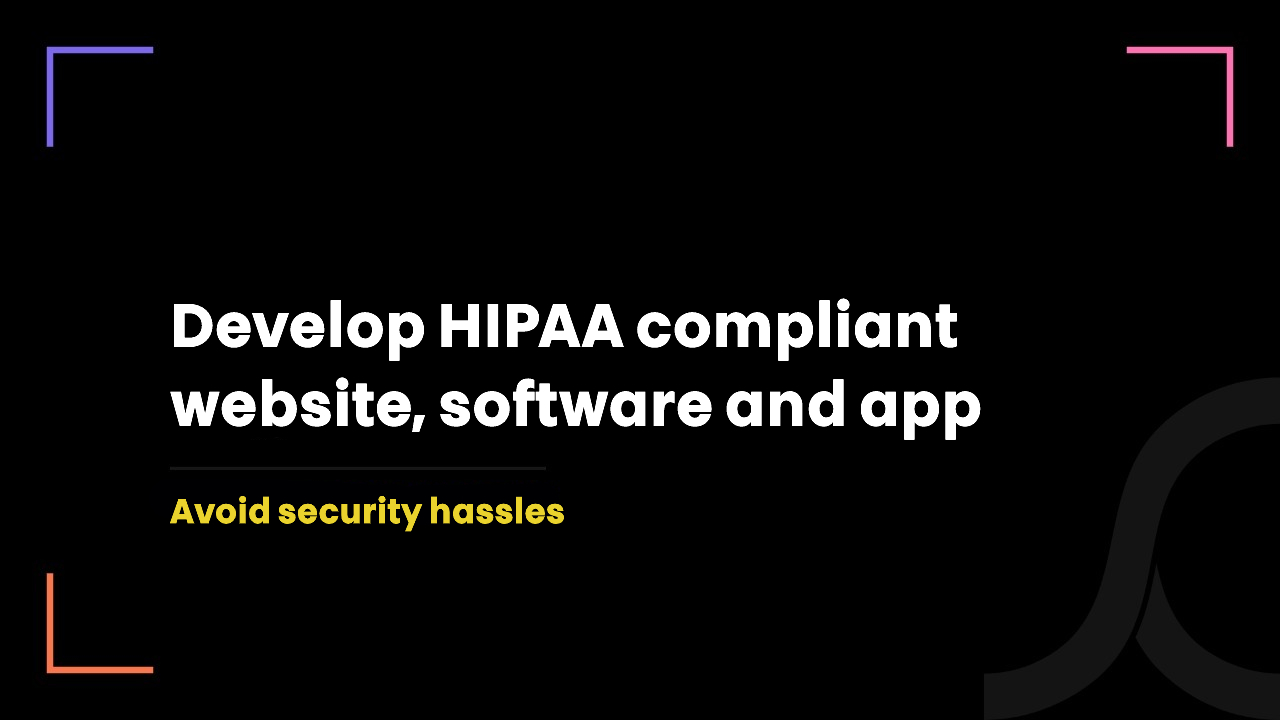 8 months ago
Just a heads up! By the end of April 2021, 30 US hospitals and health systems became victims of cyberattacks, with somewhere more than 2 million health records exposed.
No, we are not trying to scare you. As a health-tech company that works closely with healthcare compliance, we are trying to warn you. Regarding, what could happen if your website, software, or application succumbed to these attacks.
In a data supplied by CompliancyGroup, many healthcare associations for non-adherence of HIPAA compliance was fined thousands of dollars:
Lifetime Healthcare companies paid $5.1 million for data breaches of over 9.3 million people.
Children's Hospital & Medical Center paid $80,000 in the Twentieth Investigation in HIPAA Right of Access Initiative under OCR settlement.
Banner Health paid $200,000 in the Fourteenth Investigation in HIPAA Right of Access Initiative OCR settlement.
And the list goes on and on and on…
Why is it so crucial to have HIPAA compliant website, app or software?
Only gain, No loss.
The US Department of Human & Health Services stipulated HIPAA for Protected Health Information (PHI) that entitles all healthcare entities to implement security safeguards on their physical, network, and processes.
But, exactly what does HIPAA cover under the PHI-
Electronic Health Records (EHRs)
Medical Records
Details of health plans
Social Security number
Membership or account number
Photos and images
Biometric Data
Medicare details
The HIPAA doesn't single out sharing methods. You are liable even if a patient data breach is done electronically ePHI, verbally, or written.
Planning to do HIPAA compliance for website, software or app? Here's why HIPAA compliance is important.
Security for your systems and servers
When you are compliant with HIPAA, you will be at par with the finest software for your websites or apps systems and servers. And equipped with information on the most recent threat profiles, and you will have the most up-to-date security upgrades to guarantee that your servers and systems are always secure.
When you adopt HIPAA-compliant solutions, your website, app, or software are constantly scanned for detecting suspicious activities on your servers. Thus, your security analyst will detect threats and get them fixed before affecting any of the patient health records. 
So you developed a healthcare website that uses a patient's medical records and personal details like name, address, payment methods, etc. The people would want to have their data secured. HIPAA compliance consultants like us can reduce the risks for you and increase your user trust with the HIPAA compliance website checklist. 
When your website or software is HIPAA compliant using our services, as a healthcare deliverer, you can focus on more important issues. Whilst, not having to worry about wasting your valuable time and resources distressing about user security and safety.
As a healthcare service provider, you are always at risk of cyberattacks and data breaches. Another risk that looms always on your head is assessments from the Information and Privacy Commissioner. As you saw above, the fines came with lots of zeroes. That's when a HIPAA consultant like us comes to the rescue.
How do we execute HIPAA compliant development for your website/software/app?
We do more than just assist you with HIPAA technical requirements. Our knowledgeable HIPAA compliance specialist will also advise you on HIPAA administrative and business needs.
After years of experience and learning of our experts, our lead HIPAA compliance specialist has designed a 5 step planning to successfully execute HIPAA compliant development.
Scope determination- It includes the intended region of the organization/network that we prioritize for controls. Technical safeguards, administrative safeguards, and physical safeguards we address all in our HIPAA compliance checklist.
Asset location, risk audit analysis, asset identification- Risk evaluation is necessary to identify the scale of the infrastructure and the level of control required. This stage result helps us in the identification of each gap.
Implementation- Our HIPAA compliance specialist with the tech team renders policy/procedure/documentation definitions and related records of people, processes, and technology are used for execution. While administering all the technical requirements.
Internal auditing- Is a method that, on the one hand, assures successful implementation and, on the other hand, incorporates safety standards into the firm life cycle.
HIPAA compliance- At this point, you can claim your app, software, or website to be HIPAA compliant.
Why should you go for HIPAA compliant development with us?
Your THE ONE, HIPAA compliance consultant because we go beyond compliance for you.
With almost a decade worth of experience in developing technologies and healthcare solutions for healthcare providers, clinicians, and health Entrepreneurs.
Highlighting compliance issues that we view as potential dangers to your website or app in accordance with HIPAA regulations.
Experienced and knowledgeable with legal standards, we have assisted various clients in the healthcare sector in creating law-abiding policies and procedures.
Just to let you know! We are not freelancers, we have a tech team that achieves all your technical requirements for HIPAA compliant development of your website or software. While we also provide validation of our knowledge, skills, and qualifications.
It's a match made in Heaven!!!
We are your local HIPAA compliance experts with local on-the-ground expertise and experience with HIPAA standards, hurdles, and the smart way to handle every HIPAA need.
We understand the seriousness of the problem and your local healthcare system inside out, and we can offer outcomes in a timely and sabotage-free manner.
A competent HIPAA consultant like us! Isn't that obvious by now.
We will aid in logging everything according to requirements, doing frequent audits, training your employees in compliance rules, drafting data privacy policies, workflow tools to support implementation, quality assurance, and preparing PIA and TRA.
How we helped a telemedicine app to accomplish HIPAA compliant app development standards?
It was just last year when virtual healthcare took a launching boost. That was the time we were approached by a development firm working on developing a healthcare application.
Owned by a couple of physicians they wanted to get a full compliance security audit before making their app public in the Canadian healthcare domain.
With deep-dive analysis of the application, we carried out security and risk assessment, security standard audit, asset, and device audit.
All with the help of the cloud and network security team. And our HIPAA development specialist was present at every single step till absolute success was achieved.
And guess what the result was?
We filled 47 security gaps. What!!! You don't believe us, do you? Go ahead and take a look yourself.