Let's Discuss Real Reasons Why You Should Have a Mobile App for Your Hospital/Clinic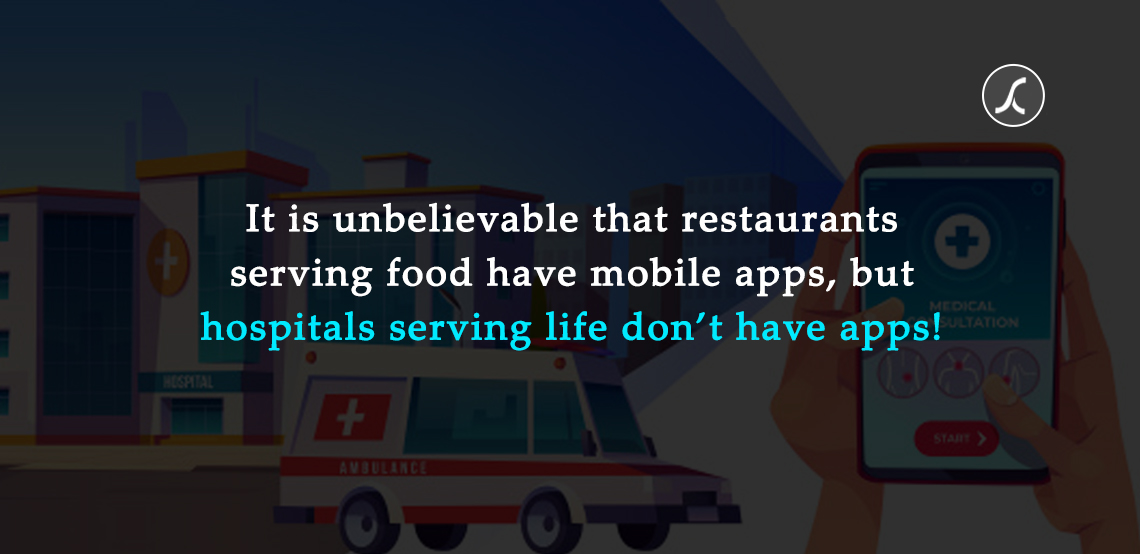 3 months ago
"Can I visit your physician online?" - a Patient
"Can I get my weekly shift details automatically on every Sunday at 6 pm?" - a Nurse
"Can I get my appointment details for a day at 6 am every day?" - a Physician
"Can I book the doctor appointment online for my kid?" - a Mother
If you don't have answers to such questions, you should seriously consider a tiny mobile app for hospitals or clinics! 
This must've hit you hard!
Keep reading, you'll find how a tiny mobile app streamlines all of the clinical workflows and business workflows you're having in your healthcare centre.
The Impact of Having Mobile App For Hospitals & Clinics
For someone who knows the use cases of the mobile app, it is really shocking and unbelievable that restaurants serving food have mobile apps, but hospitals serving life don't have apps! 
Anyway, let's talk about the real benefits of developing a mobile app for your hospital and clinic.
All healthcare services, offerings, and programs at one place
All modern hospitals and clinics are offering several wellness services and programs beyond healthcare services.
This includes employee wellness programs, mental health programs, yoga sessions, physiotherapy, labs, accommodation, meals, etc.
A mobile app brings all of these services and programs under one umbrella and makes sure patients and their family members find these services and interact with it very easily without being physically present at the hospital.
For instance, after the hospital releases the patient, he can join the daily yoga session organized by your wellness team - from his home, by just visiting the app. 
This is just one example of how a mobile app centralizes all of your services.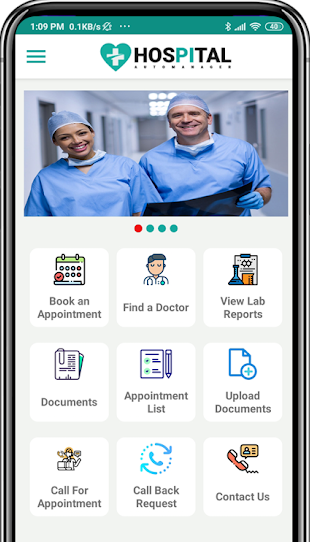 Online doctor appointments
People visiting hospitals or clinics without prior appointment have the mental state set at the default mode, Damn! I have to wait for hours in the queue for my turn!!!
Thus, all the patients prefer to book a prior appointment with the physicians for any healthcare service - except for an emergency.
You already know how difficult it is to book appointments via call for both patients and call recipients.
Instead, the patient can book the appointment by himself at his preferred time by using a mobile app.
The real ease is when there is a need to modify the appointment. Both patients and physicians can modify the appointment date & time and the attendee gets notified automatically.
Imagine the same scenario with a call recipient!
The online clinic, virtual clinic, or virtual hospital
During the ongoing pandemic, patients across the world are finding online clinics or telemedicine safer, affordable, convenient, and rapid.
According to a recent survey, one out of every 3 Canadians prefers to opt-in for telemedicine rather than an in-person visit to the hospital.
And almost 70% of Canadians believe that telemedicine or virtual care is the future of healthcare.
The mobile app of your hospital or clinic is equipped with telemedicine features that facilitate your physicians to talk to patients remotely via secure video calls, voice calls, or chat options.
The built-in telemedicine capabilities of the app enable physicians to write notes and ePrescription.
And the seamless integration with EHR and EMR software eases the physicians' work to the extreme level.
We've developed the HIPAA/PHIPA/PIPEDA compliant telemedicine solution which we're currently providing to all startups and healthcare organizations for just $20000.
Hospital staff management
Hospital staff management is the biggest administrative challenge in the healthcare industry.
With several departments and several part-time & full-time employees in each department, it is nearly impossible to manage the staff manually or even through Excel sheets.
Costly HR management software is one solution but yes, it is costly and you don't enjoy the ownership of it.
The mobile app is a breakthrough here. 
With dedicated features of staff management in your hospital app's admin or HR panel, the HR team can plan a weekly roster, share it with staff members, coordinate with the teams, manage their attendance & leaves, and carry out payrolls.
Staff members also - through their app - can check out their daily tasks, weekly roster, can coordinate with other team members, manage leaves, and much more.
Because you should not move along the floor to manage your staff! 
Centralized information or ePHI access
On average, healthcare professionals spend 1.8 hours every day searching and managing the information and various data of the patients.
Here, the scope of the errors is also very high.
The mobile app allows healthcare professionals to access the data of a particular patient - directly from his profile.
Healthcare professionals can check the medical history of the patients, various report results, and even request patients or their family members to upload the necessary documents or images.
By leveraging automation, mobile apps further cut down many more efforts of healthcare professionals. 
For instance, when a physician writes the ePrescription for a patient, it automatically gets stored under the patient's profile and the app automatically sends it to the caretaker of the patient and also the pharmacy.
Next-level of patient experience or customer experience
Customer experience is the biggest challenge in the healthcare industry. According to PWC, only 49% of the consumers agree that the customer experience in healthcare is satisfactory.
One of the major barriers hospitals and clinics are experiencing is poor communication and coordination between the healthcare team, customer service team, patients, and insurers.
To handle a claim, the customer service team needs to establish a link between patients, the healthcare team, and insurers.
The customer service team also struggles to answer the queries of the customers as it lacks many resources and information which are only available to the healthcare team and insurers.
A mobile app with dedicated features for customer service in the admin panel and chatbot for customers to get answers within seconds solves the age-old healthcare challenge in a single shot.
From claim management to query management and dispute management, the customer support team would now be able to answer every query with easy access to information and easy coordination with other teams.
We've great experience in healthcare with developing LTC management app - Writi, that joined Jack Nathan Health
We have been very active in the healthcare industry for more than 6 years.
Writi is our most recent milestone which is helping long-term care homes to optimize senior care workflows.
Considering the promising future and use cases, Jack Nathan Health recently acquired Writi.
With our in-house app developers, designers, business experts, and compliance consultants, we're clever enough to develop any kind of mobile and web apps for your hospital and clinic.
This tiny and affordable mobile app will beat the top hospital management software very easily!
In case you're wondering, compliance and security are our main priorities. And that's why we accommodate dedicated healthcare compliance experts!