Planning to Build a Lab Management Software? Get Answers to Your 10 Most Game-Changing Questions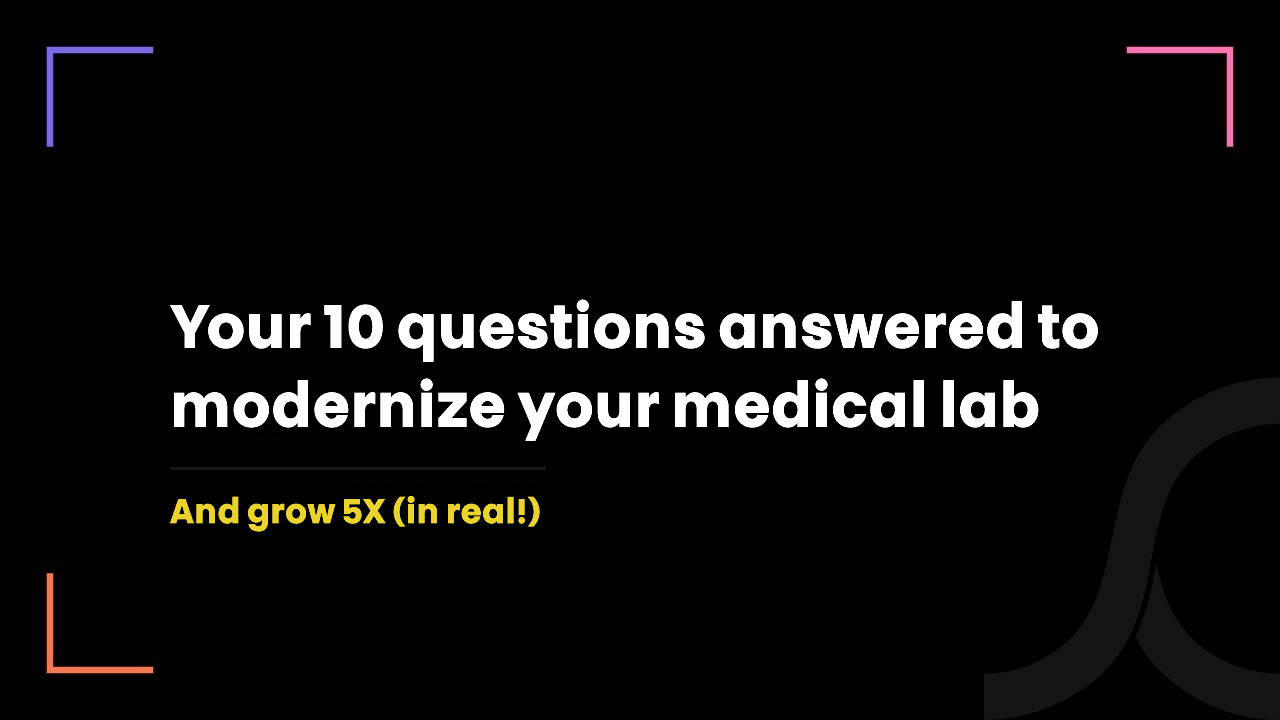 8 months ago
We welcome all of our healthcare clients with consultation sessions.
And if there is a client who belongs to the clinical laboratory world and is planning to build a digital solution for his lab, he always asks us these common questions.
These might be your questions too.
1. What can I and my patients do with a medical lab portal or lab management software?
Your customers (patients) benefits:
Online appointment booking
Appointment management
Online payment
Virtual waiting room
Patient profile
Online result access
Result alert by SMS or email
Tele-consultation if needed
Your (lab owner) benefits:
Online patient onboarding
Billing management
Patient data management
Direct result sharing with physicians
Inventory management
Documents management
2. If there are many 3rd party lab management software available, why should I build a custom medical lab patient portal or software?
Due to these 2 reasons.
3rd party lab software charges monthly fees. They are so smart that they offer different packages with only basic features in an affordable package.
This way, in the short run, you of course spend less. But in the long run, you end up spending huge amounts without actually using its premium features and owning nothing.
At the same time, your own custom lab portal gives you the flexibility to add features as per your needs and lets you enjoy product ownership.
And all these cost you as much as the amount you pay that 3rd party software in just 2 or 3 years as a monthly fee.
You have to use what they have developed. In the case of 3rd party lab management software, you cannot leverage it to its full potential as it isn't developed for you only.
But at the same time, if you build your own lab management software, you are able to customize it as per your requirements and workflows that enable you to derive maximum benefits and higher ROI.
3. How much does it cost to build lab management software or a lab patient portal?
Well, when it comes to cost, we can't give you a precise number without knowing your requirements. But yes, we can give you a rough estimate.
Generally, developers charge on an hourly basis. And it takes them a different number of hours as per the type of lab management software you wish to build.
If full-fledged custom software or portal:
It takes easily 1000+ hours.
Why? Well, a full-fledged solution is armed with common, basic and advanced features. This software also needs to be integrated with EMR/EHR. There are several APIs that are also used in building full-fledged software.
In the case of the MVP version, developers take at least 600 hours. (An MVP version of the lab patient portal only contains basic and useful features.)
If you have a limited investment cap, we would recommend going for the MVP model. Once you test it in the real market or with real customers, add needed features or upgrade existing features.
This way, you can keep the financial risk to its lowest point.
4. Who will own the code after the delivery of the lab management solution? And why does code ownership matter?
You will own the code. And that matters the most, because,
Owning code means you can change UI/UX or add features to your product as per your flexibility. You can hire a new technical partner. You don't have to always ask your current technical partner to add change in the product.
Most importantly, if something goes wrong in future, you can sell your product to anyone.
5. Will there be any operating cost to keep my lab patient portal running?
Yes, there always are operating costs, with any type of digital solution.
But it will be a fraction of what you are capable of earning with your lab management solution.
Operating costs include the cost of maintenance, cloud hosting, and API fees.
6. Which option is more 'value for money' in between an app, web portal and software for my lab?
To be honest, an app and software deliver more value than a web portal. However, the major factor which draws a line between these 3 options is the cost of development.
For instance, building an app for your lab costs almost double of a web portal. The same applies to software.
7. Can I be able to share lab results with healthcare providers?
Yes, you can. But it requires additional development as there is no direct way to online share lab results with doctors' EMRs.
Because you might already know that an EMR lacks the capabilities of receiving data from outside of a fixed facility.
However, there is one solution called HRM (Health Report Manager).
Almost all popular EMRs in Canada have already implemented HRM. It provides the ability for EMRs to receive data from all sources.
But to send data from your lab to the EMR of a healthcare facility, you must integrate HRM with your lab management software.
With this, you can now be able to send lab results directly to healthcare providers' EMRs from your lab portal.
To know more on HRM, read our dedicated blog
8. Should my lab management software need to be compliant with data privacy laws?
Yes, it must be. Why?
Well, it collects, uses and shares the personal and clinical information of patients.
And that's why there is one federal-level privacy law and multiple provincial-level privacy laws apply to your digital lab solution.
For instance, PIPEDA at the federal level in Canada and PHIPA in Ontario, HIA in Alberta.
Each of these laws has several technical and administrative regulations which you need to adhere to at any cost.
Otherwise, you will be liable for the hefty fine.
The only purpose of these laws is to ensure all healthcare entities have an adequate number of security measures in place to avoid a healthcare data breach.
9. Can I build a lab management system and let other labs use it under the SaaS model to make money?
Absolutely you can. In 2021, all labs need to operate online and with less effort which they can only achieve with a digital solution.
Leveraging their needs, you can build a custom feature-rich lab management system and let other labs use it by paying either a fixed monthly fee or fee-based on usage, under the SaaS model.
If you charge $500 as the monthly fee and tie up with at least 50 labs, you end up making $25000 every month!
10. Great. I want to do it. How can you help me achieve it?
Well, we can help you with the technical, business and compliance challenges of building a lab management app or software or web portal.
We design UI/UX. We code the product. We test it. We pilot it. We launch it.
We define workflows. We prepare a business model. We do documentation.
We do compliance audits. We fill security gaps. We do compliance documentation.
We integrate EMR/EHR & HRM and we provide post-launch support.
Overall, we can help you in everything which requires your digital lab product to not be a technical, financial or legal blunder!