How to Make a Successful Senior Care App Development in Canada and the USA?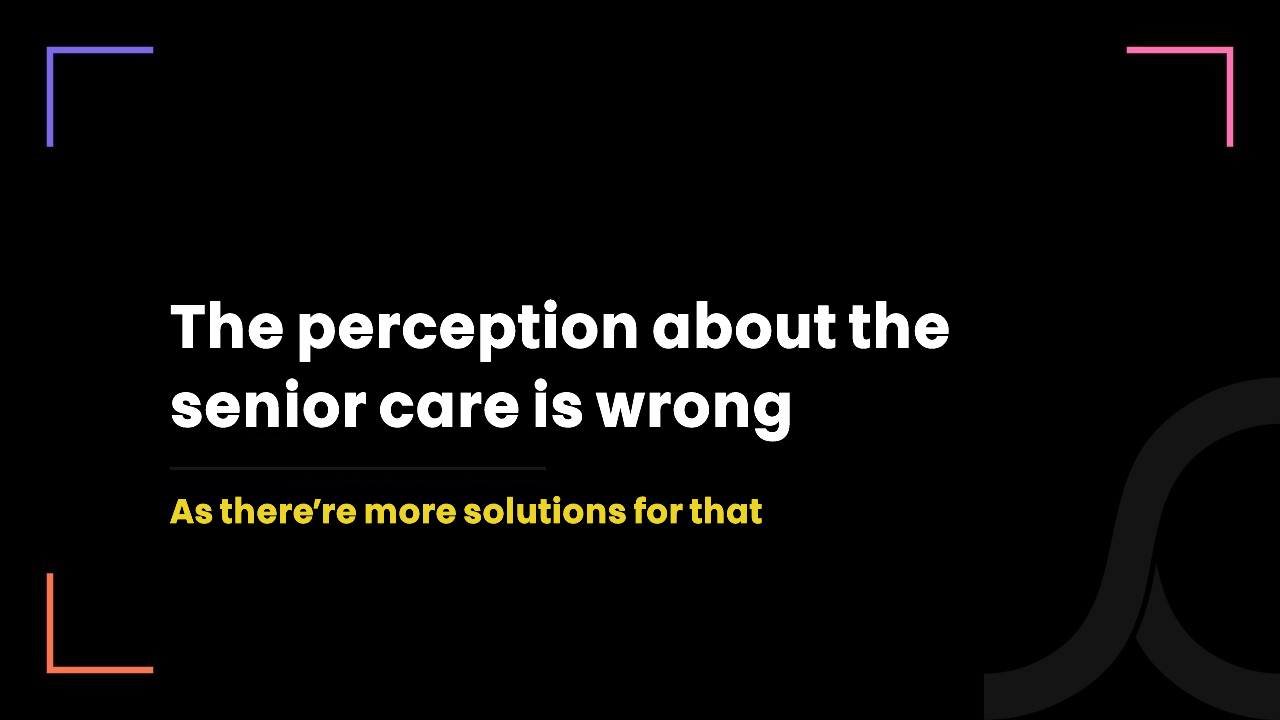 2 weeks ago
"Senior care".
It's one of the time-consuming and costly healthcare services as it requires more human efforts and resources.
However, the COVID-19 pandemic has changed the scenario in senior care.
And the primary reason behind that is – mHealth apps for older people or senior care apps.
With that, seniors can analyze their health conditions such as blood pressure, sugar level, activities, and much more other healthcare-related information at any time, from anywhere.
Even though mHealth apps are the most beneficial for senior citizens, not every older age people is using them.
In other words, senior care app development isn't successful.
Why? Let's understand it in more detail.
Senior care app development isn't only about seniors!
Yes, you read it correctly!
As a healthcare-focused IT company, we comprehend how the healthcare industry works in terms of senior care.
Furthermore, we analyze that the perception of the senior care app is wrong.
We discovered that everyone believes that the mobile app can only be used by seniors to manage their medical conditions.
But, a recent survey from the University of Michigan poll finds, "Less than 1 in 3 people over 50+ age currently use them for any purpose, and only 28% of people with diabetes use them to track blood sugar levels".
Indeed, seniors not using the mHealth app is the primary reason behind the poor run of the senior care app development.
But, why are they not using mobile apps? Well, there are tons of possibilities such as,
Fear about the health data security
As a result, developing an app for only seniors isn't the way to dominate the current digital health or mHealth app market.
In other words, healthcare enterprises or startups must have to change their perception of senior care app development.
What are the ideas for developing a successful senior care app?
It's a straightforward approach.
You just need to develop an app that connects every individual who plays a vital role in senior care.
And it includes – family, care providers, and long-term care homes (LTC).
Let's understand each of them in detail.
Connect older age people and their families with the senior care app development:
The best example of it – "Alexa Together".
It connects seniors and their family members remotely, with the help of a mobile app and echo device (Alexa).
Its remote assistance enables family members to send reminders for medication and can communicate with them via virtual care so that they can check on their loved ones at any time, from anywhere.
The best part about Alexa Together is its "24*7 urgent response" feature. With that, older adults can directly call for help in emergency, without touching any button!
In senior care, health requirements vary as per the condition of the older adults.
For instance, someone may require one-day or hourly care, while other seniors may require monthly or permanent care.
In both scenarios, you can develop an app that seamlessly connects caregivers with seniors and their family members without any hassle.
This way, seniors or their family members can easily book or assign caregivers as per their homecare requirements such as preparing or serving nutrition-rich food, giving medications, housekeeping, and many more other tasks.
Virtual healthcare solution for the LTC homes:
The virtual healthcare platform for long-term care homes brings healthcare professionals working in LTC homes such as physicians, RN, RPN, and DOC under the same roof, virtually.
As a result, it eliminates paperwork and enables physicians to prescribe to seniors online after reviewing their medical history.
In fact, a mobile app for LTC homes can actualize rapid care by letting physicians communicate to seniors remotely through chat, voice calls, or video conferencing.
Which types of senior care apps are in demand right now? You should develop it!
With our comprehensive market analysis, we have identified the trending and most promising apps that you should consider in senior care app development.
Explore the entire list below.
As per the CIHI (Canadian Institute for Health Information), "1 out of 5 Canadian seniors surveyed experienced emotional distress in the past 2 years, which they found difficult to cope with on their own".
The primary reason behind the poor mental health of the seniors is the loneliness, helplessness, and financial conditions.
To address those primary mental health concerns, a mental health app for seniors is an affordable and convenient solution for them.
The mental health app contains various solutions to improve the mental state of the seniors such as meditation, exercise, breathing techniques, and audio relaxation.
With the above image, we don't need to explain the importance of exercise for older people.
The exercise app enables seniors to maintain their healthy lifestyle even without stepping out of their homes.
With that, seniors can explore numerous exercise tips and videos on their health conditions. Also, they can communicate with the physiotherapist remotely for any type of injury or fitness concerns.
As a result, it is the most healthy solution for them as it saves seniors valuable time as they don't need to travel to the gym or physiotherapist for their physical health concerns.
As per the survey, "It is estimated that the number of people living with dementia worldwide was 44 million, and this was predicted to double by 2030".
The effects of dementia disease in seniors are countless. It directly affects their overall well-being such as changes in mood, anxiety, depression, and overall mental health.
But with the dementia app, seniors can prevent the disease effect from their homes.
Using the app, older adults can track their behavioural health and can communicate with healthcare professionals without any complexity.
Many seniors forget to take medication on time and sometimes it can be risky for their health condition.
For that, a medication reminder app is the simplest yet purposeful senior care app. It reminds seniors to take medication on time by giving pop-up notifications.
The most unique feature of the medication reminder app is that it prevents seniors from taking the wrong dose at the wrong time.
Furthermore, family members of seniors can also utilize such apps to make sure their parents or grandparents are taking medication on time!
For seniors, maintaining a healthy lifestyle is a crucial aspect.
But with diet and nutrition apps, both seniors and their family members can select or prepare healthy meal plans.
To prepare the meal plans, the app takes the senior's health condition into account such as it counts the calories a user consumes in a day.
The diet and nutrition app even enables seniors to talk to nutritionists directly from the app.
Explore the top features of the leading senior care apps
1. Medisafe Pill & Med Reminder:
Medisafe Pill is a medication reminder app with meaningful features so that people of all ages can take medication on time.
Features:
Medication reminder with alarm
Family and caregiver support via the "Medfriend" feature
Dr appointment manager & calendar
Support for complex dose schedules
Can easily select OTC and RX medications
Daily, weekly & monthly reports to share with your doctor
Track health measurements for various medical conditions
Customizable reminders and time settings
Automatic time zone detection
2. Caring Village:
Caring Village is the all-in-one solution for the senior.
Using its app, seniors can maintain their overall well-being and communicate with care providers for any health-related issues.
Features:
3. MyFitnessPal:
MyFitnessPal has the biggest database for food.
With that, seniors can track their calories and can explore the nutrition facts and tips to maintain their healthy lifestyle.
Features:
Fast & Easy Logging Tools
Connect 50+ Apps & Devices
If you're planning to build a senior care app, then the above are the features you should consider in app development.
However, developing a senior care app is not only about the features. 
It requires a comprehensive business strategy and you must meet all the compliance laws to avoid hefty fines.
In simple terms, you need technical, business, and compliance expertise in one place.
Confused about where to find it! Don't worry, you're in the right place.
We have every answer to your healthcare IT needs!
Who are we?
We are an Ontario-based healthcare IT company.
In simple terms, we only inhale and exhale healthcare IT and work on only healthcare projects.
Our experience:
As a healthcare IT company, we have been delivering powerful healthcare IT solutions for over 7+ years.
For that reason, we completely understand the ins and outs of healthcare.
Our expertise:
With our healthcare IT understanding and hands-on experience, we have everything you got for your healthcare IT project.
It includes – telemedicine mobile & web apps, mHealth apps, custom EHR/EMR development & integration, AI & ML solutions, IoMT services, and RPA solutions.
Our experts:
To build the most promising and dominating healthcare IT solutions, we have a healthcare-specific team that has been performing healthcare IT solutions since the start of their career.
It includes – healthcare professionals, web and app developers, UI/UX designers, business analysts, compliance specialists, and QA engineers.
In case you're wondering, explore our result-driven approach to creating market-dominating healthcare IT solutions.