Develop senior care app to ease senior care operations in LTC homes and family homes during COVID-19 and beyond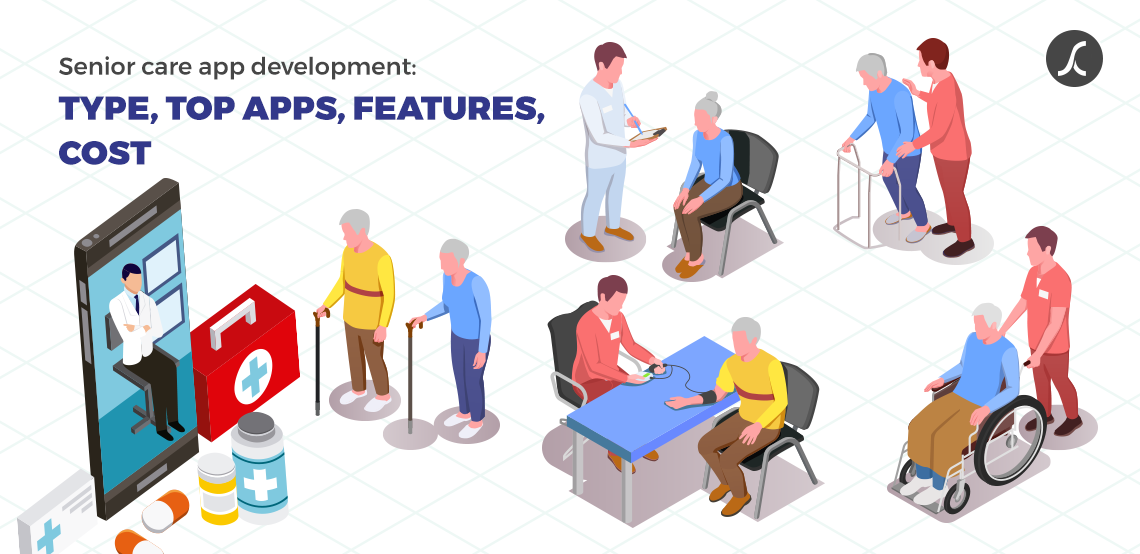 2 years ago
The current healthcare crisis makes us think again - are our loved ones safe, especially elder ones?
According to a report, the coronavirus has spread to 4,800 long-term care facilities in the USA and infected more than 56,000 residents. Sadly, coronavirus-linked deaths in long-term care homes of the USA exceed 10,000.
Talking about Canada, the Chief Public Health Officer Theresa Tam said last week that close to half of the deaths that we're tracking are linked to long-term care facilities.
These numbers are heartbreaking. Seniors are dying alone. Healthcare professionals and family members of seniors are helpless as they lack resources and cannot look after seniors effectively during the pandemic.
But there is a ray of hope. Technology has the answers to questions COVID-19 has emerged with. Technology can help healthcare professionals and family members of seniors to look after them effectively and even without being physically available around them.
Yes, we are talking about the most affordable and easily accessible technology solution - the senior care apps. An individual or a healthcare entity can develop a senior care app to ease senior care operations and to earn money at the same time.
In this blog, you will get to know,
Why should we modernize senior care?
Needless to say that, senior care is time-consuming and costly healthcare service as it requires more human and healthcare resources. During a healthcare crisis like COVID-19, the situation gets worse as overburdened staff cannot provide effective senior care to every senior. But by modernizing the senior care operations, we can free up many hours for healthcare professionals which they can utilize to treat more seniors or residents.
The following are some other reasons why we should immediately modernize senior care.
It is obvious that putting a healthcare worker to work to look after the medical condition of a senior 24/7 isn't a feasible idea. But it is surely within the bounds of possibility to employ modern IoT devices to monitor the medical condition of a senior 24/7 and save his health information for physicians to study and prescribe the senior based on medical history.
Seniors are not getting timely access to care. They need to wait for the physicians to visit them. This practice wastes time for both physicians and seniors. But a modern mobile app enables seniors to talk to physicians anytime from anywhere, without being physically present around them. It actualizes rapid care without compromising healthcare standards.
Less human errors or transcription errors
Manual senior care processes promote human errors or transcription errors which sometimes lead to devastating results. Instead, if we deploy modern technology solutions to carry out senior care operations, wecan easily witness a significant percentage of reduction in human errors as sophisticated algorithms execute tasks very accurately.
Senior care modernization approaches:
It is a mutual responsibility of individual entrepreneurs, healthcare professionals, healthcare organizations, and the government to modernize senior care. They should put forth ideas, funding, technical scope, and prepare a basic infrastructure to build and utilize space-age solutions for senior care. They also need to define the user groups and user output of the senior care solutions as there would be many user groups involved in modernized senior care.
For instance, only healthcare professionals use senior care solutions developed specifically for the LTC homes. Whereas, only family members of the seniors use the senior care solutions developed for seniors living in family homes.
Meaning, a senior care solution should be user-specific and not the senior-specific as end-users aren't onlyseniors. Thus, there are two major approaches to modernize senior care - a collaborative approach and a user-specific approach.
Why do mobile apps play a major role in modernization of senior care?

In the 21st century, a mobile app is considered as the most easiest and affordable way to bring comfort in our life. Talking about healthcare mobile apps, it brings transparency and quality to the healthcare services. Following are the major reasons why you should invest in mobile apps if you want to modernize senior care.
Accessibility:

A mobile app can easily be accessed by anyone with limited resources. A brilliantly designed and developed mobile app can also offer remarkable convenience to the users.

Affordability:

It costs somewhere between $10000 to $25000 to develop a mobile app with advanced and market-ready features. And end-users can use the app by either paying nothing or by paying a nominal fee.

Quick ROI:

Because of the convenience and affordability, people opt for more mobile apps which help app owners to breakeven quickly.

Extensive skill-set:

An mobile app can accommodate some of the most rarest and advanced features which solve deep-rooted problems. For instance, the latest technologies allow developers to add digital clinicaltoolkits in telehealth apps which facilitate physicians to deliver in-house experience to patients even while treating remotely.
5 types of commercially-successful senior care apps:
Senior care apps are divided into different categories based on the end-users it targets and senior care challenges it solves. If you are planning to develop a senior care app in Ontario, here is the list of most money-making and serviceable type of senior care apps.
Type 1: Virtual healthcare solution for LTC homes
End-users it targets

- Healthcare professionals working in LTC home

Problems it solves

- Paperwork, transcription errors, residents' data storage, administrative burdens
The virtual healthcare solution dedicatedly developed for long-term care homes brings healthcare professionals working in LTC homes such as physicians, RN, RPN, and DOC under the same roof, virtually. It eliminates paperwork and enables physicians to prescribe residents online after reviewing their medical history. A virtual healthcare solution or mobile app for LTC homes can actualize rapid care by letting physicians talk to residents remotely through video conferencing.
Type 2: Telehealth or telemedicine apps
End-users it targets:

Physicians, family members of seniors and seniors

Problems it solves:

Delayed access to care
Regardless of the age-group, a telehealth or telemedicine app can provide instant healthcare service through mobile devices by connecting patients with physicians remotely. However, you can also develop a dedicated telehealth app for seniors. From such apps, patients or family members of patients can book a virtual appointment with physicians within minutes and physicians can diagnose and prescribe the patients effortlessly.
To know more about telemedicine apps, you can read our dedicated blog written on telemedicine app development.
Type 3: Mental health app
End-users it targets: Family members of seniors and seniors
Problem it solves: Awful mental condition of seniors
According to the World Health Organization, approximately 15 percent of adults age 60 and over suffer from a mental disorder. Seniors develop mental health issues due to loneliness and helplessness. A mental health app dedicatedly developed for seniors can help them have an exceptional state of mind. Such mental health apps offer breathing techniques, meditation, and audio relaxation.
Type 4: Medication reminder apps
End-users it targets: Family members of seniors and seniors
Problem it solves: Seniors forget to take medication on-time
A medication reminder app is the simplest yet purposeful senior care app. It reminds seniors to take medication on time. The most unique feature of the medication reminder app is that it prevents seniors from taking the wrong dose at the wrong time. Family members of seniors can also utilize such apps to make sure their grandparents are taking medication on time!
Type 5: Diet apps
End-users it targets: Family members of seniors and seniors
Problem it solves: Unhealthy diet plan of seniors
Diet apps help seniors and their family members to select or prepare healthy meal plans. To prepare the meal plans, the app takes the senior's health condition into account. App counts the calories a user consumes in aday. The diet app is also equipped with workout plans for seniors. And it even enables seniors to talk to nutritionists directly from the app.
Senior care apps which are already dominating the market
The following is the list of top senior care apps that are already dominating the market.
How much does it cost to develop a senior care app in Ontario, Canada?
SyS Creations is the Ontario-based top IT consulting and healthcare app development firm that has been working with many LTC homes in Ontario. We have developed our own virtual healthcare solutionfor long-term care homes.
We accommodate teams of well-versed business experts, app developers, app designers, and legal experts who all work together to deploy your PHIPA compliant senior care app in the market within 45 days.
If you have your own team of app developers, you can derive benefits from only our IT consultation service for senior care app development in Ontario.
Talking about the cost to develop a senior care app, it depends on many factors such as the number of features, the complexity of the features, technologies, platform, etc. But if we take an average of every factor into account, the senior care app development cost would be somewhere between $10000 to $25000.
To know more about senior care app development, to share your requirements, and to get an instant & personalized quote, please feel free to schedule a one-on-one meeting with our expert.