Start an Online Marijuana Dispensary in Canada With Cannabis Delivery App in 2021: Technical, Business & Compliance Help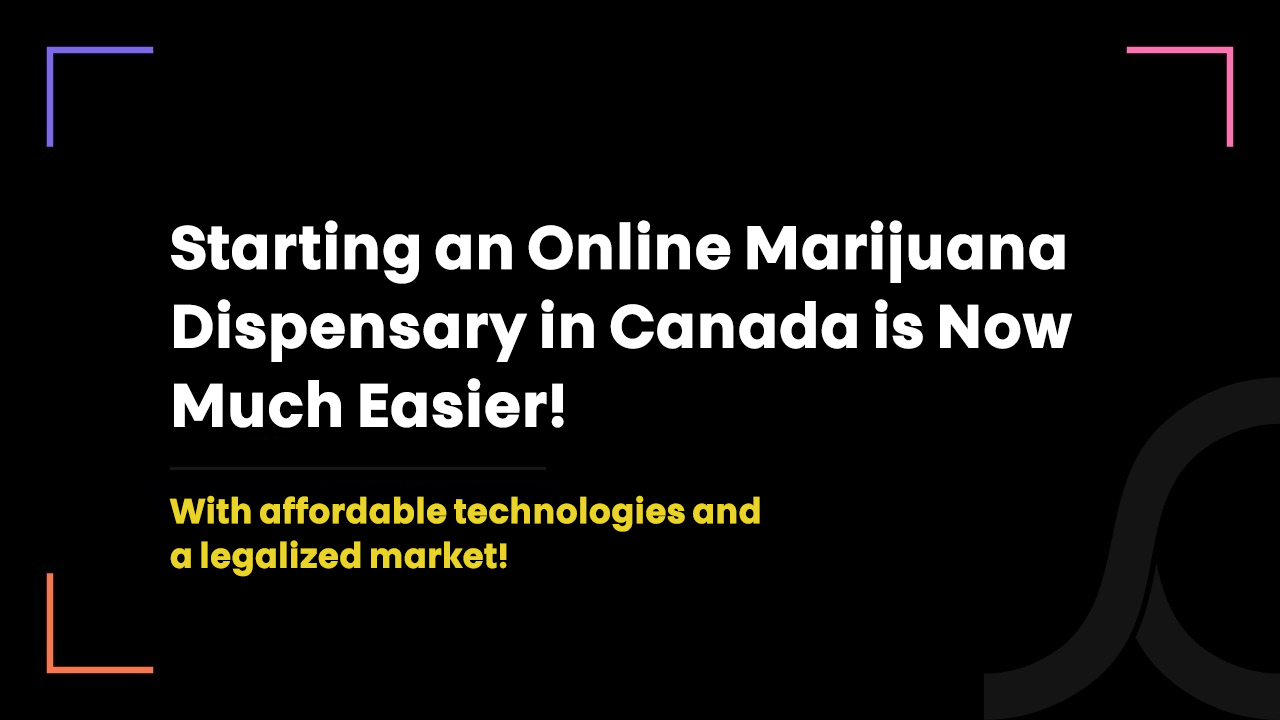 2 years ago
The government of Canada reported - for the October 2020 reporting period - that more than 10,312,899 packaged units of cannabis were sold across Canada.
The country has been experiencing a 10% increase each month in the number of patients signed up to receive medical cannabis.
After the legalization of recreational cannabis, the sales at cannabis stores in the first half of 2019 reached more than $420 million.
Are you getting closer to finding the business opportunity in an online marijuana dispensary? If not, please bear a few more seconds with me.
16.5% of Canadians aged 15 and older reported using cannabis in the first quarter of 2019.
According to a forecast by CIBC, the Cannabis industry will be larger than the hard liquor market and as big as the wine market.
According to Statistics Canada, Cannabis sales across Caanda in May 2021 increased 68% to $313 million which was highest -ever.
I am sure, you must now have successfully found the opportunity to jump into the flourishing online cannabis industry in a most rewarding way.
Some other useful resources:
1) How to build a healthcare marketplace?
2) White-label telemedicine platform
3) How does healthcare work in Canada?
4) Canada's top online pharmacies
Just-In: Uber Eats now allows ordering cannabis in Ontario
As per official reports, Uber Eats now accepts cannabis orders in Ontario from its food delivery app.
Uber Eats has listed Cannabis retailer Tokyo Smoke on its marketplace so users can place cannabis orders online and pick it up from the nearest store.
Uber Eats has already been accepting orders of liquor delivery. And now with Cannabis delivery, it is eyeing Canada's legal cannabis market!
Is the selling of cannabis or marijuana legal in Canada?
Cannabis or its dry flowers which are called marijuana is legal in Canada for both medical and recreational purposes.
On 17 October 2018, the federal government of Canada imposed the Cannabis Act that legalizes the cultivation, possession, acquisition, and consumption of cannabis and its by-products.
However, the legalization comes with the regulations that govern home production, distribution, consumption areas, and sales time.
We will discuss the Cannabis Act in detail later in this blog.
How can you sell medical cannabis online?
Needless to say that you would need proper infrastructure such as a shop to sell anything to customers.
However, selling products in a legacy way requires huge investment for property or brick-mortar stores, resources and time. It also facilitates you to serve only a limited locality.
Here is where an online cannabis mobile app and web app come to the rescue.
A cannabis mobile app and web app cost significantly less than owning a brick-mortar store.
It also speeds up the time-to-market and provides business visibility to understand how it is performing.
Selling cannabis online does not limit the business terrain as you can offer your services to a large area or multiple locations.
You should also read: How to start cannabis telemedicine like NamasteMD?
How can you verify the age of online buyers?
The cannabis industry is highly restricted by age. The government allows cannabis stores to sell cannabis and its by-products to only adults.
In a physical store, you can easily verify the age of the customers. But on the app, it is the tricky part to verify the age of customers in real-time.
You can ask them to upload their IDs to verify the age. But this is a very slow process and customers have to wait hours to first verify the age and then place the order.
The most convenient way of verifying age on the app is by using some third-party age verification software such as BlueCheck.
Such software verifies the age of the customers in real-time and with 100% accuracy. So, you don't have to worry about the policy violation on your app.
Who can sell medical cannabis online?
If cannabis growers have the resources to handle rapid deliveries, they can directly sell cannabis and its by-products to customers.
They can also leverage the mobile app or web portal to find & collaborate with nationwide retailers easily and grow their business.
Cannabis retailers can expand their customer base and enable their customers to order cannabis from the comfort of their home using a cannabis mobile app.
For individuals having no prior footprint in the cannabis industry, a mobile app to build a customer base and sell cannabis online is the easiest, affordable and instant solution.
They can either create a marketplace for cannabis retailers the same as UberEats for restaurants or start an app-based cannabis business for themselves only.
How does a mobile app solve the supply-chain challenge of the cannabis industry?
I discussed 3 cannabis app ideas this week with Ontario and British Columbia-based entrepreneurs.
They told me that the major reason why they are aiming to conquer the cannabis industry with the mobile app is the ability mobile app provides them to focus on core business rather than managing 'things' associated with brick-mortar store management.
One such 'thing' is the supply-chain of cannabis.
Supply shortages and shipping delays are very common in the Canadian cannabis industry.
A much less sophisticated supply-chain network for cannabis struggles most with large distances between top Canadian cities, very small package sizes, different regulations in different provinces, and poor coordination between different stakeholders.
If we dig deep inside, lack of knowledge about customer behaviour, poor or zero predictive analysis and no proper channel for communication and coordination between stakeholders are top culprits here.
A simple mobile app eliminates these all culprits in a single shot. It brings growers, retailers, consumers, transport companies and even delivery drivers for end-users under one single roof.
It enables real-time package tracking, real-time communication, location sharing, knowledge sharing, easy order, payment, reviews, etc.
It even makes sure that you adhere to all regulations as the app works in a firm manner, and not in a fragile manner like a human!
How long does it take to develop a cannabis app? What would be the cost?
In the case of app development, the required time to develop the app influences the development cost. And the app feature set and technologies influence the development time.
Meaning, the more complex features working on the latest technologies you wish to add to a mobile app, the more time it requires which ultimately increases the cost.
It generally costs as minimum as $30000 with all necessary features working on the latest technologies such as AI and machine learning.
This is the reason why the MVP approach is becoming more popular in the startup or even in an enterprise community.
The MVP app includes only basic features which reduce time-to-market and development cost.
Once familiar with the exact market needs, you can scale up the operations by integrating advanced features into the app.
Talking about development time, it is not feasible to estimate it without knowing the exact requirements.
What are the regulatory considerations to start an online marijuana dispensary in Canada?
The Cannabis Act which is imposed by the federal government of Canada consists of many regulations to which you should adhere to avoid hefty fines.
We accommodate the compliance experts who can accompany you on your most crucial journey toward addressing regulations.
With the help of one of the compliance experts, I am here listing out some of the cannabis laws in Canada.
You need to acquire a licence from government authorities in order to cultivate & process cannabis, sell cannabis for medical purposes, and test & research with cannabis.
A permit is also required for the import and export of cannabis.
The cannabis package should have uniform plain colour and texture and should not have any branding or promotional elements on it as you must follow plain packaging.
You must label the cannabis product with a mandatory health warning, cannabis symbol, and specific information about the product.
You must sell cannabis to buyers aged 19 and older in Ontario.
Here, it is worth mentioning that the government of Ontario has eliminated the lottery system to give licence for selling cannabis and begun issuing around 20 licenses a month.
The following is the complete regulation guide published by the government. Download the PDF version by clicking here.
You Should Also Read: Who Provides Healthcare Compliance Certificate?
What are the top cannabis apps you should analyze before developing your own?
After the federal government has legalized the use of cannabis in Canada, a sudden surge of cannabis mobile apps has been noticed.
However, the market is still not intensified as many are still finding their way out of complex technologies and compliance requirements.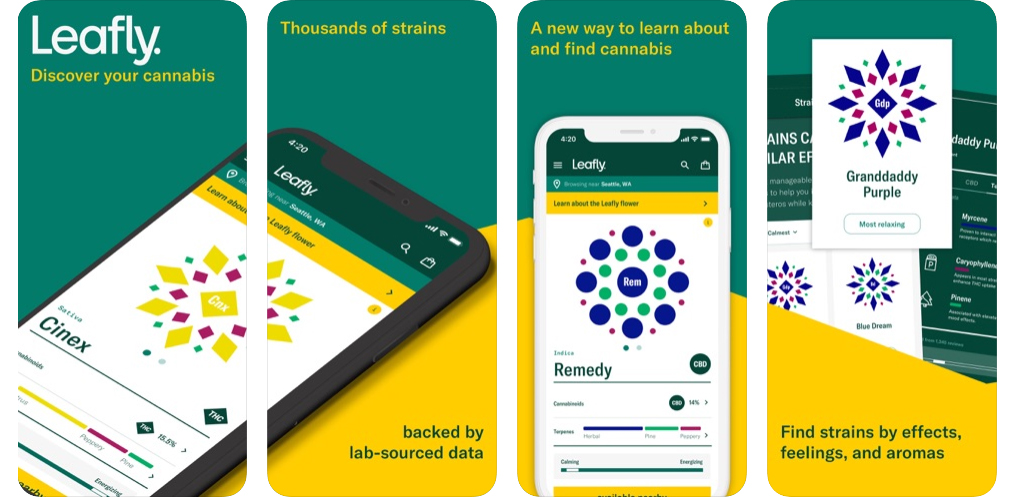 Leafly is the most popular cannabis app and website in the world with over 15 million monthly visits and 40 million page views.
Leafly app and website educate users about appropriate cannabis products for their medical conditions and direct them to the nearest cannabis store. It is headquartered in Seattle, USA.
Leafty going public (updated Aug 2021):
World's largest and most popular marketplace for cannabis - Leafty - announced recently that it is entered into a definitive agreement with Merida Merger Corp.
Once it will complete the transaction, Merida will adopt the Leafly name and their common share will be listed on NASDAQ under the symbol LFLY.
Their combined enterprise value is around $385 million and their equity value is around $532 million.
MassRoots is a unique cannabis app. It is the largest and most active social network of the cannabis community with 775,000 users. To access the MassRoots app, the user must be older than 21.
Launched in 2014, Eaze is a cannabis delivery company. It is nicknamed the 'Uber for Weed' as it connects users with cannabis dispensaries, but does not grow or sell marijuana itself.
It performs around 120,000 deliveries per month to 250,000 users.
Looking for an app development company, business consultants, and compliance experts in one place?
We're one of the most versatile IT companies based in Ontario.
With our in-house healthcare app developers, app designers, business experts and even compliance consultants, we help you start the online marijuana dispensary from scratch.
Yes, we even guide you through the legal process and even implement it for you.
Talking about the app, we develop any type of cannabis app you want for your business with the most useful yet affordable technologies.
In 2020, we had been very active and successful in the healthcare industry and helped many organizations with mobile apps and compliance.
You only share your requirements, we share a complete roadmap followed by execution and support!