Telemedicine for Hospitals: Get Your Own Compliant Mobile/Web Solution From Canadian Experts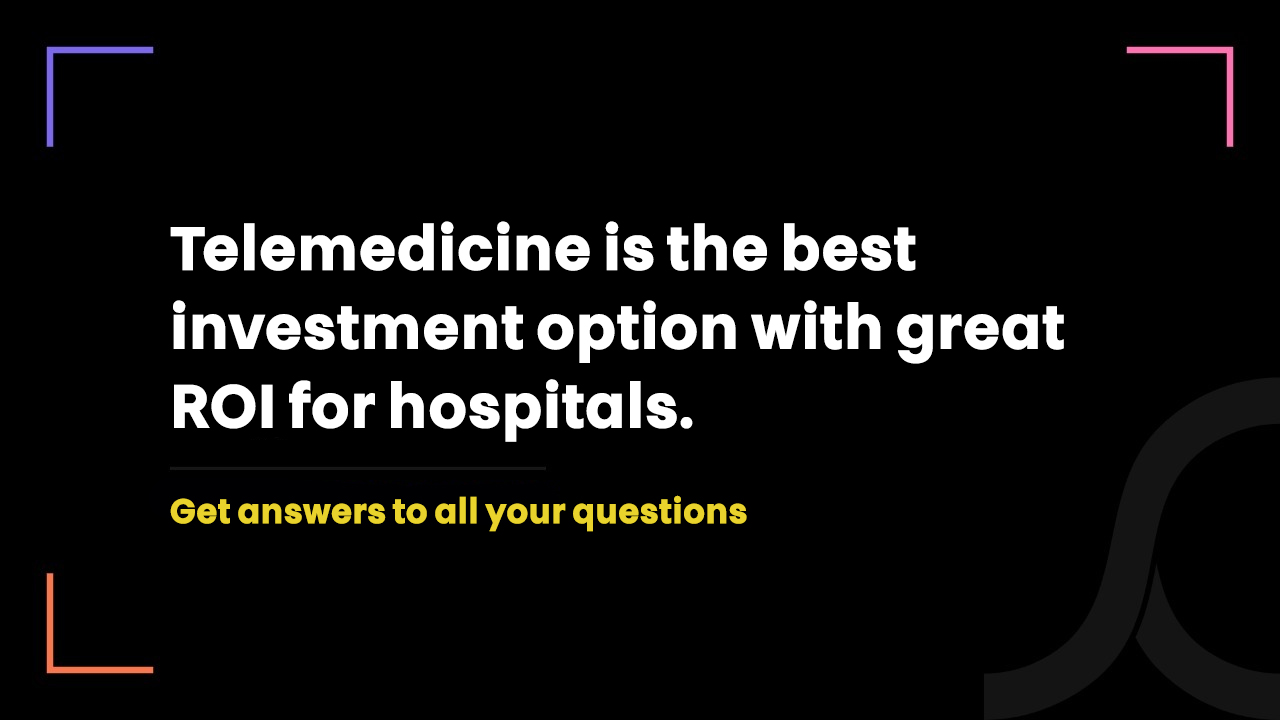 2 years ago
We are Ontario-based telemedicine tech and compliance experts.
We on average develop and deliver 5 telemedicine solutions in a month with the outstanding success of our clients.
With our in-house compliance experts, we even provide healthcare compliance consulting and carry out PIA & TRA.
3 types of telemedicine for hospitals solutions we provide brilliantly
1. Telemedicine white-label solution:
A ready-to-use, affordable and feature-packed web + mobile telemedicine platform with your own branding - delivered within days.
Check out our white-label telemedicine solution
2. Custom telemedicine solution:
We develop a telemedicine web + app dedicatedly for you from scratch while addressing your all custom requirements and following the full software development life cycle.
Check out our case study on custom telemedicine app development
3. Clone telemedicine solution:
We develop telemedicine web + app's UI and feature set similar to top telemedicine apps such as Maple, Babylon, Teladoc etc.
(We don't copy. We only get inspiration if a clone is your only need!)
We offer the following features in our telemedicine for hospital solutions
Hospital App Features:
Doctor Profile
Speech Recognition
Mass Messaging
Easy Access to Patient's Data
Appointment Management
Appointment Reminder
Communication Methods
Medical Notes
Sick Notes
e-Prescribing
Analytics
Appointment History
Billing & Earning
Users App Features:
User Profile
Nearby Hospital/Pharmacy Finder
Symptom Checker & Tracker
Appointment Booking
Appointment Reminder
Communication Methods
Medication Tracker
Medication Reminder
Payment
Review & Feedback
Appointment History
Our 2 most exclusive expertise you will find very useful
By integrating top EHR/EMR such as Telus PS Suite, Oscar EMR, Accuro EMR, Cerner EMR, PointClickCare EHR, MED e-care EHR, we enable physicians to get instant access to crucial information of the patients from the telemedicine app itself.
The telemedicine solution should be compliant with healthcare privacy laws to not put patients' data at risk and not to be liable for the hefty fine.
Our in-house compliance experts guide the development team to develop a compliant mobile/web app and they carry out a compliance audit before delivering it to you.
Our telemedicine solution supports OHIP, MSP and AHCIP billing codes
Televisits in Alberta, Ontario and British Columbia are covered by provincial health plans.
Thus, to enable physicians to easily claim televisits fees from the government, the app should support billing codes.
Due to this billing code support, hospitals can offer OHIP, MSP and AHCIP-covered televisits to patients.
With built-in referral system, you can refer patients to specialists easily
A family physician or any primary care provider is the first contact for the patients.
After checking the patients, if needed, the primary care provider refer patients to the specialists for specialized care.
The telemedicine app allows primary care providers to refer patients with automatically generated referral note.
The primary care providers only need to write the referral message. The app itself adds other clinical and personal information of the patients in the referral note.
Our telehealth solution is for all medical departments of hospitals

We understand the fact that it's not only the physician who requires a telemedicine solution, but any medical specialty in a hospital can offer virtual care to their patients.
Thus, we engineer telemedicine solutions that support all use cases of hospitals.
Check out the real screenshots of the telemedicine app we developed recently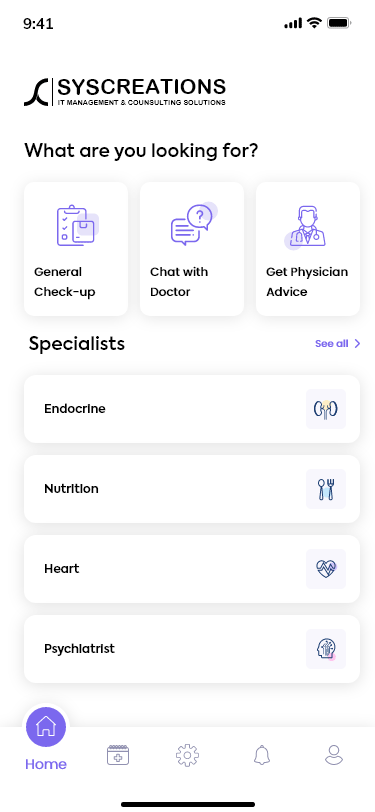 Why should a hospital use a telemedicine solution?
Using telemedicine for hospital solutions, patients can easily book online appointments with physicians for virtual medical consultation.
Rapid patients onboarding / Less wait time
A custom and personalized pre-visit online questionnaire makes patients' onboarding experience seamless and fast which results in less wait time.
Telemedicine saves travelling time and cost for both patients and care providers as they can talk to each other from anywhere in the world - even from home.
Fewer patient footprints in hospitals
Patients who do not require emergency care and patients who are on follow-up visits can effortlessly get access to medical services from home - without visiting the hospitals.
This significantly reduces the chances of a COVID-19 outbreak in the hospitals.
Less overwhelmed healthcare professionals
The telemedicine solution facilitates healthcare providers to manage patients' data easily and automate many reporting, data entry and collaboration work which reduce their administrative burdens and create time for them.
Get answers to your most common questions
1. Can hospitals bill for telemedicine?
In Ontario, Alberta and B.C., telemedicine is covered under provincial health plans. So, in these provinces, the government pays for telemedicine - not patients.
In the rest of Canada, hospitals can bill for telemedicine to patients.
2. Why should hospitals not use free video calling platforms such as FaceTime, WhatsApp etc?
The major reason is that not all free video calling platforms are compliant with data privacy laws. It also does not support custom clinical workflows. Additionally, it lacks many features such as medical notes, sick notes, ePrescriptions, payments etc.
You should read this: Legal and clinical reasons to not use Zoom, Skype for telemedicine
3. Should hospitals develop a custom telemedicine solution or use a 3rd party SaaS solution?
SaaS telemedicine solutions charge a monthly fee for using their solution. Here, hospitals do not own it.
These SaaS solutions also do not support custom clinical workflows as they are general-purpose solutions.
Whereas in the case of a custom solution, the hospitals enjoy the ultimate ownership and it is developed dedicatedly for the hospital itself.
Most importantly, the hospital does not need to pay any monthly fees.
4. Are there any top hospitals in Canada using telemedicine?
During the pandemic in 2020, many hospitals across Canada have adopted the telehealth for hospitals solution and have been using it successfully.
For instance, the Windsor Regional Hospital is using telemedicine in a number of programs and services including follow-up ortho appointments, anesthesia consults, bariatric consults, mental health, adult and pediatric nephrology, and oncology.
Get a live demo of telemedicine solution + complimentary compliance, tech and business consultation
We don't just talk. We show you the real telemedicine solution in action - in a free consultation session with our senior technology leader or executive team member.
We ensure that you get answers to your all questions before making a decision to go for the telemedicine platform.
Being a Canadian company, we understand the gravity of privacy and thus, we keep everything about your medical practice and ideas confidential.
We bet. You won't just get the telemedicine solution. You will get our expertise in telemedicine tech and compliance which is rare in nature!
We will help you with telemedicine tech, business and compliance and not leave anything on your shoulder! ☺