Ready-to-Use White-Label Telemedicine Software for Providers: Own it Now at Half Price of Custom Software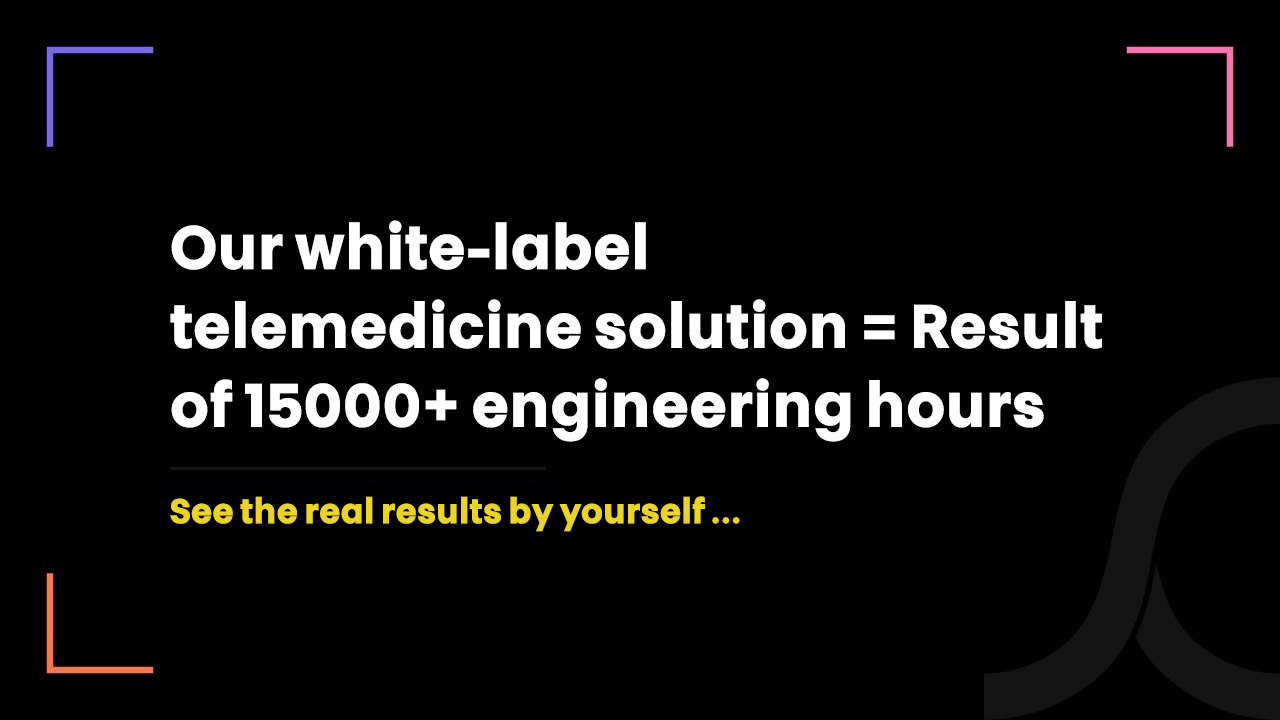 1 year ago
We still remember the night of April 20, 2020, when we all were busy doing last-minute checks as the next day was launch day for the dream of every provider - Canada's most advanced and affordable white-label telemedicine platform that took our 15000+ engineering hours to build.
Since its launch, we have upgraded it many times and made it the most beautiful piece of technology healthcare providers can ever acquire.
What we have right now is its 2.0 version which is armed with features around ongoing as well as post-pandemic market needs.
So, here presenting our magical white-label telemedicine software - developed by Canadian developers for Canadian healthcare providers.
Real screenshots of our white-label ready-to-use telemedicine software
Before sharing screenshots, we would like to share two things we are most proud of.
It has many first-in-segment features.
We finalized the current UI after rejecting almost 30+ designs.
All we want to say is, it is not the outcome of a month's job. It took us years for this epic creation.
1. Patient App
2. Doctor App
Transaction Report Screen
Don't come to a conclusion with little info. We have 10 more jaw-dropping things to share with you
1. It is compliant with HIPAA/PHIPA/PIPEDA/HIA and other privacy laws
We have been serving healthcare startups and providers only with compliant solutions as ePHI privacy is our top priority.
The best telemedicine software we offer is compliant with all data privacy laws with some of the best security measures such as,
Encrypted data
Role-based access control
2-factor authentication
Well-tested for privacy vulnerabilities
2. It can be integrated with your choice of EHR/EMR
We know how crucial EMR/EHR integration with telemedicine is for seamless data sharing between these two systems. Thus, we integrate it with your choice of EMR/EHR before delivering it to you.
Allscripts
Epic
Cerner
Oscar
PointClickCare
AthenaHealth
Accuro
3. It can be customized according to your needs
Our white-label telemedicine software is equipped with advanced features and the most engaging UI/UX. Even if you want to add features and change UI/UX as per your needs, we have in-house design, development and compliance teams that will customize the platform for you.
However, since we invest our resources, we charge extra for that but that would be nominal. If you are going to use our white-label ready-to-use telemedicine software for the betterment of left-behind communities, we might do it free for you as we always believe in helping our communities.
4. It is equipped with an automatic referral system
Suppose, you as the primary care provider want to refer a patient for more specialized care, all you need to do is select the secondary care provider from the list and write the referral message.
The rest of the things such as details of the patients and their clinical data get attached to referral notes automatically, resulting in time-saving and accuracy.
5. It has a built-in billing module to submit reimbursement requests
Great news for you. You don't have to use separate billing software to submit reimbursement requests.
From our white-label telemedicine software itself, you can submit claims to both the Ministry of Health (Alberta, B.C. and Ontario with billing codes) and private health insurers.
6. Industry-leading APIs are integrated with it
For easy and error-free data sharing, communication and payment, we have integrated industry-leading APIs with our platform.
Mesibo API for video calling
Sendbird API for chat
Vonage API for SMS
Amazon SNS for in-app notification
Stripe API for payment
7. You will be the only owner of the source code
There is no meaning to owning a telemedicine platform without source code. Because if you own the source code, you can in future easily add new features, change UI/UX or sell it to anyone.
Thus, we deliver you full source code ownership of the telemedicine platform.
8. Our best telemedicine software is mobile as well as web-based
Accessibility won't be a problem for you as you and your patients can access our telemedicine platform from a mobile app and even from any browser as we offer you a web app too.
The web app is as fast, secure and feature-packed as a mobile app.
9. It is so well-developed that you can utilize it for 20+ use cases (with or without the customization)
While engineering Canada's best telemedicine platform, our aim was to let providers utilize it for several use cases. And we have successfully achieved it. (If it does not satisfy your use case, we have resources to customize it and add features around your unique use case.)
Detecting retinal disease with AI
Live video conferencing from an operating room to a group of doctors or a scientific community
Remote behavioural and mental health
Broadcast during a surgery
Sensor to sends instant alerts to family members or healthcare workers
Virtual maternity care platform for prenatal and postpartum care
Mobile-enabled remote patient-monitoring system
Enables clinics to gain 24/ 7 insight into their patients
Hypertension and diabetes monitoring system
Digital care system for people with chronic musculoskeletal (MSK) conditions
An integrated chronic condition management platform for diabetes, hypertension, weight management
Interpretable graphics on a cloud-based dashboard
Virtual waiting room
Integrated online pharmacy
Integrated healthcare eCommerce store
Online vet care
Home health care service
Virtual dental care
Virtual skin care
Virtual eye care
Online wound care management
Medical training and education
10. Its cost, delivery time and live demo
Let's first start with cost.
To be honest, we can't reveal the cost publicly as there are many companies following our strategies and products. But yes, we can assure you that our white-label telemedicine software for providers costs half the price of the custom platform.
Talking about the delivery time, we don't want to give you any false promises. But trust us, your project is our priority. We will tell you the deadline after knowing your requirements and then deliver the product before the deadline. Guaranteed!
And about the live demo, yes, we are more than happy to show you our masterpiece in live action. All you need to do is let us know your interest by leaving a message in a contact form.
If you still have doubts, we have 5 points to tell you
We're a local Canadian company - known as healthcare IT experts among providers and healthcare startups.
Our white-label platform costs 50% less than what you would pay for the custom app.
If you have unique requirements, we have the resources to customize it which we charge extra for. (Still, it will cost you 48% lower than a custom app.)
You will be the owner of the source code.
It is compliant with all data privacy laws.
If you find any better value and promise, let us know!