6 Mind-blowing Ideas to Start Online Wellness eCommerce Store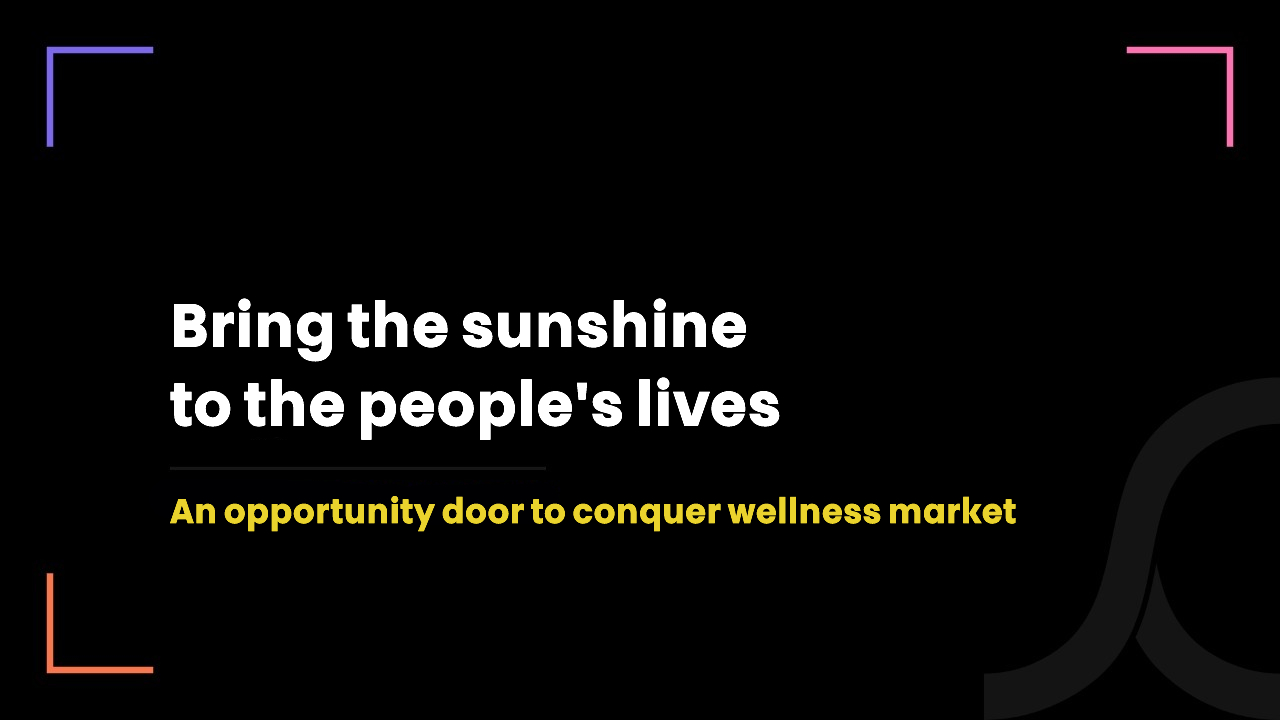 3 months ago
Dear CEOs, a strong mindset and ideal wellness are important for you to achieve your business goals.
Same as you, your employees' wellness is also important to keep their productivity always on the top.
In the same manner, every individual out there whether it's men or women also wants to maintain their wellness without any hassle.
So, we have come up with 6 game-changing ideas that can surely help you start an online wellness store or wellness eCommerce in Canada and the USA.
But first, why should you consider this blog for starting an online wellness eCommerce store?
We are an Ontario-based healthcare IT company.
It's been 7+ years since we're inspiring healthcare startups, enterprises, and organizations with our comprehensive healthcare IT knowledge.
As we always surround ourselves with healthcare professionals, we experienced that a healthy lifestyle starts with pleasing wellness or self-care management.
But, when we look around as healthcare IT experts, there are only a few numbers of startups in the market that focus only on the men's and women's wellness concerns.
So, we had done comprehensive research on the wellness market and the result was surprising for us.
The wellness market is going to reach $1.5 Trillion in the coming years!
Noticing the enormous growth, we have created a market-dominating business plan so that you can start an online wellness store or build a wellness eCommerce app without adding any complexity.
So, let's start the journey to build a wellness subscription app in Canada and the USA.
Sell emotions and experiences in your online wellness store: Top 6 ideas
A successful business starts with a smart idea!
And offering more than the customer's expectation is the only key to achieving that.
So, explore the top 6 ideas to start a wellness eCommerce business.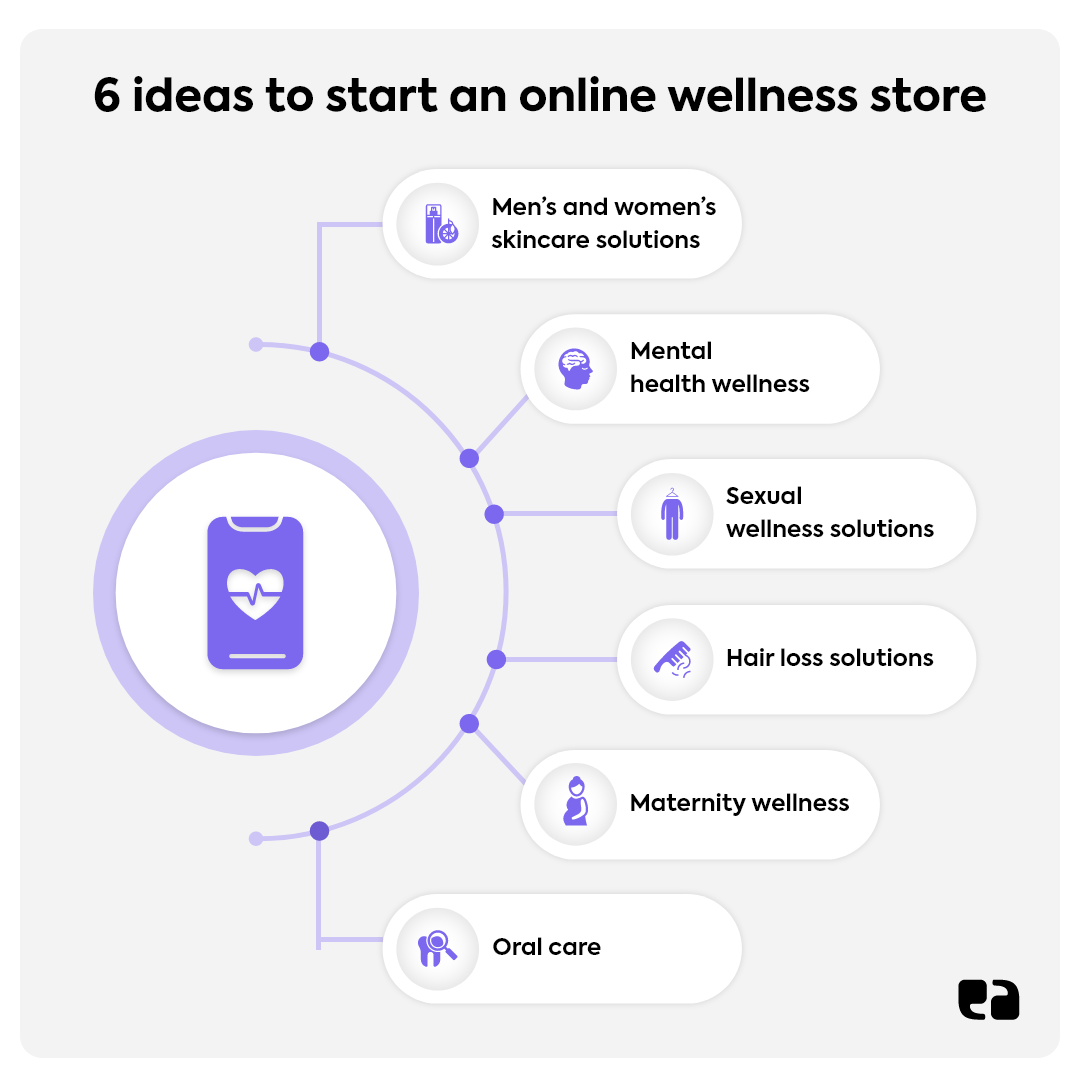 #1. Skincare solutions for both men's and women's wellness:
Both men and women want their skin to glow every time of the day.
To help them in the most suitable way, explore its methods.
Telehealth to decode skin-related concerns such as – acne, anti-aging, redness, dark circles and much more
Deliver both prescription-based and non-prescription-based product solutions for any skin-related issues
You can also offer customized skin care solutions in your wellness eCommerce store.
Note: You can choose either subscription-based or non-subscription-based business models for your wellness eCommerce revenue stream.
You must read: How to build a men's health eCommerce app?
#2. Men's and women's mental wellness:
Poor mental health is the leading health concern across the globe.
By offering mental health solutions for both men and women, you can easily dominate the wellness eCommerce market along with high ROI.
Explore the solutions.
Provide online mental health therapy or telemedicine services
Offer anxiety, depression, stress, and sleep disorders medication solutions along with prescription delivery
Sell mental wellness supplements
#3. Sexual wellness:
As per the reports, "The sexual wellness market size was valued at $74,770.0 million in 2019, and is estimated to reach $108,320.0 million by 2027".
Here is how you can conquer the market.
1. Telehealth visits for sexual health concerns such as – erectile dysfunction and premature ejaculation
2. Offer product solutions for the same along with the prescription delivery services
1. Telehealth visit with the OB/GYN for any sexual wellness-related concerns
2. Online birth control solutions
3. Sell treatment kits and other sexual wellness products
Note: In both scenarios, you can offer both prescription-based and non-prescription-based product solutions.
#4. Hair loss wellness:
You can help both men and women to tackle their hair loss-related issues with the below-mentioned approach.
Custom hair loss products as per the hair conditions
Organic hair loss products solutions
#5. Maternity wellness:
It is the superior solution for online eCommerce stores as pregnant women frequently struggle with their wellness.
For that, you can offer,
Maternity skincare products
Postpartum and recovery products
#6. Oral care:
Oral care also plays a vital role in people's wellness such as emotional, social, physical, intellectual, and vocational.
So, you must offer oral care product solutions if you're looking forward to building a wellness app.
Achieve milestones by selecting the powerful and convenient technology solutions
Now it's time to bring your online wellness store or wellness eCommerce in front of the people.
With us, you will get our result-driven technical expertise in a form of web and mobile app solutions such as,
MVP mobile and web app development
Cross-platform app development
When to choose MVP?
When to choose Native?
Higher investment capital
More flexibility and scalability
When to choose Cross-platform?
Want a single codebase for both iOS & Android
Want to launch the app in the market in less time
Remember, data privacy is more important
We have seen the downfall of many health tech giants because of patient data breaches.
Thus, to build a wellness app or start an online wellness eCommerce, you have to make sure that your platform is fully compliant with the data privacy laws so that you can avoid the same downfall of your health tech business.
As a healthcare IT company, we have a dedicated team of qualified compliance experts who are clever enough to dodge the arrows of vulnerabilities at any stage of the development process.
We keep our nose out of the mess, with our healthcare IT class!
We offer health-tech experience in the true sense.
We are ready to find a needle in the football ground to make healthcare accessible for everyone.
We listen to our clients carefully to make sure that they get the best business, technical, and compliance solutions.
We want to make both patients' and healthcare professionals' lives better.
We deliver peace of mind and clinical value in our healthcare IT solutions.
We want to scale up your business efforts with a strong mindset!