What AI Looked Like in 2019 and What It Will be After 'AI Toronto 2020'?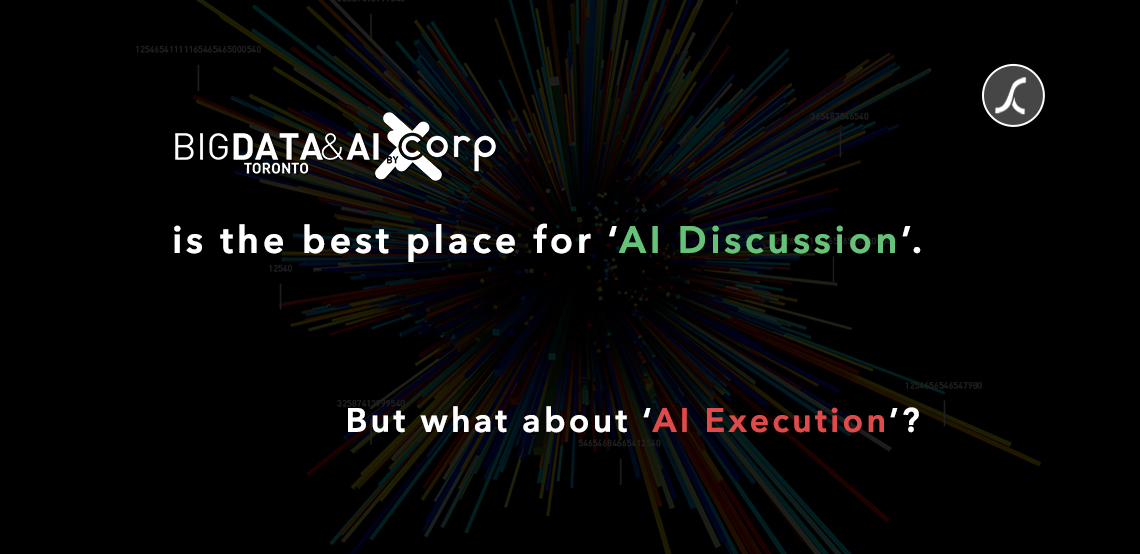 3 years ago
Like iTech Conference 2020, AI Toronto 2020 - a two-day long AI-centric conference and expo - is also going virtual.
According to its official website, Canada's top data and analytics event will be now delivered exclusively online on September 29-30, 2020.
AI Toronto 2020 is hosting 200+ speakers and 100+ AI-related solution providers through a virtual exhibition.
Topics that will be covered in AI Toronto 2020
What can be the discussion between two persons practising AI very actively?
I often notice team members of our AI team discussing common yet significant two questions.
How to make current AI solutions more accessible?

What are the future trends in the AI industry?
However, the specific topics would revolve around AI governance, accessible AI for small businesses, computer vision, AI automation, and decentralized AI.
Glorious Previous Years of AI Toronto
That was epic! - 4600 attendees!
In 2019, AI Toronto was organized on June 12-13 with over 70 exhibitors.
Many well-versed AI experts from different industries presented their thoughts.
Snowflake - cutting edge cloud data platform - was one of the sponsors of the event along with the University of Waterloo, MariaDB, Datameer, DarkTrace and many others.
The following video giving a glimpse of the 2018 version of the AI Toronto is worth watching.
https://youtu.be/mYd6wQIxWu4
Coming to the major motive of writing this blog, let's discuss how the Canadian AI ecosystem has evolved and where it is heading.
Canadian AI Ecosystem - Before AI Toronto 2020
A government-funded AI research centre - the rarest thing - is what Canada has!
Vector Institute - launched in 2017 - is a government-funded corporation dedicated to research in the field of artificial intelligence.
At present, Vector is working with more than 40 industry sponsors.
It is also providing AI training to students and building an army of local talents for local companies.
This training helps companies to hire local talents, expand the business and raise significant funding.
44 companies have already raised funding with direct or indirect help from Vector.
They recently released their next 3-year strategy and it looks promising!
Excited to announce our new 3-year strategy! Built around 4 key pillars, it aims to bolster Canada's place as a premier hub of AI talent & research, increase AI adoption in industry & health care, and support high-level talent development. Learn more: https://t.co/bP3ka5T8Ei pic.twitter.com/kQ9Z0Sjo9E

— Vector Institute (@VectorInst) June 18, 2020
In essence, the Vector Institute is the top pillar of the Canadian AI ecosystem.
Another important pillar is Canadian startups leveraging AI technology.
Coveo is a SaaS company offering a platform for intelligent enterprise search and predictive insights.
With a new round of funding worth $172 million, the valuation of Coveo already crossed $1 billion last year. [Techcrunch]
It utilizes AI for customer behaviour analytics so that businesses can serve the right information to the right customers at the right time to increase sales.
CAD$5 million from the government of Canada plus $100 million USD in the first funding round - that's how successful Element AI is!
It owns several useful products working on AI technology.
One such product is Knowledge Scout that turns data into actionable insights and enables users to get insights into data very easily by typing queries in natural language.
Another product is Document Intelligence that extracts data from several documents automatically.
It is a robotics company that is building smart fully autonomous robots for heavy lifting and material handling in the warehouses.
Recently, in June 2020 - even during the pandemic - they have successfully raised $29 million.
They leverage AI to give ability related to dynamic interaction and obstacle avoidance to the robots.
https://youtu.be/zshAly6fUhY
Canadian AI Ecosystem - After AI Toronto 2020
Let's address this with the future trend in AI!
The major future trend our AI engineers and business experts are anticipating is the fusion of AI and software-based automation called intelligent automation or AI automation.
And most importantly, it will take the industries by storm within the next 6 to 12 months.
But how AI automation works and where we can use it?
To understand the working on AI automation, let's first understand the basic software-based automation.
It is called software-based automation because of the software program which gets installed on the computer and performs web or system-based tasks automatically.
The limitation of this basic automation is that it can only automate a process with fixed input and output.
Here is where AI automation comes into the picture.
AI provides intelligence to the software program responsible for performing tasks automatically.
Because of the intelligence, the software can now automate a task even with dynamic input and output.
Using AI automation, you can automate many labour-intensive tasks such as,
Invoice Processing

Payroll Processing

Email Communication

Hiring & Onboarding

Product Categorization

PDF Data Extraction
We don't just discuss AI, but execute AI in automation, mobile apps and managed IT services.
Our AI team has been following the AI Toronto event since its inception.
We aim to keep the Canadian economy thriving by helping businesses grow using affordable AI.
Thus, we automate the first 2 processes without charging anything.
We're also revolutionizing managed IT services with AI.
Using AI, we make IT support rapid that increases system uptime and saves our customers' operating costs. AI also makes us deliver high ROI and low TCO to our customers.
We also develop AI-enabled mobile apps across all industries.
At the end of the day, we are limitless when it comes to AI execution.
For any business challenge, you can get a free consultation session with our AI engineer by filling out the following form.