Prepare Your Healthcare App for the Post-Pandemic Healthcare Ecosystem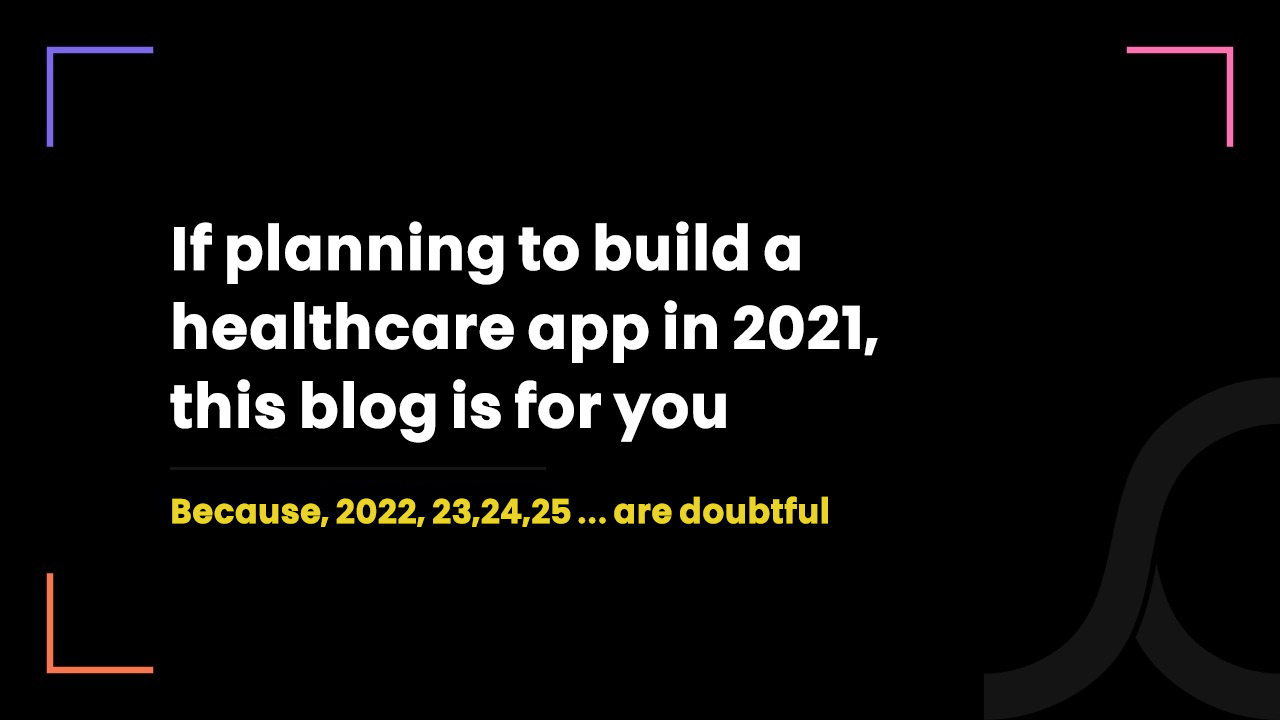 2 years ago
We are nearing the COVID-free era. But don't get excited over it. Because it won't be the same as the pre-pandemic era - especially for healthcare apps!  
What did everyone used to think of healthcare app development before the pandemic?
We still remember one of the meetings we had with a healthcare entrepreneur in 2018.
We discussed the future of healthcare delivery models and wound up the meeting with a conclusion that the in-person care delivery model will continue dominating for many more years and an app-based care delivery approach won't work as providers would never find it an efficient medium to offer quality care. 
This was the belief of everyone. They could not figure out where healthcare mobile apps could fit in the healthcare ecosystem. 
Where everyone was most confused was the clinical values an app could offer. Many even argued that care delivery with mobile apps could eliminate the scope for good patient-doctor interaction and relations which is crucial for enhanced patients outcomes. 
Healthcare IT & compliance experts highlighted the firm possibilities of privacy issues while integrating healthcare mobile apps and existing healthcare IT systems such as EMR, EHR. 
Healthcare business analysts gave one more reason to not invest in healthcare apps. They claimed that possibilities to generate multiple revenue streams with a healthcare app were limited which could restrict earning opportunities.  
In essence, everyone was happy to see the same, decade-old healthcare ecosystem for many more decades.
How COVID-19 changed the healthcare app market and everyone's beliefs?
Soon in March 2020, the pandemic proved everyone wrong.
Mobile-based care delivery models have been adopted on a larger scale and soon became the dominant care delivery model. 
Be it small clinics, large hospitals or even long-term care homes,  they all switched to healthcare mobile apps for rapid, quality and affordable care. 
Number of inquiries we received in 2020 for healthcare mobile app development was double than the inquiries we received in the last 4 years combined and this clearly depicts the higher investment in healthcare mobile apps. 
It is very obvious that healthcare providers, enterprises and startups are investing more in app development for healthcare as people have become comfortable with healthcare apps. 
Several surveys suggest that more than 60% of the Canadian population are ready to use telemedicine apps to see a doctor online rather than visiting his clinic in person.
A few biggest reasons behind the high adoption of healthcare apps on the consumer front are fear of getting the virus if they go outside, convenient ways to seek healthcare services & manage their health and affordable care with health cards and private insurance-covered medical services.  
So, one way COVID-19 changed the healthcare app market is by exposing the real benefits of healthcare mobile apps to consumers and leaving no choice for healthcare providers, startups and enterprises other than providing personalized, quality, rapid and affordable care with apps. 
In addition to its usability and adoption, COVID-19 has also changed the business perspective all business experts had for healthcare mobile apps.
Several healthcare startups with mobile apps reported a dramatic increase in their revenue. A record number of healthcare startups also closed funding rounds and expanded their business footprints. 
That was the fastest growth we have ever experienced for any industry. And a major factor that fueled the growth was new possibilities for generating several revenue streams from a single mobile app. 
For instance, pharmacy apps delivering medicine online can be able to generate one more revenue stream by offering telemedicine service from the same app.
Telemedicine apps can also be able to generate an extra revenue stream by integrating the healthcare eCommerce module.
Overall, COVID-19 has brought a much-needed change in the healthcare app ecosystem by not just promoting the healthcare technologies but also by bringing patients, providers, and technologies together via the most accessible medium - a mobile app! 
Which healthcare apps will dominate the post-pandemic healthcare market?
This is a hand-picked list. If your healthcare app idea isn't on this list, don't get discouraged. It may require just a little twist in which we can help you.
A Super App (telemedicine app + online pharmacy + remote monitoring + healthcare eCommerce) 
What people will be looking for in the post-pandemic era is a super healthcare app that offers 360-degree care solutions to patients from appointment booking to medical consultation, ePrescription, medicine delivery and online purchase of healthcare and wellness products. 
You can satisfy this need of the consumers by building a super healthcare app that is equipped with the app modules of telemedicine, online pharmacy, remote patient monitoring and healthcare eCommerce apps. 
As of now, several healthcare startups are leveraging this fresh business strategy - but not at its full potential.
For instance, Hims and Hers Health enables users to seek virtual medical consultation as well as order personal healthcare products from the same platform. 
Another startup - PocketPills - enables patients to order medicines online and talk to physicians from the same platform. 
However, these startups haven't yet fully built a super healthcare app. But it must be in their future plan as they have already achieved 50% of app modules an ideal super healthcare app must have!
Dedicated healthcare apps for long-term care homes and senior care 
Senior care has been the major concern for government, startup communities and LTC homes as the pandemic caused more severe trouble to seniors.
While everyone was busy discussing the reasons behind the long-term care crisis, a few healthcare startups have launched senior-care-specific apps and recorded excellent growth. 
One best example here is Writi - which offers a cloud-based senior care platform for LTC homes. 
Since senior care workflows are very different from typical clinical workflows, a senior care platform must have unique features that not only streamline senior care workflows but also reduce the administrative burden of clinical staff and enable data-driven decision-making. 
Writi has been doing exactly the same thing. It is armed with senior care-centric features such as medication management, record management, ePrescription, workflow management of resident-related orders & documents,  automatic entries of a medication history of residents in digital bundles and concern management of residents' family members. 
Because of its game-changing clinical values, Jack Nathan Health - a very popular healthcare organization - joined hands with Writi. 
One of the reasons why the future of senior care mobile apps is very fruitful is the lessons we all - government, startups, LTC homes, nursing homes - learnt during the pandemic. 
We witnessed closely how responsible entities failed to protect our seniors living in LTC homes due to the lack of practical senior care technology.
Everyone is now demanding swift actions to employ senior care technologies to not make seniors feel alone and helpless anymore! 
Social media apps for doctors 
During the pandemic time, we have experienced and also validated that healthcare providers are proactively using social media to build a network, to share their ideas, to know others' opinion, to collect any validated information, to collaborate with other clinicians and to sustain a good relationship with their patients.
However, the major challenge they are facing is that there are only one or two dedicated social media apps for doctors. For instance, Doximity is kind of the only app that works as the 'LinkedIn for Doctors'. 
So, with healthcare providers demanding dedicated social media apps and only one or two region-specific apps available in the market, there is a large room available for you to build one such app and earn revenue.
Know more about the Doximity App and other ideas of social media apps for doctors
A few other healthcare apps/platforms you should consider for the post-pandemic healthcare ecosystem are,
Virtual nursing app 

Mobile-based healthcare CRM 

Clinical collaboration app 

Remote patient monitoring app 

Healthcare marketplace app 

Cannabis app 

Women wellness app 
Why is app development for healthcare not just about coding?
When we tell someone that we're a healthcare-focused app development agency, they assume that we code the app. 
Yes, we code the app. But that's only 10% of what we do or what is needed to build a healthcare app. 
Building a healthcare app is like constructing a skyscraper. 
To construct a skyscraper, you first need to eliminate all legal issues. Then you need to plan the design, build a strong base, start stacking up floors, prepare the interior and test electric, water and other systems before handing it over to buyers.
Similarly, to build a healthcare app, we should build a strong base. And in this case, the strong base is built on ideation, workflows and documentation. 
We also need to design the UI/UX of an app. And when every of these is achieved successfully, we write the code. 
After the code, we test an app, run a compliance audit and then launch it in the market. 
If you skip any of these steps, all of the efforts and investment you put in other steps go to waste and you can't capitalize on a mobile app.  
Our vision - as a healthcare app development company - is not only to build the best healthcare app for you but to make you achieve what you deserve!