Best Dock Alternative: Perform Your Tasks with 5X Better ROI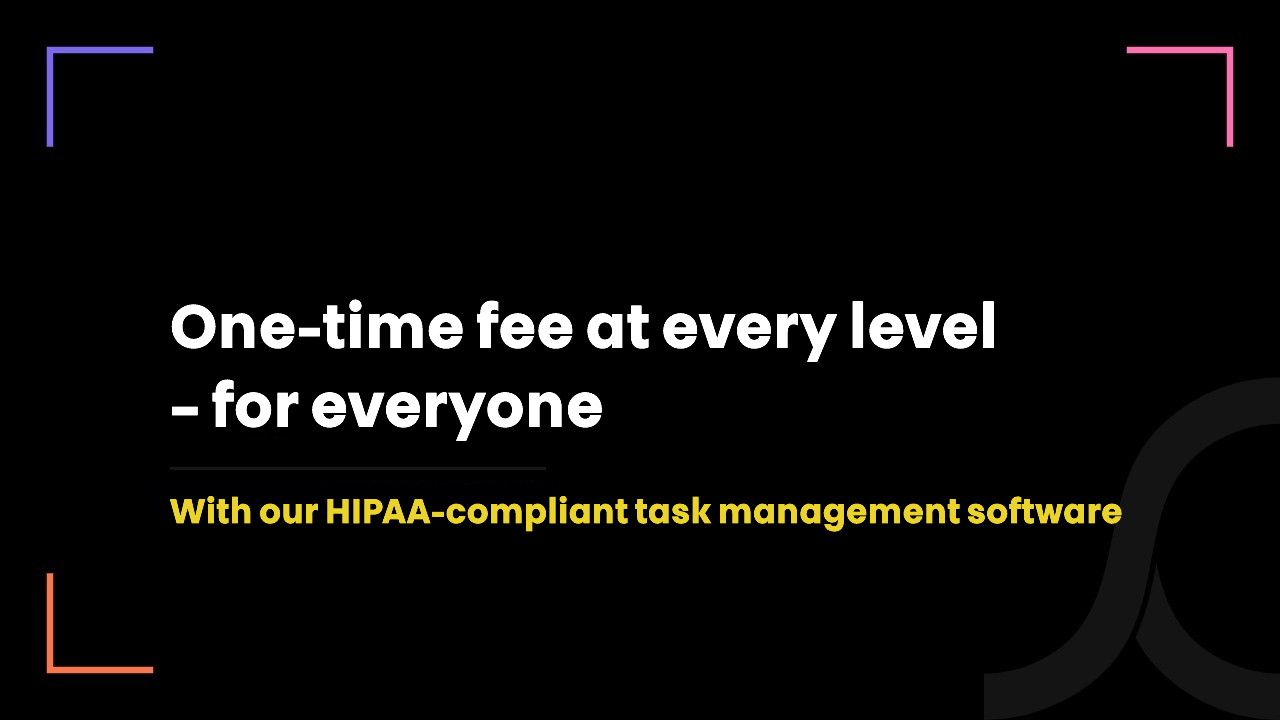 8 months ago
No doubt, Dock Health is a great product.
And we admire its strong mission to remove the clinical and administrative hassle by offering its HIPAA-compliant task management software.
However, like every pre-built software, it delivers value – but in specific cases!
So, if you are looking for the best Dock alternative, you are in the right place.
We have an ideal solution for your healthcare task management needs.
And in this blog, we have shared everything about it.
But before jumping into its features and functionalities, let us share some real-screen images of it.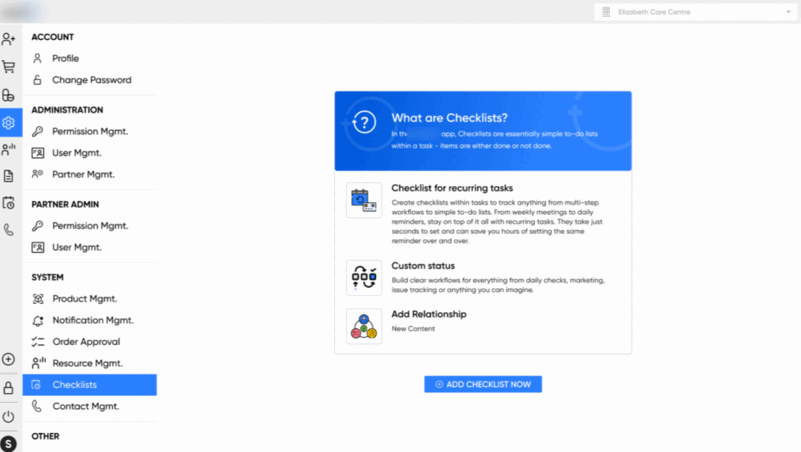 Why our solution is the best Dock alternative?
There are endless things that make our solution the best alternative to dock.
But here, we are sharing just a few of them.
1. It's a customizable solution
This single functionality can outsmart the rest dock alternatives.
Because none of them allows you to customize their solution as per your need.
Instead, here, you'll have full freedom over customization.
You can customize our solution according to your – branding, workflow, compliance, usability, and functionality needs.
The purpose of this functionality is to let you acquire and use the software that is built specifically for you!
2. It has no-code capabilities
If you acquire another Dock alternative – you have to stick with their built-in workflow.
And it'll never deliver the value you strive for.
Because in healthcare, the demands vary by each patient, provider, and organization.
To fill that convenience gap, we built a solution that has no-code capabilities.
It allows you to configure software workflow according to your needs.
And the best part is – it doesn't require any coding knowledge.
To understand it more cleverly, let us give you an example of its checklist or task feature.
Using our solution, you can configure a new checklist or task for any activity in just 6 simple steps.
Provide a name to the checklist
Field naming
Select status types. It includes – single, multiple, and single-multiple statuses.
Configure status
Share with internal and external users
Review and confirm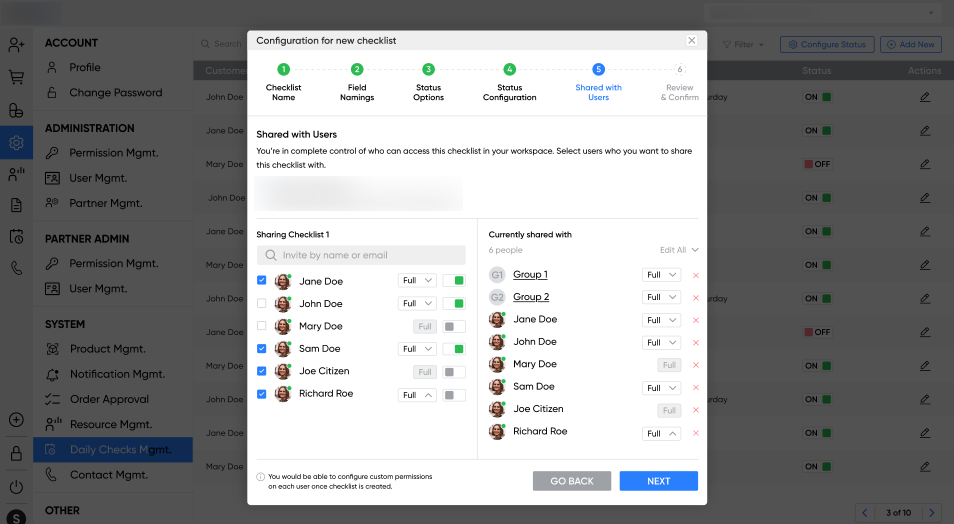 3. It's a compliant solution
Being a healthcare-specific IT company, we understand the heavy importance of data privacy and security.
That's the reason, our solution is fully compliant with several data privacy and security laws such as –
4. There is no monthly or yearly pricing model
This is another reason why our solution is one of the best Dock alternatives.
Unlike the rest solution – we have no subscription plans and packages.
Because such a pricing model costs you a valuable fortune and doesn't deliver value at all in long run.
Rather than following such a money-constrained pricing model – we decided to let our clients gain the highest ROI.
So, here – you just need to pay one time.
And as a benefit, you'll get your own branded solution with lifetime usage rights!
No add-ons. No hidden cost. No packages.
You'll pay only for what you need.

5. An unlimited number of users can access it
There is also no user-based pricing model.
Meaning, if you have 10 users – there will be no extra charge for the 11th one.
And if you have 1000 users, still – there will be no extra charge for another endless number of users.
Meaning, you can perform your practices without worrying about user restrictions!
6. You have full freedom over customization
We are here to sell experience. Not just a product.
And we want you to acquire the solution that fits your organization smoothly.
So, if you want to customize the product, our in-house healthcare-specific development team is ready to help you.
But in case you already have an in-house technical team – you can directly acquire our solution and customize it on your own.
7. Multi-user architecture
Means, there is a separate web portal available for your internal and external users.
This helps in streamlining workflows – at the same time, reducing operational time and cost.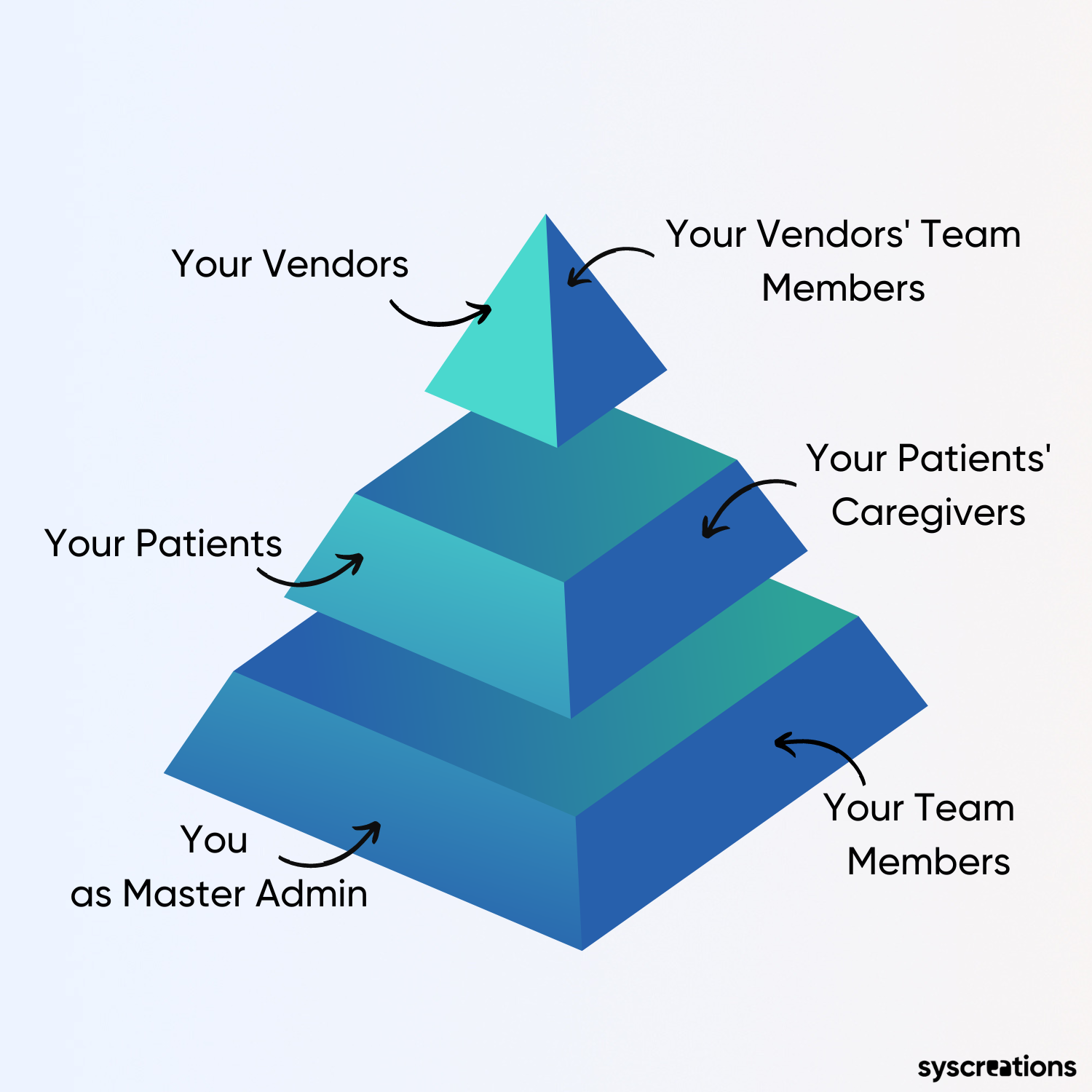 Top 7 use cases of our best Dock alternative
Since our solution has no-code capabilities – you can use it for any task-related activity.
But here, we have listed the most common use cases of it.
1. Medication tracker
You can create a custom medication checklist or template in just minutes and share it with the patients and their caregivers.
And since it has a multi-layer architecture, both patients and their caregivers can manage the medication tracker from a separate portal.
2. Daily checks
You can create a daily checklist and share it with your internal and external team members.
This allows them to view and perform daily tasks without missing out.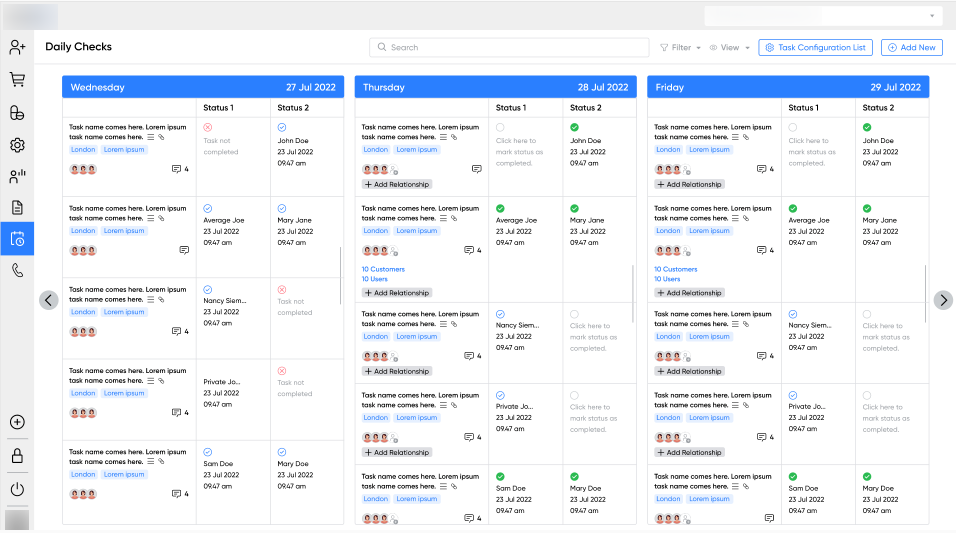 3. Set automatic reminders
This is something that makes our platform the best Dock alternative.
You can set a reminder for each task with your own content.
This helps you and your team members not miss out the important tasks whether it's related to clinical or administrative tasks.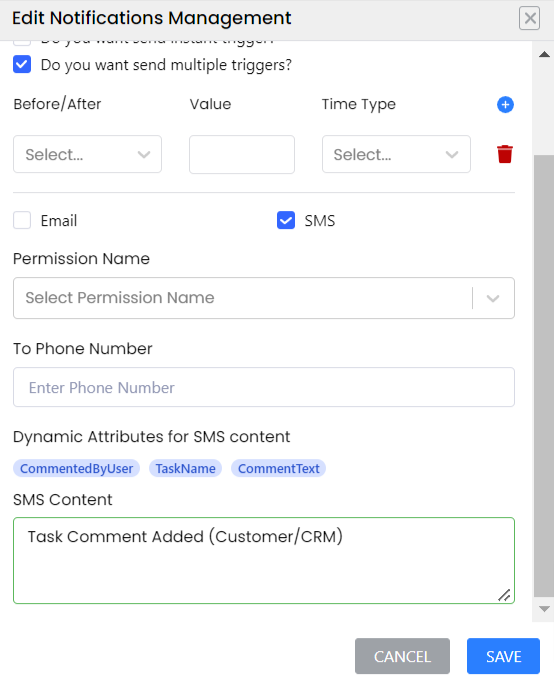 4. Patient activities and follow-ups
You can create a task list for a patient's daily and weekly activities and can share it with their care providers.
This allows care providers to take necessary actions on a timely basis.
In fact, patients can also view their activity tasks from the dashboard.
5. Patient onboarding and discharge
You can easily create and share complete task lists of patient onboarding to the discharge – for both clinical and administrative tasks.
6. Inventory and asset management
You can manage everything related to your inventory and assets in a collaborative manner.
In which your team members can – update the stock status, manage quantity etc.
7. Document management
You can create a task list for document upload and share it with your patients and internal and external team.
This makes sure that they upload the important documents as per the need – without a miss.
Besides, you can also set up automatic reminders so that you can collect all required documents before it expires.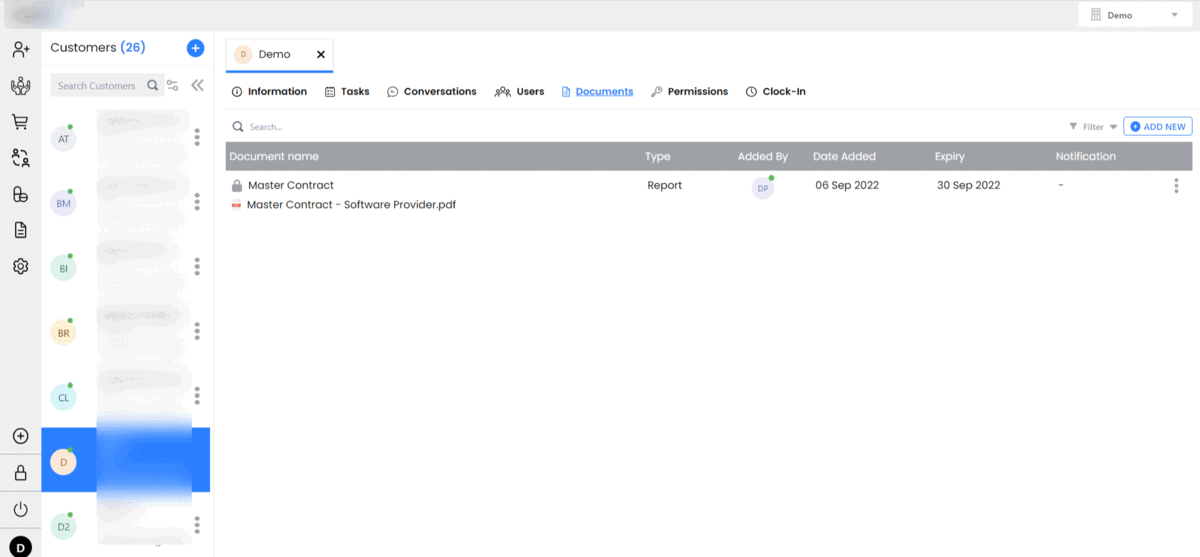 8. Track the time for each task
Our Dock alternative lets you perform task time tracking.
In which you can track task status for –
You can also check how long a task remains in such status.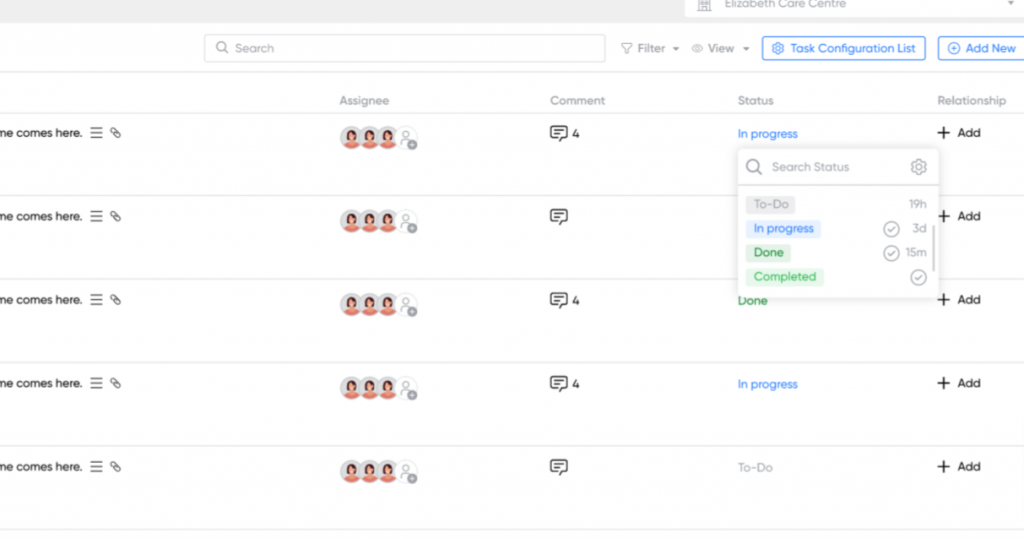 How to acquire our best Dock alternative?
It takes only 6 steps to make your healthcare task management faster, secure and reliable with the best ROI!
Step-1: Fill up the contact form.
Step-2: We'll reach out to you within 2 to 4 hours and set the time for the live demo.
Step-3: We'll give you a live demo of the product along with its costs.
Step-4: If it suits you, we'll hear your customization requirements.
Step-5: Our in-house design, development, QA and compliance team will customize the product.
Step-6: Once it is done, we'll host the software on your server and share the lifetime usage rights.
And since the product is ready – it'll not take weeks to perform customization.
We'll hand over the product to you within a few days.