A Day in a Life of Healthcare App Developer at SyS Creations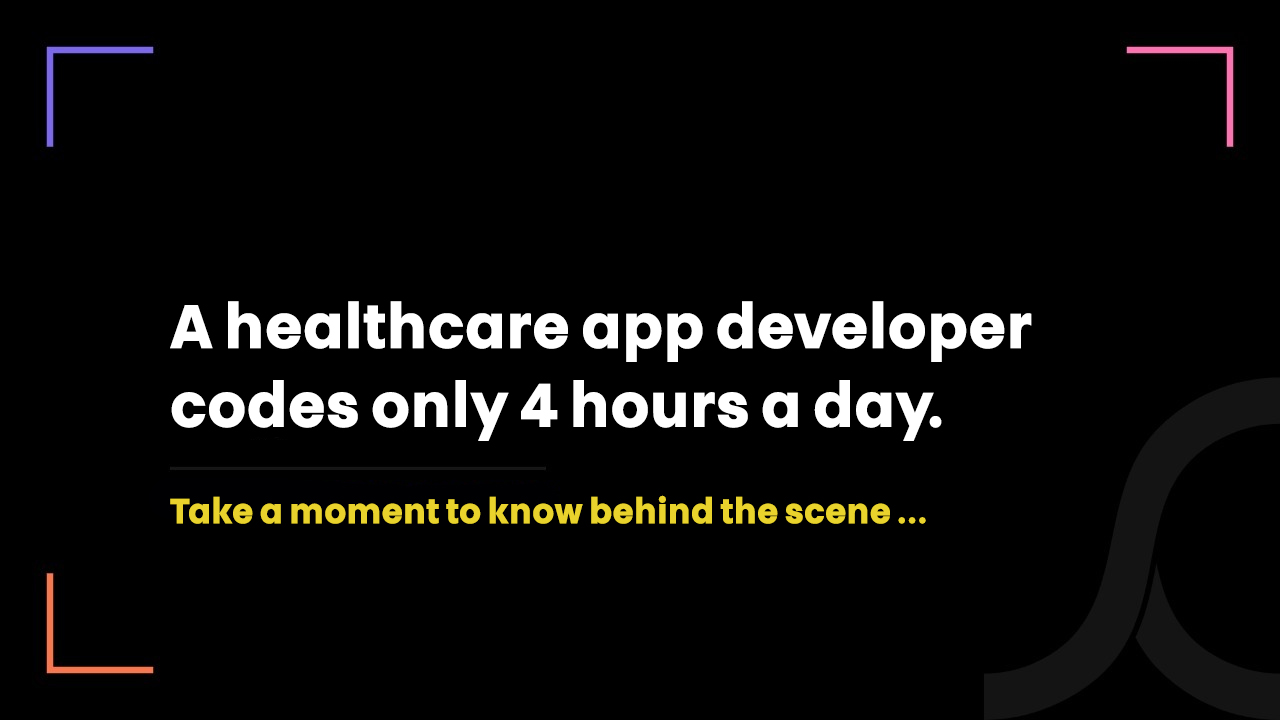 2 years ago
Hello :)
I am 25 years old Canadian working as a backend developer at SyS Creations and this is the blog where I will try to explain (with words & images) how I spend my day and how we execute healthcare development projects at SyS Creations. 
Friday, Burlington, Ontario
6:30 am 
Like most Canadians, I start my day early- especially during summer. And like most Japanese, I prefer to take a shower at night to save time in the morning.
I quickly wash my face and put on anything I find from the wardrobe. I commute by train - from Oakville where I live to Fairview street, Burlington where SyS Creations office is.
Since I commute in off-peak hours, I always find a comfortable seat on the train to relax. While on a 30-minute train journey, I read healthcare IT, startups and some local news.
These are the websites I every day fetch through while being on the train.
7:45 am 
I usually reach the office before 8. But I don't go directly to my desk. With my colleagues, I take morning coffee and some snacks & fruits. While having our morning coffee, we discuss any random thing - but related to IT and development.
I am fairly new in healthcare IT with 1.5 years of experience. But my colleagues are the best healthcare app developers in Canada.
At least this is what their project managers and clients have to say about them which I have also witnessed!
8:10 am 
I am on my desk. This is where I spend most of my time. We love to keep it clean and minimalistic as we believe a workplace is a place to worship.
And yes, we don't use bulky computers. We use powerful tiny Surface Books. That provides us super flexibility to work from anywhere - especially during the pandemic.
This is what I captured on the day company provided me with this cute-looking beast.
8:10 to 9 am 
I go through all emails and today's tasks assigned by my project manager. For my project manager, it is crucial to managing the project in such a way that it gets delivered on time and within the budget.
Thus, every task I perform is managed and tracked via a project management tool - ClickUp. In fact, the entire project is managed through the ClickUp tool.
This is how project management in ClickUp looks like. (Of course, I can't share the real thing as it is confidential, so sharing a reference image.)
And in case you're wondering, we use Microsoft products for email and video conferencing with remote team members and clients.
9 to 9:20 am 
It is the first official meeting of the day.
Led by the project manager, we quickly discuss today's tasks, technical difficulties and project timeline & progress.
The agenda of the quick 20-minute meeting is to keep every team member on the same page and get their technical doubts solved if they have any.
And since we follow the agile methodology, we call it a scrum meeting.
By the way, scrum is an agile framework in which we break large project tasks into smaller pieces to quickly achieve the target.
If our clients are available, they also virtually join the meeting as we're always eager to know their feedback.
9:30 to 11:30 am 
I finally do the task that makes me happy. Yes, I write code.
I generally have to write code for healthcare IT products such as telemedicine, appointment booking, patient monitoring, EHR, clinical collaboration, chatbot etc.
11:30 am to 12:30 pm 
No. I am not exhausted from writing code. But it is time for lunch.
I and other team members visit the nearest cafe or restaurant for a quick lunch. There are several Asian, Mexican, Japanese food points around our office including McDonald's.
But my most favourite is Mary Brown's Chicken & Taters.
If time permits, CEO also joins us.
He always tries to go beyond his position and spends time with team members. It is a joy listening to his Canadian healthcare IT experience.
He shares innovative ideas and the future of healthcare IT. And the best part is, he is around my age. Thus, I feel so comfortable talking to him.
I also saw many of our clients become friends with him!
12:30 to 3 pm 
Back to the desk and back to the most beautiful part of my life - coding.
3 to 3:30 pm 
Another meeting, but this time it is with a team of compliance specialists.
Healthcare is a highly regulated industry as it is a soft target for hackers. Both federal and provincial governments have imposed data privacy laws which we also have to take into account while building a healthcare app or software.
A team of compliance specialists makes us aware of different technical regulations and different ways to technically address each regulation.
They also present the report of privacy gap analysis and ask for the development team's plan to fill those privacy gaps of the healthcare IT platform.
Indeed, they play a very important role. Without them, we can't build a compliant healthcare app and our clients would suffer a big fine from the privacy commissioner.
But, such things never happen at SyS Creations as we prioritize healthcare compliance over everything!
3:30 to 4:45 
Trust me. This is something rare to find in an IT company.
I can literally sit beside the senior developers to learn what the development and healthcare technologies they are working on.
I can disturb them by asking questions as much as I want. It is a knowledge-sharing session.
Because the company believes in growing together with teams. Not a single team member should leave behind when it comes to skills and knowledge.
I love this place!
5:40 pm 
After reaching home, I hit the gym in my neighbourhood.
7 pm 
I have dinner with my family at home.
8 to 10 pm 
I nowadays learn AI and machine learning technologies from Udemy to make healthcare more personalized and accurate.
Did I mention the company provides me free access to Udemy?
Yes, SyS Creations never fails to surprise its team and healthcare clients by delivering more than expected!