This Healthcare Startup Idea Can Change Entire Healthcare Ecosystem For Forever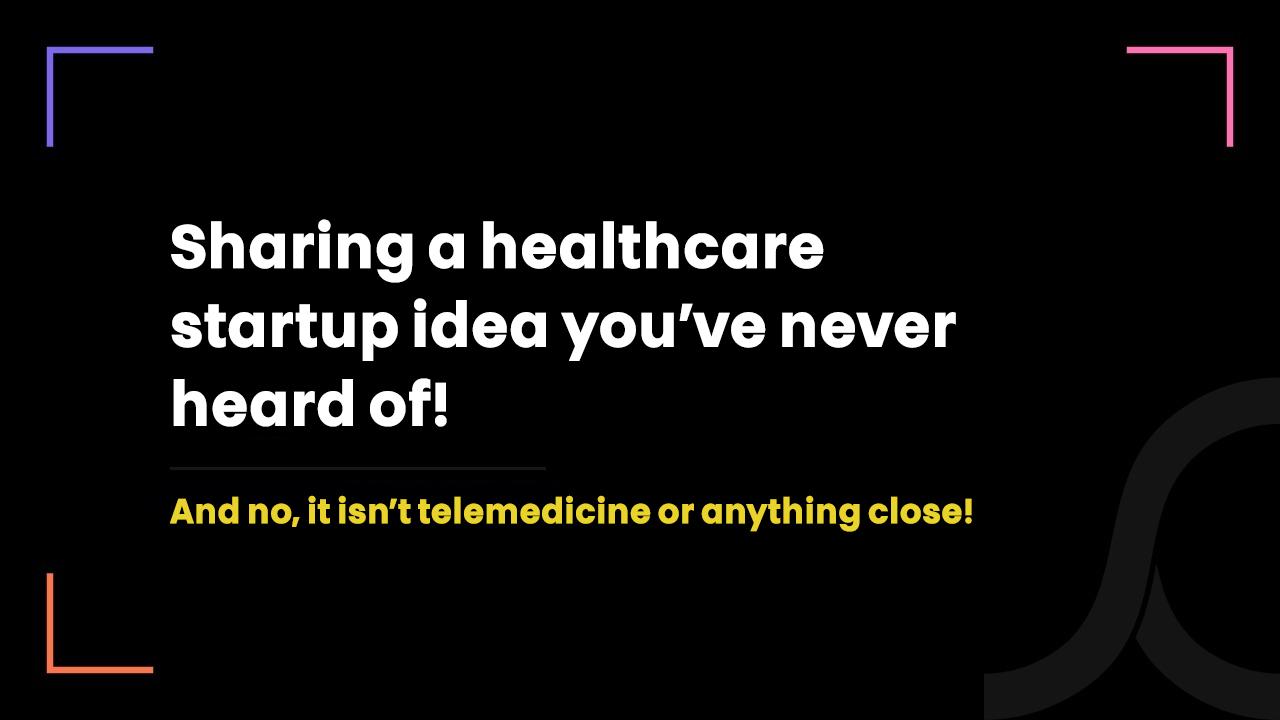 2 years ago
How did I get the idea? (P.S. Thank you Joyride for this wonderful idea!)
I generally spend my day discussing with healthcare professionals, industry leaders and entrepreneurs about epic healthcare solutions, technologies and use cases. 
And in my spare time, I prefer to read healthcare and startup resources.
Recently I came across a piece of normal news that stimulated my mind so abnormally that I could not resist myself investing time in writing this blog. 
By the way, I am Parth Patel, CEO of the company you are reading the blog of.
The news was all about a Toronto-based micro-mobility startup, Joyride, raising $4.6 million CAD. 
I had previously read a lot about Joyride and was also aware of its business activities.
So, I quickly connected it with the healthcare industry and came up with the best healthcare startup idea. 
Actually, Joyride isn't a micro-mobility startup.
But it helps micro-mobility startups to quickly launch the fleet of e-scooters and e-bikes with its ready-to-use IoT-enabled micro-mobility platform. 
More specifically, Joyride solves the major challenge of micro-mobility startups which is compatibility between software and hardware (e-scooters, e-bikes). 
Compatibility between IoT hardware and software has always been the major technical pain for startups aiming to launch a micro-mobility startup or even a healthcare startup. 
In the healthcare industry, use cases of IoT-enabled medical devices are ever-evolving.
From hospitals to home healthcare providers, all are relying on medical devices working on IoT technology to monitor the patients remotely from mobile devices. 
However, as discussed, it is a challenging task to set the compatibility between medical IoT devices and software. 
So, here - in this challenge - lies the best healthcare startup idea.
The idea (Read twice to get its depth!)
All you need to do is, develop a white-label platform that enables healthcare startups to quickly launch, manage and grow any business that is based on IoT medical devices. 
Your white-label platform must have basic, must-have and good-to-have features all medical IoT-focused healthcare startups require for seamless operations. 
Most importantly, it should have a technical scope for quickly establishing compatibility with medical IoT devices provided by top manufacturers. 
The value it offers (This is too good to be true. But, it is true!)
With this platform, you are letting healthcare startups own the software without going through the complicated development process and easily connect IoT hardware with software as your platform already supports IoT medical devices of top manufacturers.  
I strongly believe that IoT-focused healthcare startups would never deny skipping the development process and acquiring a platform working seamlessly with hardware! 
If you've made it so far, don't skip this. (Because this is the actual idea I am talking about!)
The idea we just discussed is undoubtedly exceptionally good. But why should I limit myself when I can make it even better? 
Yes, the best healthcare startup idea 2.0 is here. 
In the last few years, one thing I noticed in the USA and Canadian healthcare systems is that all individual healthcare providers, hospitals and other healthcare entities prefer to build their own healthcare solutions rather than using other SaaS platforms. 
However, they find it very tedious and financially infeasible to hire a legit IT company in order to build the healthcare solution from scratch. 
They also lack technical knowledge which increases their dependencies on their technology partner.
You can solve healthcare providers' pain areas by building a marketplace for your own white-label healthcare solutions! 
Heard it for the first time? Don't worry. I will explain in more detail.
In your marketplace for white-label healthcare solutions, you list several healthcare solutions you have already built. (You can also allow other companies to list their white-label healthcare solutions.)
These healthcare solutions include telemedicine, appointment booking, online pharmacy, patient engagement, clinical collaboration, home healthcare software etc. 
Anyone interested in acquiring any of these ready-to-use healthcare platforms can purchase it directly from your marketplace. 
For product branding and other customization options, you can offer them the flexibility to add brand logo, name, description and check the extra features or customization options from the checklist.  
This way, you are facilitating healthcare providers to acquire the feature-pack healthcare solutions as per their choice and budget with branding and full customization options with just a few clicks. 
Yes, you are right. You are making the process of acquiring a healthcare platform as easy as buying groceries! 
I would never have shared this idea if I wasn't able to bring it to life. (And I'm not alone. We are a TEAM!)
We are an Ontario-based healthcare-focused IT company - always looking for impactful ways to change our healthcare ecosystem forever. 
One day, we will surely be successful to achieve it as we generate ideas, validate them and even execute them! 
We are known for the impact we create and the peace of mind we provide to our healthcare clients. 
The question is, will you dare to receive peace and cause turbulence in the healthcare market at the same time?