Live Demo of How We'll Develop the Best Job Search App for You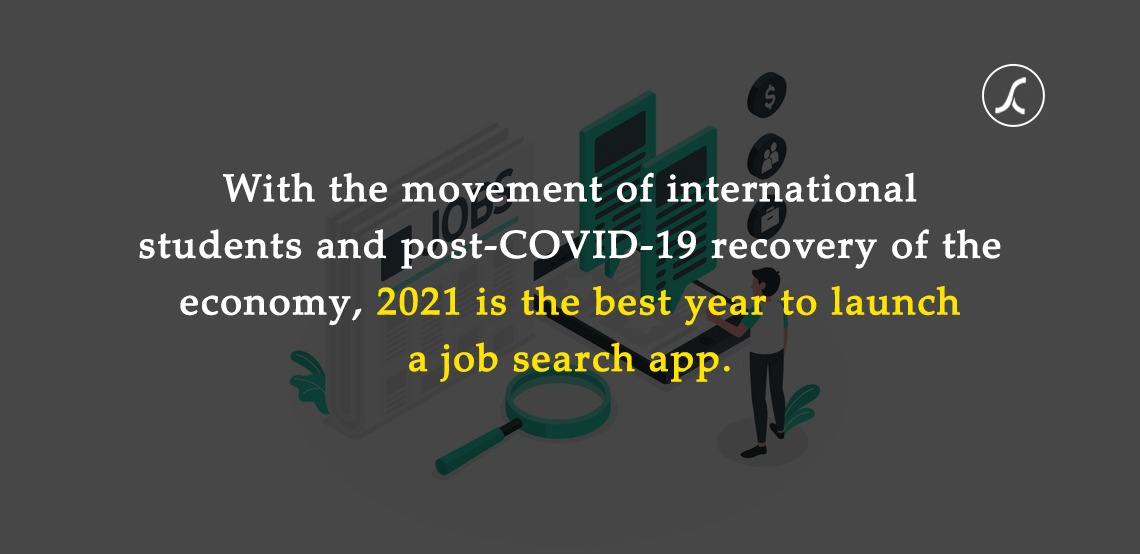 3 years ago
There are plenty of app development companies who claim to develop the best job search app or create a website like Indeed for you.
But none of them has ever dared to show you a live demo of how they actually think, plan and execute your app idea.
So today, we're going to give you the first-ever live demo of how we accomplish hiring app development or job hunting app development.
How do we develop the best job search app differently? - Our unique workflow
Let us first introduce you with our different teams which contribute equally to your success.
Get to Know Our Teams
We have 5 different teams.
The first team accommodates business experts and research fellows.
The second team accommodates app designers.
The third team accommodates app developers.
The fourth team is the QA team that accommodates app testers.
And the last team is the post-app-launch support team.
How do our teams work together?
Each of these teams works according to the defined SOP.
They meet every morning for a quick meeting and discuss your project progress and share challenges to solve them collaboratively.
They work with accountability and know where they have to put effort and how. Because each of the team members has defined duties and responsibilities.
Our Custom App Development LifeCycle
We know the fact that app development is the process, not just the task. And it is not just about coding the app!
Thus, we've created our own app development lifecycle that incorporates many more crucial steps that are missing in the most popular life cycle app agencies are following.
Others app development lifecycle includes 5 phases,
Creating a Feature Set
App Designing
App Development
App Testing
App Launching
Our app development lifecycle includes 16 phases,
Finding a target audience
Understanding their requirements
Finding your top competitors
Carrying out competitive analysis
Defining the business model
Defining the user journey
Creating feature sets
Carrying out the technical feasibility study
Drafting the app workflows
Designing wireframes
Coding the app
Testing the app
Launching the app
Taking user feedback
Updating the app
Providing post-app-launch support
Imagine the outcome if you plan at such a micro level!
Live Demo of 3 Crucial Phases of Our Custom App Development Lifecycle
We will develop a job finder app for you. The 3 crucial phases of job search app development are,
Carrying out competitive analysis
Defining the user journey
Designing wireframes
Here, it is worth mentioning that we will combine the last 2 phases in one to keep it easy for you to understand. This is just a small example of how we are actually working.
Let's start with competitive analysis.
Demo 1: Carrying out competitive analysis
This is the weapon. If you use it currently, you can win the 'market' battle with almost no effort.
Competitive analysis helps you understand every strength and weakness of your competitors. And it enables you to find opportunities to outperform your competitors.
But the question is how to carry out competitive analysis?
Well, you should first decide - whether you want to analyze competitors' marketing plan, business model, internal workflows or mobile app.
In our case, we want to analyze the mobile app of your competitors or the best job search apps available in the market.
Once we decide that we want to analyze your competitors' mobile apps, we list out their apps' pros and cons by reading user reviews and using their apps. 
Best 4 job search apps and their pros and cons
Mobile Apps

Pros

Cons

Monster

• Incredibly advanced filtering options
• Accurate search strings
• Easy to post the job on the platform
• Customized alert system
• No autofill resumes
• Too many ads
• Poor UI
• Too much spamming

Indeed

• Free job posting
• Resume builder
• Customized Job alerts
• Easy to use
• Easy integration with other • business tools
• Good customer support
• Basic UI
• Employer career page is • confusing
• Irregular updates
• High pricing for a
• sponsored job
• Limited and basic search filters

Glassdoor

• More details about companies or employers
• View real employees' salaries
• Read interview questions
• View company reviews of real employees
• For job seekers, it is hard to get noticed
• No advanced search option
• Lengthy sign-up process
• No auto-refresh after applying new filters

ZipRecruiter

• Easy to use
• Understand the target audience of each job
• Best and engaging app UI
• Very fast to post job openings
• Ability to search multiple resumes for employers
• Helping filter through bad leads
• Poor communication option
• The trouble with the rating system
• Hefty pricey plans
• Poor resume building
So, now once we know the pros and cons of your top competitors, we aim to achieve two things in your app, features better than their cons and features even better than their pros!
This will allow us to develop the best ever job searching app that includes all the features users are looking for.
Demo 2: Defining the user journey and designing wireframes
Defining the user journey is a crucial phase. Here, we aim to find out the goal of the users and how step-by-step - through your app - he reaches his goal.
For instance, the user has the goal to apply for a job.
But for that, he has to travel through the signup, create a profile, search for jobs, find the most suitable job and then apply for that job.
The following is the user journey and how each app screen welcomes him and pushes him nearer to the completion of the user journey or goal.
(In case you are wondering what wireframing is, it is the process of designing the app screens on paper or in a tool based on user journey.)
Step 1: User signs up on your job searching app. Since this is a professional app, we don't add a social login option. But we should offer guest login.
Step 2: Since we're targeting the user journey of the first time user, he will click on the create an account option. Here, we will ask him to add some basic information or sign in directly using his google account.
Step 3: We will welcome the user on the main app screen. From here, users can search for jobs by location.
Step 4: Suppose, the user has searched for an app developer job in Toronto in step 3. So, here the app shows him all app developer jobs in Toronto. The user can find his preferred job by applying filters.
Step 5: By selecting the job, the user can now access more information about that job. From here, the user can also share the job with his friends.
Step 6: This is the last step in the user journey. In this, the user is required to add some details, upload a resume & cover letter and simply click on the apply now button.
This is just 1.85% of what we'll actually do for you!
Yes. Keeping a close eye on every micro business, technical and market detail is not our commitment, it is our way of working!
We work with a clear vision of helping businesses set up the entire app business using the most affordable yet impactful technology.
Be it a job searching app, telehealth app or real estate app, we follow the same 16-phase app development lifecycle.
And that's the secret why our clients enjoy 200% of ROI within a few months of app launch.
Get a free consultation and personalized quote now.