The Best Virtual Healthcare Solution in Ontario, Canada for Long-Term Care Homes To Ease LTC Operations by Eliminating All Paper-Based Processes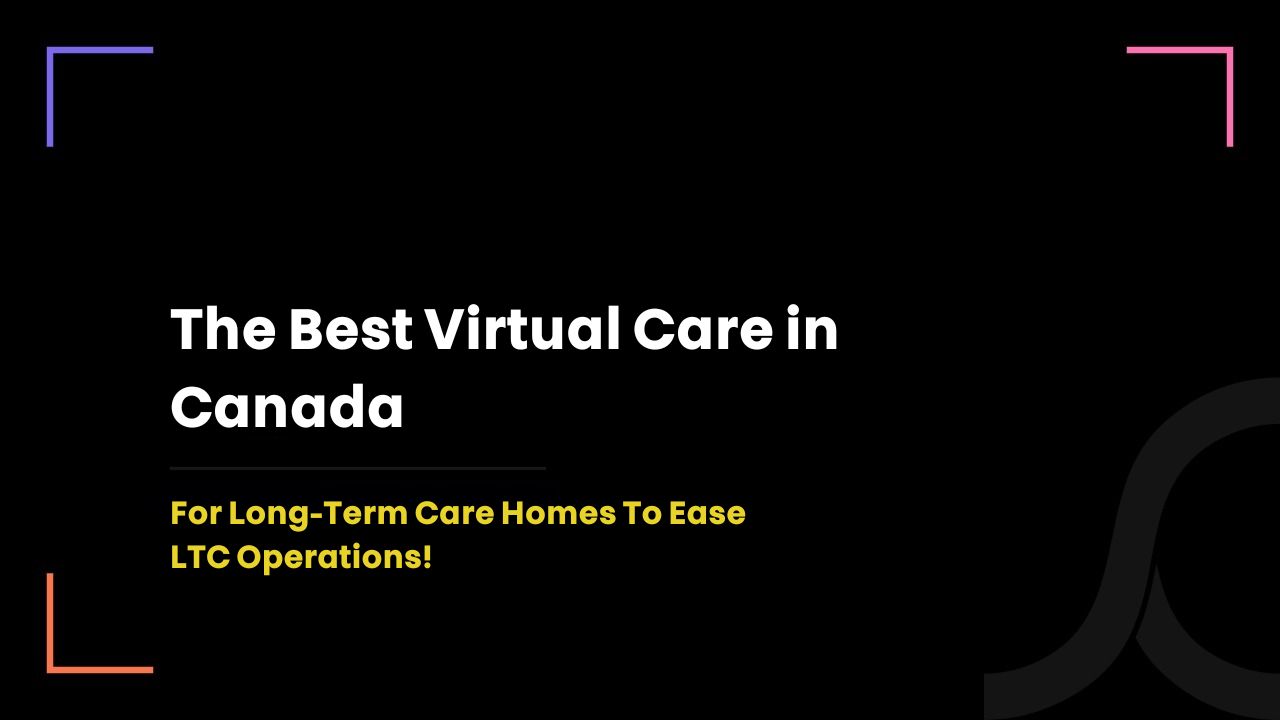 2 months ago
What we used to believe has already been proved wrong. The world's best healthcare systems have been struggling to handle the infusion of coronavirus patients.
Many industry leaders and visionary entrepreneurs believe that technologizing our healthcare system is the only workable way we have to lock horns with any kind of pandemic. 
Not only during the pandemic, but our healthcare professionals including DOC, RN, RPN, and physicians are facing many challenges in long-term care homes.
Without healthcare technology, they can look after each patient individually, but it costs them a lot of time.
Manual collaboration between DOC, nurses, physicians, and pharmacies also results in human errors and less productivity. 
And most importantly, while prescribing patients, nurses and physicians do not have access to the patient's medical history.
Because of these many reasons, long-term care homes that are accomplishing LTC operations with conventional methods cannot provide 'quality care' to patients.
However, technology has answers to these challenges. 
A virtual healthcare solution that brings DOC, nurses, RNs, RPNs, pharmacies, patients, and physicians under the same roof virtually can let each of them derive many benefits that eventually actualize the connected care and quality care. 
In this blog, we will discuss the best virtual healthcare solution available in Canada for long-term care homes.
We will share the groundbreaking features of the virtual healthcare solution and how it enables you to ease LTC operations by eliminating all paper-based processes. 
But before all of this, let's first understand the difference between a virtual healthcare solution and a telemedicine solution.
The Difference Between Telemedicine Solutions and Virtual Healthcare Solutions in Canada 
Both the telemedicine solution and the virtual healthcare solution are capable of addressing long-term care homes' challenges by digitizing the healthcare process.
However, there are significant differences between these two, and you before modernizing your long-term care home should know the differences to meet your unique requirements, effectively and economically. 
What is a Telemedicine Solution? 
The telemedicine solution facilitates physicians to talk to patients via video conferencing.
It also supports voice call and chat communication methods. 
This is the best solution to treat patients remotely.
However, the telemedicine solution does not digitize all LTC operations as the core purpose of it is to just connect patients and physicians remotely. 
Read our dedicated blog to learn more about telemedicine app development in Canada.
What is a Virtual Healthcare Solution? 
The virtual healthcare solution is a broad term.
It does not only accommodate the functionalities of telemedicine solution, but it also lets nurses and physicians write e-prescription, list patients, access patients' medical history, enables DOC (Director of Care) to validate the care provided by nurses & physicians and allows pharmacies to get prescriptions through eFax. 
Overall, it addresses the challenges of each healthcare professional working in long-term care homes.
So, now that you know the differences between a virtual healthcare solution and a telemedicine solution, let's discuss our best virtual healthcare solution in Canada and its features. 
Writi, Our Best Virtual Healthcare Solution in Canada
Writi is the best virtual healthcare tool in Canada which we have engineered by keeping the challenges of all clinicians working in long-term care homes in mind. 
It bridges existing and new relationships between physicians, healthcare professionals, pharmacies, and patients by creating a digital space of collaboration between care institutions. 
It is the precisely developed solution for senior care. It works on mobile phones, tablets, and computers and provides you with much-needed flexibility.
75+ physicians and 700+ users have already been registered on Writi.
It has also processed 10K+ prescriptions.
Top Canada-based pharmacies and other healthcare organizations have been using Writi. 
Writi is PHIPA and PIPEDA compliant and it has security features like two-factor authentication and modern encryption to ensure the privacy and security of patient data.
Writi is equipped with two game-changing capabilities.
You can integrate Writi with pharmacy software (Telus Health – Kroll)  and it also supports the Ontario Ministry of Health's new billing codes. 
We have Engineered a Virtual Healthcare Solution, Targeting All Clinicians To Get The Ultimate Output 
Before developing the virtual healthcare tool or solution in Canada, our team aggressively studied the LTC operations and challenges of clinicians who carry out these LTC operations.
Our team has decoded the challenges of clinicians working in long-term care homes and curated an extensive feature set, addressing the requirements of all clinicians. 
Registered Practical Nurse and Registered Nurse:
Nurses can access the list of patients of the long-term care home.
Nurses can also access the patient's medical history.
Nurses can add patient details manually.
Nurses can view all past and current prescriptions of each patient.
Nurses can write a prescription, but such a prescription requires verification by physicians.
Nurses can arrange a televisit of the patients with the physicians.
Physicians:
Physicians can access the list of patients and their medical history. 
They can validate the prescription written by a nurse or write one by themselves. 
They can talk to patients remotely through a built-in video call feature. 
DOC (Director of Care):
From the single dashboard, the Director of Care can view all tasks or to-do performed by nurses and physicians.
The Director of Care can also contact nurses or physicians to get more information on ongoing or completed long-term care operations.
Pharmacies:
Pharmacies automatically receive the prescriptions written by physicians or written by nurses but verified by the physicians.
How Our Virtual Healthcare Solution is Better Than Other Solutions? 
Though many virtual healthcare solutions are available in the market, not all are armed with fundamental features.
And since they are lacking fundamental features, deploying such virtual healthcare solutions means wasting money and deploying nothing! 
Talking about our virtual healthcare solution Writi, it does not only accommodate all fundamental as well as advanced features, but our expertise in networking, cloud & data security and our insightful consultation & proactive support service help long-term care homes to get everything out of the virtual healthcare solution. 
Unique Features that are Uniquely Available in Our Solution:  
Patients' medical history: Without this feature, physicians and nurses have to fight an uphill battle to write an effective prescription for the patients. But in our solution Writi, the solution automatically or manually saves the patient's medical history in digital bundles. 
Work report of nurses: In many solutions, DOC cannot track the tasks completed by the nurses. But in Writi, DOC can track all tasks or to-do done by nurses from the single dashboard.
User Journey: How Does Writi Ease LTC Operations?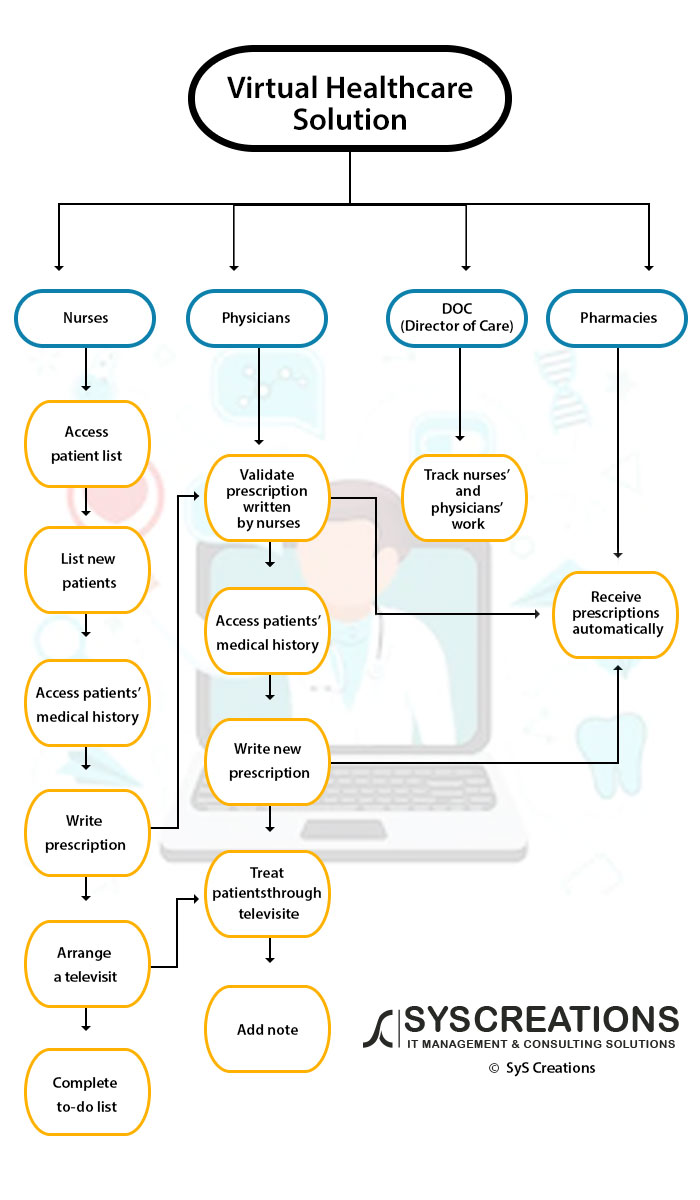 Get a Free Demo of the Best Virtual Healthcare Solution in Canada or Schedule a Meeting with the Expert 
SyS Creations is the top virtual healthcare solution provider in Canada that provides IT consultation and healthcare-managed IT services, in addition to the disruptive virtual healthcare solution.
We also accommodate a team of app developers and app designers who can customize the solution according to your needs. 
If you want to get a demo of our virtual healthcare solution, simply contact us.
You can also schedule a one-on-one meeting with our expert to share your requirements and to get a quote.