How to Build an App like GoodRx? (It has Helped Americans Save More Than $20 Billion)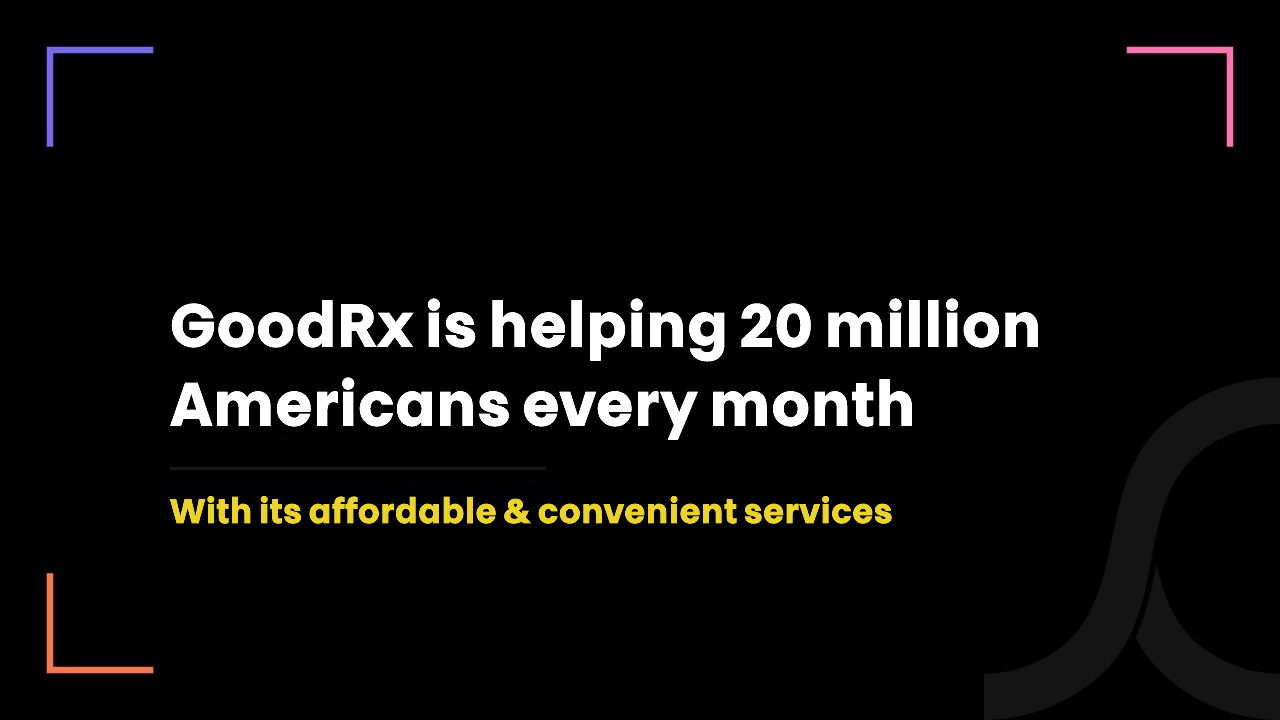 2 years ago
You're reading this blog because you might have found GoodRx an interesting topic or else, you want to build an app like GoodRx. Right?
But before jumping into the topic, see the exciting stats of GoodRx.
Since 2011, it has saved consumers approximately $35 billion.
They helped more than 18 million people throughout their journey.
And almost 20 million people visit their website or app to learn more about healthcare.
This was just the beginning.
Know more about GoodRx and we are sure that you will find it as a business opportunity to build an app like GoodRx.
What is GoodRx?
Founded in 2011, GoodRx is a USA-based healthcare company that offers telemedicine services through website and application.
The main objective of GoodRx is to - help people find prescription drugs and save money on them by providing free coupons and discounts.
The interesting fact is that - they provide free services on both website and application.
Apart from this, GoodRx offers - online doctor communication, lab testing options, gold membership (for more discounts), health information and better resources for healthcare professionals.
How does GoodRx actually work?
When it comes to prescriptions, the drug's price varies by pharmacy and sometimes the price difference might be over $100 in the same city or same street.
GoodRx solves this problem.
You just have to write the name of your medicine or medical condition on the search box and the rest leave on the GoodRx.
It gathers the data of drug prices and discounts from your nearby pharmacies, compares them to each other and then gives you the lowest prices for the prescription.
It also gives you free coupons that you can show to the pharmacist and get your medicine at the lowest price.
What are the top features of GoodRx?
1. Saves up to 80% on prescriptions
GoodRx provides coupons and discounts on drug prescriptions to help the consumer to buy the drugs at the lowest rate.
The coupons are free and for that, no registration is required.
You can compare pharmacies to get the best price for your prescription.
Add the lowest prescription rate pharmacies to your favourite list.
Show your free coupon to your pharmacist and get the best deals.
2. Save on healthcare over 75,000 pharmacies
3. Connect with the doctor anytime - anywhere
When it comes to doctor appointments on a physical basis, you have to wait a lot to get the appointment.
GoodRx on the other hand, allows you to communicate with the doctor online at your scheduled time.
Get the lowest virtual care starting from $19 (with gold membership).
All are certified medical services providers.
Online drug guide that helps you to understand the prescription.
4. GoodRx healthcare services include
Urinary Tract Infection (UTI) testing and treatment
Erectile Dysfunction (ED)
Start or refill birth control
Short term medication refill
5. Pharmacist service at your doorstep
This feature is available nationwide that includes certified pharmacists. You can order the medicine from anywhere with the best price and discounts.
6. Gold membership
If you want some additional features, GoodRx offers gold membership for that.
More healthcare services savings.
Affordable online visits.
Additional discounts on the medicine.
7. Tracking and reminders of the prescription
You can easily track prescription coupons and discounts on your mobile.
You can also manage your medications.
Gives notification of latest discounts and savings on the services.
Easily track your medical records.
You can save the location of the lowest price pharmacy.
Gives you a prescription reminder.
8. No need for the insurance
When it comes to GoodRx, there's no need for insurance.
In fact, for the 100 most prescribed drugs, GoodRx users paid less than the average insurance copays 37% of the time, with savings up to 54%.
Why do 20 million Americans use GoodRx every month?
Simple to use: Just show your coupon at the pharmacy and get the best price
Medication tracker and reminder
Saves valuable time and money
Drug prescription guide and virtual care
How does GoodRx make money?
We know that you might have questions like this - most of the important features are free, so how do they make money?
Let's see.
They tap into the PBMs pricing allowing consumers to pay the lower PBM pricing.
So, What is PBM (Pharmacy benefit managers)?
PBMs are companies that manage drug prescription benefits on behalf of other payers.
GoodRx is a PBM-backed program that passes a portion of rebates and network discounts off the list directly to patients at the point of sale.
GoodRx is a partner with multiple PBM including Express Scripts, OptumRx, MedImpact, and Navitus.
Apart from that GoodRx makes money from - running ads, referral fees and Gold membership services.
Why should you build an app like GoodRx?
Now you must have an idea of how GoodRx works and make money from that.
So is it right to build a pharmacy app like GoodRx?
Why not? Because, it's a time-saving, money-saving and effort-saving app. Apart from that, there are multiple other reasons to consider creating an app like GoodRx. 
The competitors are less in the market for this type of service.
The people are more likely to go for drugs home delivery as well as virtual care. 
It saves time and money for the customers.
And most importantly - free coupons and discounts attract more customers.
Want to build an app like GoodRx? Know how we can help you
We are an Ontario-based healthcare IT company. We deliver powerful healthcare IT solutions. And when it comes to healthcare IT, we have 7+ years of experience.
Healthcare is something we always feel thrilled working on. We put our extra efforts to build and deliver world-class healthcare solutions that suit your business needs and give you the desired outcome.
We have an extraordinary team of healthcare professionals, web and app developers, business analysts, UI/UX designers, QA engineers and compliance specialists.
They all know how to make things more relevant and effective for healthcare clients. And yes, that's our ultimate vision!  
So, imagine the outcome when our healthcare expertise, experience, experts and vision work together on your healthcare project!
In case you are wondering, here sharing our 17-step healthcare digital product development process.