Everything You Need to Know to Build App for Dental Clinic in Canada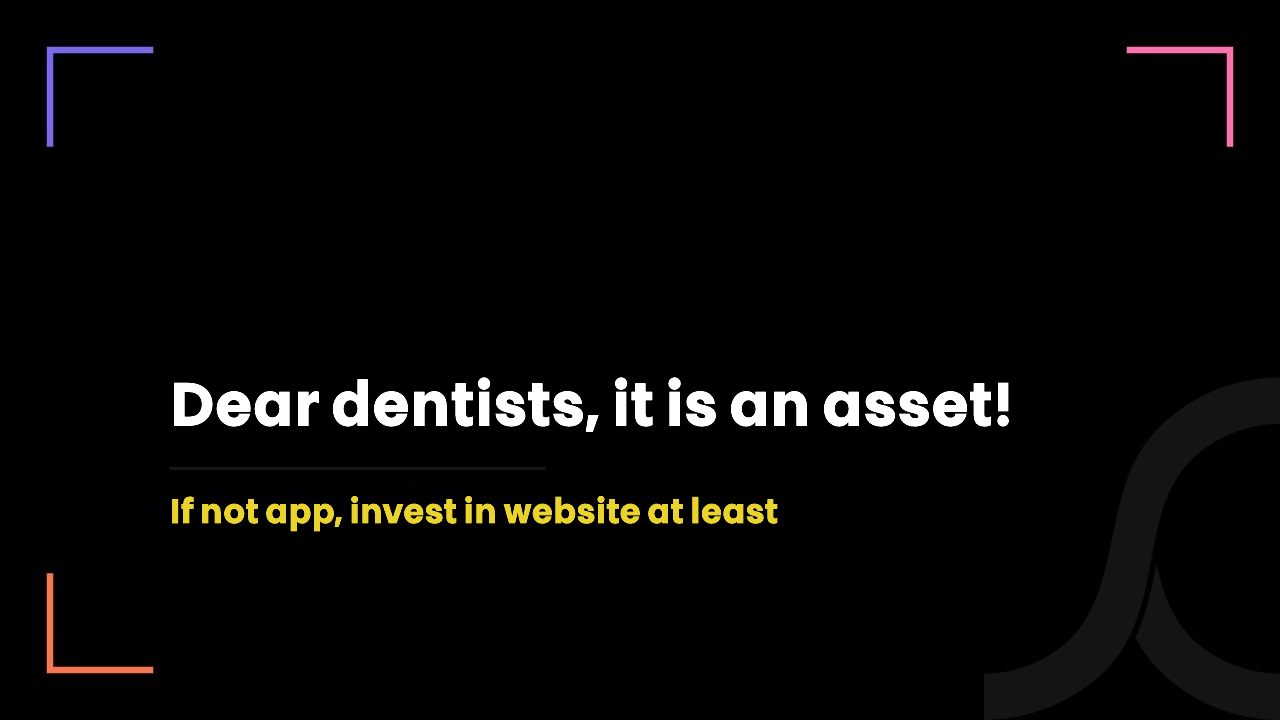 2 years ago
Being a dentist how can you make your patients smile with confidence while ensuring their safety by following the social distancing norms?
It's simple, as most of your patients have smartphones 24/7, having a dentist appointment app can save lots of their time. They can easily schedule dental appointments without coming into the clinic, review their dental treatment plans, make payments, and much more.
But designing and developing a customized dental app is not an easy task, it requires countless hours of planning and execution. Besides that, for the medical professional, it seems to be challenging to implement and adopt the model of the online dental clinic with little and no IT technical knowledge.
Therefore to help you with the same we have come up with the answers to the most common questions of dental app development to create an app for a dental clinic.
Why should a dental clinic get a mobile app?
Dental app development has great potential to transform and modernize the dental health industry. It can help in meeting the demand of customers with convenience, more data and service accessibility, and a better overall experience.
For small clinics, with one or few doctors and small staff, it is obvious that they feel it difficult to make an online presence with the app, but if they are planning to expand their services having a dental app is a must. In such a case they can either hire an app development service provider or build their own with the no-code platform.
However, in the case of bigger dental care facilities, one should hire a healthcare app development company to get their own customized mobile app.
What are the key benefits of the dental clinic app for patients and dental care providers?
Benefits for patients:
More convenience and flexibility of booking appointments
Easy payment
Track treatment
Low service cost
Get notification and updates
Appointment reminder
Enhanced patient data security
Free access to educational material
Benefits for dental care providers:
Make more sales with patient retention
Follow social distancing guidelines
Personalize care for patients
Easily manage appointments
Decrease administrative time
Automatically send appointment reminders before a few hours
Send reminders with push notifications
Quick access to centralize patient data
Simplified branding and promotions
Generate insights from valuable patient data
What are the essential features of the dental clinic app?
If you are building a dental clinic app it must have the following features.
Dentist app (user):
User registration and profile creation for individual and family
Account setting configuration
Schedule an appointment or cancel an appointment
Show appointment calendar
Track treatment
Call or message the dental service provider
Access to educational material
Media sharing (images, reports, and document sharing )
Automatic reminder for a scheduled appointment
Secure payment gateway
Notification, feedbacks
24/7 customer support
Dentist app (admin/ provider):
Account login
Account setting and configuration
Role management (admin, doctors, staff)
Patient health record storage and management
Patient appointment management
Media sharing option
Billing and payments
Connect with the patient by call or text
Collaboration interface for staff
Lab report management
Financial report generator
Why does a dentist need to build a custom app for a dentist clinic rather than using the third-party ready-to-use dental app?
There are multiple reasons to build a custom app rather than using a ready-made application. Here are the few benefits of building a custom app over a third-party ready-to-use app.
Building a custom app is the best way to establish a brand and build a loyal customer base
Custom apps are more secure than the third-party apps
They are easy to maintain, modify and scale
Can easily integrate with the third-party apps, EHR/EMR
No need to depend on the vendors for support and thus eliminating the risk of instability
More flexibility for customization of features and processes
Less risk of rising service cost
A complete ownership of app
Make a way for the new opportunities in dental healthcare with our healthcare IT expertise
Now you have a clear understanding of the what and why of the dentist appointment app. So why not create your own customized dental app?
If you are providing expensive treatments with insurance cover, displaying it on the app and educating your patient about the treatment benefits, the app is the best way to promote your services.
The mobile app provides multiple opportunities to deliver excellent care to the patient. Therefore it's important not to overlook the importance of investing in the mobile app or web app.
Stand out from the crowd with the adoption of modern technologies, we are here to help you!
We are a healthcare-focused IT company that believes in empowering the healthcare ecosystem with revolutionary tech solutions. If you want to build a dentist appointment app with customized features and design, our health tech experts will make it happen for you.
Our team of experts includes enterprise software consultants, app developers, business analysts, UI/UX designers, cybersecurity & networking specialists and healthcare compliance experts.
Most importantly, we also accommodate healthcare professionals to validate and deliver clinical value into your digital solution!