How to Develop an App Like Amazon Care? – A Step-By-Step Market, Business and Compliance Guide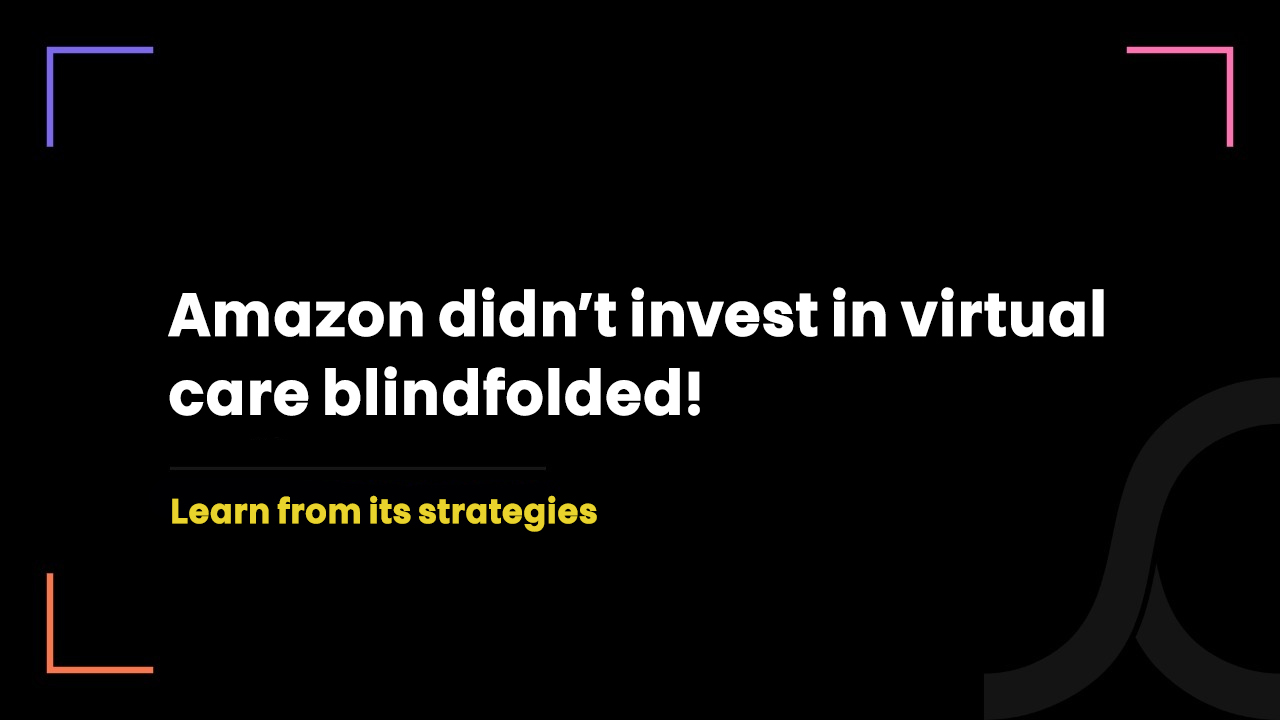 1 year ago
Healthcare is one of the most commercially successful industries.
Sensing the market opportunities, even Amazon jumped into it a few years ago.
Now, Amazon has its own online pharmacy brand named PillPack and a telemedicine brand named Amazon Care.
In fact, Amazon tied up with JPMorgan and Berkshire Hathaway to build their own healthcare company.
In this blog, we are more interested in Amazon Care as Amazon is expanding it to the entire USA after a successful pilot run in Seattle.
If you are planning to develop an app like Amazon Care or Amazon Care clone, this blog will solve all your major doubts regarding business, market and compliance.
Our other interesting resources:
What is Amazon Care?
Amazon launched Amazon Care as the pilot run during September 2019.
The virtual care services of Amazon Care were only available to Amazon's employees and their family members around the Seattle area.
But after the successful test, they recently decided to roll it out in the entire USA.
In addition to virtual healthcare services, Amazon is also offering in-person healthcare services from its Amazon Care app.
If a user opts in for in-person service, the care provider visits his location for at-home follow-ups, tests and treatments.
The Amazon Care app is the telemedicine app that allows users to book virtual appointments with physicians and has virtual consultations via video call, voice call or chat.
The app is very feature-rich. It shows the flow for choosing between text chat and video, as well as a summary of care provided through the service, with invoices, diagnosis and treatment plans all available for patient review.
Additionally, the app also allows users to get prescriptions at their doorstep.
Considering the fact that Amazon has its own online pharmacy company and extraordinary logistic capabilities, it is very easy for them to deliver prescriptions at users' doorstep.
How does Amazon Care work?
Amazon Care offers its virtual and in-person healthcare services from the mobile app only.
The following is how the users and care providers connect to each other virtually using the Amazon Care app.
The user schedules a virtual appointment with the care provider.
The user talks to the care provider via the voice call, video chat and chat.
The care provider writes the prescription.
The user gets the prescription at their door-step.
If the user books in-person care, he can track the care provider while he is on the way (a typical Amazon experience!).
Here, it clearly seems that Amazon is aiming to change the way healthcare services are delivered.
It is also worth mentioning that Amazon Care is combining virtual care and in-person care and running a hybrid model. 
Amazon Care expands nationwide  
Amazon recently (on 8th February 2022) announced to expand its telehealth service Amazon Care nationwide as the demand increases.
In addition to this, Amazon has also announced to expand its in-person care service to more than 20 US cities in 2022.
Amazon stated in its official statement that they have been experiencing a high surge for both telehealth and in-person care as people find it convenient and affordable.
For your context, patients have rated Amazon Care 4.7 out of 5!
How does Amazon Care make money?
There are two major user groups using Amazon Care's services.
The first major user group is Amazon's employees and their family members and the second user group is other companies that utilize Amazon Care for their employees.
Amazon offers most of its services free of cost to the first user group - its employees and their family members.
However, there are some scenarios where Amazon employees have to make payments but that does not benefit Amazon in million dollars.
Talking about the second user group, it lets Amazon make money.
Amazon charges an amount from other companies who want to utilize Amazon Care services for their employees.
And this is the major revenue source of Amazon Care.
Nevertheless, Amazon isn't financially interested to make millions of dollars with Amazon Care.
It is just one of the gateways Amazon is using to enter the billion-dollar healthcare industry.
They must be planning something big!
Amazon's next target is healthcare: here are top proofs
Amazon has invested $2 million in Boston-based Beth Israel Deaconess Medical Center to test healthcare-specific AI tools.


Amazon made Alexa HIPAA compliant

to use it for healthcare purposes.
Amazon

acquired an online pharmacy startup

named PillPack.
Amazon tied up with National Health Service in the United Kingdom to deploy Amazon Alexa devices for offering healthcare advice to patients.
Amazon acquired another healthcare startup named Health Navigator.
AWS launched Amazon Transcribe Medical, a voice transcription service for physicians.
And now, Amazon is expanding its virtual care service to the entire USA and

they are promoting it on the top of their website

.
(Updated in Nov 2021)
Amazon Care recently shared additional details of where it will soon start offering services.
As of now, it is currently live in Washington, D.C. and Baltimore and will be live in additional cities like Dallas, Chicago, Philadelphia, Boston and Los Angeles.
The next big plan of Amazon Care
Since the pandemic, Amazon has been working to build its own in-house COVID-19 testing capacity exclusively for its employees.
Its cross-functional team that includes research scientists, engineers, procurement specialists, and operators has been working on this project.
Amazon could also roll out testing kits for other respiratory illnesses and sexually transmitted diseases.
Are you planning to develop an app like Amazon Care? Follow these simple steps to great success
Step #1: Define your goals
You have to be very clear with what you want to achieve and which challenges of the people you want to solve.
Because, your app features, budget and success depend on what you want to achieve and how aware you are of what you want to achieve!
Step #2: Plan your app
Before you hire an app agency, you need to plan the way your app would look and work, which technologies you wish to add and how would it add value.
Because you have to share all such things with app agency so that they can give you the quote and satisfy your exact requirements.
Step #3: Hire an app agency
Here, you have to be very cautious.
Before hiring them, validate their healthcare-specific IT skills, prior experience and app development & delivery approach.
The major thing you have to look into app agencies is their compliance knowledge. Otherwise, you have to hire dedicated compliance experts which costs you more.
Step #4: Know & study healthcare privacy laws apply to your app
Before the app agency starts designing and developing the app, you have to list out all healthcare privacy laws that apply to your app.
Because you have to make the compliance strategy prior to app design and development.
Here, the app agency which has the expertise in compliance will help you or do it on behalf of you.
Step #5: Review app design and functionality of the app
On a regular interval, your hired app agency will give you updates. You have to be involved in discussions proactively.
Because it is important for you and the app agency to be on the same page.
Step #6: Run the pre-app-launch marketing campaign
The pre-app-launch marketing campaign helps you to get ideas of how many people are interested in your product and what they are expecting.
With such important data, you can make changes in the app and in your overall business strategy.
Step #7: Launch the app and take initial feedback of the users
You should continue taking feedback from the initial users and update your app based on it to improve features and service.
A few advice from our business experts:
We have developed many virtual care solutions for healthcare providers and startups and this is what our business experts suggest to everyone.
If you have limited capital cost,

start with the MVP version of the virtual care app. This app will have limited features and cost you less. Once you test the market, you can expand. This is the risk-free approach.
To be compliant with healthcare privacy laws,

execute privacy impact assessment which reveals organization-wide privacy issues

.
Make sure you only integrate popular EMR/EHR with your telemedicine app.
Avoid using premium APIs as you may not need their advanced or premium features.
If you're developing the website

- and not the app - opt-in for a progressive web app.
We know telemedicine tech and compliance the way Jeff Bezos knows retail and cloud
It has been 7 years since our team of developers, designers, business experts and compliance experts has been dealing with telemedicine tech and compliance.
We have even achieved some of the ultimate expertise such as EMR/EHR integration and healthcare compliance.
Being a Canadian company - we understand the North American healthcare market and laws in a better way.
We have the highest level of awareness and understanding that we don't help our clients to build an app. We actually help the community to solve their challenges!
We only work with the Canadian standard of quality and celebrate your gain over our profit!
You are just one click away from experiencing our unique work philosophy!