Patients Need Multiple Healthcare Solutions in One Place: A Healthcare Super App like GoMed Can Help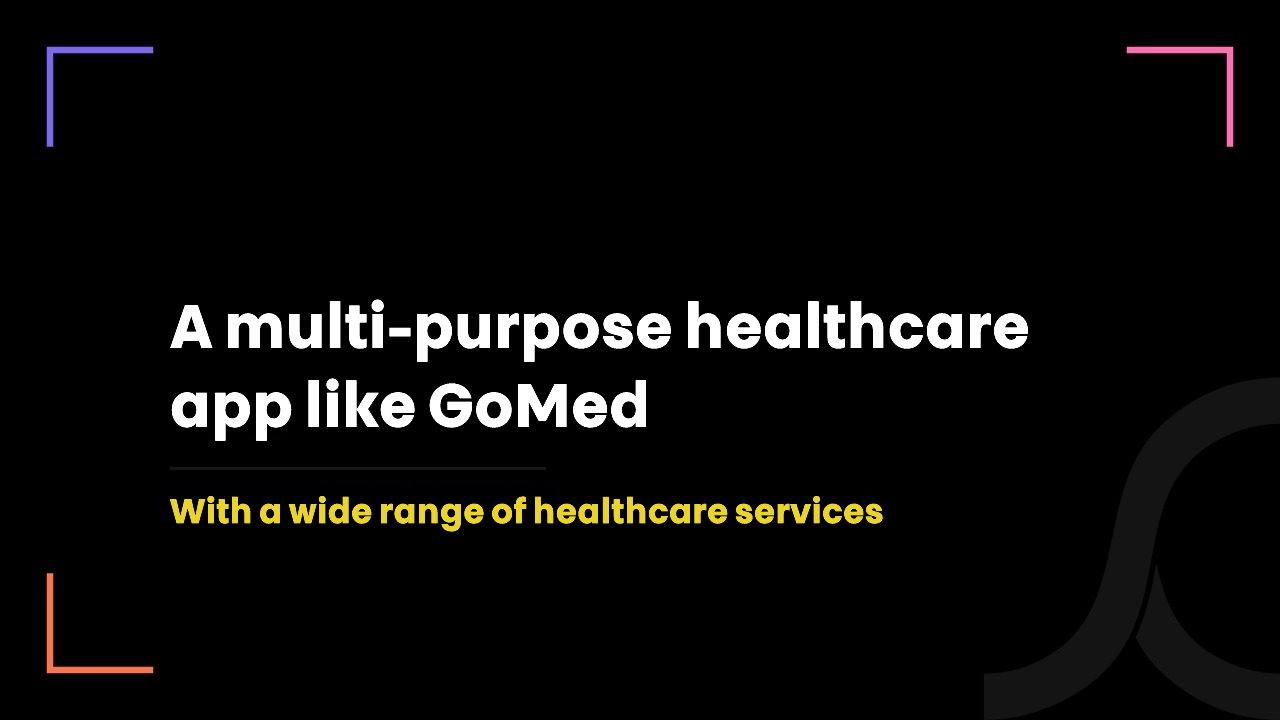 1 year ago
"Multiple healthcare services in one place"!
We all know how mobile apps are solving healthcare-specific concerns in our day-to-day lives.
But, there is one common issue we all confront.
Sometimes, we have to use multiple apps at one time for our healthcare-specific problems.
So, what is the solution for that?
Build a healthcare super app!
For better understanding, here's a quick example.
A "hero" can do some awesome things in street flight, but a "superhero" is capable of doing everything from street flight to flying. (Consider the abilities of Captain America vs Superman).
So, let's discover super apps in detail.
What is a healthcare super app?
"All-in-one solution".
Super app is a multi-purpose app that offers a wide range of services in one place.
In other words, there is no need to download multiple apps from the app store to seek multiple services.
Let us clear your doubts with a simple example.
Suppose, you are an owner of a milk shop.
You attract at least 100 customers every day and they spend an average of 5$. This means your daily revenue is 500$.
But you noticed that, out of 100 customers, 60 customers also want to buy cookies but unfortunately, you are not selling cookies in your milk shop.
So, what will they do? Buy it from the other store.
Sensing the opportunity, you start selling cookies as well. That means, now customers will spend an average of 8$.
As a result, your revenue will increase from 500$ to 680$.
Since you own the shop and staff members, there's no need to spend extra time and money to expand your business.
The super app also works the same.
Because you are offering multiple services in one place, more users will spend more time in your app.
As a result, you will generate more revenue from it without spending extra money and time, since you already have a development team and app.
What are the benefits of super apps?
Now you have a clear understanding of how super apps are different from common apps.
Additionally, super apps are beneficial for both users and app owners. So, let's discover.
1. Benefits for the users:
No need to download multiple apps
Much more convenient for the user
Multiple-solution in one place
Flexible use that saves time
2. Benefits for the app owner:

Increases user time and average money spending
A large number of products and services in one place
Increases brand awareness among the people
Lower risk for launching a new product or services
Boosts revenue and profit
Are super apps important for the healthcare industry?
After the pandemic, "the mHealth industry has seen massive growth".
The reason is that it delivers a convenient patient care experience at any time, anywhere.
However, the problem is the same here as well because not many mHealth apps are super apps in Canada and USA.
As a result, patients are using multiple apps for healthcare products and services such as – various telemedicine apps as per their health concerns, pharmacy & prescription delivery, and nutrition & fitness apps.
Now, the super app comes into action.
As per the reports, "Around 67 percent of consumers in the United States reported being interested in integrating multiple digital experiences in one super app".
From that, we can safely say that developing a super app is beneficial for patients.
Using super apps, the patient can get all the healthcare products and services in one place such as – any type of teleconsultation, pharmacy & prescription delivery, hospital or clinic booking, lab test booking, medical imaging sharing, nutrition & fitness products and insurance services.
In simple words – super apps reduce the healthcare complexity for the patient.
The best example of a healthcare super app is GoMed.
It's the one-place solution for 4+ healthcare needs in Indonesia.
How does GoMed work?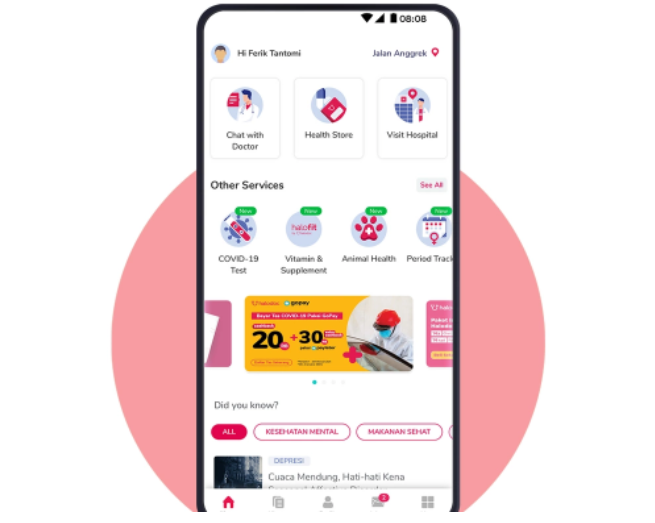 GoMed is providing a quality care experience across Indonesia with the help of certified medical experts and trustable healthcare institutions.
GoMed is a flexible and easily adaptable super app for the patients that simply works as below.
Step - 1: Open the GoMed services
Step - 2: There are 4+ various healthcare services. Choose the service you would like to obtain
Step - 3: Select the certified medical expert, clinics, hospitals, COVID-19 test centers, pharmacies, and pet consultation
Step - 4: Book an appointment, chat or purchase the medicine
Step - 5: Fast and secure payment option
Which services do GoMed offer as a healthcare super app?
GoMed provides fast, convenient, and secure healthcare services such as,
GoMed offers 23+ teleconsultation services across Indonesia. In which, patients can chat with the certified general practitioner and medical experts regarding their health concerns.
GoMed offers 60 minutes pharmacy delivery for over 23+ diseases which include – heart, asthma, hypertension, urinary tract & prostate, antibiotics, eye, beauty products, and hearing aids.
Hospitals, clinics, and COVID-19 test booking:
Using GoMed, patients can simply find the hospitals and COVID-19 test centers from their homeplace.
Furthermore, patients can browse 65+ polyclinics and can select the best & popular hospitals.
In which, pet owners can directly communicate with the verified vets about their pet's health concerns via chat and call.
Which other services can you offer in healthcare super apps?
If you're thinking about building a healthcare super app like GoMed, this is the right opportunity. Why? Because there are only 5 healthcare services GoMed offers as a healthcare super app.
To increase user spending, profit, and revenue, you can offer as many medical services in healthcare super apps.
For instance, here are the services you can offer in the healthcare super app.
Nutrition, diet, and fitness services
Personalized services for seniors and women
Healthcare insurance services
Why should you build a healthcare super app like GoMed?
The study found that "67% of respondents would like to see at least two of their activities integrated into one place, while around 11% would like one app for managing their entire digital lives".
"The healthcare super app market is the digital iron throne".
Healthcare super apps create an ecosystem where patients don't need to use the different apps for their health concerns.
As a result, patient engagement time and average spending will increase in healthcare super apps.
Apart from that, here are the major aspects that indicate, the healthcare super app is a business opportunity for you.
As a healthcare IT company, we know that there are not as many healthcare super apps in Canada and USA right now. That means lower competition in the market.
Attracts more users and helps you to build a long-term relationship with users
It allows you to engage with the users in various ways
You can create a long-term business strategy by adding new features as per the market.
It increases the brand value which attracts the investor.
You can offer a variety of healthcare services to the user with lower investment risks.
Are you thrilled to build a healthcare super app like GoMed? Don't worry, we have experience, expertise, and experts.
We deliver promising healthcare IT solutions, with our remarkable healthcare IT passion and expertise
We are an Ontario-based healthcare IT company.
When it comes to healthcare IT, we focus on the solution rather than the problem.
With our 7+ years of hands-on experience, we can help you in your development, business, and compliance problems like no one else can do.
To accomplish that, we have a healthcare-specific IT team of – UI/UX designers, web and app developers, QA engineers, compliance specialists, business analysts, and healthcare professionals.
Our hands-on experience and healthcare IT expertise help us to deliver outcome-driven healthcare IT solutions for start-ups, hospitals, clinics, individuals, and businesses.
We aren't claiming to be the best, but we can say that we understand healthcare and that our app development approach as a healthcare IT company is distinct from others.