A Detailed Guide to Healthcare SaaS Software Development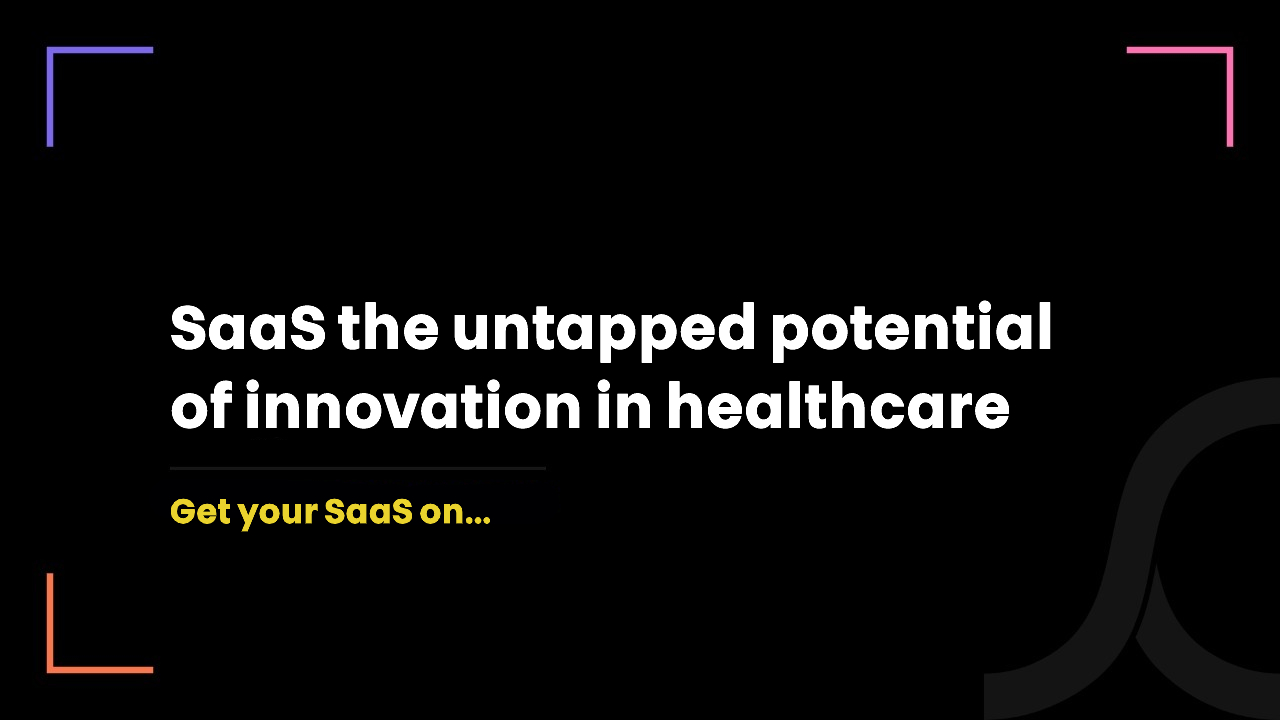 7 months ago
Healthcare SaaS platform! All I can say is Software as a Service (SaaS) is an untapped market with huge innovation potential. 
The market for SaaS is expected to reach $61.40 billion by 2025.
What is SaaS and how does it work in the healthcare industry?
Owners and operators of healthcare facilities are directly accountable for the well-being of their patients and employees. They must use every available means to guarantee that their patients have a positive experience and that their team has a seamless workflow. 
The SaaS model proves to be extremely beneficial to healthcare institutions.
"SaaS uses cloud technology to build a network of servers and databases that can be accessed through the internet from any device".
SaaS is a cost-effective solution to give EHRs/EMRs and any healthcare digital solutions to patients and providers. 
SaaS is used by many hospitals for billing, revenue cycle management, and supply chain management. The applications of SaaS in healthcare are limitless.
When you build a healthcare SaaS solution, you are hosting a cloud-based platform that your users can use by paying either a fixed fee or fee based on usage.   
But how exactly a SaaS in healthcare makes money? Don't worry we got you covered
Building a SaaS is a one-time investment that makes it scalable. At the same time, the upgrade availability at no extra cost makes it the customer's favourite option. 
The software is rented to the user on a monthly or annual basis. The software provider receives regular revenue as well as the chance to increase subscription rates and offer premium products on an annual basis.
Recurring income enables SaaS companies to reach the break-even point faster in comparison to Licensed Software sellers and generate better long-term profits.
Subscription sales provide a consistent source of predictable and regular income, allowing businesses to withstand business fluctuation in an unpredictable climate.
It's just like subscribing to Netflix, and all you have to do is chill at the end.
Build SaaS solution in healthcare: Benefits & Challenges
Benefits you can expect from SaaS in your healthcare organization-
In general, healthcare technology is extremely costly. However, with SaaS, healthcare institutes obtain a cost-effective option because they don't have to suffer any large initial expenses, spend on upgradation, set up costs because expensive hardware setup isn't necessary, or cost of maintenance.
With on-site data servers, the institute is responsible for all backups and is always in danger of losing all data if the servers fail. But this is not the case with SaaS apps because all data is regularly backed up. As a result, in the event of a problem, all medical data may be quickly obtained. This is why SaaS is the most beneficial and preferable option for healthcare institutions.
SaaS platforms and applications are usually cloud-based. As a result, medical institutions don't have to worry about scalability because they can instantly scale their apps up or down based on the development of their business.
Because they are developed in line with many compliances and standards such as PIPEDA, HIPAA, PHIPA, and others, medical organizations may use SaaS apps to have access to a variety of security measures that help keep patient data safe. And save the medical institutions from hefty fines. (Heads up! We have our in-house compliance experts!)
It allows for real-time changes, SaaS in healthcare institutes may ensure that they have reliable information at all times. It implies that all of the professionals involved in a patient's case may work on his data together and communicate regular updates. Every professional will have the most up-to-date information, allowing them to deliver better treatment.
Organizations have improved their interoperability and can simply transfer data across hospitals and sections of healthcare like insurance providers. Instead of investing large sums on IT infrastructure, seamless connectivity between healthcare providers may be achieved with a modest software change.
At the same time, preventing unauthorized access into the system by creating standard security operational functions for using healthcare SaaS only authorized users can access information at any time and from any location. It is especially essential since doctors may confer with one another about a patient's situation from different locations.
Challenges Associated with adopting SaaS platforms in healthcare-
The SaaS provider hosting the database and server in the cloud will be required to attest to the solution's safety and usefulness. The operation will fail if there is no transparency between the startup and the SaaS provider.
From our experience in providing healthcare, IT-focused solutions we know that healthcare is a tightly regulated marketplace, both healthcare companies and SaaS suppliers must completely comply with regulatory regulations.
One of the biggest challenges faced in SaaS is data privacy & security. Because patient data is sensitive and must be kept secure, adequate precautions must be put in place before putting it in the cloud. Thus, it is advised to take help from specialists like us who have been working in healthcare for the past 7+ years. A generic software development company may give you software, but not compliant and protected software.
Our step-by-step process to bring healthcare SaaS into service
Building healthcare SaaS development is not fundamentally different from other types of application development.
As a health tech company, we always keep in mind the following before we build a healthcare SaaS application.
Compliance & data sharing standards, i.e., HIPAA, PIPEDA, PHIPA, HL7 & FHIR
Secure transfer of data using cloud tech setup
Compatibility with various systems & OS is a must
1) Discovery stage
The moment you get in touch with us the discovery phase begins. At this stage, we develop a plan, requirements, and a prototype.
To completely understand what the product is supposed to achieve and which problems it is supposed to solve, we conduct field research and through a series of calls and meetings with you we finally, prepare all of the deliverables. 
The deliverables-
Product specifications document
Estimates for mockups
Roadmap
The scope of work
2) Design stage
We formulated the product vision in the discovery stage. And now we move onto the design stage. Here we understand the standard SaaS platform rules. These features include inconspicuous design, straightforward navigation, adaptability, and simple search. The platform must also be visually appealing and take into consideration various digital healthcare trends. 
At the same time, we stress out the data visualization which is a very important factor in healthcare UX design. This makes all the data on SaaS professional, understandable, and unformidable.
Because one of the platform's selling features is the ability to visualize large volumes of healthcare data after all.
3) Development stage
With a dedicated team allotted to you that includes developers, designers, in-house compliance experts (working in harmony with developers), QA testers, and client managers, we understand the data ecosystem and how healthcare development is different from developing other IT platforms. Planning for security risks we offer compliant cloud hosting services.
We practice the use of Agile Methodology in healthcare SaaS development which has shown to be quite beneficial. Because development occurs in short cycles (known as sprints), it allows for the incorporation of input and results in the development of a scalable SaaS application/platform. 
4) Release & support
As we prepare your product to be released, our team of QA testers test your product under a variety of stressful environments & conduct a pilot simultaneously to generate user opinion so that based on the suggested review we can make changes in your SaaS solution. During this period you can scroll and play around with the app. 
Once the SaaS is ready after our evaluation, we help you with 24x7 launch support for a successful launch.
But wait! It just doesn't end here. We also provide you with software training and continuous tech support whenever you need it. (It's a two-way street for us!)
Want to have your own healthcare SaaS platform? Guess what? You have knocked on the right door!
Our Ontario-based organization has been serving the healthcare industry with tech-savvy and cost-effective IT solutions for the past decade.
With a healthcare-focused company like ours, you don't have to go anywhere else. As you get all the experts developers, designers, compliance specialists, and business analysts under one roof keeping the uniformity of your project. 
Considering that you have reached this far, and your interest in healthcare technology, why don't you just reach out to us with one click. 
So, let's build great things together!