How to Build Healthcare VR App or Software?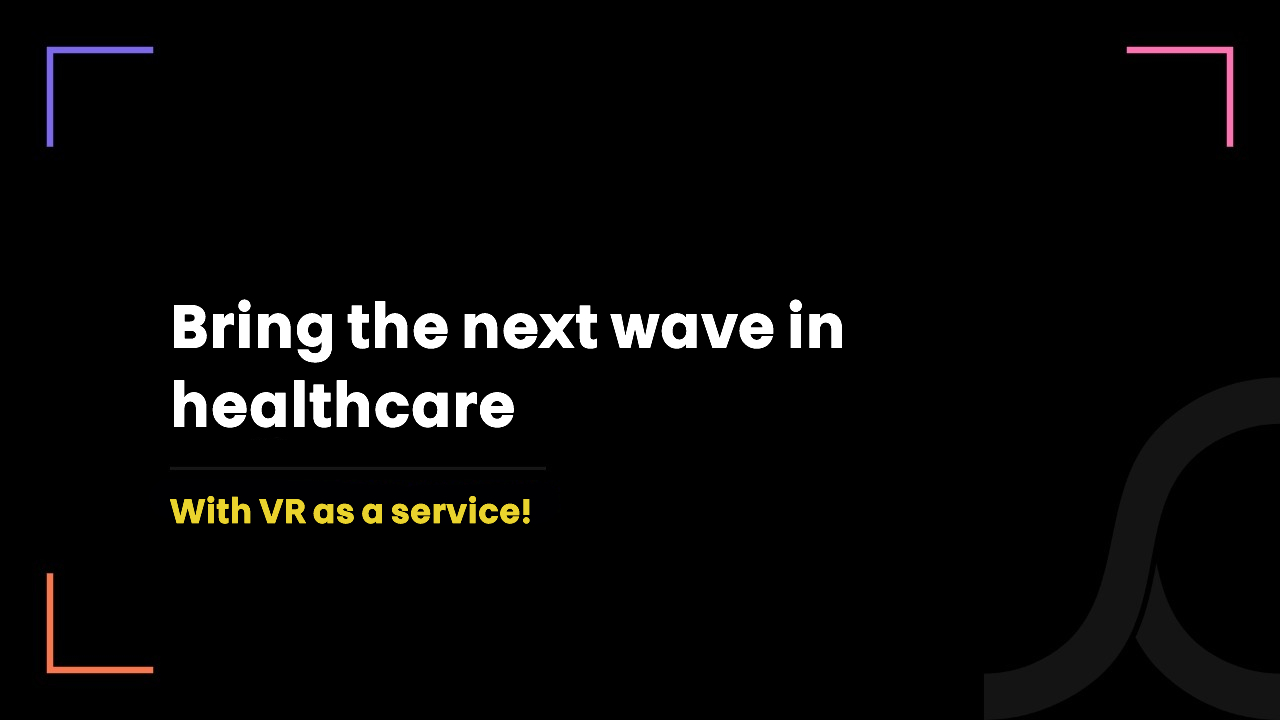 11 months ago
Undeniably, VR (Virtual Reality) is transforming healthcare!
Whether it's care delivery or medical training, it is proven as an effective tool in all directions.
That's the reason, the demand is rapidly increasing for VR apps in healthcare.
Meaning, it's a perfect business opportunity for healthcare professionals, entrepreneurs, enterprises and organizations.
And if you're one of them, this blog is for you.
We have covered the best process to build healthcare VR app or software along with the cost to develop it in Canada, the USA, the UK and beyond.
What is a healthcare VR app?
It's nothing but just an app that uses virtual reality technology within it.
It gives an immersive experience to the users in a virtual environment – with visual elements and sounds in a three-dimensional space.
For example,
It allows a patient to get care support without any need to be physically present in a clinic or hospital.
On the other hand, it helps healthcare professionals to visualize the inner and outer body parts of the patients for treatment or training purposes.
For a better understanding, here is an image of a healthcare professional performing medical training using a healthcare VR app.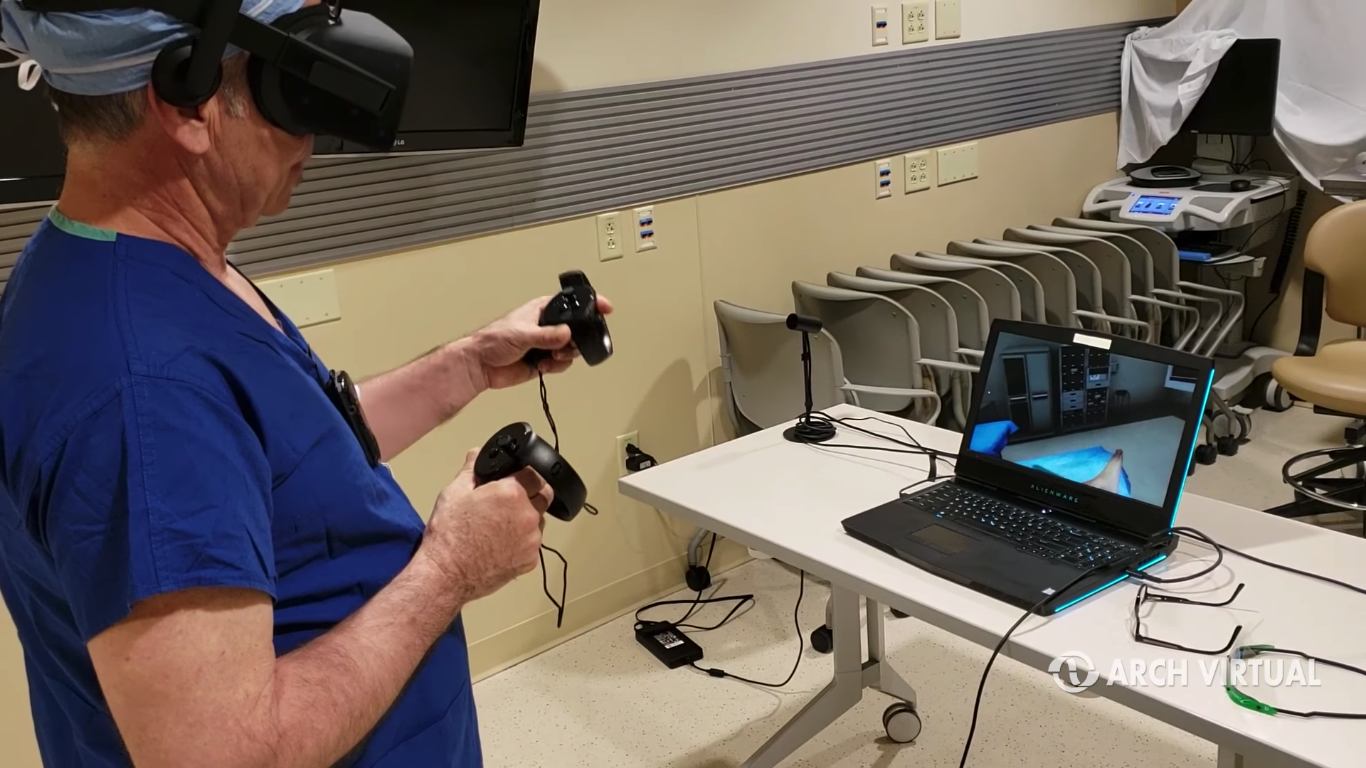 You can develop medical VR apps in any form you want such as –
A mobile app for iPhone, Android or other OS.
Desktop-based application
How does a medical VR app work?
A variety of devices are used to provide a virtual reality experience.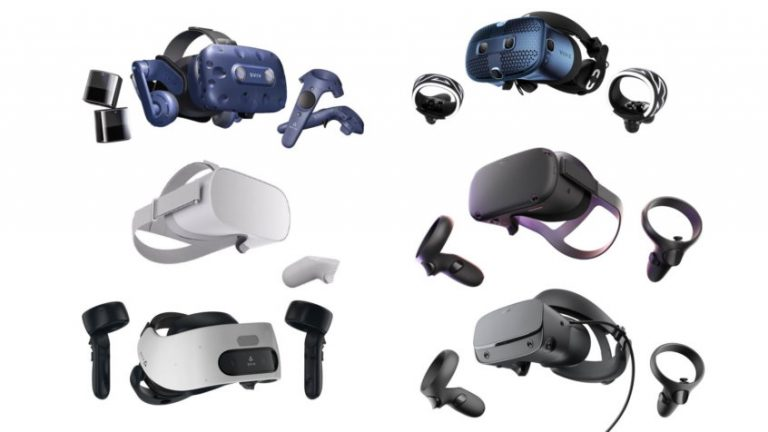 These devices stimulate VR technology using powerful sensors within it.
They track the user's eye and head movements and create a 3D visualization for it.
Then, the app or software collects, analyzes and shows the data collected from the devices to the users for clinical or training purposes.
10 Real-world applications of a healthcare VR app
Despite the fact that VR is a relatively new concept, there are plenty of areas in which it's helping both patients and healthcare professionals to overcome several challenges.
And the following is the complete list of it.
Medical education and training
Physical therapy and rehabilitation management
Parkinson's and Alzheimer's disease management
Speech and occupational therapy
What is the best example of a healthcare VR app?
If you see, there are only a few medical VR apps available in the market.
And most of them are providing mental and physical therapy solutions.
Floreo, RecoveryVR, XRHealth, OSSO VR and SyncThink are a few examples of it.
However, Floreo is one of the most popular ones.
It was launched in 2016 and recently raised $10M in Series A funding.
What makes it special is that – Floreo is first of its kind VR platform that offers a complete behavioral therapy solution for every size of age group.
We have some big news to announce! https://t.co/hxHHXOX3hR#startups #seriesA #vr #metaverse #autism #adhd #anxiety #neurodiversity #edtech #healthtech https://t.co/85aY6ZmAiK

— Floreo (@FloreoTech) October 28, 2022
Why should you build a healthcare VR app?
In healthcare – patient care experience and peace of mind to the healthcare professionals is something that matters the most.
And VR is offering the same!
That's the reason, its adoption is rising at a rapid pace in every part of the world.
For example,
As per the Verified Market Research, "Virtual Reality In Healthcare Market size was valued at USD 2.89 Billion in 2021 and is projected to reach USD 57.42 Billion by 2030."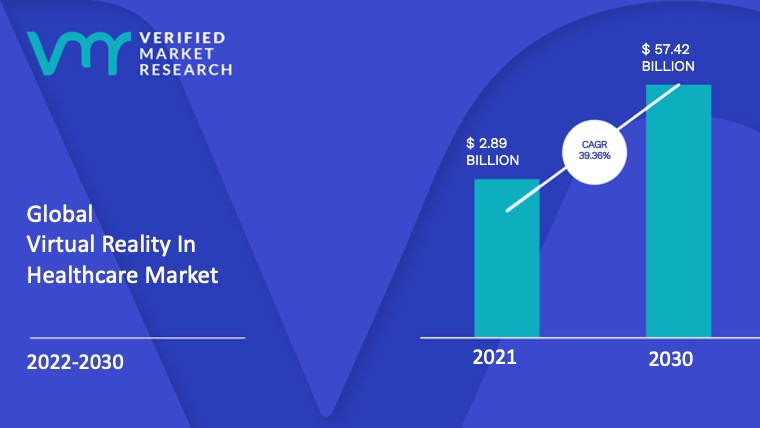 Besides, it gives a countless number of benefits such as –
Involves patients in their own care
Real-time remote assistance during medical simulation training
Helps in providing a patient education with less frustration
Speeds up the rehabilitation for mental and physical therapy
Meaning, with healthcare VR app development, the possibilities are endless to help patients and healthcare professionals under the same roof.
How to make money from the medical VR app or software?
There are multiple ways to generate revenue from the healthcare VR app.
And here are some of the top business models for it.
This is one of the best ways to attract new users.
Under this model, users can easily access some common features but need to pay fees in order to use advanced features.
This business model allows you to retain more users with ease.
Under this model, users need to pay for the services on a monthly and yearly basis.
This business model is proven as an effective way to generate continuous revenue.
However, it's important to focus on the relevancy and amount of advertising.
Because promoting too much irrelevant advertising can result in a poor customer retention rate.
So, if you are a healthcare entrepreneur then this is the best time to utilize the true power of VR in healthcare.
You can offer your medical VR app to small, medium and large-scale healthcare organizations for their clinical, education and medical training purposes.
How to develop healthcare VR app or software?
If you are planning to create a medical VR app, there are 8 crucial steps you must follow.
Step-1: Define the app concept and what you want to offer.
Step-2: Choose a platform like iOS, Android or some VR platforms like Oculus, XboxVR, SteamVR etc.
Step-3: Select the right VR engine (it stores the data that users will see). The most popular VR engines are – Unreal Engine, Google VR, Amazon Sumerian etc.
Step-4: Pick the hardware for your healthcare VR app development. You can choose either or both handheld or wearable head-mounted devices.
Step-5: Hire healthcare-specific VR experts for designing, prototyping and development.
Step-6: Decide the monetization strategy.
Step-7: Launch the app in the market.
Step-8: Improve the performance of the app as per the feedback from your app users.
How much does it cost to develop a healthcare VR app?
There is no fixed amount for it.
Because it totally depends on your requirements of features, usability and content you want for your medical VR app.
For a better understanding, here are some factors that affect the healthcare VR app development cost.
Workflow requirements and its complexity
2D/3D content requirements
Data privacy and security requirements
So, if you want to build a medical VR app that is user-focused and secure with immersive visual experience, you're in the right place!
We have ultimate expertise in healthcare VR app development!
Based in Ontario, we are a healthcare-specific IT company.
Meaning, we only perform health tech projects for startups, individuals, enterprises and organizations.
Because we have a solid vision – to bring peace of mind into the intense healthcare environment!
To do so, we have a passionate team of 50+ IT healthcare-focused IT professionals who combined have 300+ years of experience.
It includes – UI/UX designers, web and app developers, AR/VR developers, business analysts, compliance specialists and QA engineers.
So, let's conduct a call and talk about bringing the next wave in healthcare with VR technology!