This Pill Reminder App Owned by a Developer is Epic! Want to Build Something Similar?
2 years ago
In the United States, approximately 50% of the patients do not take their medicine as prescribed. This causes 125,000 deaths in a year, which is one every four minutes. – WHO Reports
Taking medicine on time, as prescribed, is essential for faster recovery from diseases. In the case of cardiovascular diseases, and diabetes patients one has to be extra cautious about their timing as missing your medicine can develop resistance to the medicine and overdose can be fatal.
This issue made Oleksandr Bandyliuk come up with the solution of an easy-to-use medication reminder app, Meddify.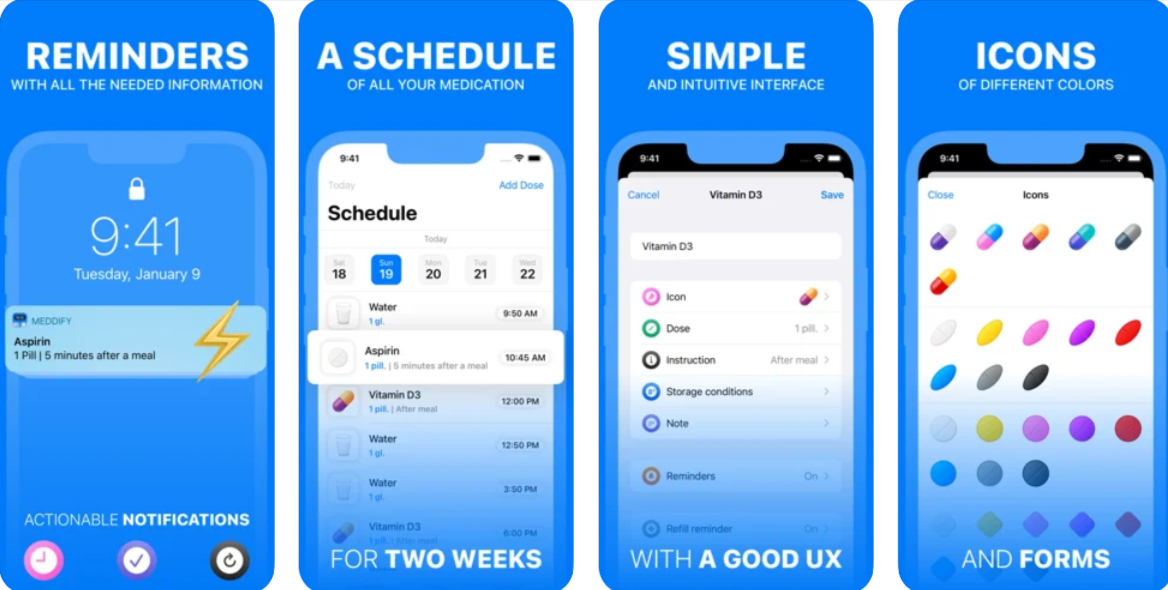 What is unique about this app?
Privacy is the main focus of "Meddify."
Unlike other apps, Meddify does not use the server to store your data and the developer can not access data stored on your device.
Moreover, the app was highly appreciated and was mentioned as the best application of the week and month by the media as AppAdvice, iPhoneSoft, iPhone, and AppleToolBox.
Meddify app: Key features
The app is designed to ensure that users never forget to take their medications on time. The intuitive interface allows users to finish their tasks in a few steps. The app connects the best features of the iOS ecosystem into the app with the support for Haptics touch, Context menu, and Critical alert.
Some of its premium features are:
Access to all icons
Schedule personalize medication reminder
A calendar to see the pills to take during the day
Shopping list
Medication pinning
Medication archiving
There are only a few medication reminder apps on the apple store with the highest rating and Meddify is one of them with 4.8 stars. Further, the app is temporarily free and lightweight with an app size of 13.5 MB.
If you have any plans to build such an application here are a few things you must consider while building medication reminder mobile apps.
Essential things to consider before building medication or pill reminder mobile app
1. Set clear goals: Define problem and scope according to a targeted demographic group
The most important thing to consider before starting your app designing and development process is to define the demographic group you are targeting and the problem you are going to solve.
The reason is, different age groups may have different needs. Based on your user group you can start research and draw problem definition and scope. To simplify the process of problem grouping you can use affinity diagrams and empathy maps.
2. Draw user persona from the research insights
A user persona is a tool to transform your research insights into a realistic character with wants, needs, motivation and frustrations. Synthesize all your research insights to create a user persona i.e who would be the typical user of your application.
Creating a user persona will help you to stay related to the targeted user group and avoid adding unnecessary features.
3. Prioritizing feature matrix
Next, determine what essential features users want, the features that multiple users like to have, and the features they wish to have in the future. Prioritize features based on the constraints such as long-term and short-term goals, budget, and time.
4. Start prototyping
Prototyping presents a direct reflection of how users and stakeholders can interact with the app element and functions.
Start prototyping your pill reminder application with the actual interactions with users and stakeholders. The Prototyping model helps to detect errors and missing functionality in the app in the early stage. Try to get the most of the advantages of prototyping.
Good prototyping is halfway covered to your product success!
Once the prototyping is done start building Minimal Viable Product (MVP) for pill reminder mobile application.
Here is the list of basic features every pill reminder app must have
1. Personalized pill notification for
Notify about scheduled drug
Notify to schedule drug reminder
Notify about pill running low
2. Intuitive user interface
Easy to enter medicine name with autofill
Search, add, edit and delete entries for pill
Add pill description and side effects
Icon library for pills, and other medication to improve visualization
Quick scheduling of doses and simple configuration of time
3. Refill alert
Refill alert for each family member
4. Calendar
Scheduling pill related reminders for you or other members of the family
5. Check medication adherence
Check medication adherence for each member
Send report to the doctor
6. Integrate app with wearable devices with sensors
Features that can be added later
Track blood pressure, blood sugar, and weight
Drug to drug interaction check
Buy medicine or online pharmacy
Mood and activity tracker
Gamification and reward points to encourage patients to take medicines on time
Chatbot
Top-rated medication reminder and management mobile apps
Meddify— 4.8 stars on App Store
Medisafe — 4.7 stars on App Store
CareZone — 4.6 stars on App Store
MedAdvisor — 4.5 stars on App Store
Mango Health — 4.4 stars on App Store
Dosecast — 4.3 stars on App Store
How much it can cost to build a pill reminder mobile application
There is a range of factors that can affect the cost of medication reminder app development as the system is integrated with the healthcare groups and that is the reason it may require a huge level of integration and support.
Here is the list of main factors affecting the cost of application:
Features & Functionalities
Third-party integrations
Certificates & compliances
Development time
Location of an app development company
Number of developers involve
The best way to know the cost of development is to share your requirements with us and receive a personalized quote along with free consultation.
Create a healthy environment to improve patient adherence to medication with our healthcare IT experts
Not taking medication on time is common, and blaming patients for that isn't an answer.
So if you want to build an encouraging app for pill reminders or medication management that involves a patient, physician, and the process component, we are here to help you at SyS Creations.
We are a healthcare-focused IT company with experience in a variety of healthcare app development, consultation, UI/UX and QA.
Our most important asset is our healthcare-focused team and its healthcare-specific knowledge!
We would like to invite you to utilize our healthcare IT knowledge for your gain!