Everything You Need to Know to Build Yoga App in Canada: Cost, Features, Ideas, Process, Top Apps, Tips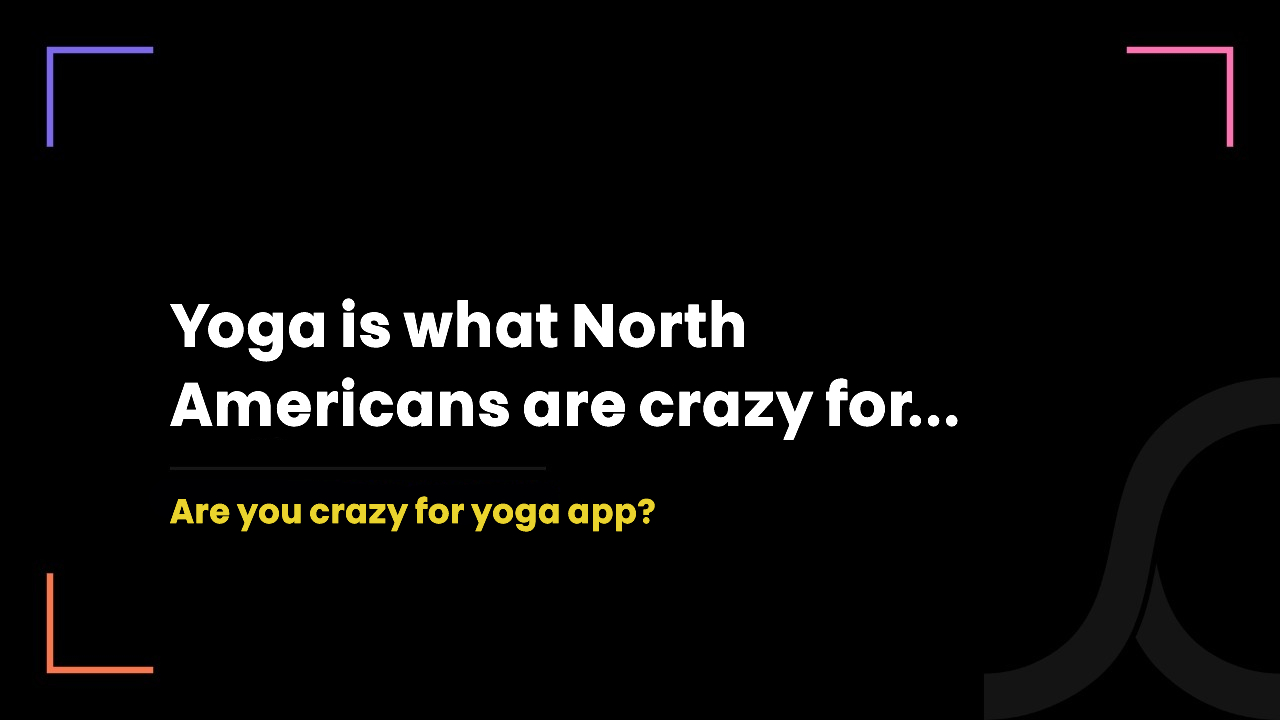 2 years ago
About us:
We're an Ontario-based healthcare-focused IT company. In other words, we only entertain healthcare IT projects.
What makes us different:
We're healthcare-specific. Our clinical knowledge - in addition to technical knowledge - will add clinical value to your yoga app!
Anyway, let's talk about things you must know to build a yoga app in Canada.
How much does it cost to build a yoga app in Canada?
To be honest, predicting the cost of app development is not feasible without knowing your requirements.
But of course, we can present some rough numbers.
Let's estimate your project cost - live …
Generally, app development costs depend largely on the hours it requires to develop the app.
So, for example, if 1000 hours are required to build a yoga app and $40 per hour is what developers are charging for, the yoga app development would cost $40000.
However, there are a few different scenarios…
Scenario #1: You want to keep only basic features in the app
An app having only basic features is called the MVP model of the app. The best part of an MVP app is that you can launch it in the market with basic and useful features and upgrade it based on real users' feedback to keep financial risks low.
So, if you want to opt-in for the MVP model, you can end up saving some 200 to 300 hours or $8000 to $12000.
But in case, you want to add advanced features to gain a competitive advantage, the development hours increase so does the development cost.
Scenario #2: You want to build a native app only
A native app requires two separate code bases - one for Android and one for iOS devices. Meaning, two different teams of Android developers and iOS developers have to work on your project which automatically increases the project cost.
In major cases, building a native app easily costs more than $50000.
However, to keep it affordable, you have a very great choice - cross-platform apps.
A cross-platform app requires only one code base and works on both iOS and Android devices. So, there is now no need for two different development languages and teams. Thus, the development cost is also low.
Scenario #3: You want to skip the mobile app and try the web app
Unlike mobile apps, web apps open on the web and mobile browsers. However, web apps have UI/UX, security and features the same as a mobile app.
The best part of web apps is it loads super fast. As compared to mobile apps, the cost of building web apps is 25 to 30% low.
So, hopefully, now you have an idea of the budget you would require to develop a yoga app in Canada as per your requirements.
Yoga app development is not just about coding. Explore our entire 17-step process
You must not be aware of this. But building a masterpiece is a result of not just development but 16 other steps. And it is not just developers, you would require an entire team of developers, UI/UX designers, business analysts, compliance specialists and QA engineers.
So, here sharing our 17-step app development process.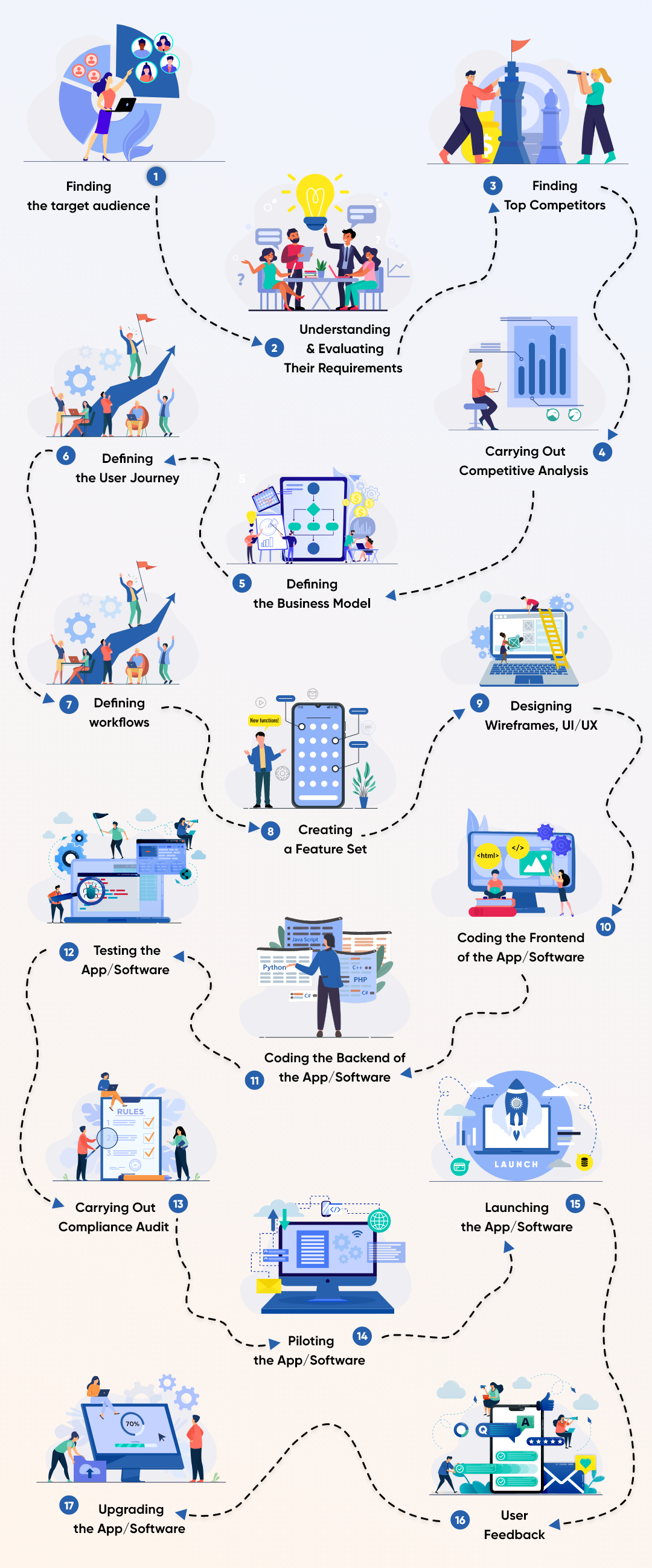 How many days does it take to create a yoga app?
Well, you must now have a clear understanding that app development is not a task, it is a process. And the process always takes time.
From the discovery phase to documentation, workflows, UI/UX, coding, QA, piloting and launching, it usually takes at least 60 days.
If you want to bring it down to 20 days, we can but it severely affects the code quality and overall execution of the project.
Types of yoga apps you can consider to build
You might already have a yoga app idea to build. But this list of ideas can help you polish it further or grab a fresh idea.
1. General-purpose yoga app
Such a type of yoga app is equipped with pre-recorded videos of all the important and useful yoga sessions in all different categories.
2. Goal-specific yoga app
Yoga apps for weight loss, yoga apps for pregnant women, yoga apps for mental health, yoga apps for seniors, such kinds of goal-specific apps fall under this category.
3. Yoga apps for the individual yoga studio
Any yoga studio can build an app for its yoga sessions, users acquisition, users onboarding, payment etc. This type of app is limited to only one yoga studio.
4. Yoga app with aggregator model
Under this model, different yoga studios list themselves on your app and pay you a fixed commission on every user they acquire through your platform.
5. Yoga-focused eCommerce app
Through this app, you can sell different yoga and wellness-centric products online.
6. Yoga app for one-on-one sessions
You can build such a type of yoga app to let users find all nearby yoga experts, connect to them and pay hourly for one-on-one yoga sessions.
7. Yoga super app
A yoga super app offers multiple services from a single app. This kind of app increases the user base and the number of revenue streams.
Most common and advanced features for your yoga app
The feature set heavily influences your app development cost and time. Thus, you have to be very vigilant about finalizing the feature set.
The following are some common and advanced features suggested by our business analysts after studying the 10 best yoga apps.
Some common yoga app features:
User login/sign up using Google, Facebook, Apple id
User profile
Payment
Set goals
Goal tracker
Live yoga sessions
Pay per yoga session
Pre-recorded yoga sessions
Performed yoga history in a calendar
Notifications
Reminders
Referral and promo codes
Rate and reviews
Some advanced yoga app features:
Gamification
Built-in eCommerce store
Chatbot
Wearable integration
Community
Rewards for achieving targets
Voice commands
Top 3 yoga apps you must study before building your own app
You have to steal - not their apps, but market position!
1. Yoga-Go
Yoga-Go is 2nd ranked most popular Android app in Canada in the category of health and fitness app. This app has an overall rating of 3.7 out of more than 39000 reviews. This yoga app is more focused on yogas which help users in weight loss.
2. Yoga Studio by Gaiam
Featured by Apple in 'App of the Day', the Yoga Studio app by Gaiam follows a freemium model with a $10 per month subscription fee. The app is equipped with more than 190 yoga videos and 280 poses with detailed advice and instructions. The best part of the app is that it can even work on Mac and Apple TV.
3. Down Dog
Down Dog is the #1 rated yoga app on Apple App Store. It enables users to have personalized yoga sessions with over 60000 configurations. The app has a lot to offer to users based on their experience level and goals. It is armed with voice technology to assist users seamlessly during the ongoing yoga sessions.
Our 4 expert tips for your ultimate success with the yoga app
Choose healthcare IT company because adding clinical value into your app makes you win half of the battle!
Make sure to generate multiple revenue streams because it is now impossible to rule the market with only one revenue stream.
Focus on UI/UX. Because you don't have to sell yoga sessions. You have to sell wow experiences!
50% of workout app + 50% of meditation app = Yoga app!