Top Canadian business success stories: Know IT decisions of 3 Canadian businesses which are saving their 1000+ productivity hours and $30000+ operating costs every year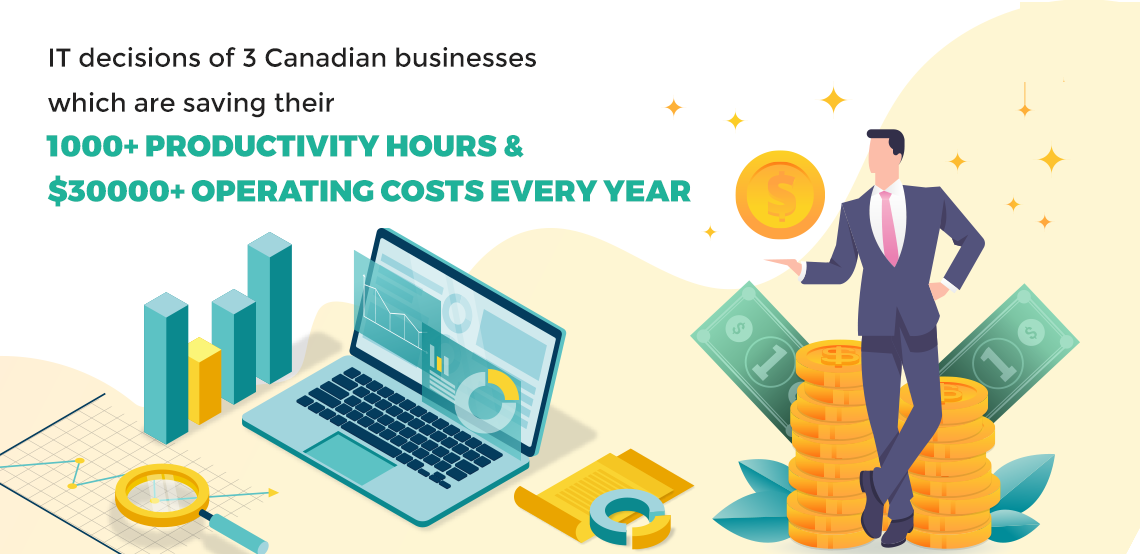 4 years ago
Back in 2012, on a chilly January morning, when I was removing snow from my parked car, my neighbor cum friend called out my name and said, 'Why are you driving your own car on slippery roads? Just book a professional taxi driver from this newly launched app. He will come to your location and drop you on your desired destination.'
'An app to book a cab on-demand!', I was amazed. I was amazed not because it was a great business idea, but because it was a really smart business idea.
The entrepreneur who had developed that app had been earning a heap of money by not accommodating any vehicles and drivers. He knowingly replaced the resource-heavy process or problem - buying and maintaining the cars - with a much more efficient solution - let anyone be a driver with his own car and pay him based on work done.
The owner of that on-demand app must have either gathered all his strength or approached a business IT consultant to first make and then actualize such a revolutionary decision which was later followed by many global entrepreneurs. It was his simple one decision which changed the fate of his business and the whole taxi booking industry.
Like him, many Canadian entrepreneurs have made simple yet impactive business decisions which resulted in extreme cost-saving, supreme productivity, and remarkable customer delight.
In this blog, I will list out the three businesses that have solved internal & external business challenges and achieved impossible by making a small decision beyond the opinions of others.
Canadian business success stories - covering businesses that solved business challenges with technology and unique approach
Since the time I jumped into the Canadian IT industry, I have come across many Canadian businesses serving in different industries. Like all other businesses, these businesses were also facing many business challenges. But unlike a few businesses, they have decoded & overcome those challenges with the extensive business IT consultation, leveraged technologies, and affordable solutions.
1) Small-scale business, serving in the Canadian tourism industry
The problems they were facing
A Mississauga-based business serving in the Canadian tourism industry faced a real problem related to business communication. They had very limited business operations to perform, but since they had three small offices distributed across Canada, they were experiencing the difficulty to keep the messages passed through the old communication systems of all offices in the loop.
Because of this, they could not offer remarkable customer service to their customers. Their employees were also spending more time and costs to talk to other employees and stakeholders, sitting in other offices.
What was the solution they opted for?
Generally, when businesses face any problem related to business communication, they deploy VoIP systems. But here, they had a very limited budget. So, the only thing they could do was - follow the unique approach and implement the perfect alternative to VoIP. And they did it. They deployed the Microsoft Cloud PBX which is the best value-for-money alternative to VoIP.
How did that solution shape their business?
With Microsoft Cloud PBX, they had not only linked the communication system of their all offices but they also enabled their employees to call anyone anywhere from Microsoft Teams itself. And most importantly, they saved at least 40% on communication costs and accelerated productivity by 30%.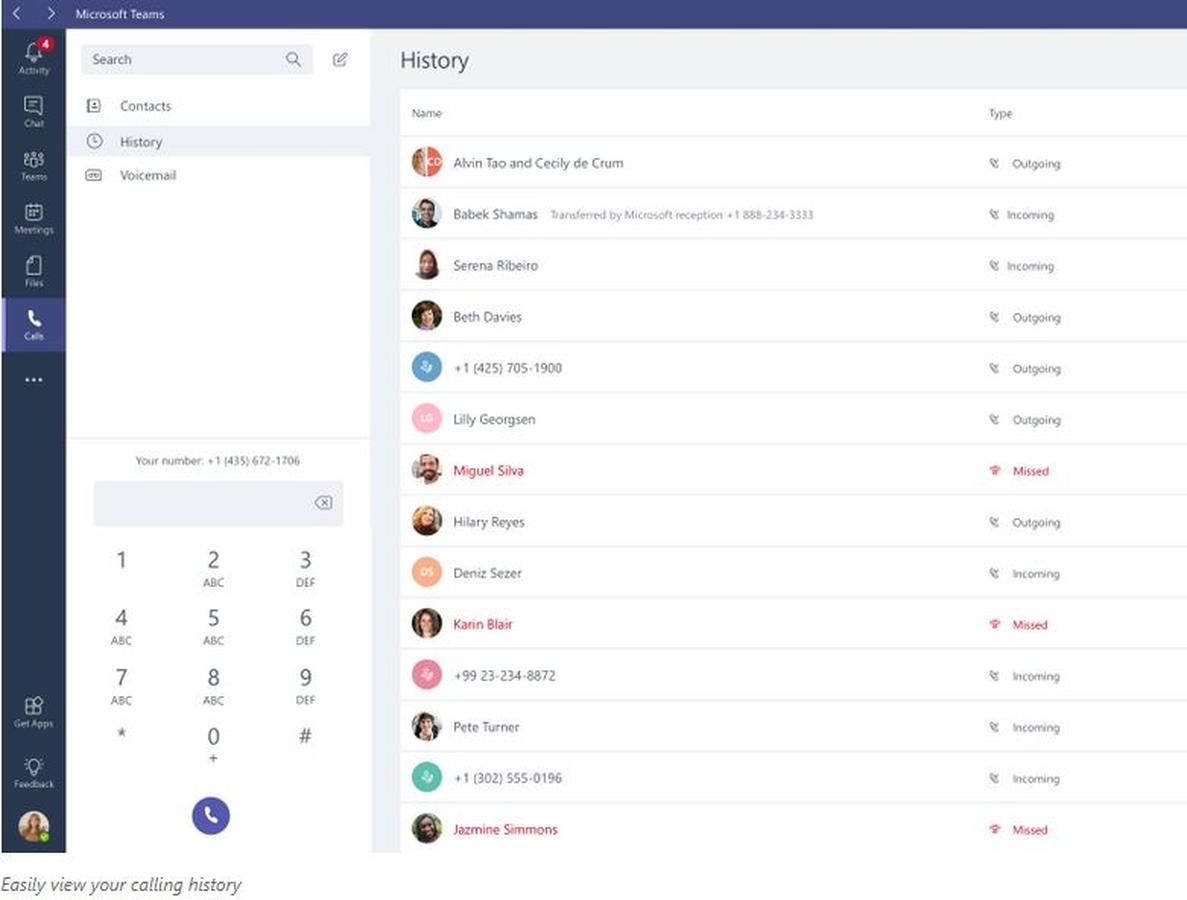 (Calling feature in Microsoft Teams)
It was their simple decision that still facilitates them to reduce operating costs and achieve the highest-ever productivity.
2) Medium-scale business, serving in the Canadian healthcare industry
The problems they were facing
A Montreal-based healthcare startup that uses big data to track and predict the global disease outbreak faced multiple challenges at the same time. Since the big data is in the center of all their business processes, their major challenges involved data storage, data security, and data backup. Without a proper IT infrastructure, they could not store their very crucial data securely and thus, their all business operations could come to standstill.
What was the solution they opted for?
Any data-related business problems can be solved with cloud storage. It is delivered on-demand with just-in-time capacity & costs. It eliminates buying and managing your own data storage infrastructure.
Moreover, cloud storage equipped with cloud computing abilities enables businesses to execute resource-heavy computing processes on the data. However, in cloud storage, certain responsibilities are on the shoulder of businesses. And if businesses allocate their own resources for that, they have to stretch the budget.
So, this healthcare startup opted for cloud-managed IT services. All their IT operations related to the cloud were deployed, monitored and maintained by the managed IT service provider.
Most importantly, cloud-managed IT services consist of data security and data backup services too. Meaning, they solved all their data-related challenges through only one service!
How did that solution shape their business?
Since a cloud offers them the most secure place to store data and confirms the high availability of data, they can access their data anywhere anytime which eventually increases their productivity.
Additionally, their crucial data is very secure on the cloud as a cloud guards the data with its multilayer security mechanism. And due to some goof-up, if they lost the data, the assigned team of data specialists can easily recover the lost data.
3) Large scale business, serving in Canadian real estate industry
The problems they were facing
One of the largest real estate players of the Canadian real estate industry encountered a major challenge when in 2013, they decided to build a new advanced tech-enabled headquarter in Toronto to bring their more than 1000 employees and other stakeholders under one roof, virtually.
Since they had been running all their business operations manually, they lacked the IT experience and could not accomplish even a first step which is all about designing the IT infrastructure that includes servers, computers, data centers, switches, hubs, routers, ERP, CRM, internet, firewall, and security.
They didn't even know how many servers, cost-effective security solutions, switches, and routers they required to set up the whole IT infrastructure.
What was the solution they opted for?
As they had very complex business and IT requirements, hiring IT engineers, paying them, and giving them the time window to set up the IT infrastructure was not a feasible idea. Thus, they approached the managed IT services provider.
The managed IT services provider understood all their requirements. He drafted a complete blueprint and set up the whole IT infrastructure before the deadline and within the budget. Not only this, but the IT infrastructure service provider assured them to maintain, monitor, and sustain the whole IT infrastructure.
Do not shoulder additional IT burdens was their one simple decision which saved their more than 20000 productivity hours and $100,000 till now.
How did that solution shape their business?
Their service delivery speed has increased dramatically as the whole IT infrastructure is managed by the industry experts and thus, their staff is no longer overburdened. They have also managed to increase productivity and revenue. Most importantly, they have reduced the IT infrastructure costs by 40% as the IT infrastructure service provider has been satisfying their multi-vendor IT needs through only one source.
So now when you know the three Canadian business success stories where we have discussed how businesses have solved their business challenges uniquely and economically, let me answer your most anticipated question.
Who introduced these all businesses with cost-effective and reliable IT solutions?
Whether you have a smart business idea or a very simple business idea, you should have an IT business consultant who guides you to implement IT technologies to actualize your idea. Because, in addition to maintaining and sustaining an IT infrastructure, setting up an IT infrastructure is itself a challenge.
The IT business consultant makes you familiar with the best technologies available and what will be the outcome if you utilize these technologies to run your business. He always makes sure that you get cost-effective and serviceable solutions.
On top of this, his team leverages the technologies and customizes the cloud, networking, security, VoIP/FoIP solutions to give you personalized solutions.
I accommodate a team of network, data, security, and cloud specialists at SyS Creations and we have been offering proactive IT business consultancy and multiple clouds, network, VoIP/FoIP, and security services to Canadian SMEs and large scale enterprises.
The businesses I have listed out in this blog are our clients and we have introduced these all businesses with cost-effective and reliable IT solutions. We did not only suggest the solutions but deployed the solutions and have been managing the deployed solutions.
So, to discuss your business challenges and know the ways to solve your business challenges within your budget and time window, schedule a meeting with me. I will also share how my each suggested business solution will influence your company's productivity, revenue, cost-saving, and customer delight.