Navigating Regulatory Compliance in Canadian Pharmacies: Key Considerations and Best Practices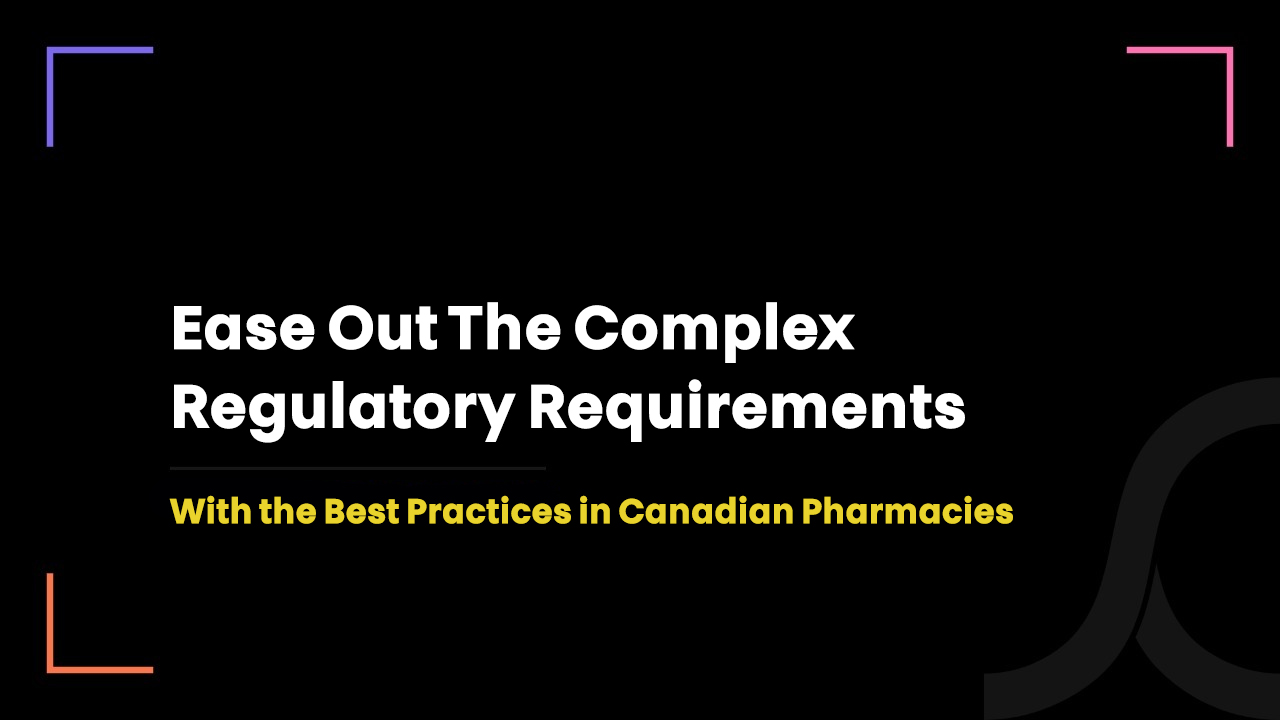 3 months ago
The pharmaceutical industry is highly regulated, and compliance plays a vital role in
Ensuring patient safety
Maintaining trust
Fostering operational excellence
Adherence to regulatory requirements is paramount for pharmaceutical companies to navigate the complex landscape effectively.
Let's explore the essential considerations and best practices for achieving compliance in Canadian pharmacies, with a focus on patient safety and regulatory excellence.
Licensing and Accreditation
Canadian pharmacies must obtain the necessary licenses and accreditations to operate legally and ensure the highest standards of patient care.
The key regulatory bodies responsible for oversight include
Provincial pharmacy regulatory authorities
Pharmacies must comply with their guidelines and requirements to obtain and maintain accreditation.
Best Practices:
Regularly review & renew licenses and accreditations to demonstrate compliance
Stay updated with regulatory changes and implement necessary adjustments promptly
Establish clear procedures for maintaining and managing licenses and accreditations
Controlled Substances Management
Pharmacies must adhere to strict regulations concerning the storage, distribution, and dispensing of controlled substances.
The Controlled Drugs and Substances Act (CDSA) and its regulations outline the requirements for handling controlled substances, such as opioids and narcotics.
Compliance with these regulations helps prevent
Drug diversion
Abuse
Illegal distribution
Best Practices:
Implement robust inventory management systems to track controlled substances precisely
Maintain comprehensive records of all controlled substance transactions
Train staff on proper handling and security protocols for controlled substances
Privacy and Data Protection
Patient privacy and data protection are paramount in the healthcare industry.
Canadian pharmacies must comply with the Personal Information Protection and Electronic Documents Act (PIPEDA) or similar provincial legislation, which governs the collection, use, and disclosure of personal health information.
Best Practices:
Implement secure electronic systems for managing patient data
Conduct regular audits to identify and address vulnerabilities in data protection
Train staff on privacy protocols and ensure they understand the importance of safeguarding patient information
Drug Pricing and Reimbursement
Pharmacies participating in public drug plans, such as provincial pharmacare programs, must comply with regulations related to drug pricing and reimbursement.
These regulations ensure fairness, accessibility, and cost-effectiveness of medications for patients.
Best Practices:
Establish clear processes for drug pricing and reimbursement that aligns with provincial guidelines
Regularly review and update pricing practices to comply with any changes in regulations
Maintain accurate and up-to-date records of drug pricing and reimbursement transactions
Adverse Event Reporting and Quality Assurance
Pharmacies must have systems in place to report adverse drug reactions (ADRs) and medication incidents promptly.
These systems contribute to ongoing quality assurance and patient safety initiatives.
The Canada Vigilance Program, managed by Health Canada, guides reporting requirements.
Best Practices:
Train staff on recognizing and reporting ADRs and medication incidents
Develop robust quality assurance programs to identify and mitigate risks
Foster a culture of continuous learning and improvement in medication safety
Regulatory Framework in Canada
The Canadian pharmaceutical industry is governed by various regulatory bodies, including
Provincial regulatory authorities
These entities enforce guidelines and regulations to
Safeguard public health
Control drug pricing
Ensure compliance throughout the industry
Best Practices:
Establish a robust compliance program that aligns with regulatory standards
Stay informed about updates and changes in regulations and adjust processes accordingly
Collaborate with regulatory bodies to seek guidance and clarify compliance expectations
Good Manufacturing Practices (GMP)
Compliance with Good Manufacturing Practices (GMP) is crucial for pharmaceutical companies to maintain product quality, safety, and efficacy.
GMP guidelines encompass a range of requirements, including
Facility design
Equipment validation
Process controls
Quality management systems
Personnel training
Best Practices:
Implement rigorous quality control measures to ensure consistency and adherence to GMP guidelines
Regularly assess and update manufacturing processes to meet evolving regulatory requirements
Foster a culture of quality throughout the organization and provide ongoing training to employees
Pharmacovigilance
Pharmacovigilance involves the monitoring, assessment, and reporting of adverse drug reactions (ADRs) and other medication incidents.
Pharmaceutical companies are responsible for promptly reporting such events to regulatory authorities.
Adherence to pharmacovigilance regulations contributes to patient safety and ongoing risk management.
Best Practices:
Establish a comprehensive pharmacovigilance program to capture and evaluate ADRs and medication incidents
Train employees on recognizing and reporting adverse events in compliance with regulatory timelines
Implement robust data management systems to ensure accurate recording and tracking of adverse events
Clinical Trial Regulations
Conducting clinical trials in Canada requires adherence to rigorous regulatory frameworks.
Health Canada oversees the approval and oversight of clinical trials, ensuring participant safety and the reliability of trial data.
Compliance with these regulations is essential to uphold ethical standards and protect trial participants.
Best Practices:
Develop clear standard operating procedures (SOPs) for clinical trial conduct, including 

Participant recruitment
Informed consent
Data collection
Reporting
Ensure the study team receives appropriate training on regulatory requirements and trial protocols
Engage with ethics review boards and regulatory authorities to navigate the approval process with ease
Focus on Patient Experience and Leave the Compliance Stress for Us
As the compliance requirements keep changing over time, it becomes crucial to understand each regulation and ensure adherence to it.
We, at SyS Creations, can free you from the trouble of doing so.
We're a healthcare software development company based in Ontario.
With the knowledge and experience gained by working in the field for almost a decade, we can proudly say that we know and understand the healthcare regulations like the back of our hands.
You won't ever have to worry about compliance when you choose us to be your development partner.
We have got an in-house team who is passionate about improving the healthcare systems. Our team consists of
Healthcare App Developers
Compliance specialists
UI/UX Designers
Business Analysts
We follow a 17-step process to develop healthcare IT for you that complies with healthcare regulations.
Our team members are some of the sharpest brains when it comes to healthcare IT.
Connect with us to find out how.