Pathway Raised $1.6M: Build Your Own AI-based Clinical Decision Support System For Evidence-based Care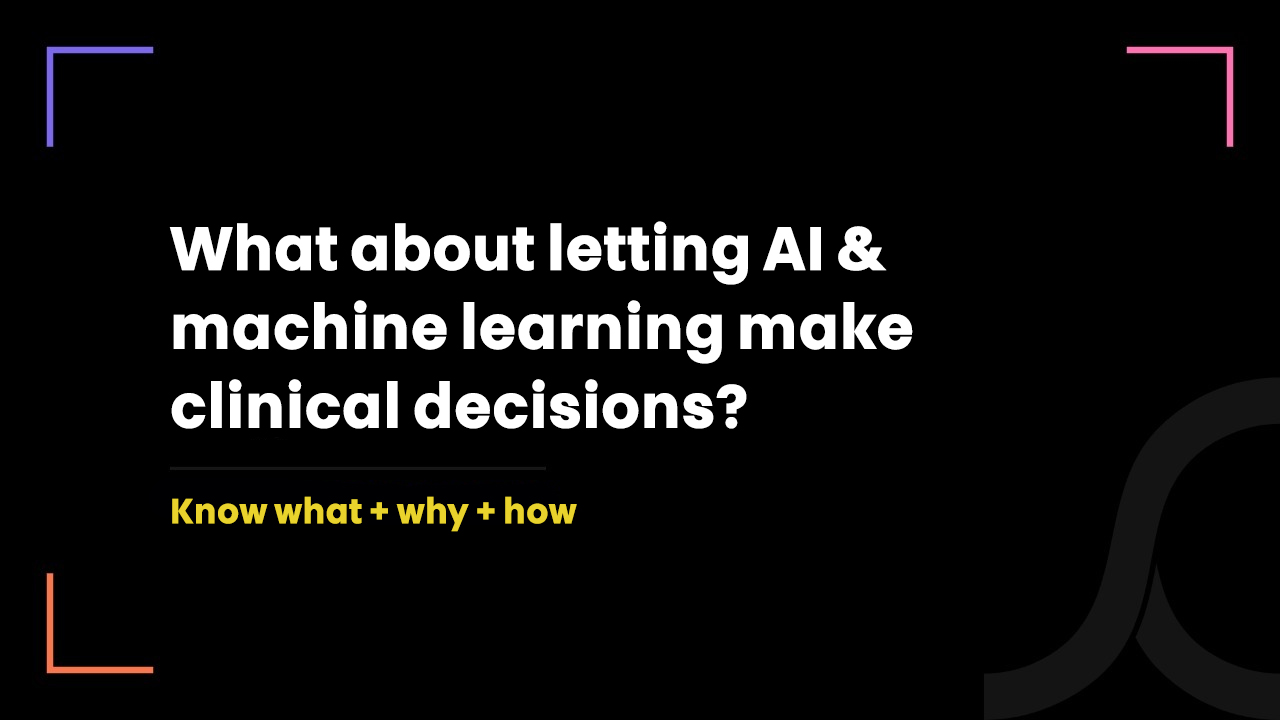 2 years ago
AI is emerging as the dominant technology in the healthcare sector.
Helping healthcare providers to first diagnose and later treat the patients, AI in healthcare enhances the patient outcome significantly.
Most importantly, it eliminates possible clinical errors and creates time for healthcare professionals.
There are several patient engagement and clinic management solutions working on AI technology.
But one very game-changing AI-based solution is a clinical decision support system (CDSS).
In this blog, we will discuss everything about CDSS including why and how you can build your own CDSS.
What is the CDSS, clinical decision support system?
CDSS is nothing but a computer tool or software that helps clinicians in their complex decision-making processes.
It was first introduced and used in the 1980s. And since then, it has been ever-evolving.
A clinical decision support system fetches patients' crucial clinical data from the EHR system the clinic is using.
And by processing this data, CDSS assists clinicians in identifying the possible diseases and creating the care plan for patients.
In a time when many diseases have the same symptoms, such a type of clinical diagnosis platform increases the accuracy and efficiency of care.
How does the clinical decision support platform work?
Any CDSS works on AI technology and whenever there is AI technology involved, there must be data somewhere around! ☺
The CDSS's sophisticated AI algorithms analyze the patients' clinical data and find out the diseases the patients are having - based on the large volume of EHR data.
Yes, it relies on the EHR data and thus, it should be integrated with the EHR system.
Not only diagnosis, but it also creates the care plan according to the historic care plans and its clinical outcomes.
Here is its technical specification.
The typical CDSS is built on 3 core elements.
Data management layer

Processing layer

User interface layer
The data management layer stores clinical data of diseases, diagnoses and lab findings. It also stores patient data.
The processing layer which includes rules and algorithms processes the input given by clinicians and shows the result to them using the user interface layer.
How does it help physicians to make accurate clinical decisions?
Healthcare providers work in intense environments where they are prone to errors.
If they end up identifying the wrong illness a patient is having, the patient outcome gets neutralized.
So, rather than using humans for crucial clinical decisions, it is a much safer and reliable idea to use AI technology for clinical decision-making.
The following are the top areas where an AI-based clinical diagnosis platform can help healthcare providers.
Wrong drug selection is the major clinical error and it many times leads to life-threatening situations for patients.
Additionally, healthcare providers must validate the patients' age, weight, allergies, comorbidities and historic prescriptions while selecting the drug.
This is undoubtedly a complex task with a large scope for errors.
But unlike healthcare providers, the clinical decision support system selects the drugs for the patients while considering all deciding factors automatically.
Though the drug selected by the software may not be 100% accurate, it never fails to help healthcare providers by giving an idea of a suitable drug for the patient.
As discussed earlier, an accurate diagnosis is extremely important.
But due to lots of similar symptoms and lack of data, the healthcare providers sometimes find it difficult to diagnose the patients.
Here is where the AI-based clinical diagnosis platform plays its role.
It analyzes the clinical details, patient notes, and data of other patients having similar symptoms to diagnose the specific patient very accurately.
However, many CDSSs do not come to the final conclusion. But it alerts the healthcare providers for the possible diseases in their early stage.
And early-stage detection always saves lives!
Healthcare cost reduction
CDSS helps healthcare professionals to reduce the cost of treatment by suggesting the affordable alternative of drugs and by identifying the tests duplication.
It also alerts the healthcare providers for the prescribed lab test which is not required.
Creating the care plan and measuring its success
The CDSS has access to data of all historic care plans which worked well in particular conditions.
Based on what worked well in similar conditions and diagnosis results, its AI and machine learning algorithms suggest care plans to healthcare providers.
Not only this but the CDSS later identifies whether the selected care plan is driving positive patient outcomes or not.
If not, it suggests making possible changes in care plans for better patient outcomes.
These healthcare centers have already deployed CDSS and experienced outstanding results
The following are the real-life use cases of CDSS, clinical decision support system.
An Alabama-based hospital has been using CDSS to alert providers for new diagnoses of sepsis or worsening vital signs.

They experienced a decline in sepsis mortality rates by 53 percent.
Mayo Clinic is using CDS software for helping nurses to

provide accurate phone screening to patients who are asking for appointments

.
Harding University and Unity Health-White County Medical Center

reduced hospital readmission by 52 percent

and estimated that the CDS system can save drug costs by more than $4300 per capita. 
Yale and the Mayo Clinic have developed

a CDS system for patients having head injuries

. Their CDS system can evaluate the severity of head injuries and also suggest if a CT scan is required or not.
Veterans Affairs site in Indiana reported that the CDS system helped them to decrease the total test volume by 11.18 percent per year which

resulted in a total saving of $150,000

without impacting care quality.
Pathway, providing evidence-based clinical decision support, recently raised $1.3M
A Montreal-based healthcare startup named Pathway that offers modern, evidence-based clinical support to providers has recently raised a whopping $1.3 million in its first round of funding. 
Pathway was founded in 2018 by healthcare entrepreneurs Jonathan Hershon Saint-Jean, Louis Mullie, and Christophe Marois. It aims to eliminate clinical pain from diagnosis, treatment and decision making which eventually increases healthcare efficiency.
Utilizing AI and big data, Pathway has built a clinical decision support system that drives evidence-based medicine into clinical practice.
Pathway is also integrated with EHR for easy data access and for evaluating that data for accurate decision-making. 
Providers can use Pathway's evidence-based diagnosis tool from either smartphone or web browser as it provides both mobile app and web app.
Why should you build a clinical decision support platform? 
The future is all about AI algorithm-led clinical decisions and care.
On a typical day, a healthcare provider uses several healthcare platforms including appointment booking, practice management, patient engagement, telemedicine etc.
These all platforms are solving the specific challenges of the healthcare industry.
Whenever a healthcare provider finds him in a challenging situation, he wishes for a tech-enabled solution to solve the problem very easily.
Accurate clinical decision-making is the major challenge of all healthcare providers.
And if you offer them the solution for their major challenge, they won't deny it.
Because, that's what they have been doing - adopting tech-enabled easy solutions for their everyday medical practice challenges!
You can let them use your CDS platform on a monthly subscription basis. All clinicians, hospitals and any healthcare entity can be your customer.
And the biggest benefit of building CDSS is that there is a lack of Canada-specific clinical diagnosis platforms.
Meaning, you have a great opportunity to cover the market.
How can you build a CDSS or AI-based clinical diagnosis platform?
We can help you - with our healthcare-specific tech and compliance expertise, experience and experts.
We are an Ontario-based healthcare-focused IT company.
We have been proactive in the Canadian and US healthcare market for 7 years.
Be it patient engagement solutions, telemedicine apps, clinical management platforms, chronic care management tools or CSDD, we have developers, compliance experts, RPA engineers, and business experts who are trained and qualified to execute any healthcare project.
We even have ultimate mastery in AI and machine learning technologies and their healthcare-centric use cases.
Because of our Canadian healthcare-specific knowledge and team of Canadian tech and compliance experts, we can be your best choice!
Let's have a virtual call and discuss great possibilities with the clinical decision support system!