What is Clubhouse App, How does It Work and How to Develop Your Own App like Clubhouse?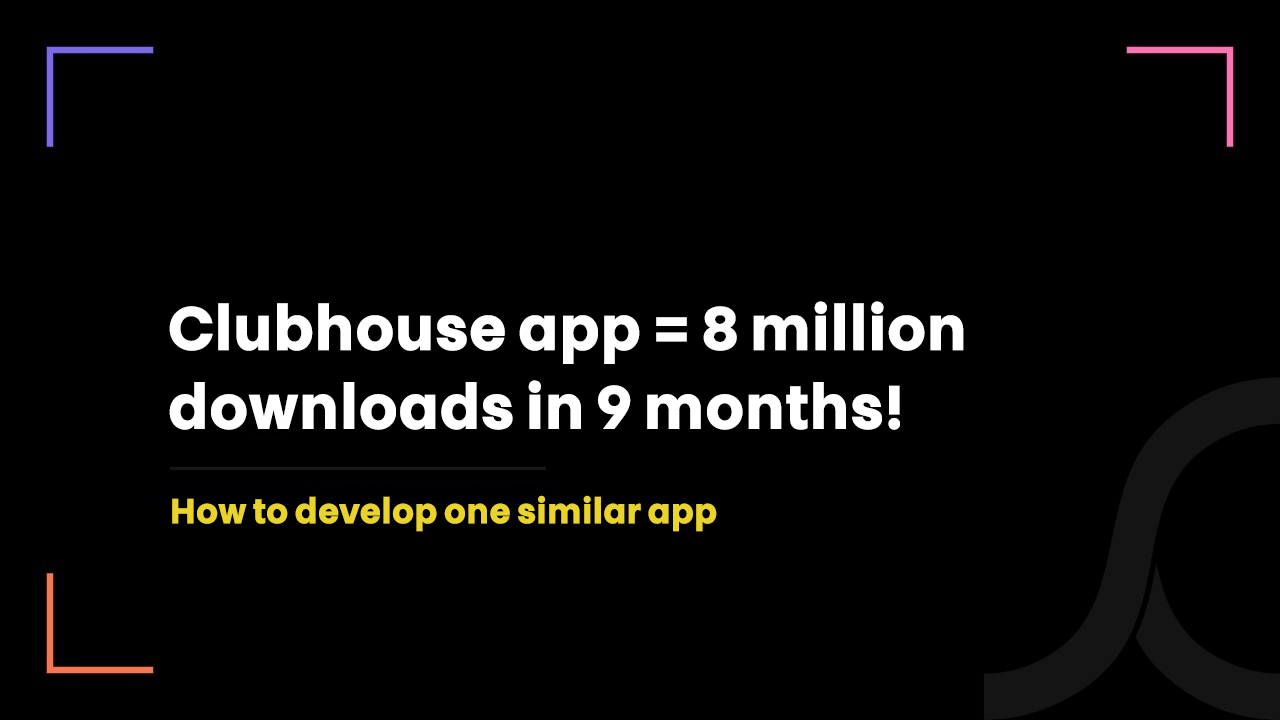 2 years ago
You must have seen in tv shows where people sit in circles and talk about tech, business, science & finance and the audience raise their hand to ask questions.
The Clubhouse app is trying to give the same kind of experience, but online via a mobile app.
What is the Clubhouse app and how does it work?
Clubhouse is the audio-only social media app that takes the podcasting experience to the next level. 
Using the Clubhouse app, users can host and join the audio conversation with other users.
However, the Clubhouse app is currently only available for iOS and it is only an invite-only app. 
But according to the CEO of the Clubhouse app - Paul Davison - the app will soon be open for all.
Since it is an invite-only app, there are very few chances for fake profiles as an invited user further invites only known users to him.
All invited users of the Clubhouse app can participate in the ongoing or upcoming discussion session or create their own room where they can invite other users to discuss.
The room members can click on the 'Raise Hand' button on the app to ask questions to the host.
This way, the Clubhouse app aims to provide a pure and engaging social media experience to the users. 
Watch the following video to get a better understanding of the Clubhouse app.
Will audio-based social media apps like Clubhouse work?
If you are planning to develop an app like Clubhouse, you should know the future of audio-based social media apps.
Currently, image, text and video-based social media apps such as Twitter, Instagram, Facebook and Youtube are leading the market.
But it seems like people are giving up on these platforms due to many reasons. Such as,
Instagram is full of fake images and emotions. 
Youtube requires expensive video shooting gadgets. 
And Facebook - well, it is the fastest among these all top social media apps to lose user trust. 
Recently, Facebook banned all news publishers in Australia and the Australian PM called this sudden action of Facebook 'bullying'.
If lifting the #Facebook ban requires political manoeuvring, Australia should rally up its allies in the fight against FB.
Australia (or others) should not be intimidated by the bullying tactics of FB. #FacebookAustralia #facebooknewsban pic.twitter.com/THSbU7hhch

— Dr 𝙍𝙞𝙩𝙚𝙨𝙝 𝘾𝙝𝙪𝙜𝙝 (@chugh_ritesh) February 18, 2021
Australia's one of the largest media houses - The Age - published a series of articles on its website which clearly depict how users and the government both are giving up on Facebook.
Because of many uncertainties around currently leading social media platforms, people desperately need a pure, real and engaging social media platform.
Audio-based platforms can easily replace text, video and image-based platforms. 
Because an audio-based platform is easy to use - from the built-in microphones of the smartphones.
It is engaging with lots of real-time discussion on important topics and it is pure with no fake profiles.
It also does not store any data of the users.
Additionally, the audio discussion makes users more comfortable compared to video discussion as users don't have to prepare to be in the discussion. They can use it in a very casual way. 
Because of these many factors, it is anticipated that the future of social media is audio-based social media apps like Clubhouse.
How successful is Clubhouse?
Clubhouse was one of the most sought-after startups and apps in the year 2020.
It is a unicorn app with a valuation of over $1 billion. 
In the last month, it has raised a whopping $100 million in its series B round.
More than 180 investors have invested in Clubhouse.
According to Techcrunch, more than 8 million users have already registered on Clubhouse. (This number is very significant as Clubhouse is only an invite-only app.)
How Elon Musk contributed to Clubhouse's rapid growth?
The Elon effect is magic - especially for startups. First, Signal app and now Clubhouse app! 
After the first appearance of Elon Musk on the Clubhouse app, its download number skyrocketed from 3 million to 5 million in the span of a few days.
Clubhouse app feature set and purpose of each feature
In case you are planning to start an entrepreneurship journey with the Clubhouse clone app, you should know the features the native Clubhouse app provides.
The following is the list of all features.
While signing up, the Clubhouse app asks you to add a real name and profile picture. It also asks you to select your preferences or interests.
After signing up, you land on the home screen. Here, the app follows some of the rooms based on your added interests by itself.
On the home screen, you can see several rooms with their discussion topics and number of room members.
From here, you can enter any room (if the privacy setting of that room is set to open for all by the room creator.)
You can even create your own room and invite other users to be your room members.
Once you are in the already created room, you can listen to the ongoing discussions.
To ask your questions or to take a proactive part in the discussion, you can raise the hand and if the moderator allows you to go in, you can talk to hosts in real-time.
Search:
It allows users to search for rooms and discussion topics.
Upcoming Discussions:
Clubhouse app offers a dedicated feature to let users know the upcoming discussion sessions and set notifications to not miss them.
Activity:
From the activity tab, users can read all notifications such as who followed you, future events, who joins the app etc.
How to develop an app like Clubhouse or Clubhouse clone?
Developing an app is a complex task - especially when you are developing an app from scratch.
There are many app agencies that follow the 6 or 7-step app development lifecycle.
This lifecycle results in a mobile app, but you can't survive in the competitive market with the mobile app which has been developed with an immature approach. 
To achieve success with your mobile app, you have to address many business and market -related issues while or before developing your mobile app.
Thus, we've created our own 15-step app development lifecycle which results in a successful mobile app with robust solutions to all market and business-related challenges. 
Step #1: Finding the Target Audience
Step #2: Understanding & Evaluating Their Requirements
Step #3: Finding Top Competitors
Step #4: Carrying Out Competitive Analysis
Step #5: Defining the Business Model
Step #6: Defining the User Journey
Step #7: Creating a Feature Set
Step #8: Carrying Out the Technical Feasibility Study
Step #9: Designing Wireframes
Step #10: Code the Frontend of the App or App UI
Step #11: Code the Backend of the App
Step #12: Testing the App
Step #13: Launching the App
Step #14: Taking User Feedback
Step #15: Update the App
We're a Canada-based app development agency that helps you with the business, compliance and not only with the app
Apps like Clubhouse are the future. With people getting bored using the same social media apps, it is the right call to invest in an audio-based unique social media app.
If you are thinking like us, we are happy to be your technology partner.
We have been in the app development industry for 7 years. We accommodate experienced app developers, designers, business experts and compliance consultants. 
We believe an app alone never delivers success. Thus, we provide comprehensive service to eliminate all market, business and legal challenges of startups.
We also have proven expertise working with AI and machine learning technologies to offer a personalized user experience in the app. 
From your first conversation to ongoing updates, app delivery and app support, you will be having a discussion with our executive team only.
So, let's connect to develop an app like Clubhouse. We will provide you with a free consultation and a personalized quote. 
[Please note: We do not copy any app. Clone means to us an inspiration. We build our own feature set, create unique workflows and design fresh UI.]