Appointment Booking App Development Service to Develop Best Appointment Scheduling App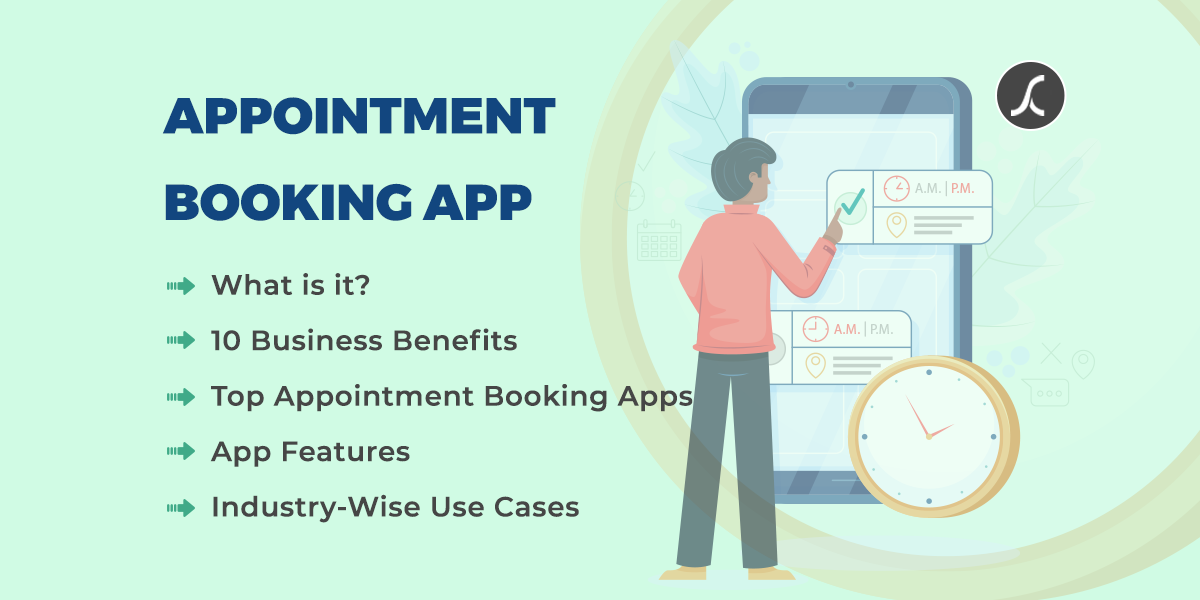 3 years ago
Do You Need to Develop Appointment Scheduling App?
You need to develop best appointment booking app if,
You have a large client base.

You have a small client base, but want to double it.

You are struggling with appointments management.

Your clients need to call a receptionist

in order to book appointments.
How Does an Appointment Booking App or Scheduling App Work?
To not waste time standing in the queue, customers or clients prefer to book the prior appointments.
But offline appointment booking and management is a daunting task for both clients and business owners. The appointment booking system aims to streamline the entire appointment booking and management workflow.
The appointment booking system enables clients or customers to book, rebook and cancel the appointment very easily, using a web or mobile interface.
It also shows the appointment slots availability of the entire month so that clients can fix the appointment with business owners on their desired day and time.
In addition to this, the appointment scheduling app offers ultimate control to manage the appointments to the business owners.
For instance, the business owner can know the upcoming appointments, reshuffle them, cancel it and even send personalized messages to the clients with just a few clicks.
Such a revolutionary appointment booking system can help business owners in multiple ways. The following are some of them.
10 Ways an Appointment Booking and Scheduling App Can Expand Your Business
If you are planning to go for appointment booking app development to develop appointment scheduling app, you should know its benefits first.
1. 'Always On' Service
According to the research, 35% of clients or customers choose to book appointments during non-business hours.
Meaning, you are getting 35% less business by allowing your customers to book appointments on phones only!
An appointment booking app facilitates you to run your business 24/7 by just working 9 to 5!
In other words, an appointment scheduling app lets your customers book appointments anytime - even after business hours - which ultimately makes you gain more customers.
2. An Easier Booking Experience
Pre-sales experience is as important as after-sales experience. The traditional way of booking appointments on the phone is extremely slow and it severely affects customers' pre-sales and after-sales experience.
Other drawbacks such as miscommunication and errors many times demotivate the customers and thus, they start finding alternatives to your business.
Whereas, the scheduling app makes it very easy and convenient for customers to know availability and book appointments on the desired day and time.
Customers can also anytime edit the day & time and even cancel the appointments without calling anybody and explaining the reasons for cancellation.
3. More Business From Social Media
More than 40% of customers use social media to research new brands or products.
Because of this only reason, social media is one of the areas where businesses target most to get some good business.
If you own an appointment booking system, you can integrate it into your several social media accounts and allow your customers to book appointments directly from your social media profiles.
This not only increases your sales but also gives a nice first impression of your business to new customers.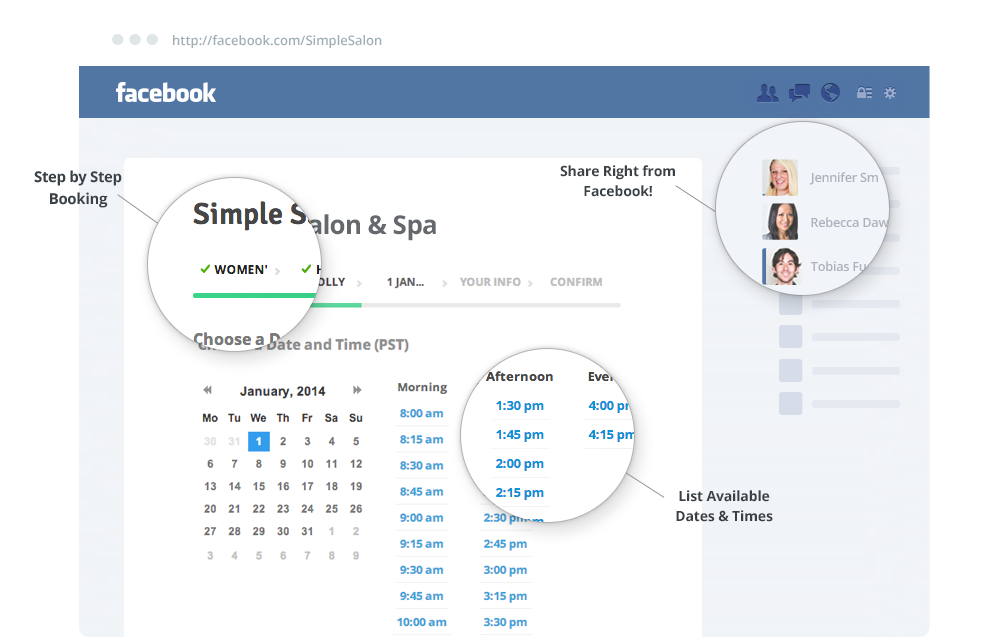 4. Better Google Ranking
When a customer searches for a service provider, Google generally shows him the service providers who are nearest to him.
This is why having a strong local presence is now a basic requirement for all sizes of businesses.
To strengthen your local presence, you should integrate your appointment scheduler to your Google My Business profile.
The best appointment booking app leverages the service offered by the Google - Reserve with Google (RwG).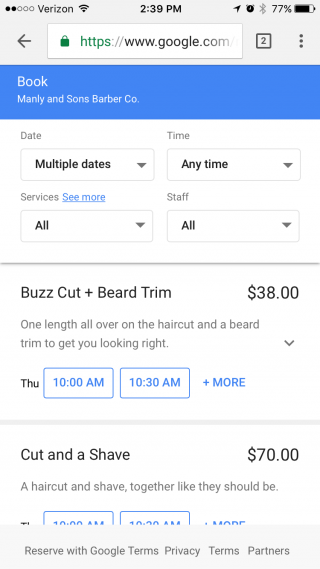 5. Integrated Marketing
Converting visitors into customers is the major challenge all businesses are facing.
Businesses approach people in multiple online ways using several marketing materials. However, without a strong CTA (Call-To-Action), businesses fail to attract customers and convert visitors into customers.
Let's understand the importance of an appointment booking app for online marketing purposes with a real-life scenario.
You get an offer email from the barbershop. At the bottom of the email, they've added the CTC. So, would you click on 'Book Appointment Online' or 'Call to Book Appointment'?
6. Fewer No-Shows
What if a customer books the appointment and forgets it? Well, you miss the revenue opportunity!
This is the major challenge in the healthcare industry. But appointment booking app for clinics eliminates this challenge very easily.
Appointment scheduling app helps you not miss a single revenue opportunity by automatically reminding the customers about the upcoming appointments by sending them SMS, emails and in-app notifications.
A study reveals that appointment reminder decreases the no-shows by 39%.
7. Better Business Insight
An appointment booking system not only looks after your appointments, but it also stores data which is really helpful to make a strategic business decision. This business data includes,
What's your most popular service?

What are the busiest days?

What is the busiest time?

Number of no-shows and reasons

Number of appointment cancellations and reasons
8. Staff Management
You never receive a similar number of customers each day. On a busy business day with more customer footprints, you need more staff members.
But on a quiet business day, you don't need more staff. Meaning, if you don't manage staff properly, you need to pay unnecessarily to the staff which eventually reduces your revenue per employee.
With an appointment booking system, you can easily know the scheduled appointments for the next days or weeks and estimate the staff you will need to meet the demand. This way, you can plan out a cost-effective roster!
9. Customers' Profile Management
If you are taking appointments on the phones, it is not feasible to add details of all customers on paper in such an organized way that it makes it easy for you to understand the customers' preferences and behaviours.
An appointment booking app asks customers to add a few details about their background and preferences and the app stores it properly in the customer's profile only.
The app working on AI and machine learning technologies can even identify customer behaviour on its own.
Such useful information organized in customer profiles enables businesses to anytime access the data and create personalized marketing plans.
10. Centralized Information System
All modern appointment booking systems are equipped with features that streamline the entire appointment booking workflow, staff management workflow, deal management workflow and customers' profile management workflow.
Meaning, it works as a centralized information system from where you can access, edit or delete any data related to appointments, staff, deals and customers.
Best Appointment Booking Apps
The following are the best appointment booking software or apps and their pros and cons. Study them well before going to appointment booking app development.
Appointment Booking Apps/Software

Pros

Cons

Acuity

Cost-effective

Scalable

Easy to use

Extremely limited CRM

Many unwanted functions

Appointy

Appointments without signup

Receipt customization

200 emails/day

Poor GUI

Difficult to sync Google calendar

BookedIN

Good User Interface

Client Ease of Use

Interactive Calendar

No Class/Group Booking

Lacks Reports Function

Scheduling Not Integrated into Website

Checkfront

Integration with Websites

Dashboard

Reports

Automatic Invoices & Receipts

Customer Support

Buried Features

Booker

User-Friendly

Customizable

Customer Service
Develop an Appointment Booking App With These Features:
The following are the top features which you should keep in mind while creating an appointment scheduling app.
| | |
| --- | --- |
| Features for Business Owners | Features for Customers |
| | |
| Flexible Calendar | Slots Availability Checker |
| Scheduled Appointments | Appointment Booking |
| Payment | Appointment Management |
| Roster Management | Payment |
| Deal Manager | Emails/Text Reminders |
| Email Marketing | Alerts/ Notifications |
| Analytics | Feedback/Review |
Industry-Wise Use Cases of the Appointment Booking System
An appointment booking system or app is a very simple yet impactful invention for the businesses. Because of its extensive feature set, many industries can derive benefits from the appointment booking system.
Industry

Use Cases

Healthcare

Instant Appointments

Follow-Up Appointments

Digital Waitlist

Online Payment

Patient Communication

Patient Check-In/Check-Out

Task Management

Restaurant

Capacity Management

Contactless Dining

CRM and Guest Profiles

Payments

Offer or Deal Management

Facebook and Instagram Booking

Retail

Shift Scheduling

Clock In/Clock Out Control

Labor Data Reports

Overtime Control

Easy Communication

Offer or Deal Management

Facebook and Instagram Booking

Beauty

Online Appointment Booking

Text Messages and Email Reminders

Manage staff schedules

Payment

Easy Communication

Offer or Deal Management

Facebook and Instagram Booking

Home Services

Real-Time, Online Scheduling

Calendar Oversight

Promotions

Payments

Reviews

Service Categories

Facebook and Instagram Booking
We Develop an RPA-Enabled Appointment Booking App!
Automation is the core of the best appointment scheduling app. And robotic process automation is the best technology to implement the automation.
An RPA-enabled scheduling app lets businesses reduce administrative burdens and paper-work in a true manner. It performs in the best way without human intervention!
In addition to app development, we have mastered RPA. The fusion of our mastership in RPA and app development lets us take your appointment scheduling app to the next level without extending your budget.
You can contact us to share your requirements and get a free consultation from our top business expert.