Almost 21M Americans & 6M Canadians Have Minimum 1 Addiction: Build Addiction Recovery App like Eleanor Health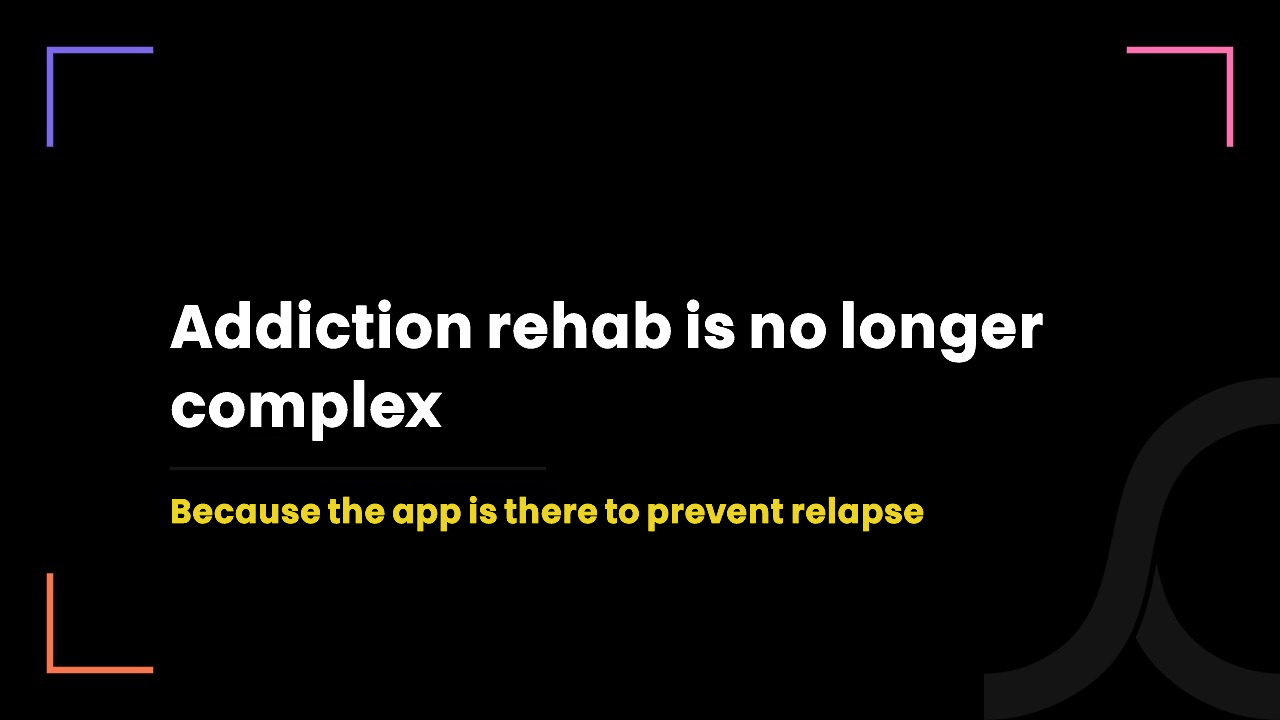 1 year ago
The impact of COVID-19,
The country's economy is in the recovery phase
Millions of people lost their job all over the world
Poor mental health condition
As a result, the use of substances such as – alcohol, drugs, and cannabis is increasing rapidly among Canadian and American people.
As per the CCSA (Canadian Center on Substance Use and Addiction), "Over one in three respondents with current mental health symptoms who use alcohol reported consuming more since the start of the pandemic".
Thus, addiction recovery is one of the primary concerns of the healthcare industry right now.
However, after the pandemic, the mHealth industry is also expanding its reach.
In other words, people are using mental health and addiction recovery apps for their addiction recovery concerns.
For instance, a US-based addiction recovery start-up Eleanor Health recently raised $50M.
Eleanor Health offers a wide range of virtual addiction recovery solutions such as – therapy, psychiatry, and personalized medication treatment.
To build an addiction recovery app like Eleanor Health, let's discover some of its services.
Which services Eleanor Health offers as an addiction recovery solution?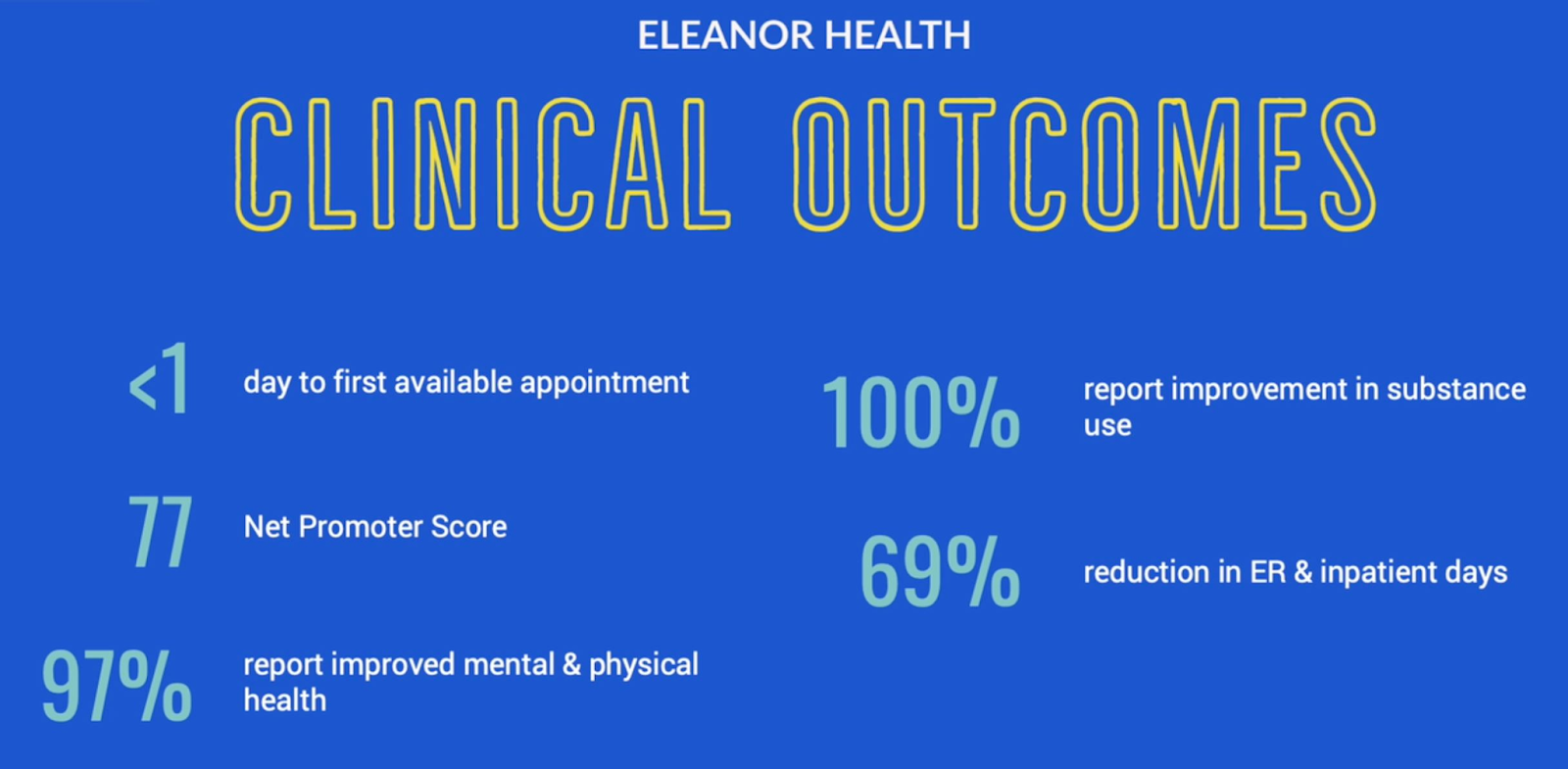 As an addiction recovery solution across the US, they acknowledge that addiction and mental health are the biggest health concerns after the COVID-19.
Furthermore, Eleanor Health considers that, for addiction recovery, there is an absence of quality care and affordable solutions.
That's the reason, only 1 out of 10 people receive immaculate addiction recovery treatment as per their needs.
To address those primary concerns, Eleanor Health offers the most convenient and comfortable telehealth services for addiction recovery treatment.
That includes,
TeleMAT (Medication Assisted Treatment):
TeleMAT is a combination of behavioural therapy and medication.
This patient-focus treatment approach is the definitive solution for substance addiction.
For that, Eleanor Health offers a certified MAT team for patient addiction recovery.
For a patient having a poor mental condition, they provide faster and more convenient mental health solutions with the help of a verified psychiatric practitioner.
Eleanor Health offers TeleNursing services to help patients with their physical needs via virtual care visits.
It simply saves the time, money, and efforts of the patients for their addiction recovery treatment.
Using telehealth services individuals, families, and groups can receive the ideal therapy session from certified therapists from their homeplace.
Addiction recovery support from the CRP (Community Recovery Partner) to help the patient efficiently in their recovery phase.
How does Eleanor Health work?
Eleanor Health offers telehealth services from anywhere, on any device via Zoom meeting.
The process of addiction recovery treatment is as below.
Step-1: Book an appointment for addiction treatment via calling
Step-2: Insurance and payment verification
Step-3: Scheduling a zoom meeting with the certified medical expert
Step-4: Medical prescription as per patient recovery phase
Step-5: Patients can simply chat with their care providers team
Why should you build an addiction recovery app like Eleanor Health?
After the pandemic, healthcare investors are focusing more on mental health and addiction clinical areas.
Why? Discover some important statistics.
"The global addiction treatment market was valued at US$ 6.2 Bn in 2019 and is anticipated to expand at a CAGR of ~6% from 2020 to 2030".
"Estimated 100,306 drug overdose deaths in the United States during the 12-month period ending in April 2021, an increase of 28.5% from the 78,056 deaths during the same period the year before".
From that, we can safely say that the demand for addiction treatment is gradually increasing because of the COVID-19 pandemic.
For your better understanding, here are some of the factors that showcase that developing an addiction recovery app is a business opportunity for you.
There are not as many healthcare start-ups that are currently focusing on the improvement of addiction recovery, which means, competition is low.
Rising investment in drug research
The government is supporting curbing addiction
Laboratories are more investing to find the most effective addiction treatment
High adoption of telecommunications for addiction treatment
You can add more services to your addiction recovery app to gain more popularity among people.
Additional services you can offer in your addiction recovery app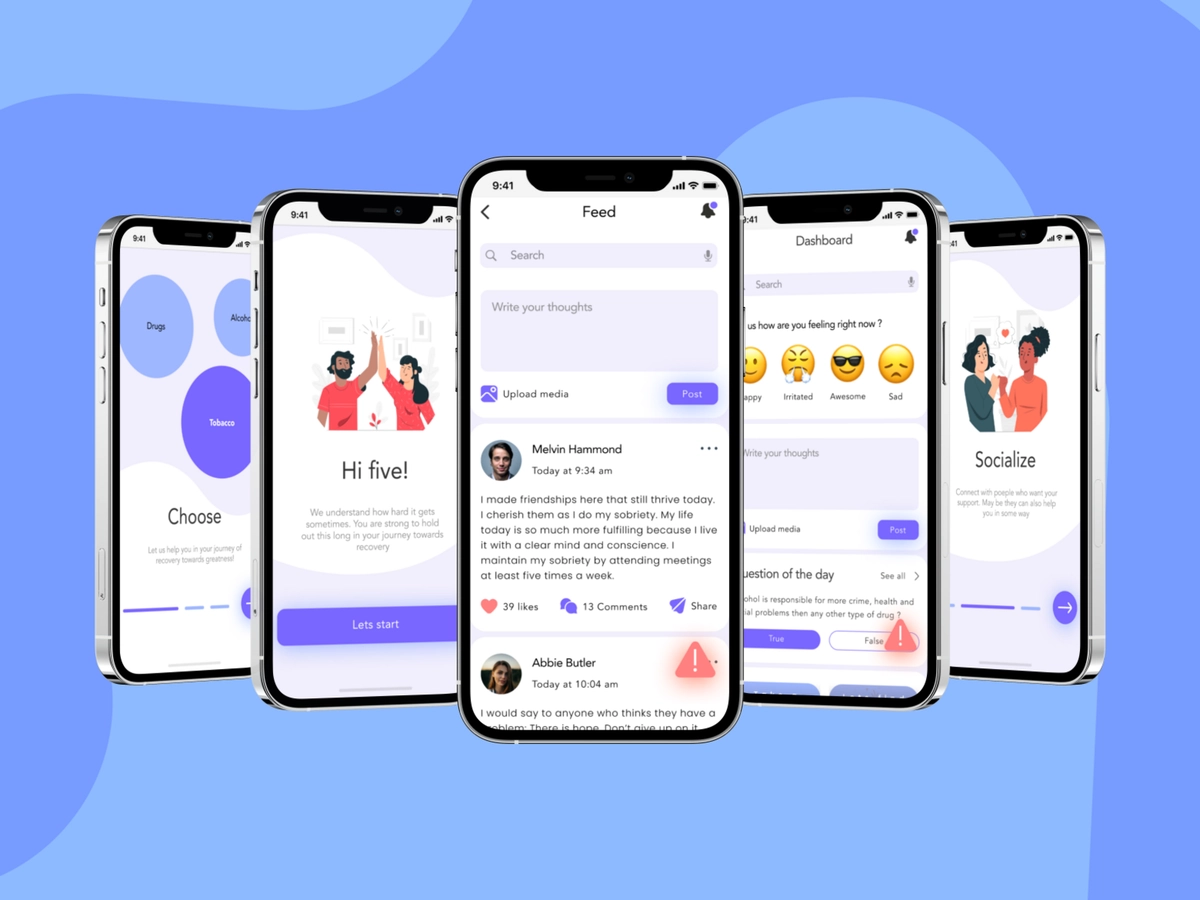 There are many addiction recovery apps available in the market but as we said, not many are fulfilling the needs of the patient precisely.
For that reason, we have categorized some of the most useful services you should deliver in addiction recovery apps.
Personalized addiction treatment for adults, old-age people, and women.
Separate section for various addictions such as – alcohol, drugs, cannabis, caffeine, and tobacco.
Prescription and medication delivery to increase business revenue and profit
Suicide prevention services
Features we offer for addiction recovery app
If you're planning to build an addiction recovery app, below are the must-have features for that.
1. Features for patients:
Sobriety tracker to keep up the patient's motivation
Daily informative content
Public forum to support early recovery
Create, manage, and share habit
Relapse prevention content
Share stories with others
Milestone setup and comparison with others
Sober daily, weekly, and monthly reports
Direct communication with a therapist via chat and video conference
Appointment booking and reminder
Prescription and medicine delivery
Multiple and secure payment options
2. Features for medical experts:
Appointment management and reminder
Communication method – chat, voice call and video call
Patient recovery tracking
Manage and analyze the patient recovery phase
Addiction treatment is not only gaining popularity in North America, but worldwide addiction recovery solutions are in high demand.
In simple words – a perfect business opportunity.
So, are you thrilled to build an addiction recovery app like Eleanor Health?
Don't worry, you're in the right place.
We are dominating the healthcare IT industry (Because we are driven by passion and not only knowledge)
"For us, action without knowledge is meaningless".
Who are we?
We are an Ontario-based healthcare IT company.
When it comes to healthcare, we're dominating it with our 7+ years of hands-on experience.
Our dedicated and experienced team includes – UI/UX designers, web and app developers, QA engineers, compliance specialists, and business analysts.
Whom do we help?
With our healthcare-specific knowledge and experts team, we help healthcare start-ups, businesses, individuals, hospitals, and clinics to build their market presence more convincingly.
How do we help?
Our approach to creating healthcare digital products makes us different from the rest.
For us, development is not only about coding.
We only do coding 20% of the time, the rest 80% includes – market research, documentation, workflows, UI/UX design, QA testing, compliance audit, pilot, launch, and ongoing support.
With us, develop your business personality that your customers will love and your competitors will be afraid of.