Develop Investment and Stock Trading App Like Robinhood and Wealthsimple Trade App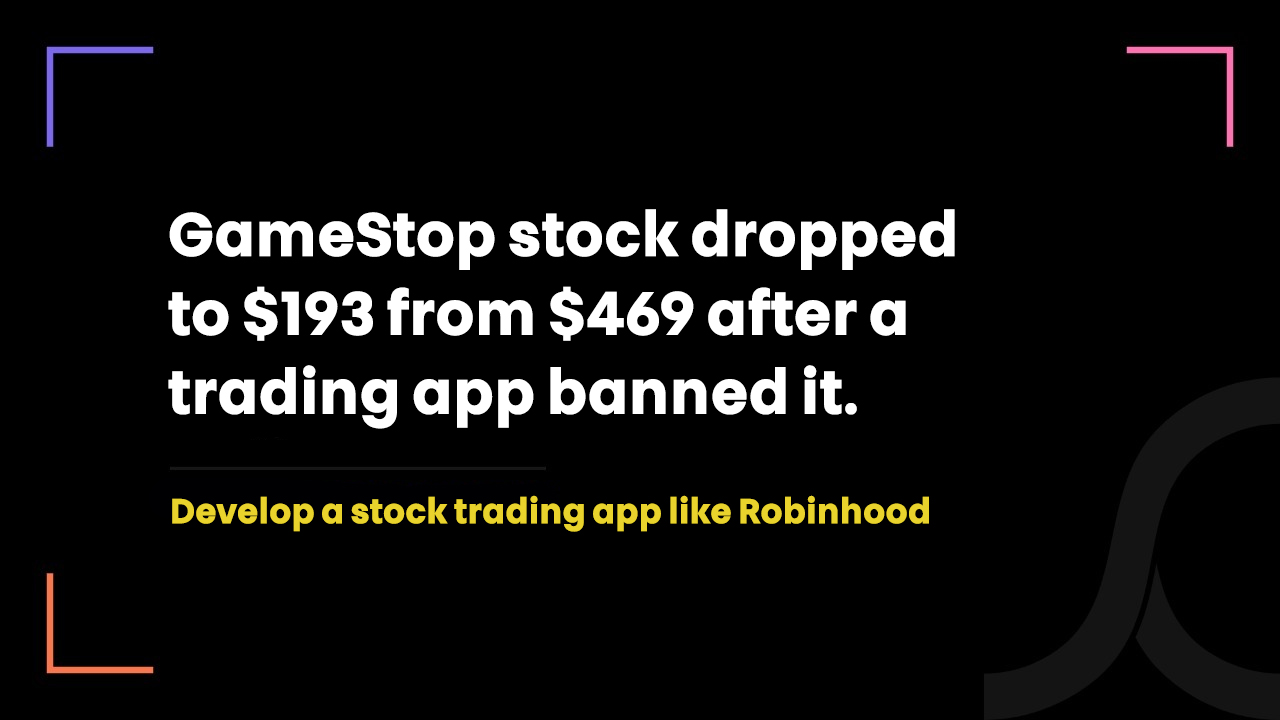 2 years ago
"Investors should purchase stocks like they purchase groceries, not like they purchase perfumes." - Ben Graham  
Ben Graham had never imagined that people would really consider his statement in the literal meaning!
According to the annual BMO RRSP Study, around 53% of Canadians prefer to invest their money rather than just keeping it with them in the form of cash.
Talking about the USA, the top 10 percent of Americans invested an average of $969,000 in stocks.
And the next 40% owned $132,000 on average in stocks.
It is also worth noting that people now prefer an online approach for easy investment and tracking of assets over the traditional investment approach. 
The Power Of Tiny Stock Trading Apps
One of the reasons people are opting more for the stock market for investment is the return it gives them back. +
For instance, Tesla's stock price has reached $880 from $100 in just 1 year.
Similarly, the stock price of the GameStop increased from $65 to $469 in a matter of 5 days.
However, the stock price of the GameStop later dropped to $193 after the online trading platform - Robinhood - restricted the trading of its stocks. 
Here, we're not concerned about why Robinhood stopped trading of GameStop stocks. We're more impressed by the power of a tiny trading app!  
While Robinhood banned GameStop, another trading app named Wealthsimple leveraged the social media hype around the GameStop stock price boom.
The Wealthsimple trade app reached number three overall on the Canadian Apple App Store ranking.
(For your context, it started the year at the ranking position of 39!)
How Do Stock Trading Apps Such as Wealthsimple and Robinhood Operate?
Robinhood, Wealthsimple or any other best stock trading app enables people to buy or sell stocks with a single click.
However, the fact that makes Robinhood and Wealthsimple more popular is the commission-free trading. 
They don't take a commission when you buy or sell stocks through their platform.
Another thing that makes Robinhood app useful and promising is the no requirement of a minimum deposit.
Following is how these top investment apps work.
By providing basic information, users sign up to the app.
Users can access their account from the mobile app as well as the website. But due to high response speed and great UI, people prefer the mobile app.
Every application is checked manually by the staff which takes only a few hours.
And here we go. Users are now all ready to start investing in the easiest way.
Users just need to transfer money into their account to trade.
Users can now search stock and simply click on the button to either buy it or sell it.
Very Unique and Magical Features of Robinhood Trading App
Robinhood isn't just another stock trading app. Since the inception, it has been bringing new game-changing features that make stock trading fun and easy.
Here are two features of Robinhood people find very useful and unique. (If you're planning to develop a stock trading app like Robinhood, you should consider this.)
Here is how it works: if the value of a single share is $1000, users are able to invest $500 and get 50% of that single share.
Similarly, they can invest $250 and get 25% of that single share.
Free Stock on Each Referral and Sign up
Robinhood provides a free stock to each new user. Moreover, when someone refers Robinhood to his friends, he receives the free stock.
Many users have claimed that they even received a free stock of Microsoft worth $200.
Different Investment Options Robinhood Offers
Users can invest in individual companies or in bundles of investments (ETFs).
This option is for advanced traders.
According to the Investopedia, Options Trading is, "If you buy an options contract, it grants you the right, but not the obligation to buy or sell an underlying asset at a set price on or before a certain date. A call option gives the holder the right to buy a stock and a put option gives the holder the right to sell a stock."
The way you deposit money in the bank and enjoy the interest amount, you can deposit your money to Robinhood and receive the interest amount!
It also provides you with a debit card which you can use anywhere to pay for anything.
For those who aren't interested in the stock market, Robinhood offers cryptocurrency trading too.
However, users are not able to transfer cryptos to external wallets. Cryptos - on the Robinhood platform - aren't SIPC insurance covered too.
How does Robinhood Make Money?: The Business Model of Investment Apps
Here comes the interesting part.
The major revenue source of all trading platforms is the commission. However, Robinhood is a commission-free trading platform. 
But that does not mean that Robinhood is losing money. It in fact has figured out several other ways to make money.
The following are some of them.
Interest on Investors' Idle Cash
Robinhood works like an eWallet. Users first need to deposit money in Robinhood's account to invest and spend it on stocks.
It also offers a bank-like investment option where users add money to a Robinhood account to enjoy interest.
Robinhood lends out this idle cash of users to other companies and gets a higher interest amount than it is supposed to pay to its users.
Subscription
Robinhood offers a premium subscription service named Gold that costs $6 a month.
Under the Gold subscription plan, users receive a few additional features that aren't offered in its free tier.
Users can borrow money from Robinhood to invest
Professional research from Morningstar
Level 2 market data from Nasdaq
Instant deposit of $5k - $50k (in the free tier, it is just $1000)
Margin Lending
As we discussed, Robinhood lets its subscribers borrow money. However, it is not free.
Robinhood charges 5% as APR on the borrowed amount. The company also charges $75 if a user wants to transfer its account to another broker. 
Not Dealing with Stock Exchanges in Direct Way
This is its major revenue stream. Bloomberg reported in 2018 that Robinhood makes over 40% of its revenue through this single revenue stream.
This is a very controversial practice. Though many online brokers are using it.
Here, when a user buys the stocks, Robinhood does not send the order request directly to the stock exchange.
Instead, they send orders to 'market makers' that hold the stocks and sell them in a fraction of seconds in bulk to set up or disbalance the market scenarios.
For giving them stocks to hold or sell, these 'market makers' make Robinhood generate revenue on each stock order placed by its users.
Planning to Develop a Stock Trading App like Robinhood and Wealthsimple? Know Top Challenges
Such best stock trading apps or best investment apps fall under the fintech app category.
And every fintech app struggles with two challenges - security and government laws.
There are many people who search on google 'is Robinhood safe?' before even installing it.
People would never carry out financial activities online through your app if you don't have a secure mobile app.
The good thing is, a professional team can easily develop a secure mobile app.
But not all app development agencies prioritize app security because they lack dedicated resources such as security experts.
They don't even execute penetration testing on the app. 
The trading industry is highly regulated across the world.
Online trading apps or platforms should adhere to different laws and regulations imposed by the federal government.
Meaning, the app should be developed in a manner that it does not violate any regulation.
The fact that makes things more complex is that all countries have their own laws. 
This is the reason, Robinhood is still not available in Canada and Wealthsimple is not available in the USA.
There are also different government agencies keeping a close eye on online brokers & traders and your online business practice.
Thus, it is advisable to hire an app agency that not just develops the app but develops the app which works according to the laws and regulations only. 
Let's Have a Productive Discussion on Business, Legal and Technical Aspects of Your Stock Trading App Idea
We're an Ontario-based full-fledged mobile app development company.
We accommodate app developers, app designers, business experts, security experts and even legal experts who all work together to convert your app idea into a reality. 
We follow the agile project management approach to promote transparency and collaboration throughout your business journey with us.
We've mastered all the latest technologies including machine learning, AI and blockchain.
We have extensive experience in developing secure and successful apps.
Let's have a one-on-one conversation where we will give you free business consultation. And we promise you that it will be a productive one!