Develop App Like Maple: A Telemedicine App Development or Telehealth in Ontario with PHIPA Consultation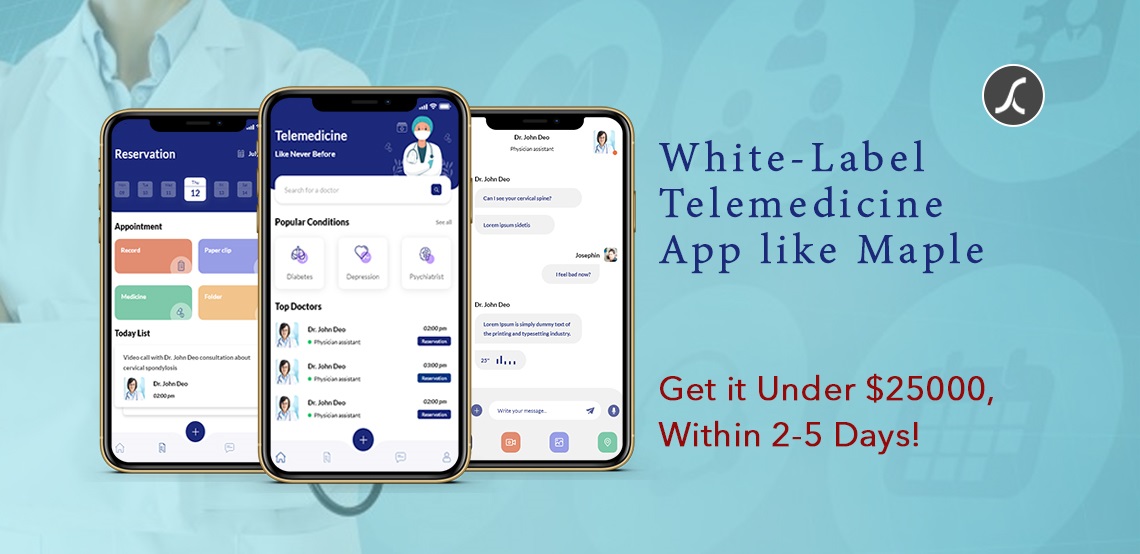 3 years ago
Telehealth is the much-needed breakthrough in the Canadian healthcare system. It bridges the gap between healthcare professionals and patients, technologically.
According to the report, 98 percent of hospitals in Canada are offering healthcare services through telehealth.
Considering the opportunity, many healthcare companies have developed telehealth apps and started offering telehealth services through mobile apps.
Today, in this blog, we are going to discuss the top telehealth app available in the Canadian market which is Maple and how you can develop a telehealth app like Maple.
We will also discuss the top three crucial things which you have to consider to develop telehealth app like Maple in Ontario and the rest of Canada, USA.
But before discussing that, let's first discuss the top benefits of telehealth app like Maple.
What are the advantages of the telehealth app like Maple?
The following are the top advantages of the telehealth app like Maple and also the top reasons why people are opting more for telehealth apps rather than visiting clinics.
The telehealth app like Maple facilitates anyone to connect to licensed physicians even though they are miles away from the healthcare facility.
It makes people living in remote areas easily accessible to quality care, instantly without travelling miles to visit physicians.
Not only this, but people living in urban cities can also get quality healthcare services without wasting time in the waiting room of clinics.
Physicians treating patients remotely do not lack any resource as such apps are always equipped with all necessary features.
Physicians can write prescriptions, see patients' medical history, and even write digital sick notes.
Meaning, physicians can treat patients as effectively as in-person meetings.
The telehealth app like Maple saves costs for both patients and hospitals. It reduces transportation costs and expenses of caring for patients.
In fact, according to a study, telehealth apps can save 19% of healthcare costs.
So, now when you know the top advantages of telehealth apps, let's move ahead and discuss the top telehealth app in Canada - Maple.
This learning will help you to develop a telehealth app like Maple in Ontario or develop alternatives to Maple.
Get insight into Maple - to brilliantly develop telehealth app like Maple
Maple background: Who founded Maple?
Maple is a Toronto, Canada -based company that has developed a telehealth platform named Maple and has been serving in the healthcare industry.
It was founded by Brett Belchetz, Roxana Zaman, and Stuart Starr in 2015.
Maple is in existence with an ambition to digitize the healthcare services and make Maple a primary way healthcare providers and patients choose to deliver and access care.
Initially, they launched their telehealth app in Ontario only, but now their app is available across Canada.
Funding: How much Maple has raised?

(Updated on 16-Sep-2020)
According to the latest news published in Betakit - Canada's most trusted startup news platform, Maple has recently raised $75 million CAD from Loblaw Companies Limited.
Shoppers Drug Mart, which is the major subsidiary of Loblaw Companies Limited, has been working with Maple for six months.
Maple helped Shoppers Drug Mart to offer virtual care from its more than 160 stores in British Columbia.
This is a successful partnership as they jointly carried out more than 20,000 virtual visits during the pandemic.
Maple will use this cash injection to take its technology portfolio to the next level and to tie up with hospitals, governments, insurers and even employers.
Maple telehealth app: How does Maple app work?
Maple claims that you can see the doctor within 2 minutes through Maple. Here is how:
A user who is seeking care should log in and click the 'See the Doctor' button.

The user is now required to enter symptoms or a short description of his current health situation.

The Maple app now determines user location and uses the current location to match the user with a licensed doctor. It takes less than 2 minutes.

The doctor reviews the user's request and decides whether the user should be treated on the Maple app or the user requires any other healthcare services.

If the user is feasible to be treated on the Maple app, the doctor starts the visit. The user can talk to a doctor via chat, voice call, or video call.

The doctor asks the user a few questions to diagnose him and then writes a prescription.

The user can select the nearest pharmacy to either go there and pick-up medicine or avail free delivery.
Maple fees: How much does Maple telehealth service cost?
Maple does not follow the same pricing model for all visits. Instead, it follows 3 flexible pricing models which include pay-per-visit, membership, and credit packages.
Pay-per-visit plan:
$49/visit , 7 am - Midnight ET, Monday - Friday

$79/visit, 7 am - Midnight ET, Weekend and holidays

$99/visit, midnight - 6:59 am ET
Membership Plan:
$30/month, personal membership, up to 30 visits a year

$50/month, family membership, up to 50 visits a year
Credit package:
$100 credit, 5% saving, pay only $95

$200 credit, 10% saving, pay only $180

$500 credit, 15% saving, pay only $425
Here, it is worth mentioning that there is a fee for all Canadians unless they have a video visit from B.C.
So, after reading so far, if you are thrilled to develop a telehealth app like Maple in Ontario, there are a few things which you have to consider to avoid falling in a legal trap and avoid misfiring the opportunity.
3 crucial things to consider to develop telehealth app in Ontario
The telehealth app like Maple directly influences the health of the people and healthcare services of the nation.
Because of this only reason, telehealth app development to develop an alternative to Maple isn't as easy as it sounds. You have to take many factors into consideration.
1. PHIPA and other healthcare laws
Your telehealth app should be PHIPA compliant if it belongs to Ontario, Canada. For the USA, it should be HIPAA compliant.
PHIPA known as the Personal Health Information Protection Act was established in 2004 to govern personal health information.
PHIPA establishes the rules for data collection, data use, and disclosure of personal health information of the patients.
If an individual is found guilty of committing an offence under PHIPA, he can be liable for the fine up to $100,000.
And if an organization commits an offence under PHIPA, it can be liable for the fine up to $500,000.
2. UI of the mobile app or user journey
Considering the fact that most percentages of the telehealth app users are those who are undergoing physical or mental pain, creating user-friendly design is a challenging task.
A sick person never spends more time understanding the different features of the telehealth app.
Thus, you should accommodate all features in the telehealth app in a straightforward way which does not make users confused.
In other words, the user journey should be seamless - Point A to B, not Point A to B via C!
3. Licensed doctors
Doctors who are registered on your telehealth app directly talk to users of your app.
This means the success of your app depends on the doctors registered on your app and how well they provide service.
A user is most likely to use your app again if he gets the best healthcare services from your doctors.
Thus, it is very important to bring licensed doctors on-board and train them to use telehealth solutions effectively.
How can we help you develop telehealth app like Maple in Ontario with our consultation and telehealth app development services?
SyS Creations is the Ontario-based IT consulting and healthcare app development firm that has been working with many healthcare entities across Canada and the USA.
Our team has been serving in the healthcare industry for more than 7 years and as a result, we have gained the expertise to address challenges of the healthcare industry.
We have developed a white-label telemedicine app that costs just under $25000 and we deliver it within a week.
The app is HIPAA/PHIPA/PIPEDA compliant and supports unlimited video/voice calls without making you pay a monthly amount for using voice/video calls service.
Contact our healthcare expert to get a free live app demo and free consultation.
[Note: We do not duplicate any app. We define a unique feature set, unique workflow and unique user experience.]