Integrate EHR with Wearable Technology (Receive Vital Signs Data of Patients into EHR)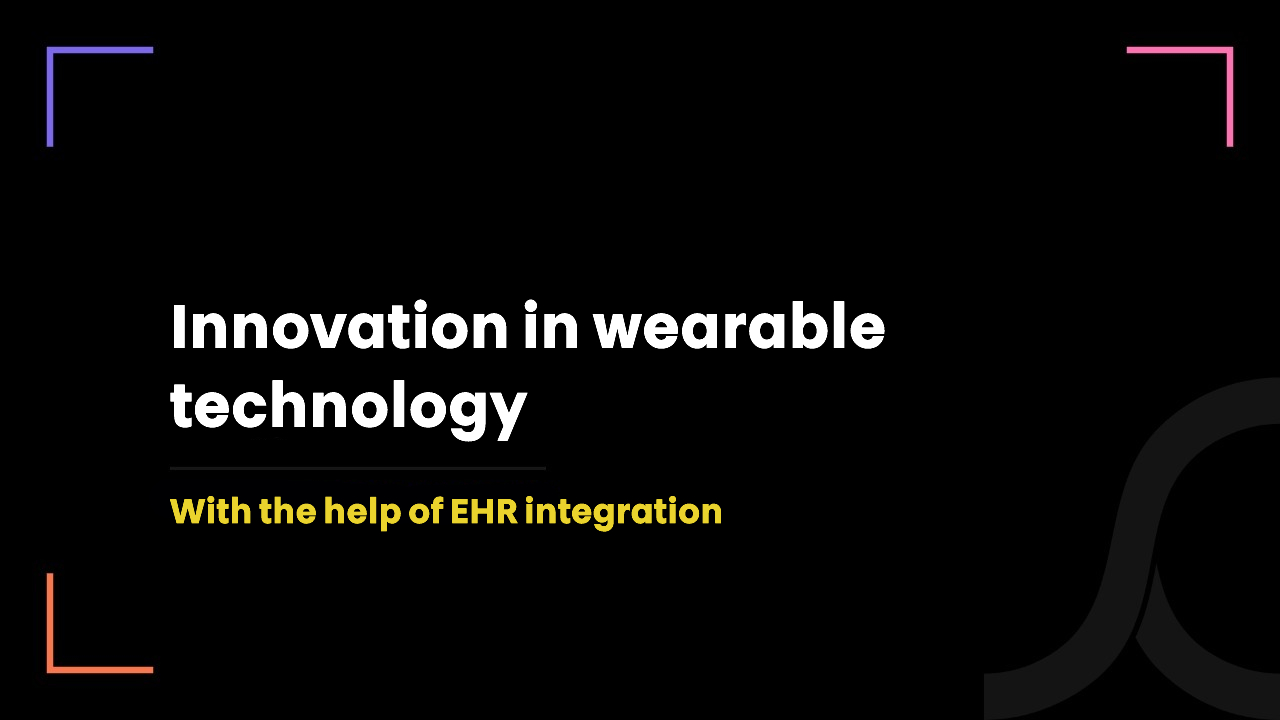 6 months ago
A quick introduction to both technology (so that you can understand their complex integration better)
Wearable devices!
In healthcare, it is a powerful and beneficial technology.
Why? Because it measures and indicates the several health conditions of the patient without any complexity.
On the other side, there is EHR software.
EHR stores crucial patient health records and allows healthcare professionals to share that data in secure conditions with the other system.
In other words, both the EHR and wearable devices provide accurate and real-time patient health data.
But why is everyone integrating it?
Because, if you want to store the patients' vital signs data in EHR/EMR, you have to perform it manually, rather say – data entry.
And we understand how hectic and error-prone the process is.
But with the EHR integration with wearable technology, healthcare professionals can easily access the data of patients' vital body signs – in real-time.
Because EHR now directly receives data captured by wearable devices.
So, in this blog, we have shared everything you need to know about EHR integration with IoT or wearable devices.
But before jumping into that, let us share how we perform such integration as a top healthcare IT company!
Our ideal procedure for EHR/EMR integration with wearable technology
As a healthcare-focused IT company, our result-driven approach helps us to deliver superior EHR/EMR integration.
Step-1: We understand the requirements of the healthcare business.
Step-2: Our technical experts examine the product architecture.
Step-3: We offer EHR technical consultation to solve all of your doubts.
Step-4: We assign our expert developer team for your EHR/EMR integration.
Step-5: We now integrate EHR with wearable devices while ensuring interoperability.
Step-6: We have a team of compliance specialists who make sure that there are no privacy issues.
Step-7: Our QA engineer team checks and fixes all the bugs, errors, and interoperability issues as per the HL7 and FHIR standards.
Step-8: After fixing all the issues, we offer you a working demo of the EHR integration.
Step-9: On-going technical support.
The importance of wearable technology in the healthcare industry
The wearable technology market has seen a surge in demand for the devices. It was estimated at $22.44B in 2022 and is expected to grow at a CAGR of 21.9% making it reach $60.48B by 2027.
According to Rock Health's Digital Health Consumer Adoption report, 54%US adults used digital wearables in 2020 rising from 42% in 2019. Its primary use was for tracking at least one health parameter.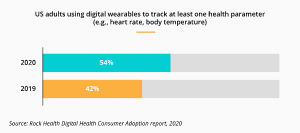 Wearable technology is evolving among people, especially seniors.
People are preferring wearable devices such as smartwatches, wristbands, and other wearable sensors which help them to measure and track their health in real-time.
Smart watch owners use them to monitor or measure different health parameters.
37% use to monitor cardiac health
35% use to get better quality sleep
17% use to measure stress levels
8% use to track chronic health conditions
86% of patients state that using wearables has significantly improved their health. Many healthcare providers want to build specialized wearable software for secure and instant PGHD transfer.
In addition to this, patient data is transferable from wearable devices to mobile apps via APIs.
Such type of data can be beneficial for the medical professional if we integrate the EHR into wearable technology.
In other words, it can help healthcare experts to understand the health condition of the patient in real-time with accurate data which is available directly on their EHR.
For a better understanding, here is one example that indicates how an EHR integration with wearable technology is beneficial for healthcare experts.
In chronic care management:
Wearable technology authorizes patients to analyze, track, and control their chronic conditions hassle-free.
In which patients can measure their vital body signs such as – heart rate, blood glucose, oxygen level etc.
But with the help of the EHR integration with wearable technology, the medical expert can efficiently enhance the patient's treatment as they now have easy access from their EHR to the data recorded by wearable devices.
Apart from that, there are several benefits of integrating EHR with wearable devices. Let's explore a few of them.
What are the benefits of EHR integration with IoT wearable technology?
As per the reports, "33% of US adults track health symptoms or indicators such as blood pressure, blood sugar, or sleep patterns and 8% of adults specifically use medical devices, such as glucose meters".
The major benefit of the integration is – it allows medical professionals to store, analyze, and share secure patient health data seamlessly.
The real-time data of the patient's health condition is transferable from wearable technology to the EHR.
With the help of the patient's medical records, medical experts can easily understand and decide the ideal treatment for the patient's health concerns.
Ideal patient monitoring with real-time data:
Real-time patient health information can help individual healthcare experts, hospitals, and clinics to save time and cost.
The accurate and secure patient data from the EHR and wearable devices allow medical experts to improve the treatment of the patient's condition.
Track the mental health condition:
The sensor of the wearable devices can easily measure the heart rate and oxygen level which indicates the mental health condition (stress level) of the patient.
From that, the mental health therapist can provide a real-time solution by understanding the patient's health records.
Patient well-being monitoring:
Some wearable devices are capable of measuring the sleep and different modes of physical activities of the patient.
Such type of well-being data which is now easily accessible through the EHR itself helps medical experts to understand the requirements of the patients for their ideal treatment.
For example, analyzing patient sleep patterns!
What is the primary challenge of EHR integration with wearable technology?
Wearable health technology contains so much crucial information about the patient's health.
Such patient health data is the primary challenge in adopting the wearable technology.
By securing that data, health professionals can easily offer quality and ideal care for the patient's health.
Interoperability is one of the major challenges of the healthcare industry. Let us dive deep into it.
Unidirectional data exchange is used in EHR integration with wearable technology.
In other words, the patient data is transferable from only one side (from wearable devices to EHR).
To keep the patient's health data secure and accurate while sharing, interoperability is the primary solution.
Because EHR and wearable devices aren't made for each other. Thus, there are several default interoperability issues.
However, many healthcare IT developers don't have an ideal knowledge of the interoperability standards such as HL7 and FHIR.
As a result, there is a high possibility of inaccurate data sharing from wearable devices to EHR.
Such errors can directly affect the quality of patient care.
That's the reason interoperability is one of the major challenges while integrating EHR with wearable technology.
A useful resource: What is Healthcare Interoperability?
We do EHR/EMR integration as no one else can do (And it took us years of practice!)
We are an Ontario-based healthcare IT company.
When it comes to healthcare IT, we have 7+ years of hands-on experience.
With our healthcare-specific knowledge, we assist healthcare start-ups, hospitals, clinics, healthcare businesses, and individual healthcare experts to build their powerful market presence with cutting-edge technologies.
We can accomplish that with our experienced and dedicated team of healthcare professionals, web and app developers, QA engineers, compliance specialists, business analysts, and UI/UX designers.
"With our powerful healthcare IT solution, we are changing the healthcare industry's thoughts".
Let us connect to discuss your EHR integration needs and where we can fit our technical knowledge for your gain!