Epic, Allscripts, Cerner EHR Integration: The Easiest Way With Redox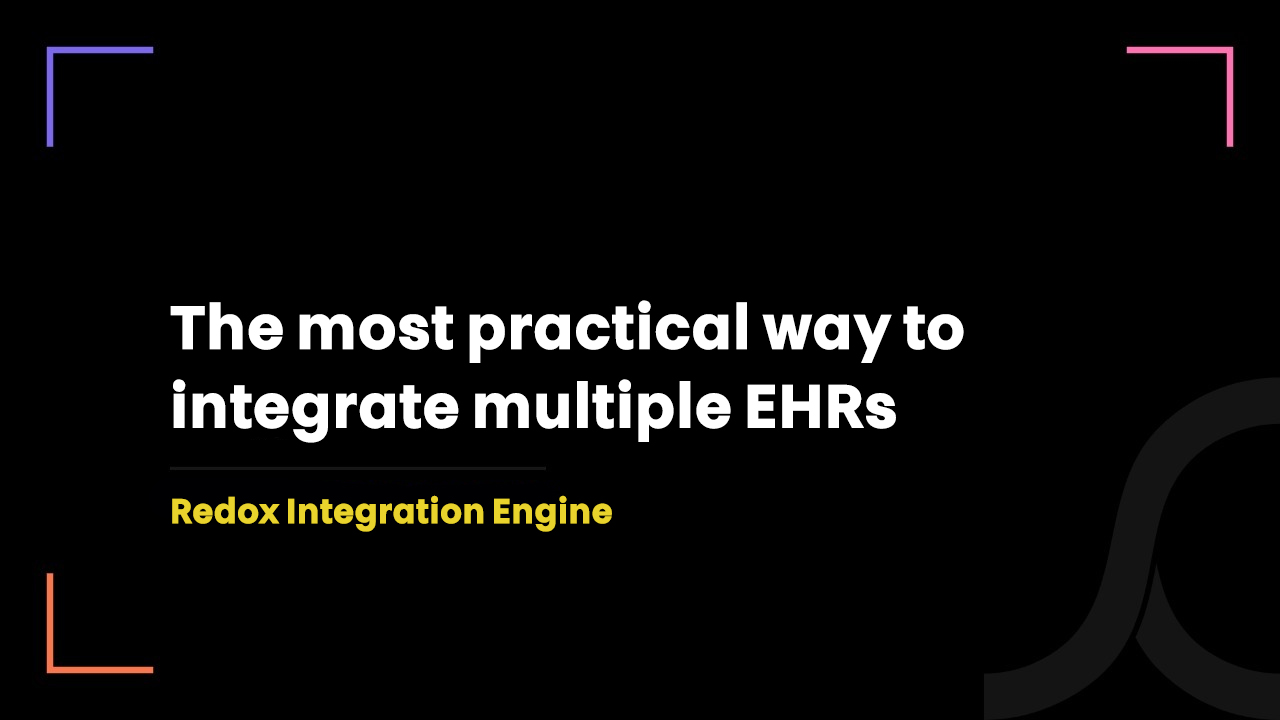 1 year ago
EHR (Electronic Health Records) is the heart of the healthcare ecosystem. It has such crucial clinical data that it can draw a line between death and the life of patients.
Any healthcare software, be it mobile or web-based, must have access to any of these popular EHRs.
Without a direct link between your healthcare software and EHR, providers using your software can't access the clinical data that EHR are storing.
And without easy access to clinical data, healthcare providers cannot utilize your software for clinical purposes as clinical data is a basic requirement for any care plan.
So to link your healthcare software with EHR, you must integrate it with your healthcare software.
Epic, Allscripts and Cerner are the most popular EHRs in the USA. So, let's discuss everything you need to know to integrate Epic, Allscripts or Cerner.
When should you consider Epic, Allscripts or Cerner EHR integration?
Let us give you a scenario.
You've built a telemedicine platform for healthcare providers. They are using it to provide virtual care to patients.
When a healthcare provider is on the call with a patient, he must have all the clinical data of that patient. (Clinical data includes medical history, allergies, previous prescriptions etc.)
To gather clinical data, the provider has three choices.
First, he directly asks the patient for his entire clinical history.
Second, he opens the EHR he is using and reads clinical data of patients while using the telemedicine platform on another window or device.
And third, he accesses the clinical data from the telemedicine platform itself.
Of course, the last option is more efficient and convenient as it saves clinical time and avoids mistakes.
So, to let providers access clinical data of patients from the same telemedicine software, you must integrate it with EHR for real-time data sharing.
Apart from that, the following are some cases in which you must choose EHR integration services.
To improve operational efficiency
To eliminate the human errors
To reduce data entry hassles
To speed up the care delivery
To streamline the workflows and save costs
To enrich coordination and collaboration
A major technical challenge associated with Cerner, Allscripts or Epic EHR integration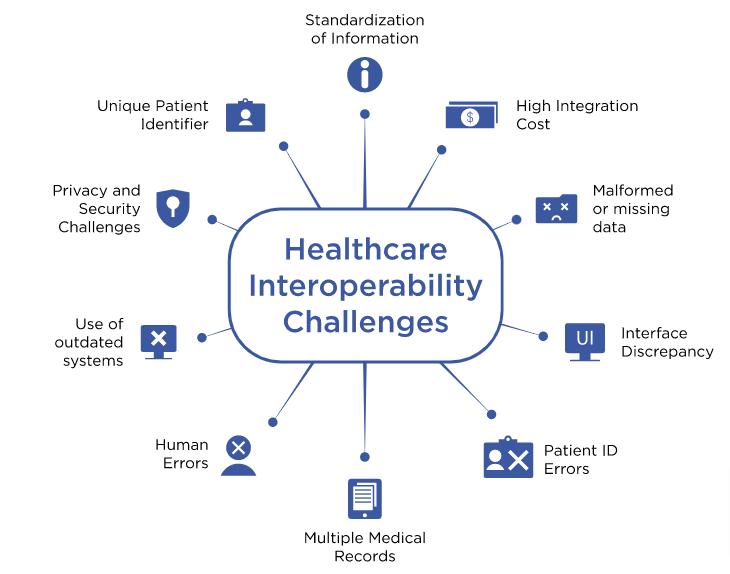 Any of these EHRs and your healthcare software aren't made for each other. They share healthcare clinical data in different formats and follow different workflows.
Meaning, they by default have several interoperability issues that do not allow data to be shared in an accurate and efficient manner.
Most importantly, it poses higher security and privacy risks to data.
Thus, it becomes vitally important to solve all interoperability issues for seamless communication between your software and EHR.
Take your healthcare example - the challenge with healthcare data isn't tools to build on top of vast reserves of data. It's interoperability that enables cross functional data / analysis. And if that happens, why is web3 better suited to build tools than any other IT structure?

— Craig (@thecdp24) July 24, 2022
To achieve it, developers must follow interoperability standards while integrating EHR with your healthcare software.
These interoperability standards are in the categories of,
Vocabulary and terminology standards
Content standards
Transport standards
Privacy and security standards
Identifier standards
There are also several implementation guides to implement these standards.
This is why it is advisable to only hire professional healthcare IT experts who have prior experience handling challenging integration tasks. 

Cost of Epic, Allscripts, Cerner EHR integration
To be honest, it is not feasible to predict the cost of EHR integration as it depends on several factors such as the type of your healthcare software, type of integration, EHR you wish to integrate with etc.
If you want to integrate multiple EHRs with your healthcare software, it increases the overall cost as developers have to integrate each EHR individually.
However, there is the easiest and most affordable way to integrate multiple EHRs with your healthcare software - Redox Integration Engine!
Easiest and affordable way to integrate multiple EHRs
The major challenge healthcare developers and healthcare software vendors are facing is dedicated efforts to integrate each EHR with healthcare software.
Yes, we need to integrate each EHR dedicatedly as every EHR follows different protocols which creates a mess.
This not only increases the EHR integration cost but eats up time and widens the scope for errors.
To solve this issue, Redox came up with a game-changing solution that enables developers to skip all the mess and connect all top EHRs with healthcare software in a single shot.
Yes, you heard it right. It provides a single-purpose API that we can utilize to establish a seamless link between your healthcare software and all popular EHRs for data-sharing.
Redox is very useful when you're building SaaS healthcare software that is going to be used by healthcare providers using different EHRs in their clinical settings.
Because, with Redox API, you can build and scale your mobile or web app for every provider regardless of the EHR he is using.
Redox supports Epic EHR integration, Allscripts EHR integration, Cerner EHR integration and even AthenaHealth integration.

Some important FAQs on EHR integration
What is the difference between EMR and EHR?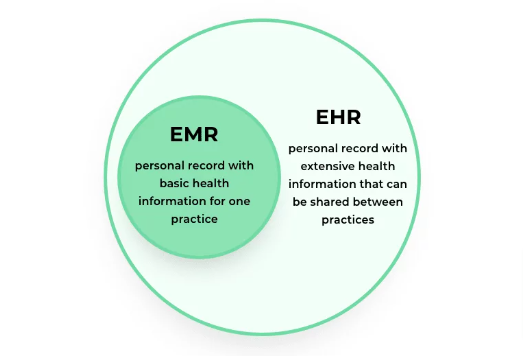 EMRs are majorly used within the clinic as it cannot share data between two different healthcare entities. An EMR contains the medical and treatment history of the patients in one practice.
Whereas, EHRs go beyond standard clinical data collected in the provider's office. It can share clinical data among many different healthcare providers. It collects clinical information from multiple sources - even outside of a clinic - and represents it to providers.
Is EHR integration a one-time investment?
In the IT world, nothing comes with a one-time investment. You need to maintain it for flawless working. If it shows an error, you also need to invest in IT support for quick recovery.
Can EHR integration be bidirectional?
Yes, it can be. However, it increases the integration cost as it requires extra development hours.
Do you need to have access to the API of EHR?
Yes, without API, we cannot have backend access to EHR. In other words, there is no way we can integrate EHR without API access. To get API access, you must sign an agreement with an EHR vendor. And if you are using any third-party solution such as Redox, you need to sign an agreement with a third-party solution provider.
Our outcome-driven approach to EHR integration
We focus on a client-centric approach for the Epic, Allscripts and Cerner EHR integration services. It includes,
Step-1: We listen to your exact requirements.
Step-2: Then, our healthcare-specific tech experts review the product architecture.
Step-3: We offer a technical consultation in order to address your concerns.
Step-4: We assign a dedicated team of integration experts as per your needs.
Step-5: Our team now integrates EHR while keeping in mind all the interoperability standards.
Step-6: We have a dedicated compliance team who keeps its bulls-eyes open for any vulnerability issues.
Step-7: Now, our QA team is ready to eliminate all the bugs, errors and interoperability issues as per the HL7 and FHIR standards.
Step-8: Here we offer a working demo.
Step-9: With us, you don't have to worry about technical support.
Be it healthcare development, compliance or integration, we have experts, expertise and experience!
We're an Ontario-based healthcare-focused IT company.
Yes, we only serve the healthcare industry and that's what makes us experts in handling healthcare IT challenges with our healthcare-specific knowledge.
We accommodate healthcare developers that have only been developing and integrating healthcare IT products with EHRs and EMRs for more than 7 years.
We have ultimate expertise in achieving healthcare interoperability with HL7 and FHIR.
We also have experience working with the Redox integration engine to integrate your healthcare software with all popular EHRs in a single shot.
If you have any custom requirements with EMR/EHR, we can help you with that too as we're a full-fledged healthcare IT company.