What is Evidence-Based Medicine and How to Build an Evidence-Based Healthcare App?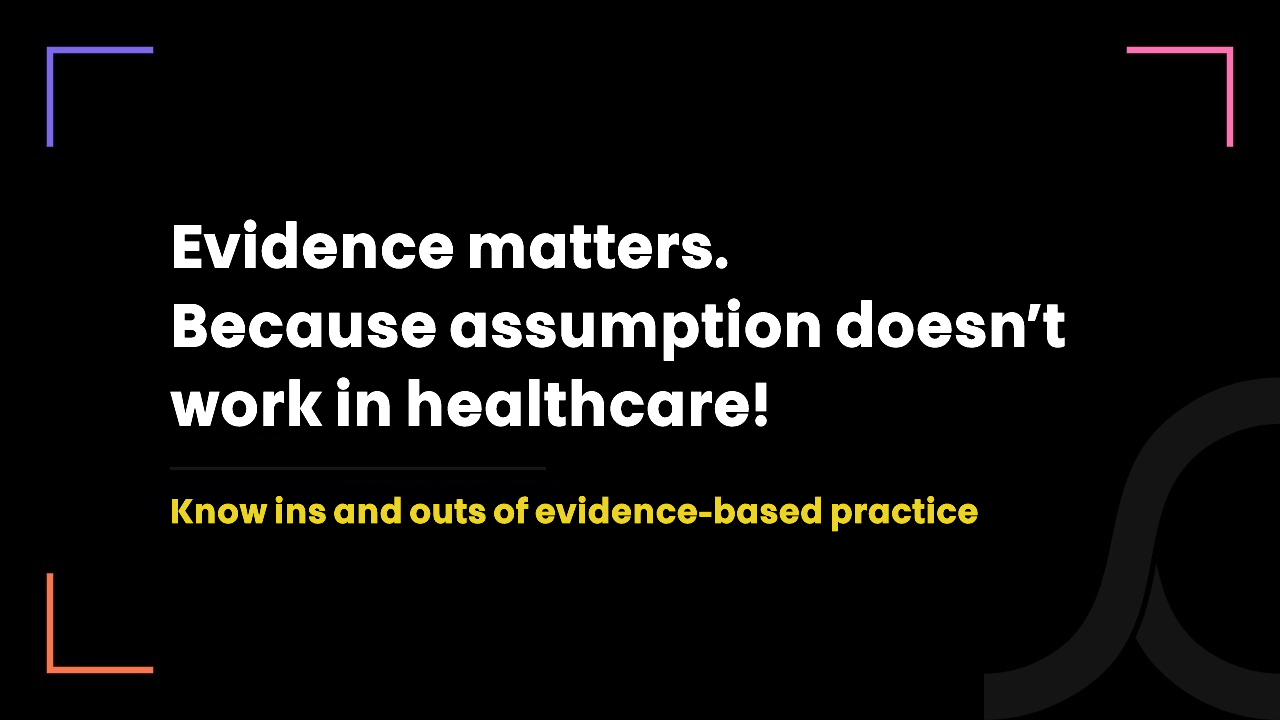 2 years ago
Though the term "evidence-based medicine"  was first introduced in 1990 by Gordon Guyatt of McMaster University, the idea is not new. The foundation of this new strategy was established through the year of work and the clinical trials of many practitioners. 
"Evidence-based health care practices" is used as an umbrella term that covers evidence-based medicine, evidence-based public health, evidence-based nursing, evidence-based dentistry, etc. However, each may have its own approach, guidelines, and protocols of implementation.
The demand for evidence-based healthcare is growing rapidly due to the factors such as rising patient expectations, increased healthcare costs, advancement in technologies, ageing population, and information overload.
This article will help readers to understand evidence-based medicine, its importance, and how t0 implement it in healthcare. Further, we will learn how to build an evidence-based healthcare application that will help physicians in better decision-making.  
So, let's get started!
A brief about evidence-based medicine
Evidence-based medicine is a clinical exercise that aims to integrate the best clinical research evidence, expert clinical judgment, and the patient's unique values in the scientific method to make the decision-making more standardized. 
Expert clinical judgment comes from years of medical experience, patient values include social circumstances and cultural factors and clinical evidence are nothing but the compendium of clinical history and summaries of how to treat and care for patients.
What are evidence-based practices?
Practicing evidence-based medicine is a lifelong process that requires a continuous effort to draw the right clinical decisions based on the research that is unbiased. It uses the interventions to improve patient health and its overall wellbeing.
A modern approach to evidence-based practices:
The modern approach of evidence-based medicine accelerates the medicine decision process using data analytics to reduce the cost of medical services. It strengthens physician skills, which leads to the delivery of quality health services and better cost management.
Evidence-based digital health interventions through apps have great potential to bring value to the current healthcare system. It is accessible to a large number of people, can perform in the resource-poor setting, provides customized support and low-cost interventions. 
Implementing evidence-based medicine for better healthcare
The process of implementing evidence-based medicine in healthcare is long and complex. Though the majority of the healthcare professional groups and organizations have a positive attitude towards the EBP they still lack sufficient knowledge and skills for implementation.
In general, the implementation steps of evidence-based practices are:
Convert your information needed into answerable questions.
Research and find the relevant evidence with the maximum efficiency from the literature to answer the questions.
Critically appraise the validity and usefulness of that evidence.
Apply the results of your appraisal in clinical decision-making.
Evaluate the overall performance.
Modern technologies  and tools help accelerate these steps  and with the following characteristics:
Simple: Intuitive, easy-to-understand interface, requires no training.
Accessible: Instant access to information whenever and wherever needed.
Secure: Maintain data integrity and confidentiality.
Segmented:  Categorized or grouped together according to preferences for analysis. 
Efficient: Organize and Manage a large amount of information and reduce clinicians' burden of information management. 
How to build an evidence-based healthcare application
An evidence-based healthcare system puts consumers at its center and creates an environment that promotes better decision-making in diagnosis and treatment using the insights drawn from the years of knowledge.
To build such a solution, we require the following things:
A centralized, and secure data storage and sharing platform that enables the sharing of data among the  APIs, sensors, and other devices.
An online solution to access the platform so that the users (patients and physicians) can communicate, share health records, plan activities entirely under controlled conditions.
Connected devices to record and gather health, fitness, and behavioral information from the patient. 
Integration with other platforms such as health insurance and pharmacies.
A basic framework for evidence-based healthcare app
The figure below provides the illustration of the Framework for stakeholders' relationship for the use of digital technology in healthcare delivery and clinical trials. 
The use of digital technology to improve healthcare quality will require a cooperative collaboration between the healthcare providers, regulatory agencies, payers, medical professionals, regulatory agencies, and technology developers. 
Evidence based healthcare app: Development stages and key features
The development of evidence-based healthcare app involves the following stages:
1. Market Research and Analysis: Study the available healthcare application and the services they are providing. Conduct interviews with providers, payers, and users to find out what they need.
2. Define the problem and its scope: Frame question what patients need, how the service can be improved using EBM practices, and list out areas of improvement in the current solutions.
3. Define business strategy:  Draw a clear plan for your app monetization strategy.
4. Design UI/UX: Create the best possible design for an app. You can start with rough sketches to build the initial prototype model. Create a user journey map, conduct competitive analysis, and conduct a usability test.
5. Start building MVP: Once you have finalized the design start developing your MVP with the essential features.
6. Testing: Perform configuration, network, screen, and usability tests.
7. Launch: Once the testing is done you can launch the app on Apple or Google app store.
8. Further development and maintenance: Developing an MVP helps developers to understand the market requirements in the initial stages. So it's essential to gather feedback from the user to keep updating your app and make it successful.
Key features of evidence-based healthcare app:
Remote monitoring using sensors and other devices
User profiling for patients and physicians
Account Configuration and settings
Patient-provider interaction medium
Analytical tools for physicians
Securely accessible Electronic health records
Collaboration and communication tools
Integration with pharmacy, Insurers, and regulatory agencies
How can we help you to bring value to healthcare applications using evidence-based practices?
We are an Ontario-based healthcare-focused IT company with expertise in healthcare app development, consultation, designing, and implementation. 
We have experience in developing a range of healthcare applications including healthcare apps, telemedicine apps, apps for pharmacies, and more.
Practicing evidence-based medicine is a continuous process and it demands better evidence to make correct decisions. Implementing EBM in digital healthcare involves the collaboration of providers, patients, tech industries, pharmacies, regulatory agencies, and insurers. 
We can bring this idea into reality with our team of experts in UI/UX designing, technology, compliance specialist, and analyst.
If you find it interesting and want to build an evidence-based clinical app, feel free to connect with us.