Specialty Drugs: Dominating the New FDA Drug Approvals in 2023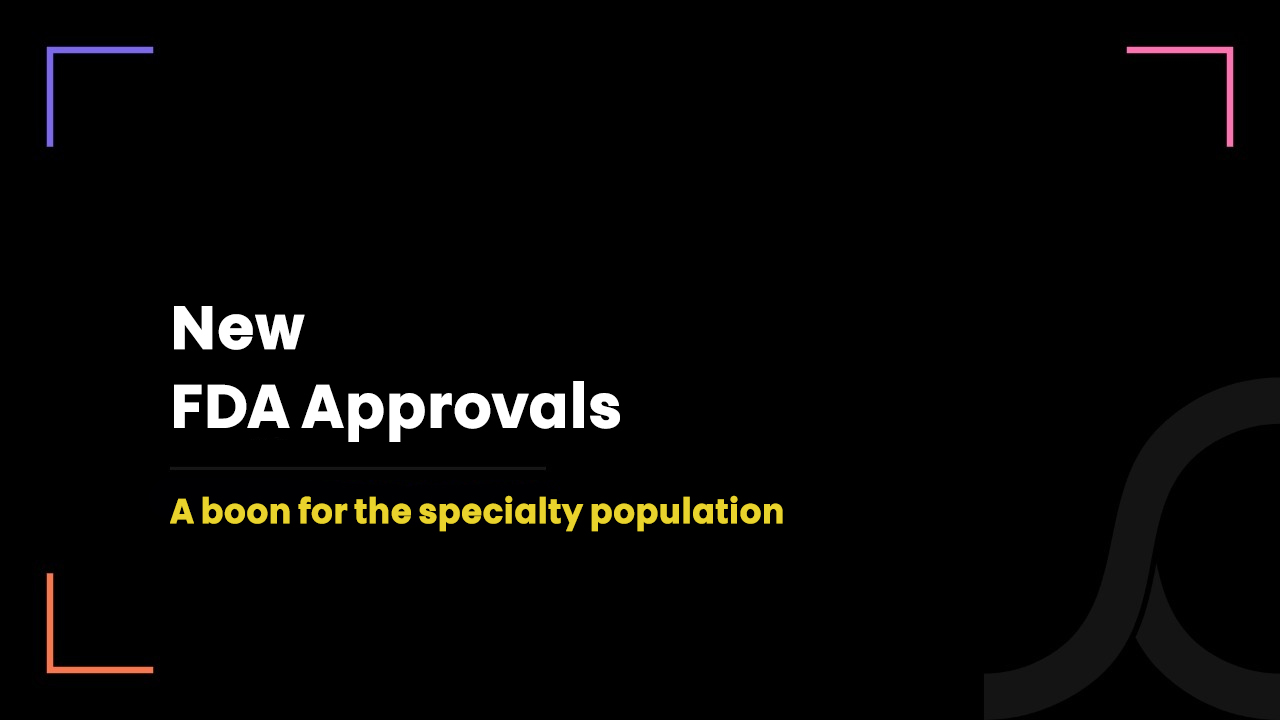 6 months ago
Specialty drugs continue to be one of the main categories in the FDA's pipeline.
According to a session at Asembia's AXS23 summit, they influence the new FDA approvals.
In recent years, the pharmaceutical industry has witnessed a surge in developing and approving groundbreaking medications.
Ray Tancredi, an industry expert at Walgreens, shared insights into the growing pipeline of specialty drugs poised to make a significant impact.
With a focus on oncology, rare diseases, and cell and gene therapies, Tancredi shed light on the potential of these novel treatments.
In this blog post, we will explore some of the notable drugs that have recently been approved or are expected to be approved soon.
The Potential FDA Drug Approvals
According to Tancredi, 2023 has started off on a promising note, with 14 new drug approvals already in place.
Out of these, 12 are specialty medications.
Additionally, 30 specialty drugs are anticipated to be approved by the end of the year.
Let us take a closer look at some of the remarkable advancements within the realm of rare diseases and other therapeutic areas.
1. Sparsentan
This innovative drug was approved by the FDA in February.
It is the first single-molecule dual endothelin angiotensin receptor antagonist to receive approval for patients with immunoglobulin A nephropathy (IgAN).
Sparsentan aims to reduce proteinuria and is currently undergoing phase 3 trials for focal segmental glomerulosclerosis.
2. Leniolisib
In March, leniolisib became the first approved treatment for activated phosphoinositide 3-kinase delta syndrome.
Clinical data demonstrated its ability to reduce lymph node size and improve naive B cell counts, offering hope for patients with this condition.
3. Tofersen
On April 25, the FDA approved tofersen for amyotrophic lateral sclerosis (ALS) associated with a mutation in the superoxide dismutase 1 (SOD1) gene.
This targeted therapy is expected to benefit a subset of ALS patients with a genetic component, addressing an unmet need.
4. Nirogacestat
Investigated as a treatment for desmoid tumors, nirogacestat has shown significant benefits in terms of progression-free survival, symptom relief, and quality of life improvements during phase 3 trials.
The drug has received Fast Track Designation and Orphan Drug Status and may be launched by the end of this year.
5. Fitusiran
Antithrombin RNA interference therapeutic fitusiran has demonstrated significant improvements in bleed protection for patients with hemophilia A and B during phase 3 studies.
Pending approval, this promising therapy could be available as early as December.
6. Sotatercept
Designed to treat pulmonary arterial hypertension (PAH), sotatercept has shown promise in improving patients' exercise capacity, a critical factor in managing this life-threatening condition.
The launch of the sotatercept could potentially address the pressing need for better treatments for PAH patients.
7. Nipocalimab
Being investigated for hemolytic disease of the fetus and newborn (HDFN), nipocalimab has displayed promising results in a phase 2 trial, with a high rate of successful live births among pregnant patients at high risk for severe HDFN.
8. Mavorixafor
Undergoing phase 3 trials for WHIM syndrome, mavorixafor offers hope to patients suffering from this rare congenital immune deficiency. While the launch date is uncertain, the drug has received several designations, including Breakthrough Therapy, Fast Track, and Rare Pediatric Disease.
As more specialty medicines are getting FDA approval, the need for the technology to manage these specialty drugs increases.
If you're also in the pharmacy business, we've listed out a feature set that can be beneficial for you in handling specialty medicines.
The Features a Specialty Medicine Software Should Possess
Automated refill order reminders
Automated refills
Automated prescription renewal reminders
Integration with the PBMS and international partner software
Automated order placement in the international partner software
Automated updates of the tracking details
Limited medication visibility
Automated emails and notification alerts from your pharmacy
Order sets for specific requirements
Reports of the saved costs
No limitation on the number of partner pharmacies
Customizable discount rates for each partner pharmacy
The best part of our solution is:
It can be customized according to your workflow requirements.
Hence, you can even enter the specialty drug supply chain and take your pharmacy business to the next level.
Why Should You Trust Us?
We're a healthcare-specific IT industry based in Ontario.
With 8+ years in the healthcare industry, we have become experts in developing health tech by complying with all the healthcare rules and regulations.
We firmly believe in building long-term relations with our clients and hence, we sign a NDA agreement with each of them.
Which often results in our clients becoming returning clients for any and every health tech need of theirs.
If you also want to build an effective full-scale specialty drugs pharmacy solution, you're at the right place!
You can reach out to us by filling out the form below.