Free AR-based Remote Assistance Tool in Canada to work remotely on MRO (Maintenance, repair, and operations) amid coronavirus outbreak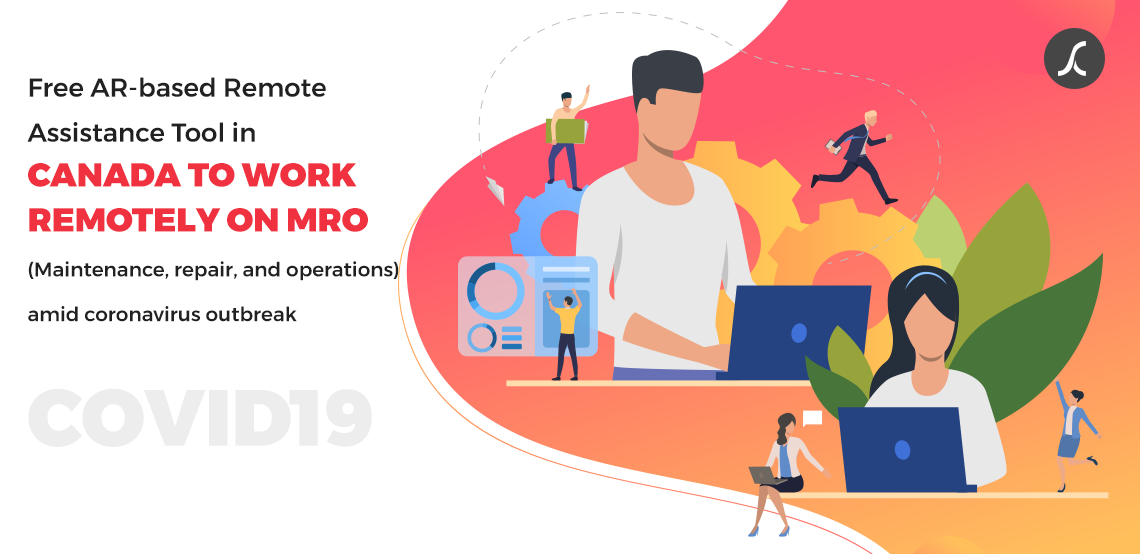 4 years ago
The situation developed by the coronavirus outbreak is getting worse very rapidly. It damages the day-to-day life of people and profitability of almost all businesses. Many countries including the USA and Canada have already asked employers to implement work-from-home policy.
However, challenges associated with remote work are affecting productivity and delivery speed dramatically. While many businesses can effectively overcome these challenges by using remote collaboration software for meeting and discussion, Field Service Engineers struggle the most to carry out effective remote inspection, maintenance, and troubleshooting amid costly and lack of feature-packed AR-based remote assistance tools.
An AR-based remote assistance tool is so purposeful that it increases the productivity hours as well as service delivery speed by enabling Field Service Technicians to achieve quick troubleshooting and remote inspection.
SyS Creations has been offering an AR-based remote assistance tool in Canada to SMEs and large enterprises. But considering the current situation created by COVID-19 and challenges businesses are facing to cope up with their remote workers and their productivity, we are making this tool free to use till 30th April 2020.
You can freely contact us to get a free demo of it! Or if you want to know more about AR-based remote assistance tools and how it can rescue your business, keep reading this blog.
What is an AR-based remote assistance tool?
AR-based remote assistance tool is the software or mobile app which works on the AR (Augmented Reality) technology. It allows Product Experts and Engineers to visually guide and collaborate with customers and other stakeholders including Field Engineers.
Since experts can see the user situation in real-time, an AR-based remote assistance tool eliminates the mediocre support calls and improves response time. To use an AR-based remote assistance tool, all you need is a mobile app on smartphone or tablet. These tools also support smart glasses.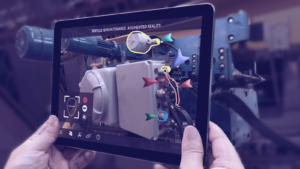 Source: AR Reality News
How does an AR-based remote assistance tool work?
If you and your team know the working of such an advanced tool, you can derive maximum benefits out of it. So, here how it works:
AR-based remote assistance tools combine the video live streaming with the AR Technology. Unlike VR, AR appears in direct view of an existing environment and adds sound, video, and graphics.
In other words, AR-based remote assistance tools allow customers to share their surrounding with the support team remotely and the support team can interact with the shared surrounding through their screen. By pinpointing things on this screen, the support team can guide the customers to solve errors.
The fusion of live video streaming technology and AR technology develops a powerful and very useful solution for remote guidance.
The features our free AR-based remote assistance tool does have:
We've tied up with an industry-leading AR-based remote assistance tool provider. Meaning, the AR-based remote assistance solution we offer in Canada is equipped with many groundbreaking features. These features will alter the way Service Field Engineers & technicians work on MRO (Maintenance, repair and operations) practices.
1. Current features:
⇢ Login:
You can download the mobile app from the Google PlayStore and Apple AppStore, but to use it, you'll need credentials which we will provide you once you provide us with your name, email IDs, device type, mobile number for registration, and company details.
⇢ Video & voice call:
The solution we provide supports both video and voice calls to anywhere on earth.
⇢ AR- Camera video sharing (One to One):
You can share your surroundings with anyone through live streaming.
⇢ AR- drawing on screen from both sides
:
You and your collaborator can draw on your own screens which can be seen by both. This feature speeds up the understanding of the problems and solution delivery.
⇢ Predefined 3D Annotation – Arrows for pin-pointing:
There are many predefined 3D annotations in the solution which facilitates you to pin-point seamlessly.
⇢ Call history:
With just a single click, you can know the calls you and your team have made in the past.
⇢ Contact listing:
For quick connection, you can add the contact details of your stakeholders in the Contact.
⇢ Chat module:
The solution is armed with the chat module which lets you talk stakeholders through text messages. You can chat to them even when the live streaming is going on.
2. Upcoming feature:
⇢ User management and dashboard:
This is the most anticipated feature and our solution will soon accommodate it. Thanks to this feature, you will be able to give access to other users. After giving access, you can monitor and control their activities from the dashboard.
3. Advanced features:
⇢ Group call:
You can have a group call with a maximum of 4 people.
⇢ Video recording:
You can record the unlimited video calls and play them later from the app itself in case you need to learn things again.
Advantages of AR-based remote assistance tool:
Following are the game-changing advantages you can derive through an AR-based remote assistance tool in Canada amid coronavirus outbreak.
You can quickly provide technical support to customers, suppliers, and employees as it does not require any setup and complex hardware.
It is a costly choice to send a technical support team to your stakeholder's location to solve their system or machine errors. Instead, your technical support team can remotely guide them through an AR-based remote assistance tool by sitting in your office. Imagine the time and cost this solution can save!
When you send your technical support team to your client's location, your team has to follow their schedule and working pattern. But if you own an AR-based Remote Assistance solution, you can simply send a link to your client to join the live stream and your technical support team can guide them visually to solve their errors.
Experts from across the globe can remotely train the new or junior employees which eventually reduces the training costs.
Since it enables the technical support team to provide quick support, the machine uptime can be increased extremely. And high machine uptime accelerates manufacturers' competitive advantage and generates revenue from usage-based business models.
AR-based remote assistance tool user story:
Following is a user story showing how effective an AR-based remote assistance tool is!
➤ Without AR-based remote assistance tool:
Smith, who is running a grocery shop, encounters a problem in his shop's modem. With high hope, he calls the customer service team and explains his problem verbally.
He explains which light on modem is on and blinking and which one is off. The customer service executive takes more than 5 minutes to understand the error Smith's modem is having.
Customer service executive then starts explaining the steps to solve that error. But since Smith can not get the exact procedure to solve the error, he cannot fix it even after 10 minutes. At last, the customer service executive decides to send a technician to Smith's location to solve the error.
➤ With AR-based remote assistance tool:
As soon as Smith calls the customer service team, the customer service executive shares the link with Smith to join the remote assistance tool.
Smith later just shows the modem and its error message to the customer service executive. He quickly understands the error and starts explaining steps to Smith to solve the error.
Since the customer service executive is explaining visually on the live stream, Smith easily executes the steps and solves the error without making a technician visit his shop. The company saves at least $100 here!
In the nutshell:
With rising cases of coronavirus and travel ban, it is challenging for businesses to serve clients and maintain a high delivery pace. It is also costly to fly to your clients' locations and solve their system and machine errors.
However, by using an AR-based remote assistance tool, your Field Engineers can easily collaborate with your clients and inspect, maintain and troubleshoot the clients' system. This tool reduces efforts and time for you as well as for your clients. Because of its extensive feature set and serviceability, you can continue offering your service with the high user satisfaction rate even during the pandemic.
SyS Creations which has always been committed to solving business challenges understands the fact that all businesses are going through a tough time due to the coronavirus outbreak. And thus, to help those businesses, we have decided to offer the AR-based remote assistance tool for free of cost.
You can ask us to get the demo of it by simply contacting us. You can also schedule a one-on-one meeting with an expert if you have any IT requirement regarding cloud, network, VoIP, FoIP, and IT security.