How to Develop a Grocery Delivery App and Provide Remarkable Customer Experience?: A 2021 Guide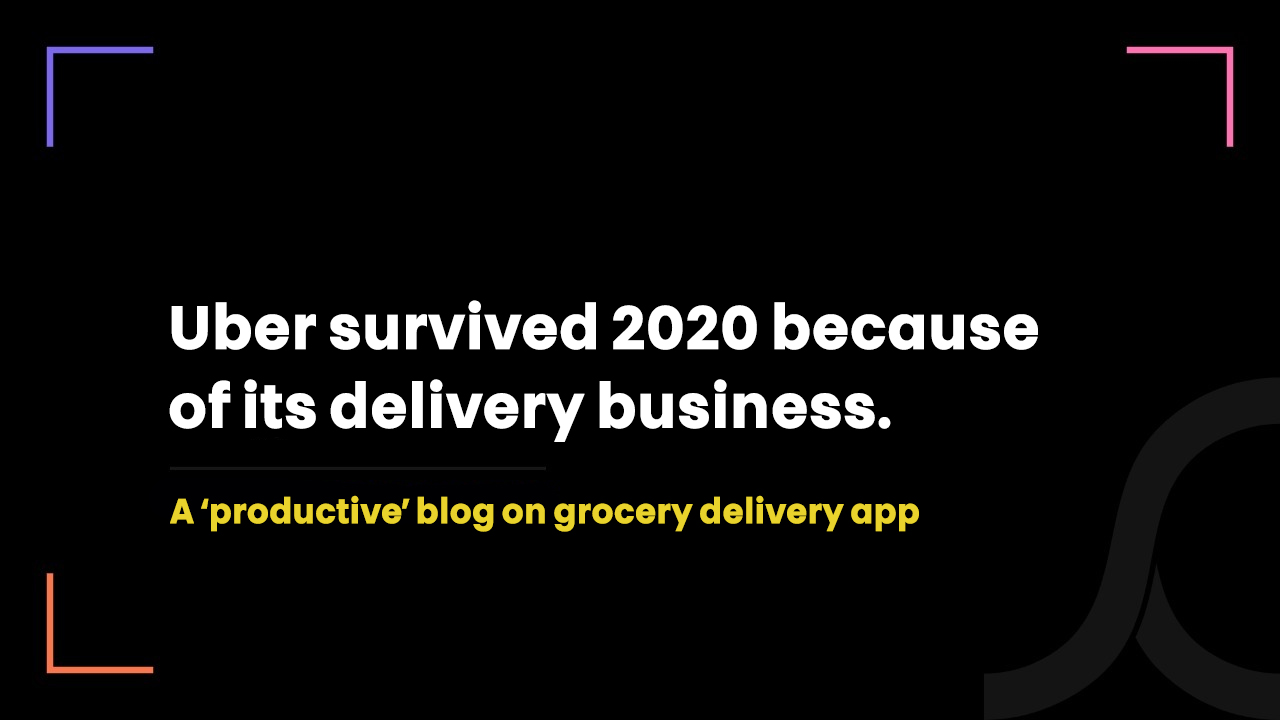 3 years ago
Both bicycle manufacturers and private jet manufacturers discuss the same thing in the board meetings - how to provide a good customer experience!
A positive customer experience always helps you retain customers.
For businesses with high customer footprints such as supermarkets, the customer experience influences the customer's purchase intent severely.
To take customer experience to another level, grocery stores and supermarkets are adopting technologies and promoting innovation on a large scale.
In fact, the billion-dollar company - Uber - which has introduced a successful 'on-demand' business model recently announced to launch a grocery delivery service in Canada.
You will get stunned to know the number of people who are actively looking for online grocery apps/choices in Canada
After knowing the (estimated) Google search volume of top online grocery related keywords in Canada, you will start calling grocery delivery apps the real future, not just the trend!
| | |
| --- | --- |
| What people are searching on Google? | How many people are searching for it per month? (Estimated Number) |
| Order groceries online | 3600 |
| Superstore online | 18100 |
| Walmart online grocery | 6600 |
| Walmart online order | 5400 |
| Superstore online shopping | 12010 |
| Walmart Canada online | 4400 |
| Grocery delivery near me | 1900 |
| Grocery delivery London Ontario | 1000 |
This is the reason why people prefer to use only a few grocery delivery apps
The idea of online grocery delivery isn't new, so is your way to deliver the customer experience.
You should upgrade your customer experience delivery model.
Gone are the days when customers were only looking for affordable items and advanced features in grocery delivery apps.
They are now more concerned about convenience than affordability.
Meaning, while going for grocery delivery app development, you should prioritize the customer experience your app would offer - rather than just not-so-useful advanced app features.
To be customers' first choice, think like Walmart Online Grocery
Let us make you think like Walmart!
Why would customers order groceries online using mobile apps?
Convenience
Quality
Price
Entertainment
Product
How can I address these customer expectations?
Convenience:
Build a mobile app, add live tracking, actualize easy online payment and provide instant support.
Quality:
Let customers validate the quality of the products with reviews.
Price:
Discounts, promotions, price comparisons, coupons & loyalty programs.
Entertainment:
Getting recipe recommendations based on the bought groceries, videos of recipes and promotions for new products.
Product:
Better categorization of products, intelligently recommending products.
People buying milk buy cookies too. How top grocery apps leverage buying patterns to enhance customer experience?
People buy groceries according to their real-life character and characteristics.
For instance, if a mother or teen visits a supermarket or orders groceries online, there are possibilities that she/he would buy milk and cookies together.
Knowing such buying patterns help supermarkets to offer a personalized experience to the customers.
Based on the item (milk) they purchase, the app automatically suggests them to buy another related item (cookies).
However, identifying buying patterns is a daunting task.
Top supermarkets and grocery delivery apps use complex data analysis techniques to identify buying patterns out of the large data they have collected.
They also build an advanced online grocery app equipped with an intelligent recommendation engine.
Is it really only an app that makes a supermarket deliver a remarkable experience?
Considering the success of the Instacart app, you might be already planning to develop a grocery app like Instacart to offer a remarkable user experience.
If you are planning so, you are on the right track. However, you need more than just an app to reach the destination as planned!
A properly designed app workflow drives the customer journey forward - should be your most important consideration.
Defining app workflow is the practice of identifying which app page comes after which app page and how all app pages drive the customer journey.
Arranging app pages in a disorganized way dramatically affects the app performance, user journey and user experience.
The proper IT infrastructure
The proper IT infrastructure at your grocery store or at the packaging & order processing centre is also a crucial need.
Without it, your ground teams cannot process orders efficiently. IT infrastructure includes uninterrupted internet, security solutions, storage options, mobile/computer hardware and VoIP & FoIP solutions.
There should also be automation in place to automate computer-based reporting, billing, inventory management processes. This reduces administrative burdens and promotes accuracy.
We are the nerve centre of all IT services and solutions.
We not only develop the grocery app but design the app workflow and build & manage the entire IT infrastructure and automate business processes to facilitate you to deliver the ultimate user experience in a true manner.
In recent years, the US and Canadian federal governments have become increasingly solid when it comes to user data privacy and security.
They in fact imposed several laws governing the data collection, usage and sharing during any commercial activities.
Your grocery app will interact with user data to a large extent. Thus, these laws must apply to your app.
One law that surely applies to your app in Canada is PIPEDA.
If you violate any PIPEDA regulation, you will be liable for a fine of up to $100,000 CAD per violation. People are also putting more trust on compliant mobile apps.
Thus, it is very vital that you develop your grocery delivery app according to the privacy laws.
Sharing a few best practices to provide the ultimate customer experience with your grocery delivery app
The reason for the success of the Instacart app is nothing more than the way the app works.
The grocery app should work in such a way that it should forward the customer journey in small fractions that connect with each other at the end of the journey and delight the customer.
You should avoid making these three blunders that affect the customer journey.
Don't wait to reveal the delivery charges on the checkout app. Reveal whether you are offering paid delivery in the early stages of the customer journey. This will build trust.
Don't showcase unnecessary items to the customers. This will boost up their thrill of shopping.
Don't be biased toward a product. Promote transparency by letting customers compare the prices of different products and read real reviews.
Is the fear of failure stopping you? There is a kill switch called the MVP app development approach!
After reading so far, if you are thrilled to develop a grocery app but the fear of failure is stopping you, we've got a kill switch for you. This kill switch is called Minimum Viable Product.
Minimum Viable Product is the basic version of the app with just enough features to test the market or validate the idea.
If your app idea will work, you can scale it up and if it won't work, you can get out of the market without losing money as the cost of MVP app development is very affordable.
We hope our efforts put in this blog will help you thrive in the online grocery business.
Evaluate yourself - whether you're ready to develop a grocery delivery app like Instacart
We are ending this blog with a few questions which you should ask yourself to discover your true potential in terms of technology and business!
Why can't I be the next Instacart?
Why should I not develop a full-fledged app before the MVP version?
What are the features I should add in the MVP version of the grocery app?
Why should my app work on AI and machine learning technologies?
How should I create the workflow of the app?
How can I aim to improve the efficiency of the ground teams with the grocery app?
How can I utilize the app to provide good customer experience to the customers who visit the store?
Why do I need to adopt automation to automate billing, reporting-like tedious work?
Do I need to consider any compliance?
If you struggle anywhere, we're here to help you - be it app, automation or IT!