Healthcare App Development Opportunities in Ontario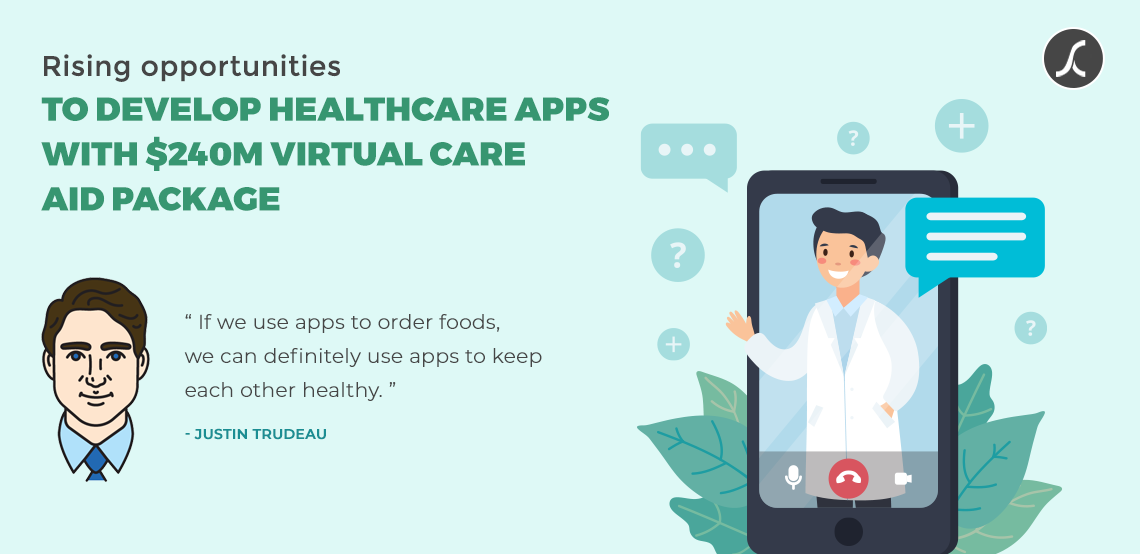 3 years ago
The list of efforts made by the federal government to contain the coronavirus has now been extended! 
According to the news published in CBC, the federal government is investing more than $240 million to bring healthcare services online during the pandemic by expanding healthcare tools and building new virtual care platforms for primary care and mental health. 
During his daily briefing, the Canadian Prime Minister Justin Trudeau mentioned that $240 million will be spent on virtual care for communities and patients who may not need to see a doctor in person. 
Justin Trudeau stated that this is the resource for you whether you are on a lookout for strategies to manage the stress or support from an expert.  
He added that if we can use apps to order foods, we can definitely use apps to keep each other healthy.
What does the government's response worth $240M mean for the Canadian healthcare industry? 
For the last few weeks, we have been on thin ice. Our healthcare system has been overwhelmed like never before. We all were hoping for an aid package that promotes the use of technology for the non-COVID-19 patients who are mentally or physically sick but afraid to visit hospitals where they are more vulnerable to coronavirus.   
But now, with Canada to invest $240 million in online healthcare, the market of virtual care apps and mental health apps is anticipated to heat up. And here is where you should grab the opportunity.  
Fresh opportunities in the mental health apps market: 
After developing feelings of isolation and stress, the mental health of citizens seems to have suffered a lot. According to CTV News, Canada's self-reported depression rate has more than doubled during the pandemic. 
During such an unsettled situation, a mental health app is the most affordable and easily accessible resource for people to maintain good mental health. Meaning, developing a mental health app is a totally safe bet. 
Fresh opportunities in virtual care apps market: 
People are now changing their methods to access primary care. Rather than visiting a hospital or physicians and becoming easy victims of coronavirus, they are now opting more for virtual care apps to access primary care from the comfort of their homes. 
An announcement of $240 million for virtual care clearly depicts that encouraging entrepreneurs to come up with disruptive virtual care and mental health app ideas is in the government's checklist. 
Making you grab the fresh opportunities with healthcare app development in Ontario, Canada
After reading so far, if you are thrilled to develop a healthcare app, especially the virtual care app and mental health app, experts are at your help. We are a team of healthcare app development experts. My team includes business experts, legal advisors, app developers, and app designers who all work together to develop a PHIPA compliant healthcare app in record-breaking time. 
How are we easing your pain of legal and workable healthcare app development?
Developing a healthcare app is easy. But it is challenging to develop legal and workable healthcare apps. Only a healthcare app that is PHIPA compliant, supports OHIP billing codes, and has seamless integration with the EHR/EMR system is called a legal and workable healthcare app. 
Your healthcare app should obey the laws federal and state governments have imposed to protect the data privacy of patients. One such law is PHIPA. Your healthcare app must be PHIPA compliant to not fall in a legal battle and be liable for the fine up to $500,000.
My team is well-aware of the PHIPA requirements and other laws. We effortlessly plan, design, and develop PHIPA  compliant healthcare app. 
The OHIP is the government-run health insurance plan for Ontario. Any Ontario resident is entitled to access healthcare services including emergency care and preventive care under OHIP free of charge. 
In other words, the physicians who diagnose patients are paid by the government, not patients. Meaning, you should integrate a module in your healthcare app to enable physicians to submit invoices of who they diagnosed. For that, your app should support OHIP billing codes.
Without patient data, your healthcare app does not justify even a single objective. EHR (Electronic Health Record) integration is crucial to fetch real patient data automatically. 
By integrating any trusted EMR or EHR system with your healthcare app, the app automatically fetches important patient data such as patient demographics, medical history, medications, allergies, lab results, radiology results. 
The following is the list of top EHR or EMR vendors. My team has earned expertise to integrate any of the popular EHR/EMR with your healthcare app.
In a nutshell: Healthcare app development in Ontario cost 
In addition to accommodating groundbreaking healthcare app features, we address real challenges associated with healthcare app development. Because of our expertise to solve these 3 challenges (PHIPA, OHIP billing codes, EHR integration),  we are able to turn any healthcare app idea into a legal and workable healthcare app.  
Talking about the cost of healthcare app development, it depends on many factors such as the number of features, the complexity of the features, technologies, platform etc. But if we take an average of every factor into account, the healthcare app development cost would be somewhere between $10000 to $50000. 
Let's schedule a virtual meeting to discuss your healthcare app idea and plan a development & deployment strategy. We have answers to all of your questions or challenges!