Fresh Healthcare App Ideas for 2022 Inspired by an Online Car Buying Platform Clutch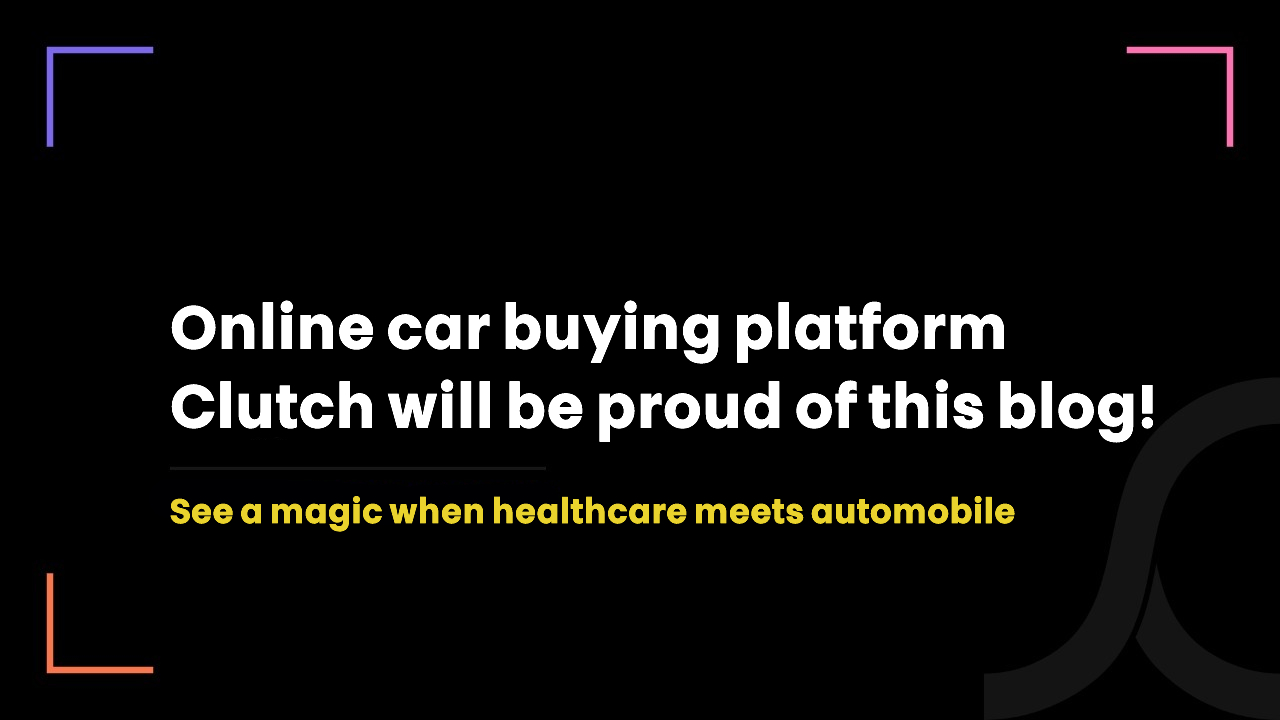 2 years ago
Hold tight. This will be a unique experience for you.
Because we will be sharing fresh healthcare app ideas for 2022, which are inspired by an online car buying platform in Canada named Clutch. 
Hold on with us for 30 more seconds. Let us give you a quick overview of Clutch; then, we will quickly move to our main topic.
Clutch is a used car marketplace. The Clutch team buys used cars from auctions, private sellers and fleets before it puts them through a rigorous 210-point reconditioning process, and once everything is validated, they list the used car on their platform for sale. 
As promised, it must be less than 30 seconds.
Anyway, let's talk 'ideas'! 
3 fresh and unique healthcare app ideas for 2022 (Inspired by online used car marketplace Clutch)
1) Marketplace for used medical devices
It is undeniable that medical devices are crucial in enhancing patient outcomes and saving lives.
Both hospitals and clinics are spending a considerable percentage of their budget on acquiring medical equipment in anesthesia and respiratory, diagnostics, imaging, surgical, general medical and cold vaccine storage.
However, after using it for some months or years, they replace old medical equipment with new ones and treat used medical equipment as waste.
You have to leverage business opportunities in this 'waste'. How? 
Well, you have two options.
B2C model: You buy this used medical equipment from hospitals and clinics, validate whether everything is working as per standards, fix it if you find problems and list it on your marketplace for sale. (Like Clutch lists used cars for sale.)
C2C model: Under this model, consumers who use medical devices want to sell them off on your platform, and those who prefer to buy used medical devices search for them and buy a suitable one. You sit relaxed and enjoy commission on every successful order.
What problems do an idea of a marketplace for used medical devices solve?
Several hospitals and clinics are struggling with low revenue or low operational margin challenge. You can enable them to seamlessly buy medical equipment while saving almost 40 to 50% on the acquisition cost of medical devices.
Hospitals and clinics have several medical devices sitting idle in junkyards. You can empower them with a platform to easily sell those devices and make dollars out of it.
Expert tip to increase revenue out of this idea:
If you think that your primary target audience for the used medical device marketplace is hospitals, you're wrong. 
The primary target audience is patients. More specifically, seniors nowadays prefer to receive care at their homes under the hospital-at-home model.
Trust us; they would love to spend on used medical devices offered by trusted sources like you as they can save huge compared to buying new medical devices.    
2) Marketplace for selling medical apps' subscriptions
This is another great and unique idea that we even haven't come across.  
People nowadays purchase yearly subscriptions of several healthcare apps in telemedicine, fitness, diet, personal care, meditation etc.
This subscription costs them more than $100 in all cases, which is a huge deal for some buyers who, after using those apps for a few days or months, stop using it and wish if they could sell that subscription to someone else and make bucks on it. 
So, the app idea here is building a marketplace for selling medical apps' subscriptions where subscription owners can sell their existing subscription plans to people who wish to buy subscriptions of listed healthcare app.
Here is how it works:
User A wants to sell his yearly subscription to the Calm app after using it for 2 months. So, he lists out everything, including the remaining subscription period and money he wants.
User B, who wants to buy a yearly subscription to the Calm app at a low price, connects to User A through your app.
User A and User B make a deal.
Now when it comes to changing ownership of the subscription plan, user A has multiple options. If the Calm app supports, User A can change owner rights from the app itself. The second option is, User A shares his credentials with your trusted marketplace; you coordinate with the Calm team and transfer ownership by generating new credentials for User B.
You take a fixed percentage of commission on every successful order!
What are the value propositions of the marketplace for medical apps' subscriptions?
Subscription owners who have spent on subscriptions but not using the app anymore can make bucks by selling that subscription to other users.
Other users are able to acquire subscriptions to healthcare apps at a meagre cost.
Healthcare apps can acquire more new users through their subscribers who have any way stopped using the app.
3) Marketplace for used remote patient monitoring devices
If you're practicing in the healthcare industry, you must be aware of the upcoming tsunami of remote patient monitoring in the healthcare ecosystem.  
From LTC homes to nursing homes, hospitals, and clinics, all have recognized the significance of remote patient monitoring during the pandemic.
And they are now desperate to implement it. However, they fall short on budget when it comes to implementing remote monitoring tech. 
So, now that you've identified the problem, what are you waiting for?
You can build a marketplace for used remote patient monitoring devices where both healthcare providers and individual users can list their used devices and purchase them.
You can also target remote patient monitoring startups to supply used IoT-enabled medical devices in bulk as they are always looking to reduce their hardware cost. 
There is one more possibility here. You can list and sell other digital medical devices such as telemedicine carts, real-time wait time boards etc.
We don't just talk about healthcare app ideas. We document, design, develop, test and deploy it!
We're an Ontario-based team of healthcare IT experts who are not just a bunch of technology geeks. But we understand the healthcare. It is in our DNA, and we feel thrilled working on healthcare IT projects. 
Our team includes app developers, UI/UX designers, QA testers, business analysts and even compliance specialists who all work in an aligned manner following agile methodology.
We have healthcare professionals in our team. The fusion of their healthcare knowledge and our tech knowledge does wonders for your business, startup, or hospital. 
We don't rely on Google and the market research papers. We validate the clinical things with the knowledge of our healthcare professionals and serve you with clinical value. 
As if this is not enough, we're exclusive when it comes to post-app-launch support. We allocate dedicated resources for remote and on-site support and provide a well-written document so that you can solve the errors by yourself in urgent cases.
And last but not least, if your healthcare app idea can truly revolutionize healthcare, we are ready to be the lead investor!