How Free & Paid Healthcare Apps Make Money? | Healthcare App Monetization Strategies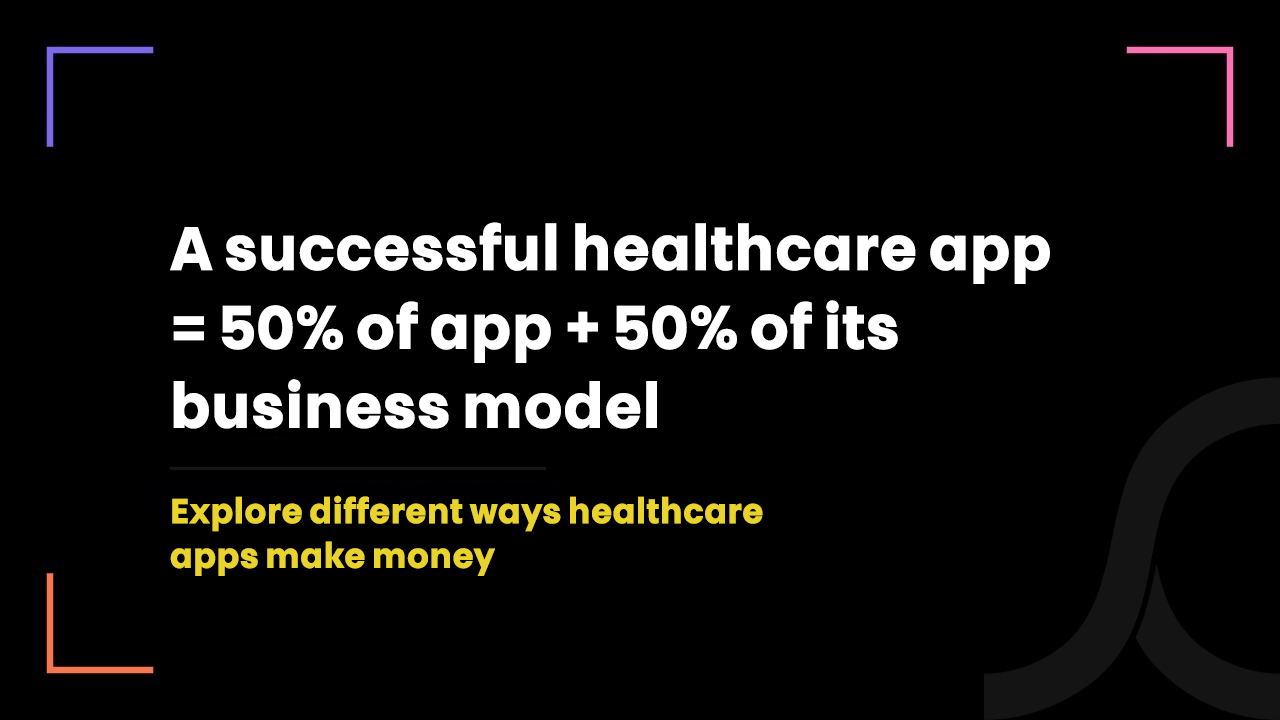 3 months ago
Why would someone hire an app agency, invest his hard-earned money, and go through the complicated healthcare app development process?
Of course to make money! More specifically, to make more money than what he invested!
The moment an app owner launches the healthcare app in the market, he starts counting the days to reach the break-even point from where his app earnings would become his clear profit as he has already covered the app capital cost before hitting the break-even point.
To quickly break even and to continue earning, a business model or monetization strategy plays a crucial role.
Fortunately, there are many ways a healthcare app can make money.
The best thing is even a free healthcare app has opportunities to make money, sometimes more than even paid apps!
So, today in this blog, let's discuss how free healthcare apps make money and monetization strategies for even paid healthcare apps.
But before that, it is worth discussing…
5 Top-Grossing or Top Money-Making Healthcare Apps
We've collected the following data from trusted sources.
So, this is the real data!
1. MyFitnessPal
App Category: Workout and wellness
Price: Free with in-app purchase
Apple App Store Rating: 4.7 (based on 1.7 million reviews)
2. WeightWatchers Reimagined
App Category: Weight-loss
Price: Free with in-app purchase
Apple App Store Rating: 4.8 (based on 2 million reviews)
3. Calm
App Category: Meditation
Price: Free with in-app purchase
Apple App Store Rating: 4.8 (based on 1.7 million reviews)
4. Flow Period Tracker
App Category: Women wellness
Price: Free with in-app purchase
Apple App Store Rating: 4.8 (based on 1.1M reviews)
5. Peloton - at home fitness
App Category: Fitness
Price: Free with in-app purchase
Apple App Store Rating: 4.9 (based on 730.4K reviews)
Now, let's discuss how all these apps including other free and paid healthcare apps make money.
Healthcare App Monetization Strategies
For your better understanding, let's divide it into two parts - the monetization strategies of free healthcare apps and monetization strategies of paid healthcare apps.
1. How do free healthcare apps make money?
It is very obvious that free healthcare apps attract more users than paid apps.
If an app owner can leverage his large user base, he can make millions of dollars!
The majority of free healthcare apps generate a huge amount of revenue just by showing advertisements of third-party service providers and products on apps.
Given the fact that a free healthcare app is most likely to have a large user base, ad publishers are always interested in publishing ads on free healthcare apps.
This benefits them in terms of the extended reach of their ads and higher conversion rates.
In return, a free app owner receives money by just showing ads on his app for a few seconds.
More specifically, a free app owner gets paid based on either per impression of an ad, per click on an ad, or both.
However, it is crucial to show only relevant ads for a short time for users to not feel annoyed.
There should also be an option for users to close the ad window as quickly as possible.
The following are the different types of ads you can try on your free mobile app.
This is another very popular way all free healthcare apps make money.
Under the freemium model, they allow users to use some of the very basic features of the app for free of cost and charge a fixed amount if users want to use other advanced features.
In the freemium model, it is crucial for healthcare app owners to decide on free features to be offered and premium features to be offered.
If they end up choosing the wrong features as the premium features, users would never see those features as worthy enough for their money!
Another factor influencing the success of the freemium model is user psychology.
To make users pay for premium features, you must make them habituate to your app with the help of the value your app's free features offer them.
Another strategy for turning free users into paid users is to make them aware of the benefits they could receive if they use premium features by paying a fee!
This is the least popular monetization strategy in the healthcare app market as not every category of healthcare app can capitalize on it.
For instance, a telemedicine app does not have anything to sell as merchandise but, a fitness app can sell gym outfits and home workout equipment.
Similarly, a women's wellness app can sell items helping women to achieve all personal wellness goals but a meditation app has nothing to do with merchandise!
There are several other ways a free healthcare app can make money.
But all those ways are not practical.
Thus, we are skipping those and are ready to discuss the same for paid apps!
2. How paid healthcare apps make money?
A paid healthcare app can also generate revenue by showing ads, running a freemium model and selling merchandise.
But there are a few additional profitable ways exclusively working best for paid healthcare apps!
The pay-per-usage model has been working very well for SaaS products and it is now being tested by several mobile apps as well.
Under this model, a user has unlimited access to every feature and resource an app offers. But he only needs to pay for what he uses.
If your healthcare app is solving any major healthcare issue and you are targeting healthcare entities and providers as users, you must introduce a pay-per-usage model.
The best example is any healthcare software that also provides a healthcare mobile app for easy accessibility.
Here, users pay at the end of the month for the resources they have used during that period.
This is one of the most popular and widely adopted monetization strategies by paid healthcare apps.
The best example here is the telemedicine app which charges a fixed amount to users seeking a virtual healthcare service.
Maple - Canada's top telemedicine app - charges for virtual visits carried out through its platform.
Many apps find extra opportunities to earn more with the revised pay-per-service model by charging more for a healthcare service if users seek it after midnight, on weekends, and holidays.
When you want to build long-term relations with users by delivering more value while not compromising on your revenue, there is no other monetization method better than a subscription plan.
Under a subscription plan, users are able to avail the same healthcare service for numerous times.
For instance, a fitness app can offer a subscription plan of personal fitness trainers under which users can virtually talk to a fitness trainer for a fixed number of times in a year or 6 months or throughout the subscription period.
Another example is a family subscription plan of virtual care under which users can book virtual consultation with doctors up to a fixed number of times in a year for their all family members.
A subscription plan is the best means to keep users loyal to your brand for a longer period of time and offer your services at a more affordable price to users.
Need help with healthcare business plans, compliance, UI/UX, development, or anything in between? We're here to help you!
We're an Ontario-based healthcare-focused IT company, aiming to change the way healthcare is being delivered with tiny innovative mobile apps.
With our healthcare app developers, designers, business analysts, and compliance specialists, we eliminate all technical, business, and compliance pain of healthcare entrepreneurs.
Be it documentation, app workflows, business model, compliance, PIA/TRA, EMR/EHR integration, healthcare app UI/UX, and healthcare app development, we have the ultimate mastership as the result of our 8+ years of experience in the Canadian & US healthcare ecosystem.
Yes, we only serve the healthcare industry and that's something we are most proud of as it empowers us to help our healthcare clients in a better way than others.
And surely, that's the only reason why we are known as local Canadian healthcare IT, business, and compliance experts!