Be Post-Pandemic Ready with Our Healthcare Cloud Migration Service-as-a-Specialization
2 years ago
Have you not decided on your cloud migration yet? This article will help to understand the importance of cloud migration for modern healthcare services, top healthcare cloud providers in the market, and how to choose one based on the critical cloud provider requirements.
To get a quick answer let's get into the flashback in the 2020 pandemic, how mobile apps have contributed to increasing patient awareness about the virus, maintained social distancing by indicating health risk status, enabled quick vaccination scheduling, and also increased patient acceptance of telehealth and virtual care.
What do you think, is it possible to implement digital healthcare on the large scale without cloud technology?
The answer is certainly no.
Well, now you might have the following question in mind,
Why consider cloud computing for small-scale and medium-scale healthcare organizations?
What are the benefits of cloud migration for digital healthcare?
Who are the top healthcare cloud providers in the market?
What are healthcare cloud migration requirements?
Let's find answers to your question one by one, but before that, we need to understand what cloud computing is.
What is cloud computing?
Cloud computing is the on-demand availability of computer system resources, especially data storage, computing power, and software. The benefits of cloud migration include,
On-demand computing
Access to a broad network
Resource pooling
Rapid elasticity
Monitored and measured services
Cloud service providers predominant today often have tailored solutions for the specific industry. For example, Google Cloud for healthcare and life science provides services and solutions curated to the digital healthcare ecosystem.
Why consider the cloud for small-scale and medium-scale healthcare organizations?
Cloud migration is no longer a costly investment for small and medium-scale healthcare organizations; the on-demand nature of service makes it highly cost-effective.
"If you are finding it difficult to adapt to new healthcare technologies due to lack of resources, infrastructure, and knowledge; cloud migration is the cost-effective way to deal with these issues. "
Small and medium-sized businesses should consider cloud migration crucial to their growth for the following reasons:
Regulatory compliance is a hot issue in the highly regulated healthcare industry. Legitimate cloud service providers have strict security protocols designed to comply with the strict regulatory laws from HIPAA, PHIPA, PIPEDA, etc.
The compliance enforcement ensures data security through regular backups, data encryption, and authorized access to accounts.
Considering the growing number of users and their medical records, having IT infrastructure to support your EMR and EHR system is inevitable. On-site hardware has a limited capability to scale, however using on-demand cloud services provides a scalable solution for storing and managing patient data.
Cloud migration saves expenses such as hardware infrastructure maintenance, regular software updates, and the requirement of on-site IT professionals.
Secure data sharing across the networks
Storing healthcare data on the centralized cloud keeps everyone connected. The patient can access their health information, physicians can easily access patient history and keep track of patient health, and administrative staff can easily process patient health documents for an insurance claim or billing process.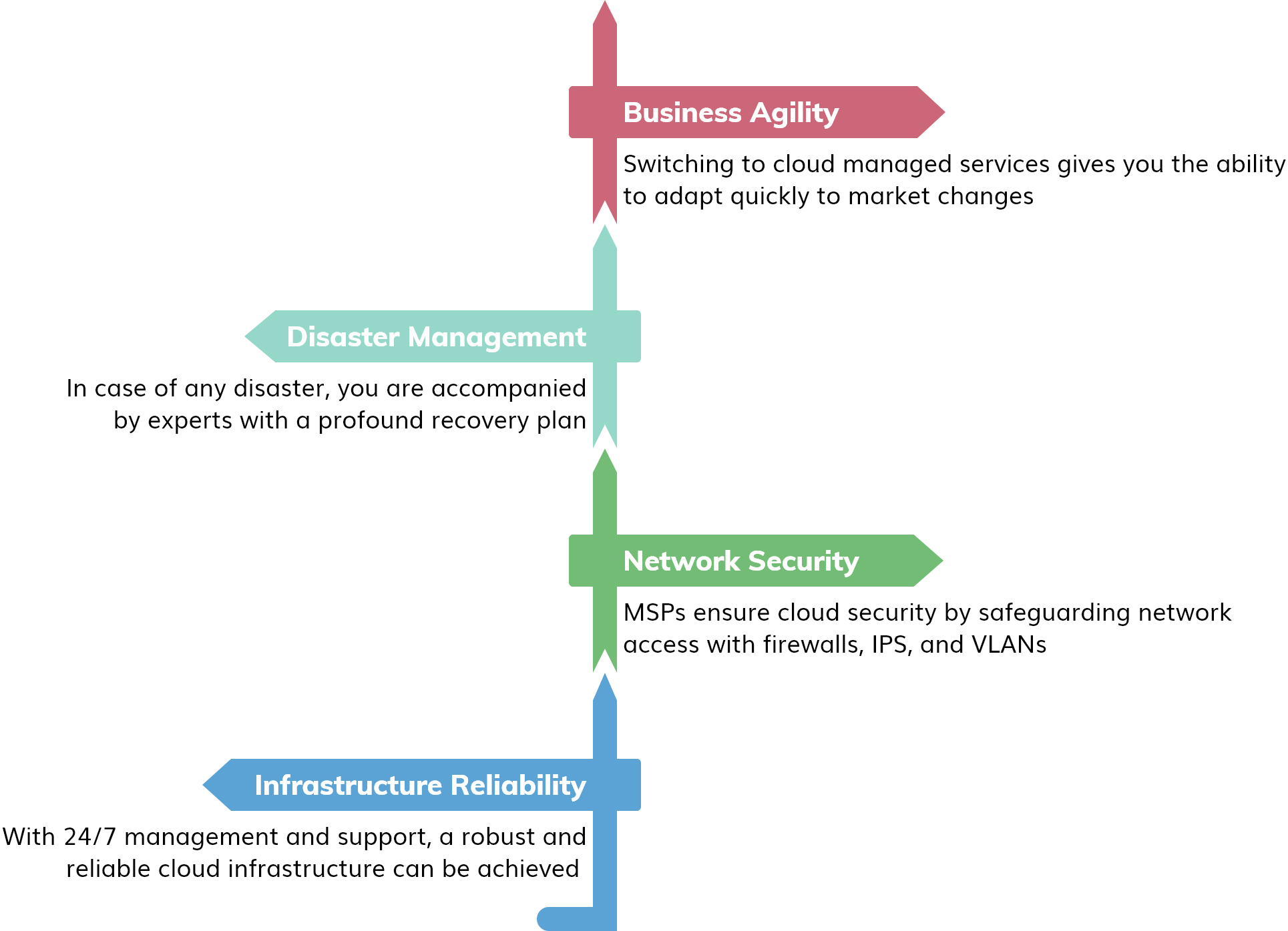 Benefits of cloud migration for digital healthcare
Provides secure, efficient patient care
If you are telehealth, virtual health, or any other healthcare provider, cloud migration enables you to manage apps (for patient, doctor, and admin) and other healthcare services from a single point.
Empower caregivers, with tools
Remote care requires a collaborative approach. Cloud services empower caregivers with the tools to connect and collaborate with the patient from anywhere, anytime.
Physician and patient can make informed healthcare decisions
Cloud interoperability in healthcare can give a unified view of healthcare data that can be analyzed for patients and providers so that they can make informed healthcare decisions.
Can keep healthcare costs low
As healthcare providers don't need to purchase hardware devices and servers and only need to pay for the services they use, it results in massive cost savings.
Who are the top healthcare cloud providers in the market?
When it comes to the cloud healthcare service providers, AWS, Google and Microsoft Azure are the top leaders in the sector that acquire 70% of the whole market share.
The remaining 30% is acquired by the healthcare cloud vendors that include Alibaba, Salesforce, IBM, Kinvey, Cloud MinE, ClearData, Medable, MphRx, NTTData, and SAS.
1. AWS (40% market share)
AWS for healthcare provides services majorly in the three areas that include,
AWS healthcare solutions for clinical systems, Analytics and AI/ML, patients and clinicians experience, medical research, finance operations, and core health IT
AWS for biopharma provides solutions for the research and development, clinical development, manufacturing, and supply chain, commercial medical appliances, and compliance
AWS for genomics provides solutions for Data transfer and storage, Workflow automation and secondary analysis, Data aggregation and governance, Tertiary analysis, and clinical genomics.
2. Microsoft Azure (18% market share)
The second-largest provider of healthcare cloud services provides the following tools to build healthcare practices.
Azure AI and ML help to deliver better healthcare outcomes with a secure and intelligent system powered by AI.
Azure Synapse Analytics gather, store, analyze, and visualize clinical data to deliver smart healthcare.
Azure healthcare API helps to manage patient health data in different formats and enables the secure exchange of data across a global infrastructure.
Azure IoT connects health devices and equipment to the cloud to provide real-time insights and enable system interoperability.
High-performance computing accelerates the insights in genomics, precision medicine, and clinical trials.
Azure stack builds and runs hybrid applications across data centers, remote clinical facilities, and the cloud.
Mixed reality combines your physical and virtual worlds to create a collaborative experience across health facilities.
Azure security protects health data from cyberattacks, data breaches, and other risks with AI-powered monitoring tools.
3. Google Cloud (12% market share)
Google Cloud provides a healthcare data engine to rapidly generate healthcare insights and analytics with end-to-end protection. Other Google Cloud solutions include,
Complete patient care: The solution includes support for telehealth and virtual care services, patient app management, visualization of healthcare services, and patient service and support.
Empower caregivers: Google provides tools and services to empower the caregiver working from remote locations with the support for health and wellness apps and frontline care devices.
Data-driven clinical decision making: The solution includes healthcare data interoperability, analytics, API management, and an operational dashboard.
4. IBM Cloud (13% market share)
IBM Watson Health offers industry-specific expertise to solve unique healthcare challenges. Their services and solution include,
Workflow support for cardiology specialist
AI-powered clinical decision-making for efficient and evidence-based care
Employee benefits management for employers
Scalable enterprise imaging solution
Health and human service analytics for government and community programs
Real-world health economics and outcome research
Healthcare interoperability solution
Healthcare performance improvement
Social program management to deliver smart healthcare
Support for cancer research and treatment.
What are healthcare cloud migration requirements?
There are multiple cloud providers in the market but most of the services are provided by tech giants. However, understanding the services and the products provided by different providers can be overwhelming.
Before migrating your healthcare system to the cloud, one should check for the following requirements:
Do they provide service and resource management?
Do they provide a customizable solution that is scalable, reliable, and compatible?
Is there any data recovery option?
Can the system be automatically upgraded?
Are there any healthcare management and analytical tools available?
Do they provide real-time data reporting, visualization, and reliability?
Do they have an interface for users, developers, and admins?
Finding it difficult to reach a conclusion?: Our healthcare cloud experts can help you
If you are still not sure about your cloud migration requirements and find it challenging to make a better decision & execution for cloud migration, here our healthcare expertise can help you.
"SyS Creations has curated cloud managed services after understanding the cloud complexities of 100+ organizations serving in the healthcare industry and optimized its client experience and success."
Here is why you should count on us for cloud planning and migration:
We are a healthcare-focused IT company with 7+ years of experience.
We provide SMEs with instant access to SaaS applications.
We are not just providers, we are strategic advisers for cloud planning and migration.
We support all major clouds- Google, AWS, and Microsoft Azure.
We deliver custom cloud experience (IaaS, PaaS, SaaS ) for the private, public, or hybrid model.
We understand the unique needs of every healthcare organization. With our cloud architect service, you can get cloud planning, migration, deployment, training, security, and maintenance.
Moreover, our support team is always ready to help you, you can anytime make contact to resolve any cloud-related query.