Healthcare IoT Integration Solutions: Get Real-time Patient Data in Apps & Software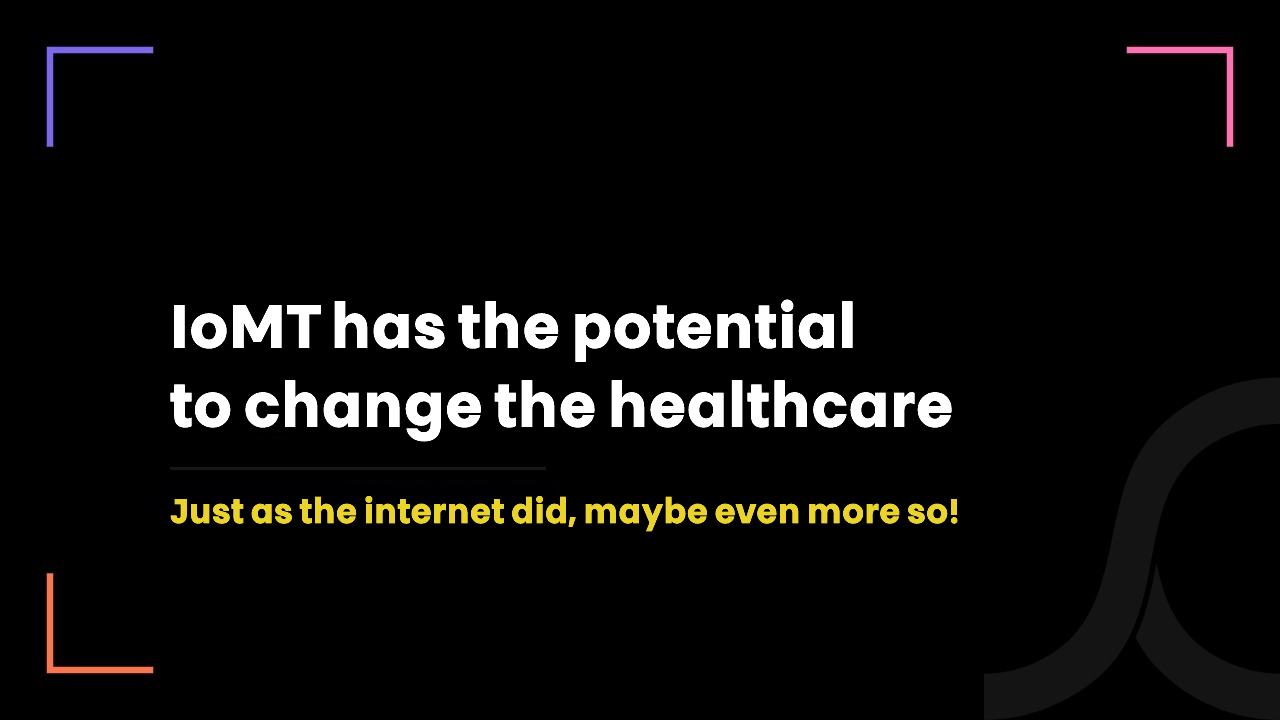 1 year ago
Internet of Medical Things (IoMT) or healthcare IoT is truly cracking the traditional healthcare barrier to help the entire healthcare ecosystem with its innovative solutions.
In the true sense, it has a tremendous potential to reduce the clinical burden for healthcare professionals and so the medical costs for the patients.
With healthcare IoT integration or IoMT integration solutions, the entire healthcare ecosystem can effortlessly enhance the clinical outcomes and quality care experience.
So, let's take a deep dive into the healthcare IoT integration solutions.
What is healthcare IoT or IoMT?
Healthcare IoT is the cutting-edge technology that seamlessly connects medical devices and applications with healthcare IT systems through Wi-Fi communication.
The ultimate goal of the IoMT is to measure and share the patient's real-time health condition or vital body signs with the healthcare IT system so that medical professionals can analyze and track that data for clinical or treatment purposes, at any time, from anywhere.
As a result, patients can avoid unnecessary clinical visits by saving their valuable time and money.
How does IoT work?
IoMT devices (wearable or sensor-enabled) and healthcare IT systems such as HIS, EMR/EHR, and apps are one sort of machine. And to make a seamless connection between them, MQTT (MQ Telemetry Transport) protocol is used.
It is the machine-to-machine network protocol which makes scalable and reliable internet or Wi-Fi connection between IoMT and healthcare IT systems.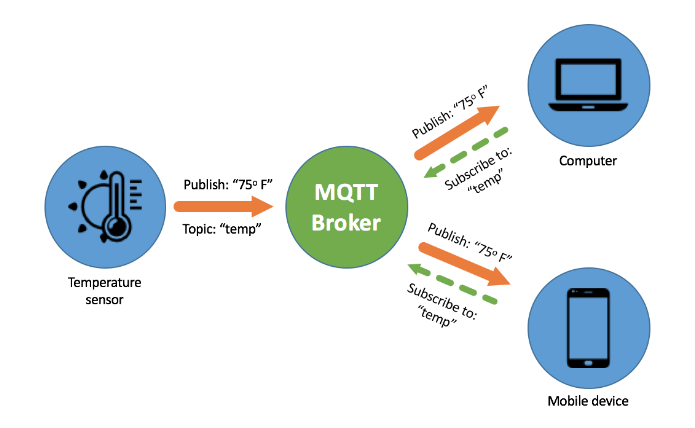 Let's assume a scenario in which an IoMT device such as a heart rate monitoring device is integrated with the mHealth application.
The IoMT device contains a sensor that constantly sends the real-time heart rate of the patients to the MQTT broker.
When a healthcare professional commands the patient's real-time heart rate from the mobile app, the IoT controller of the smart device analyzes and filters the information and sends it to the mobile app using the MQTT protocol.
What are the other examples of IoMT devices?
An IoMT device not only adds value to the healthcare professionals but is also helpful for the patients to take care of themselves without any initial support.
Explore the most common IoMT or healthcare IoT device.
Remote patient monitoring devices
Depression and mood monitoring
Parkinson's and Alzheimer's disease monitoring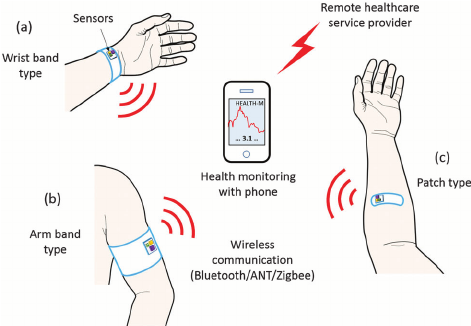 Why healthcare IoT integration or IoMT integration solutions is important in healthcare?
As per the Fortune Business Insights, "The global IoMT Market size is projected to reach USD 187.60 billion by 2028 and exhibit a CAGR of 29.5% during the forecast period".
The primary reason behind this booming market is that IoMT devices are providing real-time patients' health data to support healthcare professionals to improve clinical outcomes.
As a result, it enables them to make accurate clinical decisions by avoiding the live-in-person visits that initially reduce the healthcare ecosystem workflows.
What's more important is that for many healthcare conditions, a real-time data collection of the vital body signs supports the treatment approach while at the same time reducing medical costs.
Thus, healthcare IoT integration is a productive health tech solution that offers peace of mind to the entire healthcare ecosystem.
Healthcare IoT integration also improves drug management as it monitors patients' every action regarding the medication.
For better understanding, explore a few benefits of the IoMT integration.
Real-time patient monitoring
It speeds up the care delivery solutions.
Improves patient engagement
Reduces the medical and entire healthcare system workflows
Enhances clinical research outcomes
Streamlined asset management
How #IoT is Revolutionizing #Healthcare in the Pandemic Era
by @joshinav @BBNTimes_en

Go to: https://t.co/Pr6qOSsAtn#MachineLearning #ArtificialIntelligence #AI #BigData #ML #MI

Cc: @ronald_vanloon @yvesmulkers @kuriharan pic.twitter.com/bucmDWDTkw

— Ronald van Loon (@Ronald_vanLoon) June 5, 2022
Explore our healthcare IoT integration solutions to boost patient outcomes and ROI in one go
Healthcare IoT integration holds a result-driven ability to crack various healthcare ecosystem concerns and here are a few examples of it.
1. Healthcare IoT integration with telemedicine apps:
There's no need to explain how telemedicine solutions are decoding the modern healthcare needs of the patient via chat, voice call, and video conferencing.
By integrating IoMT devices with telemedicine apps, you can add more clinical value to the healthcare services as it speeds up the care services, provides real-time data, and supports clinical decisions more effectively.
Digital Transformation In Healthcare, has gained more momentum with the outbreak of Covid19. At #EOV we partnered with product companies in modernizing their patient record and integration with #HIS #telehealth #IoT #digitalhealth #telemedicine #AI

Rea… pic.twitter.com/gX33hZ1GaH

— Mandar Thosar (@mandarthosar) November 11, 2021
IoMT integration with mental health apps:
Dealing with patients' various mental health conditions isn't an overnight process as a continuous and patient-centric care approach must require for that.
To achieve that, you can integrate IoMT devices with the mental health app so the psychiatrist can effortlessly monitor the patient's several mental health conditions such as – sleep activity, mood, and depression in real-time.
Integration of healthcare IoT with teleneurology app:
In Parkinson's and Alzheimer's conditions, monitoring a patient's physical activity is an important task.
Thus, neurologists are suggesting various wearable monitors such as pedometers, accelerometers, and multisensor to the patients so they can take care of themselves with ease.
However, by integrating neurological gadgets with the teleneurology app, neurologists can also track and monitor patients' vital body signs so they can provide the best possible care, at any time, from anywhere.
IoMT integration with teledentistry:
The intraoral camera is used in teledentistry solutions to offer dental health care from different locations.
Integration of such a device with the app can help the dentist to analyze, store, and share the real-time patients' data to improve access to care and for clinical purposes without putting any extra effort.
IoT Applications in Dentistry https://t.co/kLNefgxumz

— @IoT Times (@IoTTimes_com) May 31, 2022
Integration of IoMT with teletherapy solutions: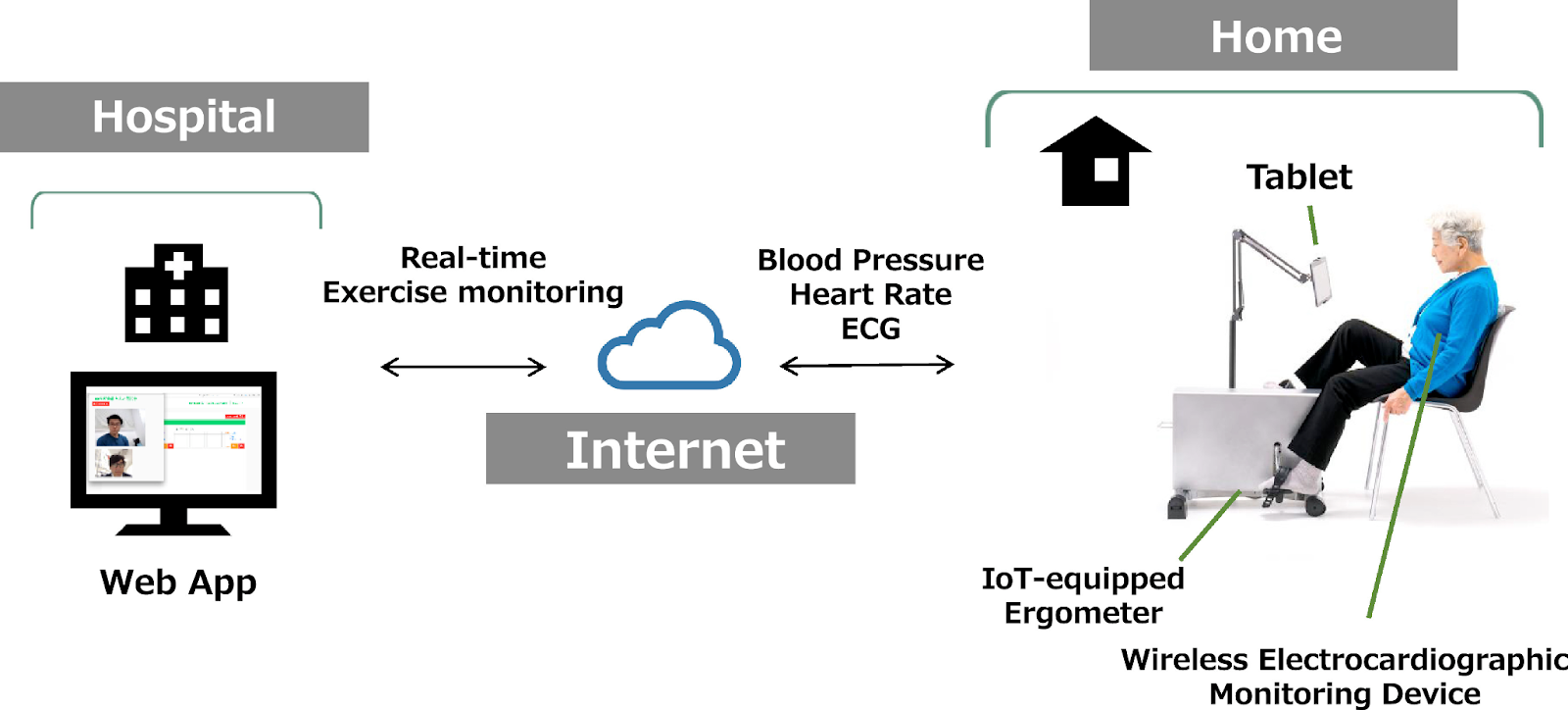 Healthcare IoT integration in chronic care management:
In traditional chronic care management, a patient needs to visit the care providers on a regular basis to maintain their medical conditions along with a healthy lifestyle.
With healthcare IoT devices such as cardiac care devices, glucose monitors, pulse monitors, and blood pressure monitors, patients can maintain their chronic conditions without stepping out of their homes.
Vivante's founder/CEO Kimon Angelides weighs in on the internet of things (IoT)'s potential to address some chronic care painpoints. https://t.co/4MJMPGLgw2#IoT #cloud #digitaltransformation #machinelearning #healthcare#connectedhealth #digitalhealth #COVID19 #cybersecurity pic.twitter.com/TFl5JpKKQ2

— Vivante Health (@VivanteHealth) May 13, 2020
2. Healthcare facilities asset management with IoT:
Maintaining a large number of medical assets is not an easy task for healthcare facilities, especially if there is a lack of technology usage.
Also, there is a high possibility of asset misplacement which sometimes results in a care delay.
To avoid this entire mess, healthcare facilities are massively adopting wireless tracking solutions.
It enables them to track the various medical equipment in real-time so the healthcare professional can get the right equipment, at the right time, at the right place.
Here are a few benefits of IoT integration with healthcare asset management.
Improves patient care and asset utilization
Can avoid the time-consuming asset management
Reduces the inventory management cost
Enhances healthcare system productivity
IoT technology is already being used in healthcare facilities for asset management and environmental monitoring, but the capacity of IoT technology has so far just scratched the surface https://t.co/UwoC4bfK3z pic.twitter.com/1fLq4II2SX

— Primex (@primexinc) March 29, 2021
What are the challenges in healthcare IoT integration?
The integration procedure of IoMT devices with the other healthcare system is full of roadblocks as the functionality and operability of both systems are vastly distinct from each other.
Here are some of the primary challenges in healthcare IoT integration solutions.
Both systems perform in an intense healthcare environment which makes the integration process complex and tedious if there is a lack of healthcare IT knowledge.
Creating an accurate, efficient, and seamless data exchange between both systems requires ultimate expertise in achieving interoperability standards.
A lack of interoperability in the integration draws the attention of the cyber criminals which might put patient data privacy at risk.
There's a shortage of skilled and healthcare-specific IT professionals in the market who can entirely fill the gap of interoperability and standardization issues.
According to a study by Deloitte, the internet of medical things (IoMT) market is touted to be worth $158.1bn by 2022. What are some of the integration challenges faced by the IoMT sector? Read on to find out https://t.co/qBwp9rhqbn#zerone #iot #iomt #digitaltransformation pic.twitter.com/4tAOvUZhpZ

— Zerone Consulting (@Zerone_India) June 16, 2020
To overcome those challenges for healthcare IoT integration, your primary goal right now must be to find a healthcare-specific IT company that can serve you with technical, business, and compliance expertise on the same plate.
So, if you don't want to mess up your IoMT integration by working with an IT company that has ultimate healthcare industry knowledge and understanding, know how we can help you with our healthcare IT passion, dedication, and ultimate expertise.
We deliver robust healthcare integration solutions along with the clinical value
We are an Ontario-based healthcare IT company.
For the past 7+ years, we've been helping healthcare start-ups, organizations, and enterprises to achieve their business goals with our quality, innovative, and result-driven healthcare IT solutions.
We have a team of 50+ healthcare-specific IT professionals who make sure that you don't need to put extra effort to dominate your market presence.
Our healthcare IT team includes – integration experts, compliance specialists, business analysts, UI/UX designers, QA engineers, app developers, AI & ML experts, and RPA specialists.
We have a solid mindset to make healthcare accessible for everyone and for that we're prepared to find the needle in the grass.
So, if you want to see the epic results of our epic mindset, allow us to add up our healthcare IT adherence to your healthcare business vision!