How to Hire the Best Healthcare IT Consultant in Canada?: The Entire Evaluation Process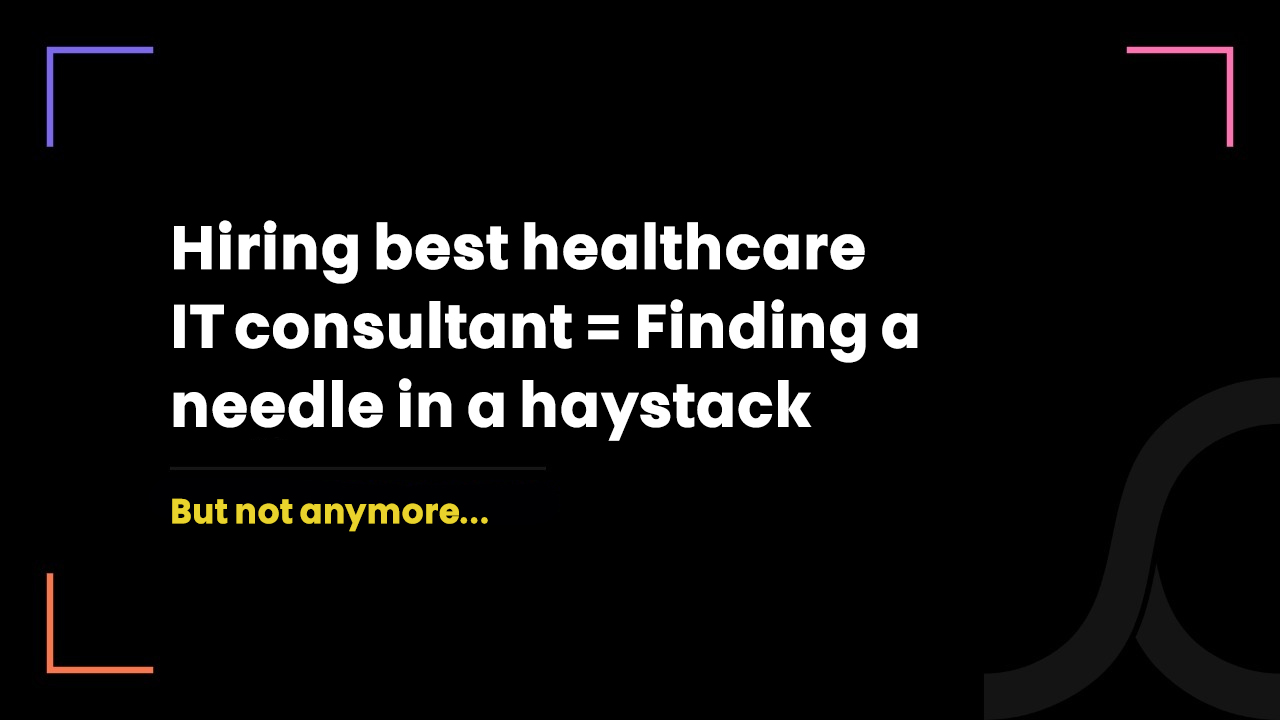 2 years ago
Healthcare providers and entities have always been in urgent need of healthcare IT solutions and technologies.
But the majority of them aren't proficient in dealing with IT and technology.
They don't know which solutions they would require to address their specific needs, should they build it or buy ready-made solutions, most rewarding technologies, what's budget, what are affordable alternatives, what about compliance, workflows, billing. 
To get an expert opinion and avoid making technological blunders or spending on ineffective healthcare tech solutions, they prefer hiring healthcare IT consultants.
But here also, they face several challenges as not all consultants can provide them healthcare IT consulting they are looking for.
Many times, they even struggle to execute expert guides provided by consultants due to a lack of roadmaps.
Thus, to not mess up while hiring healthcare IT consultants and to get everything out of them, we are sharing the guide on hiring the best healthcare IT consultants in Canada. 
Follow this evaluation process and you'll end up hiring the best healthcare IT consultants 
1. Always hire consultants from a company, don't try freelancers
We're not against healthcare consultants working as freelancers. But when you hire freelancers, you will most likely not get a premium experience and firm promise.
Most importantly, you cannot evaluate the expertise of freelance healthcare consultants as effectively as the expertise of consultants belonging to a company. 
They also only help you with consulting. Whereas, consultants from a company go the extra mile to help you, even in the project execution part as they have all the resources ready to help you.
Additionally, a few of the consultants working as freelancers will not provide you custom onboarding experience which negatively affects your project outcome. 
How? Well, while onboarding you, a consulting company ensures that it signs an NDA with you and its consultants understand your needs through a series of calls to clear the scope of the project and deliverables.
If there is a poor onboarding process, consultants may not be able to serve you what you are looking for. 
2. Always hire consultants from a healthcare-specific company only
There are only two types of consultants - jack of all trades, but master of none and experts having specific knowledge.
You must hire consultants having healthcare-specific knowledge and experience. Because healthcare is a very unique industry. What works well for eCommerce will surely not work well for the healthcare industry. 
Additionally, the consultants must have specific knowledge of healthcare technologies and solutions such as EMR/EHR, telemedicine, clinical decision support systems, billing, patient engagement solution etc.
And most importantly, healthcare-specific consultants are equipped with very important healthcare compliance knowledge that is crucial to make sure all regulations of applicable data privacy laws are being addressed. 
Because, if you adopt new technology or solution for your healthcare setting and your new IT infrastructure violates any data privacy law, you will surely become liable for the hefty fine by privacy commissioners. 
3. Make sure they have previously dealt with a project similar to yours
Don't celebrate if you find healthcare IT consultants belonging to a healthcare-specific company. You need to further evaluate them based on their portfolio.
The major thing you need to evaluate is whether they have in the past dealt with the project you have in your mind or requirements similar to yours. 
Why? Because healthcare is a very huge industry. There are different healthcare cloud, compliance, tech, infrastructure, network experts.
So, if you end up hiring healthcare cloud consultants for your needs related to compliance, you cannot derive benefits from their knowledge.
The best way to evaluate their segment-specific expertise is to ask for their previous experience and projects and then align their expertise with your needs. 
4. Don't just aim for consulting. You'll need an execution partner anyway!
The majority of healthcare settings don't have in-house technical teams. If you do have, you only need to seek healthcare tech consulting and a roadmap that your in-house tech team can execute by itself.
But if you don't have an in-house tech team and are hiring healthcare tech consultants, you must make sure that they also help you with project execution as well. 
Because execution is more complicated than getting a roadmap and expert guide. If you hire separate consultants and an execution partner, you will end up spending huge amounts as both of them charge separately.
But if you hire consultants and an execution partner or tech partner from the same company, you can save huge as they might offer many free sessions of consultation. 
5. Always hire local healthcare tech consultants
This may seem like a silly statement at first glance, but it is game-changing. Local consultants have an on-ground understanding of healthcare technology, market, vendors, users and compliance.
They can guide you more specifically to address the needs of your clinical and administrative operations while keeping local factors in mind. 
They also suggest solutions and prepare a roadmap while considering local market trends and future trends of a specific market you are doing practice in.  
Most importantly, they can offer you in-person service if it is feasible for them to travel to your place of business.
We are a Canadian healthcare IT company - providing consulting, development, compliance in one place
We are an Ontario-based team of healthcare IT consultants, healthcare developers, designers, business analysts and compliance specialists.
We have been dealing with healthcare technology, solutions and healthcare compliance for more than 7 years. 
If you are stuck with healthcare technology, solutions, compliance, IT infrastructure, our teams having healthcare-specific knowledge will guide you through all your challenges and prepare the complete roadmap for you.
Our business, development, design and compliance teams can also help you technically achieve that roadmap by building your own healthcare tool or IT infrastructure. 
What we exclusively provide you is clinical value and peace of mind as we shoulder all of your challenges and let you focus on your core practice.
Lastly, one thing we are most proud of is we only entertain healthcare projects! Because that's only what we do exceptionally well.