Achieve at least 40% more productivity, cost-saving, and customer delight with healthcare managed IT services in Canada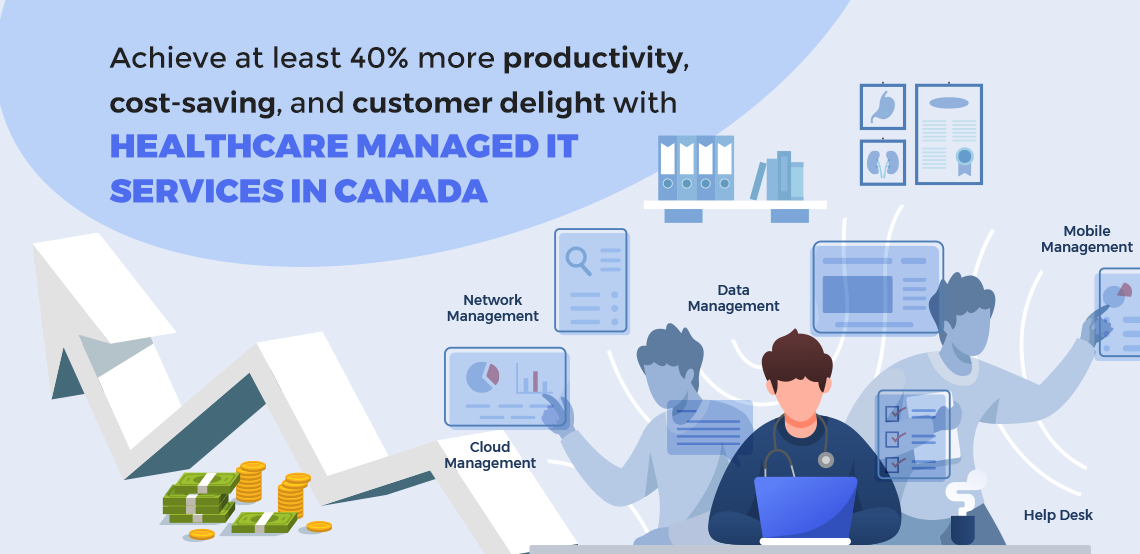 4 years ago
In 1928 when the American College of Surgeons anchored a goal to enhance the standards of records created in the healthcare industry, they unknowingly coined the term 'Healthcare Information Management'. At that time, they hadn't imagined how badly HIM (Healthcare Information Management) could revolutionize the global healthcare industry!
HIM consists of a set of corporations that provide data, products, and services to customers ranging from hospitals and physician practices to pharmaceutical and biotech companies to private individuals.
HIM has evolved greatly. However, with the development of HIM, the complexity of the healthcare industry has also expanded. A healthcare organization requires a robust IT infrastructure that brings all healthcare services, business locations, stakeholders, and data under one roof, virtually.
But many healthcare organizations are struggling to deal with challenges associated with building, monitoring, maintaining and sustaining IT infrastructure. This makes organizations shoulder extra IT burdens which eventually affect the productivity and revenue.
Instead, healthcare organizations can simply transfer the responsibilities of technology and infrastructure to a trusted resource and accomplish greater efficiencies, improved service and cost-saving.
⇢ The problems you face:
No matter how well-equipped a healthcare organization is, it is always time-consuming and costly for them to support IT operations and their day-to-day business operations at the same time.
Regulations, cost restrictions, staffing issues, compliance, and cybersecurity challenges make the situation worsen for healthcare organizations. This is why many organizations are adopting the managed IT services.
The following are the major areas where healthcare organizations lack the resources and thus opting more for managed IT services.
Data security

Server, computer, and network deployment and management

Business calling and faxing deployment and maintenance

Mobile device management

Disaster recovery and data backup challenges
⇢ The solution we have:
Managed IT services enable you to outsource a range of processes and functions in order to improve operations and cut expenses. This is the more refined approach than on-demand outsourcing where the service provider performs operations and bills the customer for the work done.
Thanks to managed IT services for healthcare, organizations can pay more heed to their strategic projects rather than managing and troubleshooting the IT processes and IT infrastructure. Considering its advantages, many organizations have embraced healthcare managed IT services in the last few years. According to Statista, the market size of the managed IT services will reach a whopping $365.24 billion by the end of 2025.
Based out in Burlington, Canada, SyS Creations has been offering dominant healthcare managed IT services to many prominent organizations of the Canadian healthcare industry. We have successfully developed a suite of healthcare managed IT services to avoid organizations facing legal, security, management, and monitoring-related business challenges. Through trustworthy vendors such as Cisco, Palo Alto and Fortinet, we meet every IT requirement of the healthcare organizations, very economically and efficiently.

The following are the top ways our healthcare managed IT services in Canada offload your extra IT burdens and let you focus on your core business.
Manage and monitor computers, servers, and network
We make sure that all computers, servers and networks which are the backbone of your business do not cause downtime. For that, we always monitor and maintain the computers, servers and network and keep them up-to-date with the latest software.
End-to-end cybersecurity protection and prevention
We deploy both hardware and software security solutions which prevent unauthorized users from entering into your network. Our multi-layer security mechanism protects your entire IT infrastructure including connected IP phones, mobile devices, IP fax machines, computers, and even cloud storage.
Establish and manage VoIP and FoIP systems
VoIP (Voice over IP) and FoIP (Fax over IP) are the major means of reliable business communication. VoIP enables you to make, receive, and transfer calls to any of your business locations. Whereas, FoIP lets you send and receive faxes very securely over the Internet. We also accommodate a fax routing feature that routes the incoming faxes to the folder of the concerned person. This feature significantly reduces the efforts which eventually fuel productivity.
Install and manage servers
Whether it is on-premises or cloud, we provide you with the safest place to store your data, process the data, and get insight into data. We practice business with the best cloud storage service providers such as Google, Amazon, and Microsoft. While designing and deploying the server, we make sure that server throughput is high so that users engaging with your services get a quick response.
Secure data backup and disaster recovery
Data is the most valuable asset. Data loss affects the overall performance of your business and user satisfaction, very severely. Thus, SyS Creations provides a dedicated data backup and disaster recovery service. We guard your important data during migration, during maintenance and all other time. If some goof-up results in data loss, we deploy a team of specialists who can easily recover the lost data.
The mobile devices which are being used in your organization need to be monitored and controlled. For that, we employ a feature-packed mobile device management solution that allows admin to manage, monitor, and secure mobile devices. Our mobile device management solution is often combined with security services and business tools.
HIPAA Compliance certificate
We have a step by step method to help an organization achieve HIPAA/HITRUST compliance. Our method includes identification and assessment of EPHI in the network, risk & vulnerability assessment, detail recommendations, policy & documentation support, gap implementation tracking, internal audit, and management review.
Proactive help desk services
We assign a dedicated team for you which is always available to answer your query and eliminate the problem you face in the deployed solutions. Based on the scale of the problem, we either guide you on the phone or fly to your site for on-premises support.
We only provide result-oriented services. From the first day, you will start noticing the upsurge in productivity as well as at very vitally important business activities like management, monitoring and security.
The following are the top results you will surely get through our healthcare managed IT services.
Your service delivery speed will be increased dramatically as your staff is no longer overburdened.

You will be in a stress-free state as a cabinet of security experts ensures the security of the whole IT infrastructure with the military-grade multi-layer security mechanisms.

You can pay more heed to your patients as trusted executives manage all IT operations and infrastructure.

Since we update the skill-set of all connected systems of IT infrastructure with every new technology, your stakeholders will always be communicating with the latest and feature-packed systems.

You won't have to hire and train support engineers to solve errors as we allocate a team of well-versed support engineers who can solve an error before it starts influencing your day-to-day operations negatively.
In the nutshell:
Going digital is not a step, it is a process! Healthcare organizations that decide to go digital to survive in an intensified market often end up wasting their very critical resources in maintaining and monitoring the IT infrastructure. In such an unsettled situation, healthcare managed IT service providers come to the rescue. They enable organizations to control IT costs, labour costs, increase efficiency & competitiveness, and reduce risks.
SyS Creations works with the same ambition. We offer extensive healthcare managed IT services in Canada which satisfy all IT requirements of the businesses in the best possible ways. According to your budget, we put both premium and affordable IT solutions to good use. Before deploying the solution, we leverage the technologies and customize the solutions as we believe that a common solution does not work efficiently for all businesses.
To share your requirements and get the personalized quote, feel free to contact us. One of our senior team members will contact you back and give you the free consultation.