Healthcare Mobile App Design and Healthcare Mobile App UI – Proven Tips to Enhance the User Experience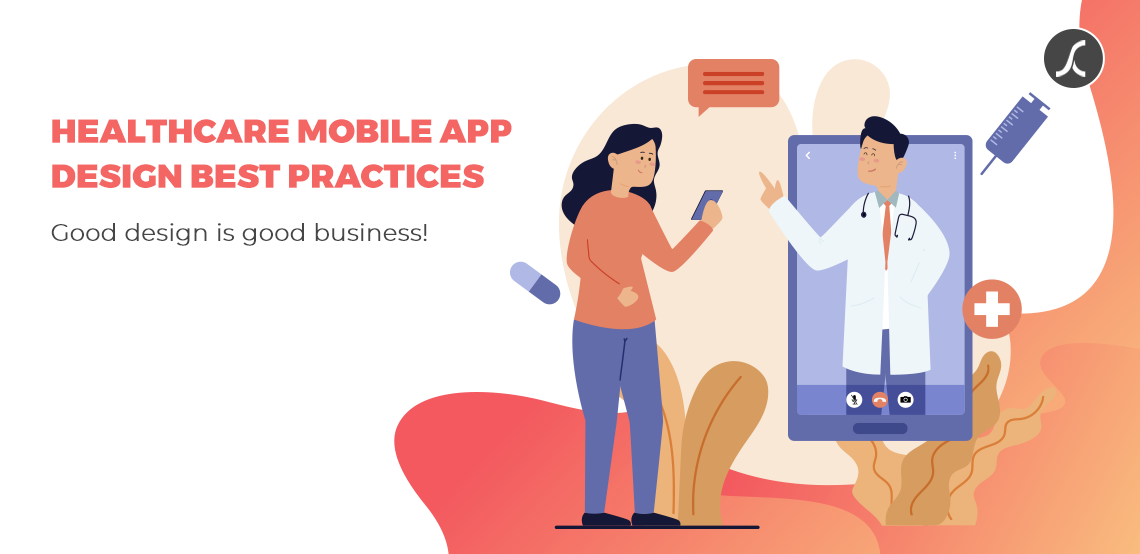 4 years ago
This blog has been uniquely crafted with the help of our well-versed team of app designers for entrepreneurs and healthcare organizations struggling to achieve remarkable user experience through the best healthcare mobile app design. 
"Good design is good business!" - Thomas Watson Jr 
'Sick users' is an important user group of healthcare apps. But a sick user never spends time understanding the healthcare mobile app's complexity. This is why it is worth putting all efforts in healthcare mobile app design. 
Healthcare mobile app design, healthcare mobile app UI best practices
Healthcare mobile app category does not have single parity with other mobile app categories as other apps save time and costs while healthcare apps save lives! 
However, this boon works as a curse for healthcare mobile apps. Because of its ultimate objective - saving lives, the healthcare mobile app should be designed and developed precisely. 
At SyS Creations, we follow healthcare mobile app design best practices and today, we are going to share the same with proper examples. 
Users first notice the colour. Thus, it is important to match the UI colour with the kind of app you are creating. For instance, a quiz app UI should have red colour as red colour indicates the speed. 
Talking about healthcare mobile apps, Blue is the most used colour in UI - according to a study from 99designs. 
Since blue colour represents calmness, peace, and good health, it is widely used to spread positive energy among sick users of healthcare apps.   
After the blue colour, green is the most used colour in the UI of healthcare apps as it is the colour of life, energy, and nature. 
However, UI colours depend mostly on the type of healthcare mobile apps. 
For instance, 
Blue colour for meditation apps
Green colour for diet apps
Pink colour for women health apps such as a fertility and pregnancy calendar
Yellow colour for apps related to drug price tracker
Red for a medication reminder app
➣ Typography 
After colour, users notice the text most. Here is where typography plays its role. 
Typography is nothing but the art of organizing text in a way that it offers a pleasant and readable user experience.
For healthcare apps, it isn't a rational idea to use fancy fonts. Instead, the font should be easy to read and convey a message in the easiest way. 
Top typography principles: 
Don't overlook spacing 

Use a limited number of fonts 

Build a hierarchy 

Don't use design fads 
Refer to the following image to understand the science of fonts!
(Best Use of Font)
 (Best Font Alignment and Spacing)
It matters how quickly a user navigates a healthcare app and satisfies his requirements. If he encounters trouble to find a new app page or jump to the new app page, his user experience is considered as highly affected. 
The following are some best examples of 'navigation' in the healthcare app.
Finalizing the best healthcare mobile app design or healthcare mobile app UI
Apart from colour, fonts, and navigation, there are many modules in the healthcare app where micro-design planning is necessary. With this micro-design planning only, you can finalize the best healthcare mobile app design. 
Break tasks into micro-tasks.
Do not ask users to add extensive information.
The keyboard should be adaptive.
Keep colour blind users in mind.
(Here, colour blind users cannot identify red and green colours.)
(The use of icons and labels helps colour blind users to know invalid entries.)
Let's connect to get good business with good design 
I hope this blog is resourceful enough to give you the idea of healthcare mobile app design best practices. 
Our well-versed designers, graduated from top design schools, employ many other design techniques with a human-centric design approach to let you offer remarkable user experience to your users.
Our expertise in EHR integration and healthcare app development makes us able to convert any healthcare app idea into reality. 
While the federal government is promoting healthcare apps with an aid package worth $240 million, we are helping healthcare organizations and individuals to tap into the right opportunity.
Let's schedule a virtual meeting to discuss your healthcare app idea, app design and execution strategy.